Our San Diego apartment tour!
Finally: our San Diego apartment tour! We moved to San Diego last summer, and have been loving life in America's finest city ever since. I had assumed that we would start off by renting a cute little craftsman with two bathrooms and a yard near Balboa Park (the dream!), but we quickly realized that there aren't too many of those houses available for rent. And since we were looking while still living in New York City, I was a little wary about renting an older home that we couldn't see in person: there were a few strong contenders, but I was nervous about pulling the trigger without being able to actually inspect floors, cabinets, water pressure, noise levels (one was across the street from an elementary school!), etc. And since David was moving out with Gert while I was traveling for work, we really wanted to eliminate all of that hassle and sign a lease from afar so that he had a place to come home to and we had a place to ship our things to. So! We opted for a super modern and light-filled two-bedroom apartment in North Park (which is VERY similar in style to what we rented in Bed-Stuy, although about 50% bigger and a bit cheaper). It's totally lived up to our expectations, and we honestly adore living here: the location is better than we even imagined, the two-floor configuration makes it possible for both of us to work from home, and it feels cozy while still having a ton of space.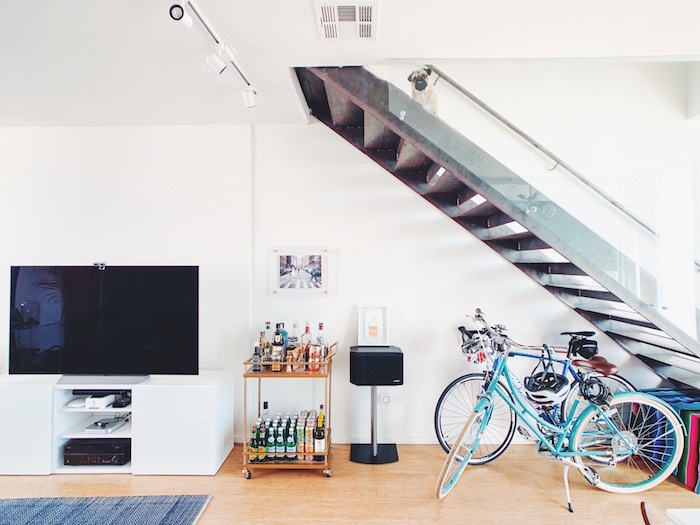 A few things to note: although I definitely cleaned up before I snapped some photos, I tried not to "style" my apartment. Styling is a real art (I'm always amazed when I can watch the before and after on a shoot), but I also feel like it can be a bit of a disservice in posts like this: I actually live in this apartment every day, and things are styled to suit our actual life (and our actual budget). It's not perfect! Also: if you saw our Brooklyn apartment tour, you'll see a lot of the same pieces that survived the move out west. And all photos were taken and edited on my iPhone, using a Moment wide angle lens!
Entryway
In truly California things: our front door is a sliding glass door! We actually looked at two apartments that both had sliding glass front doors, so we sort of figured that it was just a normal thing in California. But even our San Diego friends are really thrown off by it. The most annoying thing about it is that it's impossible to pretend like you're not home if you don't want to deal with a deliveryman, etc.: they can see us sitting on the couch!
White planter: Pigment (also available on Amazon) // Leaning mirror: family heirloom (it was David's grandfather's, and it is SO heavy that we're too nervous to hang it in a rental!) // Leaning photo frame: Artifact Uprising // Giant gold book: family heirloom (it's a German Bible from my maternal grandmother's family) 
Console Table: CB2 // Stool: CB2 // Light: CB2 // Chair: West Elm //  Basket planter: Cost Plus // Acrylic frame: Crate & Barrel // Palm reading plate: found in South Africa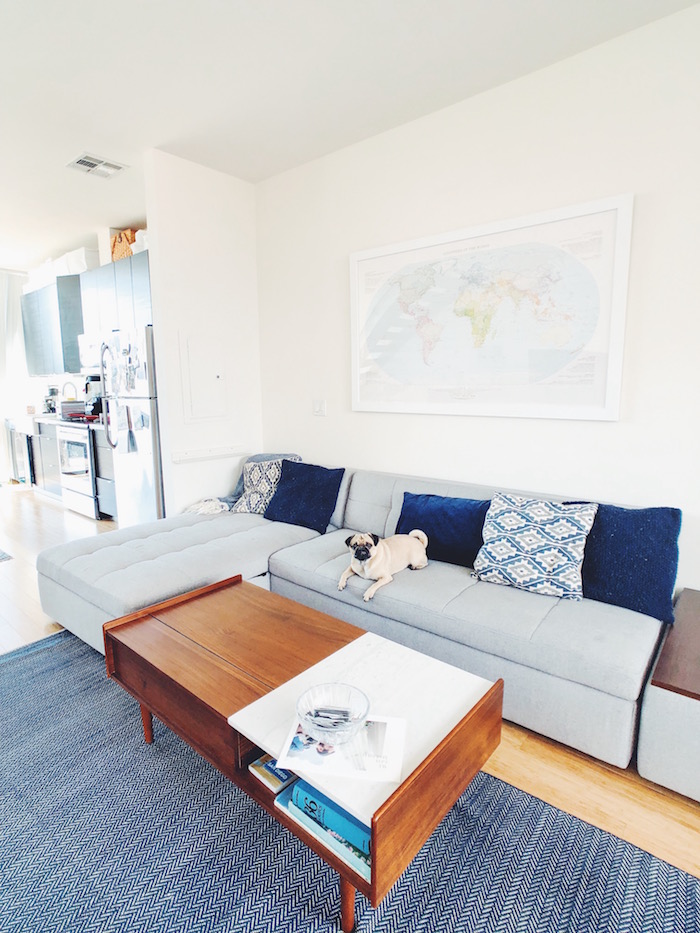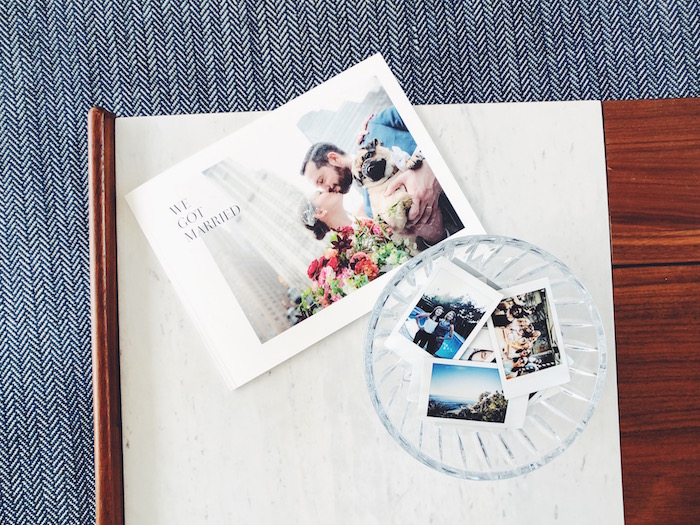 Living Room
I'm a big believer in the importance of having a very comfortable couch: for better or worse, we log a lot of hours there. And after having a chaise, I don't think I can ever go back to another type of couch: that spot in the corner is all mine (and Gert's)! Perhaps my favorite detail of all: there is an acrylic shelf in that back corner that's there solely to hold my glass of wine or mug of tea. And the best part about this couch is that it actually has STORAGE in the chaise and the ottoman: it's where we keep our air mattress, extra blankets and tool kit. The coffee table actually has hidden storage as well, and a bonus pop-up top: David usually uses it as his "desk" with the TV as his monitor, and then keeps his keyboard, mouse, etc. inside the coffee table when he's not working. The crystal bowl was a wedding gift from my parents, and we have it full of little Instax photos: my best friend Aly gave us an Instax camera on our wedding day and snapped a bunch of BTS pictures, and now I try to capture a couple of photos from every vacation or visit with friends on it.
Couch: West Elm // Coffee table: West Elm // Map: Schoolhouse Electric // Pillow covers: H&M // Throw: The Citizenry // Rug: Dash & Albert  // Shelf: CB2
Kitchen + Bar Cart
I love the open flow of our kitchen and living room: it's nice to be able to putter around the kitchen, making dinner or putting the dishes away, while chatting with David (or, real talk, with an episode of SVU on in the background). And one of the things that I was most excited to have in San Diego was a proper bar cart! Even though my drink of choice is either a glass of sauv blanc or an IPA 90% of the time, it's still fun to have plenty of options–especially when entertaining. I've also very much leaned into my Costco membership and always make sure I have plenty of La Croix and Pellegrino on hand–and actually drink it, instead of just keeping it around to make me feel fancy or to have for guests like I used to.
Bar cart: Target // Kitchen table: Ikea // Kitchen chairs: West Elm // Floating frame: Artifact Uprising // Light fixture:West Elm (we splurged on this at our Brooklyn apartment, and moved it out with us!) // Framed illustration: Kings County Distillery (where we had our wedding party!) // Rug: hand-me-down from David's parents' friends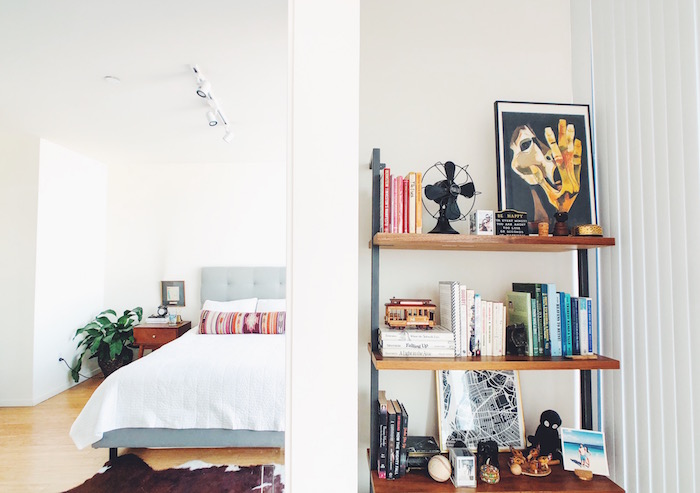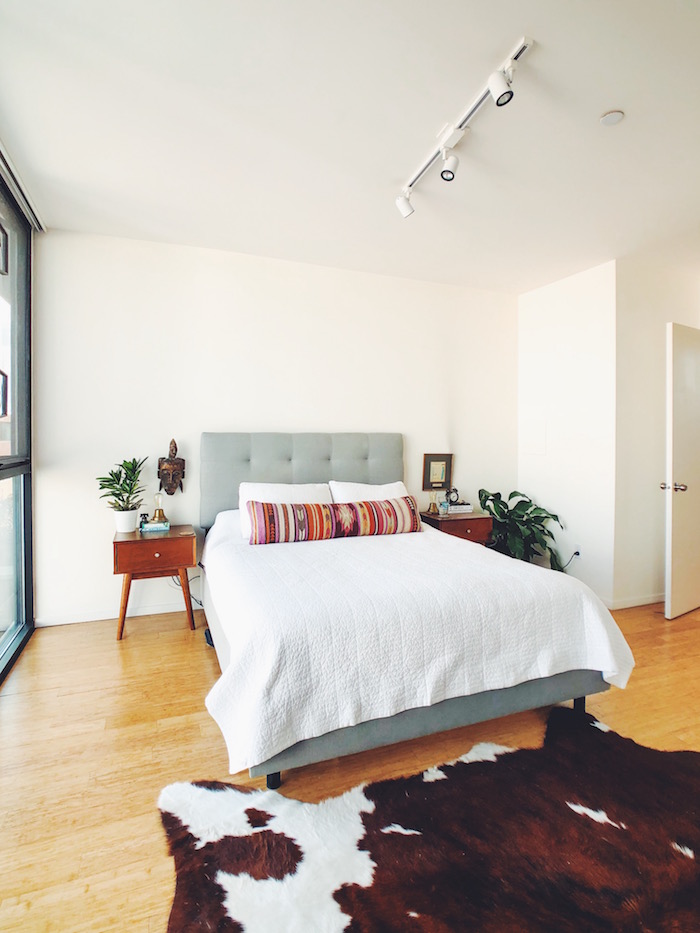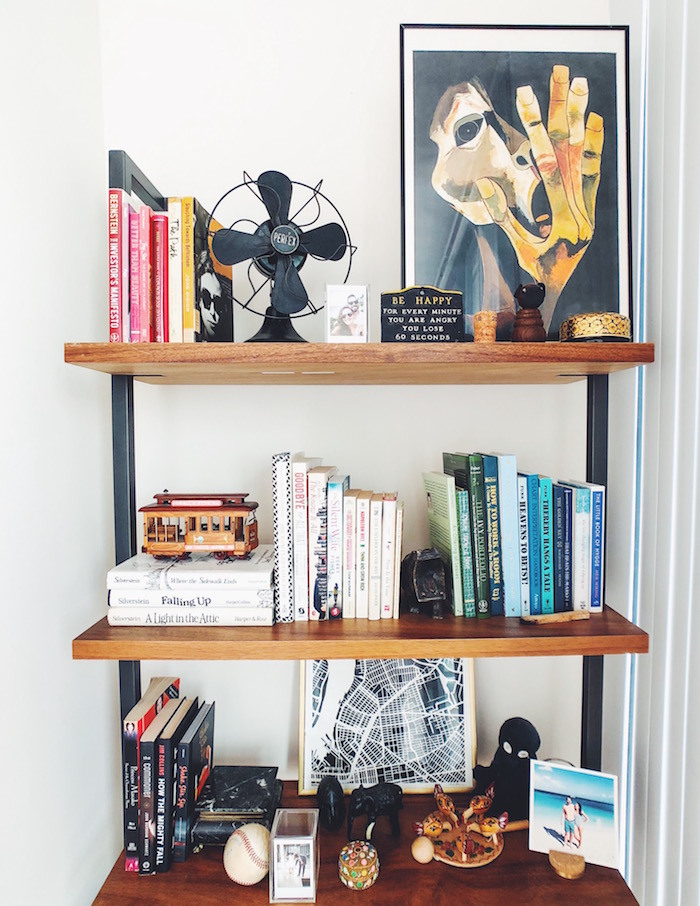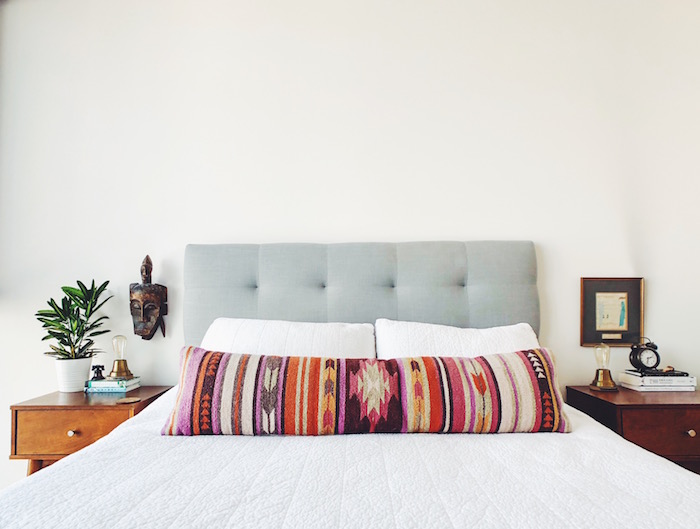 Bedroom
Our bedroom is mostly the same as it was in Brooklyn: a few new plants and nightstand books, but this was the one room where it made sense to move everything. One thing that changed: instead of buying a new duvet and expensive duvet cover, I opted for a super simple white bedspread from Bed Bath & Beyond (heyo 20% off coupons!). Since Gert usually sneaks her way onto the bed with us in the mornings and evenings, we have to wash it a lot to keep it crisp and it was super annoying to constantly be taking the duvet on and off. The bedspread is so much simpler! And my favorite addition to my nightstand: a copy of 12,000 Dreams Interpreted, which I can flip through after waking up from a super vivid dream.
Shelves: CB2 // Bed: One Kings Lane // Bedding: Real Simple // Pillow: The Citizenry // Nightstands: Target // Lights: Schoolhouse Electric  // African mask: David's parents collect masks on their travels in Africa and Asia, and this is one of theirs // Framed print: my mom's from the 80s // Alarm clock: A&G Merch // Rug: Decohides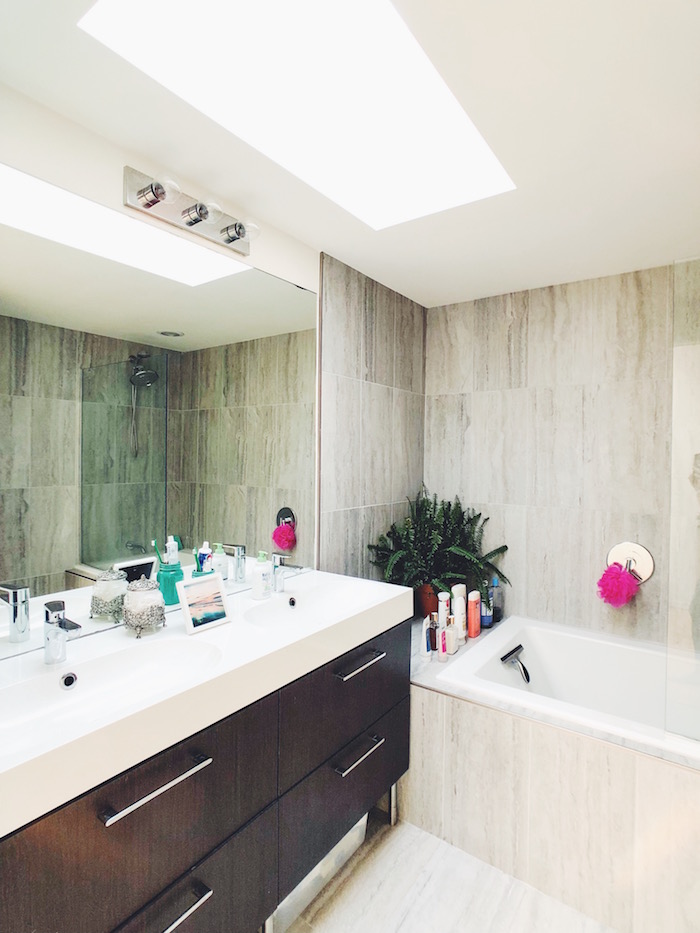 Bathroom
Nothing much to say about our bathroom other than having dual vanities is such a game-changer. Having two bathrooms was one of the San Diego dreams that didn't quite get realized in our current place, but having my own sink (and two oversized drawers all to myself!) has made a big difference. Plenty of space for all of my beauty routine faves.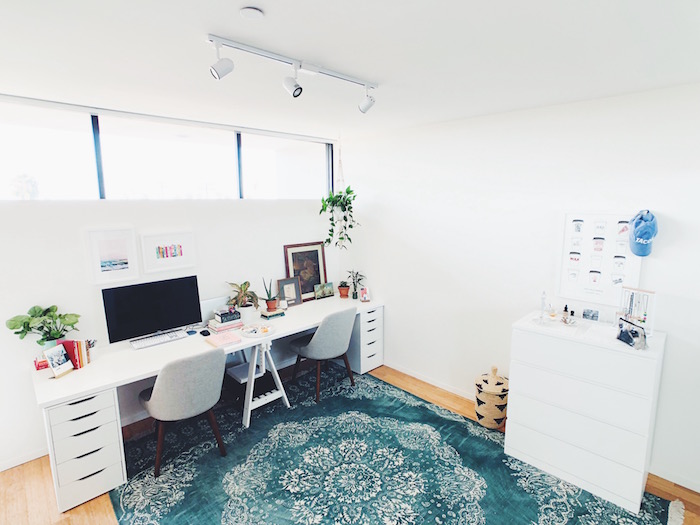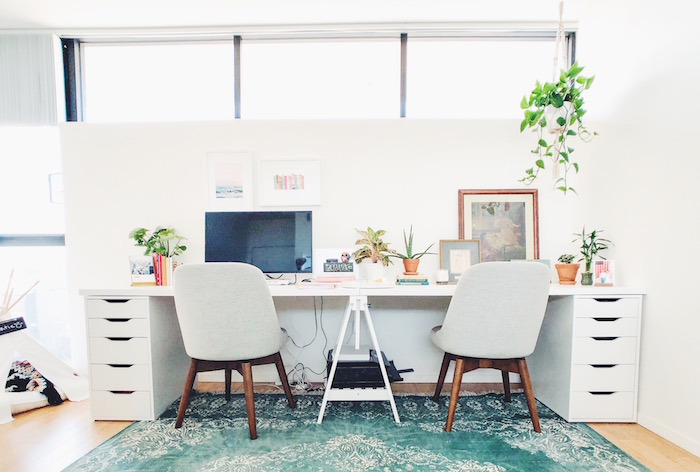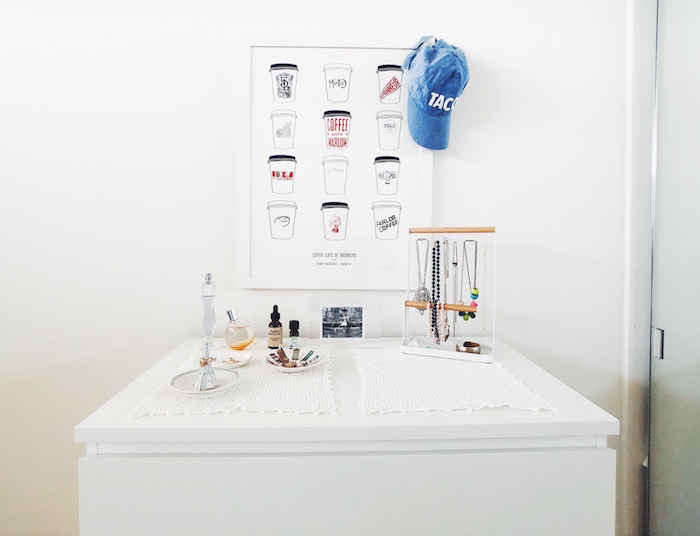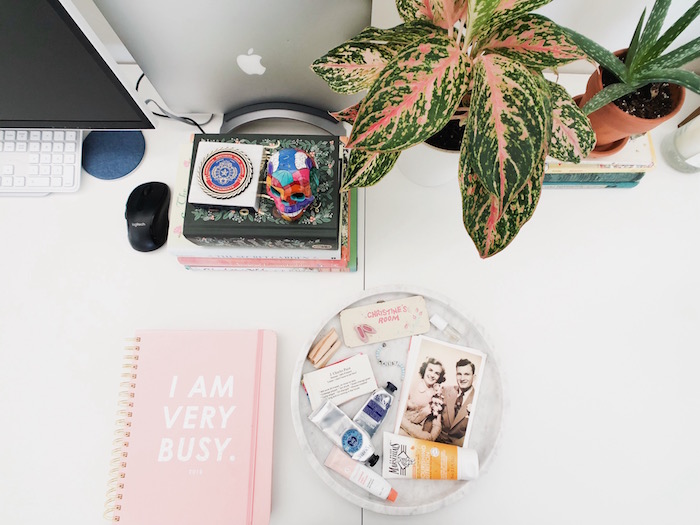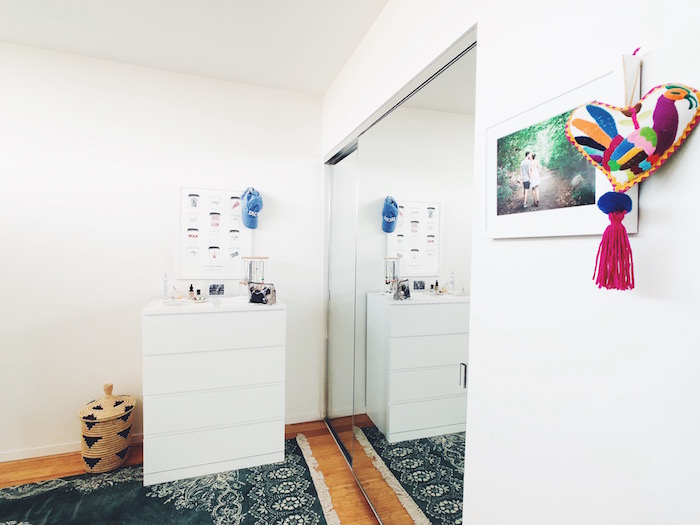 Home Office
Although we both work from home, I have to admit: I think of this as more of "my room" mostly since it's also home to my closet. I usually work here while David takes over the kitchen and living room downstairs, so I've really leaned into making this a super inspiring and productive workspace for me. We did a bit of an Ikea hack to make one big desk with two separate workspaces, and it's worked out really nicely. David surprised me for Christmas by upgrading me from plopping here with my laptop to having a giant monitor, wireless keyboard and mouse: he assumed that it was something that I would never actually do myself, but that I would love when it was done. And he was totally right! I also have a bunch of my favorite childhood books stacked on my desk, and I love being able to sit up here and write: I was a huge bookworm as a kid, and I dreamt of one day being a writer. This does feel a bit like a dream workspace for me, full of plants and white spaces and colorful accents I picked up around the world.
Trestle desk: Ikea // Drawer unit: Ikea // Chairs: West Elm (the swivel makes a big difference!)  // Beach print: Arielle Vey // Book print: Ideal Bookshelf (I chose "Girl Stars" – it features many of my favorite books from childhood that I have in print on my desk!) // Frames: Ikea // Rug: Urban Outfitters [no longer in stock] // Planner: Ban.do // Marble tray: Caravan // Plant hanger: Amazon // Gert's teepee: Little Dove // Leaning frames: all passed down from Mimi or my mom 
Dresser: Ikea // Coffee print:Knowlita // Frames: Framed & Matted  // Basket: The Citizenry // Necklace stand: The Container Store // Ring holders: Anthropologie [no longer in stock]
That's about it! I'm not sure how long we'll stay in this apartment (I'm still dreaming about those two bathrooms and a yard!), but I'm so glad that we're living here now.