Our semi-elopement wedding in NYC: photos + details
When we scheduled a March wedding, I anticipated that I'd be wearing a fur coat and snowboots, or that my parents' flights would get delayed because of a blizzard. Instead, the weather was 70 degrees! It started raining the minute we stepped inside the courthouse and cleared up as soon as the ceremony was over: I still can't believe how lucky we got, and that's sort of how I feel about the whole day.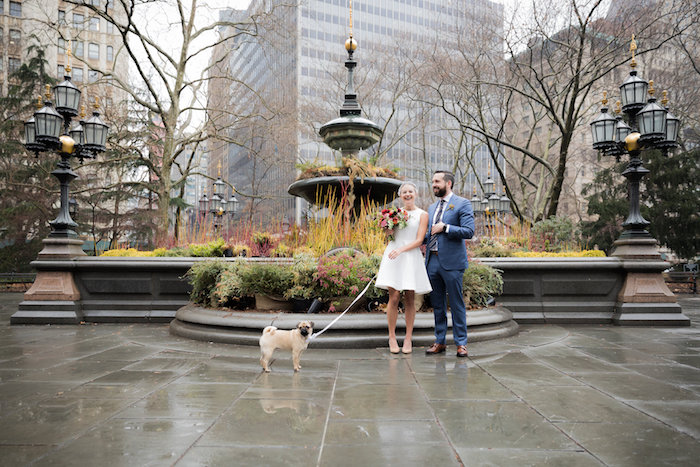 My expectation was never that my wedding day was going to be the best day of my life, but I have to admit, the entire day went even better than we could have dreamed. I was just very happy, felt comfortable and beautiful in what I was wearing and didn't really have much to stress over. Everything went accordingly to schedule and plan, and it was all fairly laid-back in the weeks leading up to it and the day itself. We both just had such a wonderful time, and we're so happy to be married now!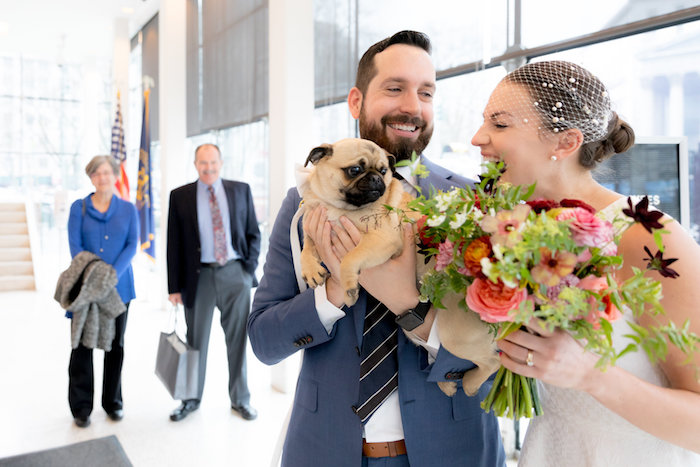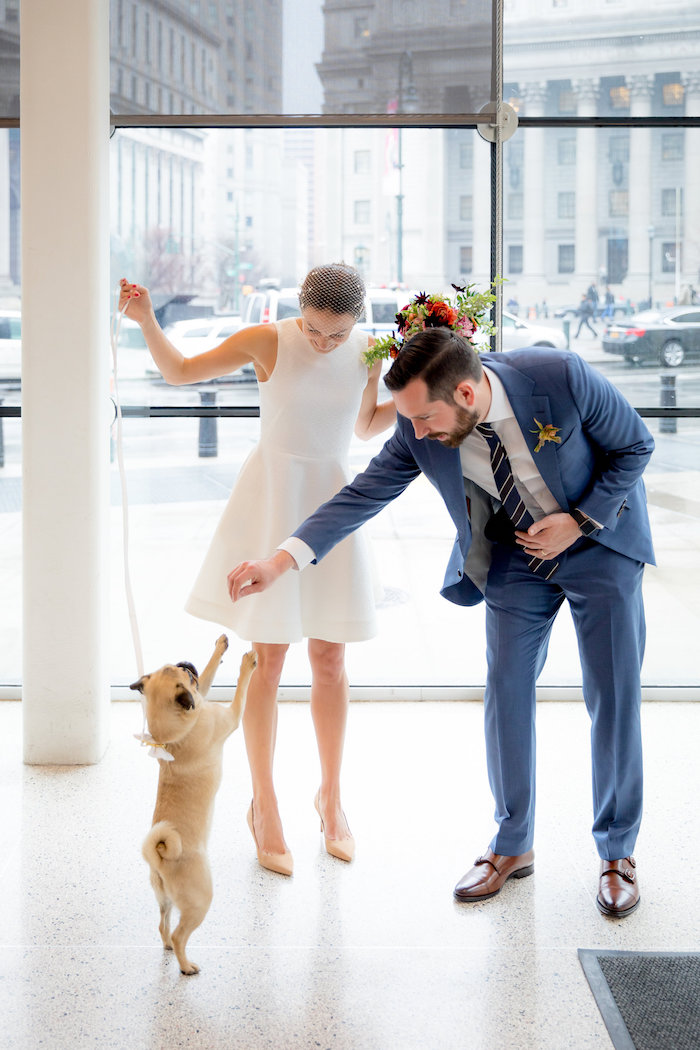 How we decided: Even before we got engaged, we discussed what was important to us in a wedding: a simple ceremony, and a fun party with our friends. I've long been enamored with the idea of eloping, but we did want our parents to be present–so we opted for a midweek civil ceremony and luncheon, and we'll be having a party with our friends in late May.
We originally thought we would do the ceremony and party on the same weekend, but the logistics just felt too complicated (especially working in wanting to take an immediate honeymoon while also wanting to spend time with friends flying in for the party). So we opted to split it up and have the ceremony on our anniversary–and always have a good reason for a late winter Caribbean escape! Splitting things up has also made it way less stressful in terms of planning.
A big question has been how this all went over with our families: we're very lucky to have two sets of parents that were super supportive of whatever we wanted to do (and who thought we were wise to spend our money on things other than custom embroidered napkins or whatnot). Also lucky: David's sister is also getting married this summer, so his extended family is getting a party this year regardless of what we did!
In terms of keeping it a secret: our families knew pretty early on, as did our witnesses and our bosses/coworkers (a necessity with the immediate honeymoon). We told a few close friends as it got close to the date, but other than that, it was a surprise. Most friends assumed it would be in May–like at the party they were all invited to, ha! One unexpected benefit was that I didn't have a bevy of people asking me about details or the countdown or if I was getting nervous, which spared me a lot of boring wedding talk and likely some big day anxiety.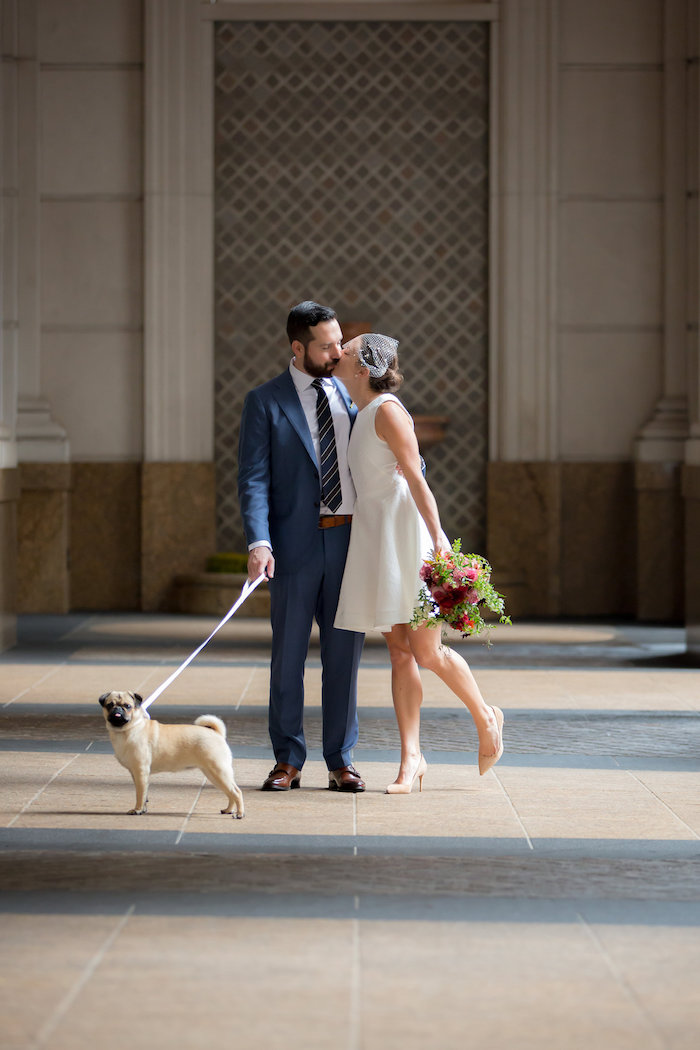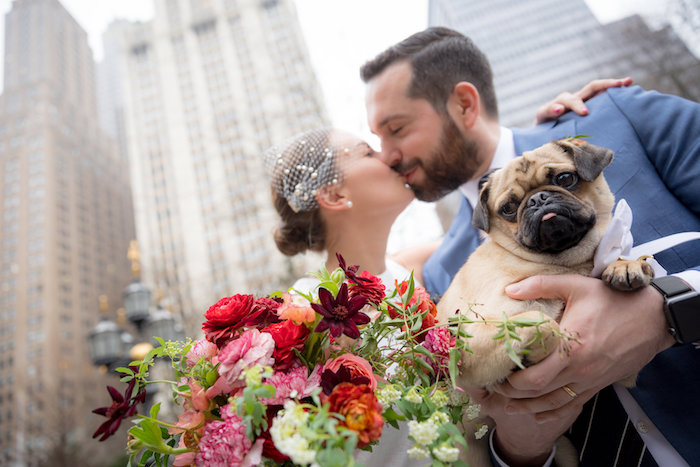 The quick backstory on how we met: On February 1, 2013, I wrote this post: if you knew you'd meet the love of your life in a year, how different would that year be? On Valentine's Day of that year, I went to a dive bar with my also single roommate and decided that we would both give online dating a whirl–we both created profiles on OKCupid and answered all of the algorithm questions while drinking cheap beers on the Lower East Side. A couple of weeks later, I messaged a cute guy with a great smile–we were a 99% match and his profile mentioned that he had lived in Australia. After a few messages, we decided to meet up for a coffee in Williamsburg that weekend. We met on a corner on Bedford Avenue, and opted for a cocktail instead of a coffee–and that cocktail turned into a speakeasy bar, a game of pool, plenty more drinks and finally dinner. Although I had to cancel our second date because I came down with an awful flu, and then because I had to go to Las Vegas for work–David is delightfully laid-back, and we picked up where we left off when I was back in town a few weeks later. I can't remember exactly when we DTR'd, but we were pretty inseparable from the get-go. We moved in together in October 2015, brought home a pug in June 2016, got engaged in September 2016, and decided to get married on our four-year anniversary on March 1, 2017.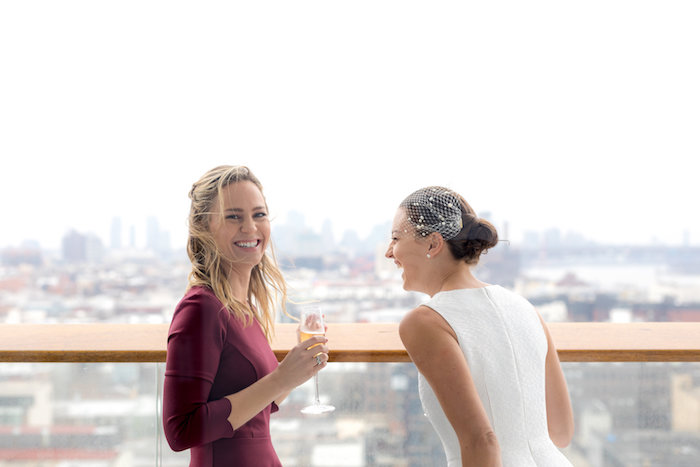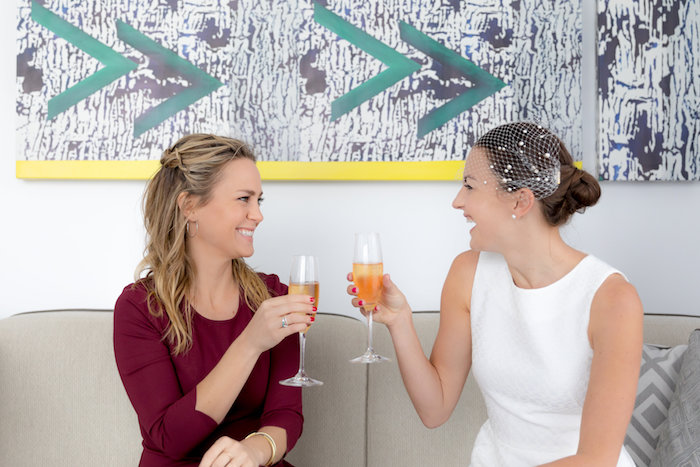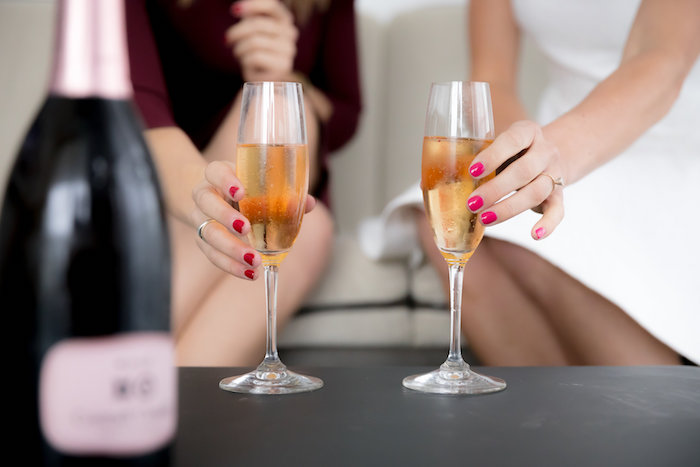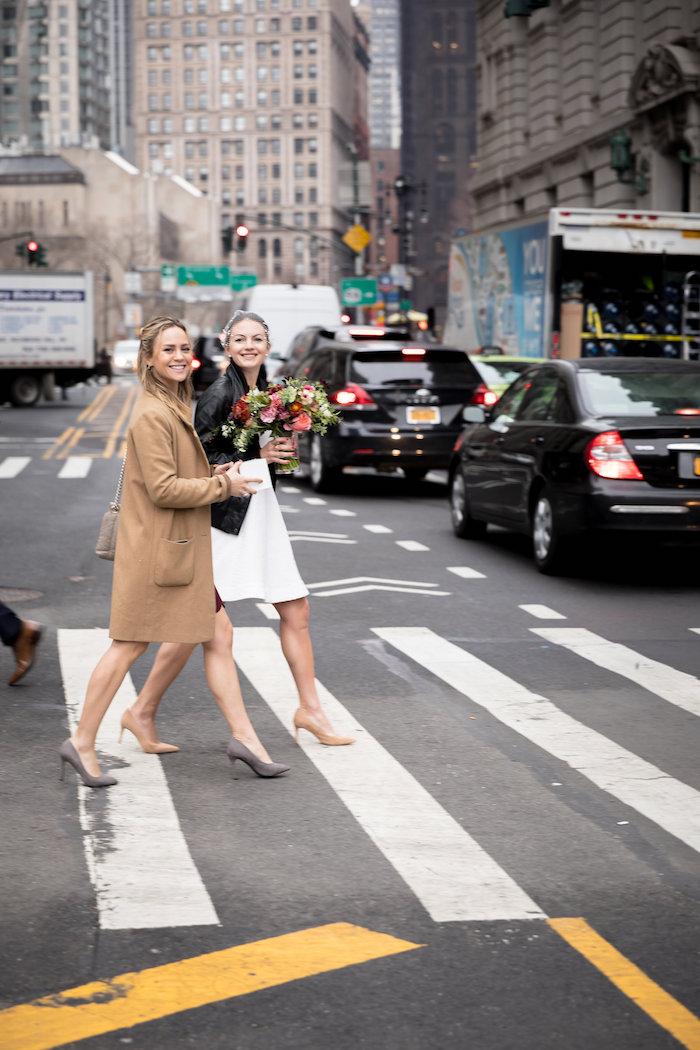 The night before: I felt strongly about spending the night before the wedding apart, so Aly and I had an ultimate girls sleepover at the gorgeous new William Vale Hotel (complete with sweetgreen takeout and a bottle of bubbly). I'm also just so glad that Aly was able to be there! We were college roommates and then lived together in Williamsburg, but she moved out to Los Angeles a couple of years ago: it meant a lot to me to have my best friend there as my witness, especially since she was around so much in the early days of David and me dating. It was also fun to get ready in such a stunning location–I don't think we could have ever dreamed we'd be hanging out in a suite with a view like that when we first moved to Brooklyn five years ago!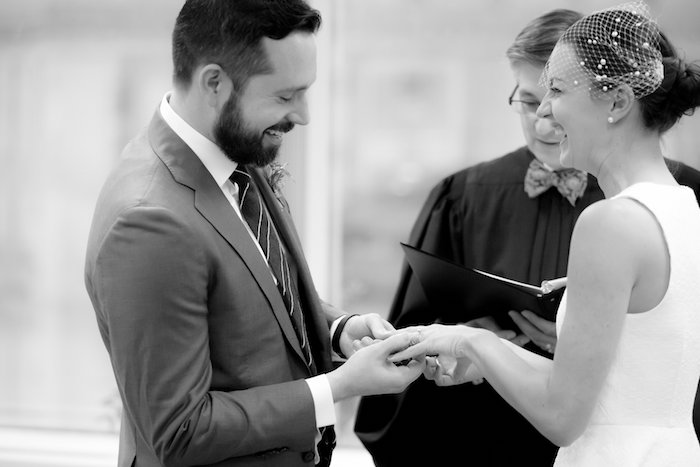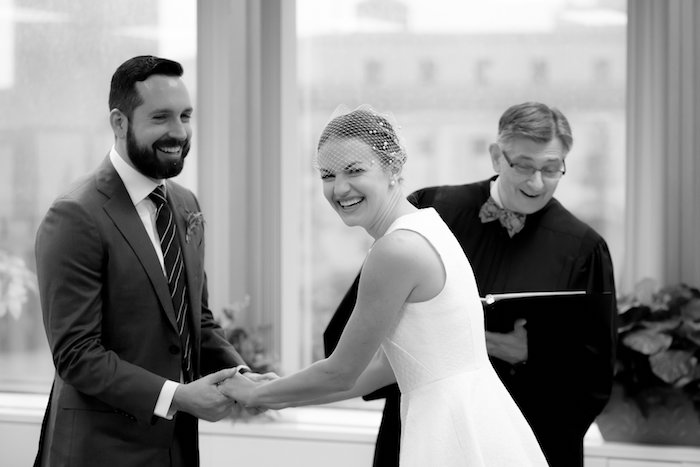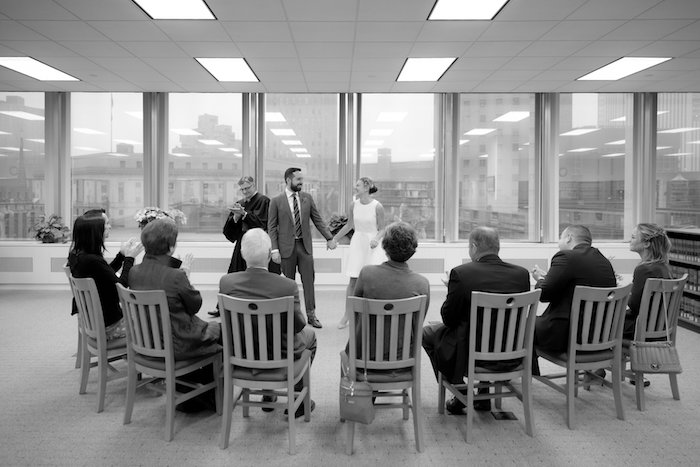 The ceremony: We had a sweet and simple ceremony, officiated by a federal judge who is a family friend. We originally thought we would go to City Hall, but this judge very kindly offered to give his time to marry us–and it seemed like it had all of the benefits of City Hall with the additional upside of being able to schedule a time as well as insert some more personal touches–like this poem and this reading. Other than that, we kept it pretty traditional–aka we did not write our own vows (as I told Aly when she asked if we did: if it ain't broke, why fix it!). One fun note: our wedding bands were actually David's grandparents, so they still have the engravings inside with their initials and date of their wedding.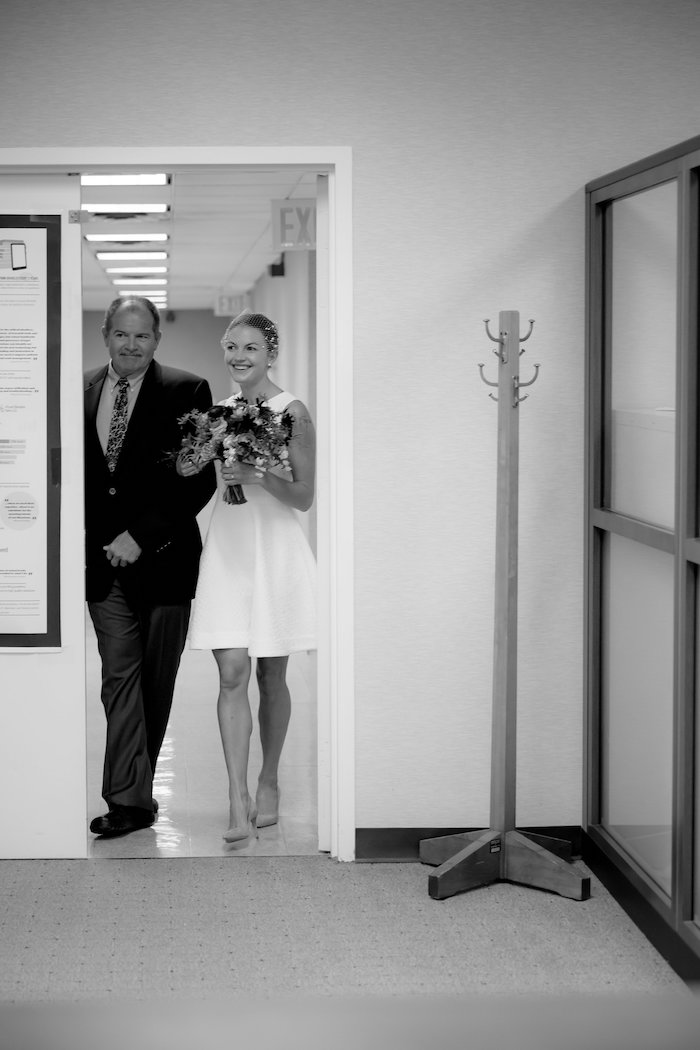 We did ask our parents if there was anything that they felt really strongly about including in the ceremony: my dad wanted to walk me down the aisle (no bridal march or anything, thank God), and both sets of parents thought it would be nice to do a champagne toast right after the ceremony. So we did both of those things, which was lovely!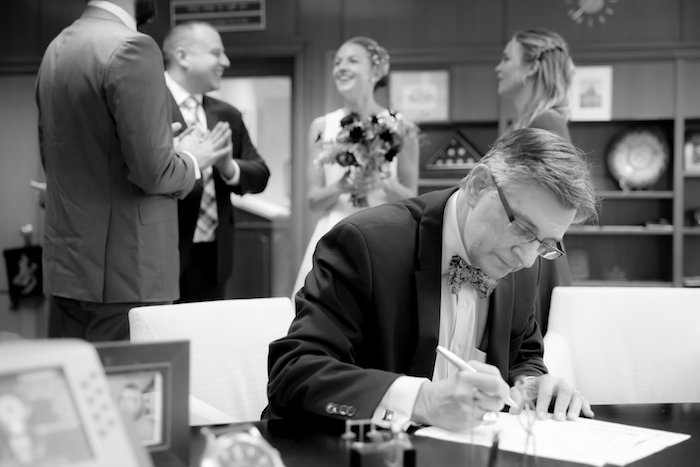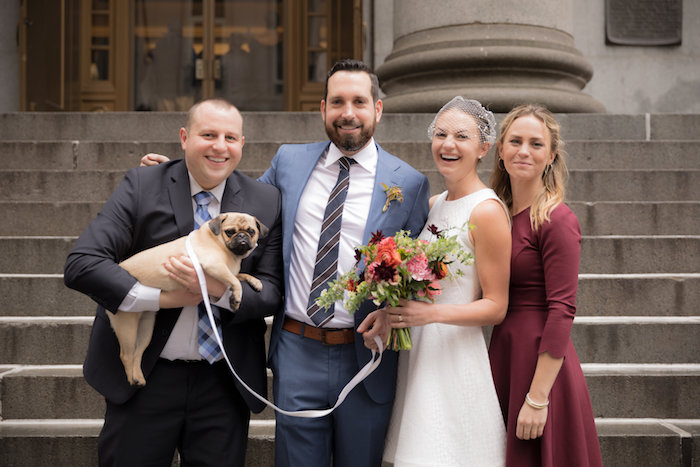 My best friend Aly and David's best friend Chris were our witnesses. Fun fact: both sets of friends were college roommates first, and then shared apartments in Brooklyn! When we first started dating, I was living with Aly and David was living with Chris about a 1o-minute walk away–the four of us spent a lot of time together before Aly moved to LA, and it was wonderful to all be reunited!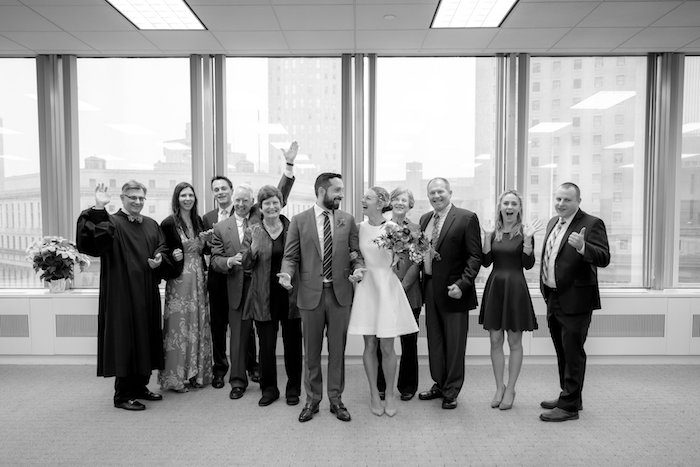 Also in attendance: my parents, David's parents, David's sister and our future brother-in-law. I'm so glad all of our most important people were able to be there!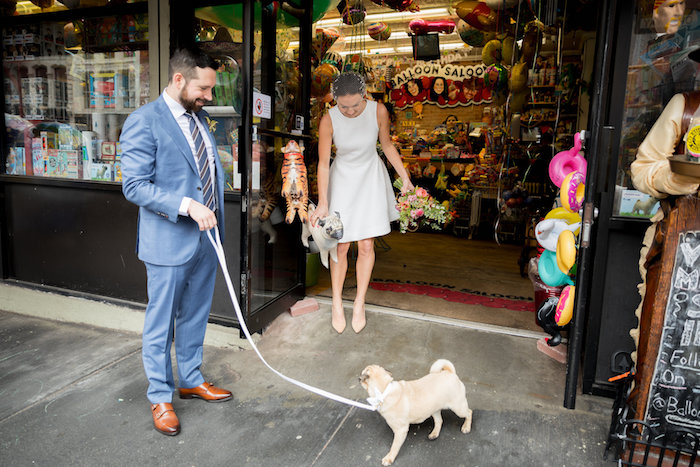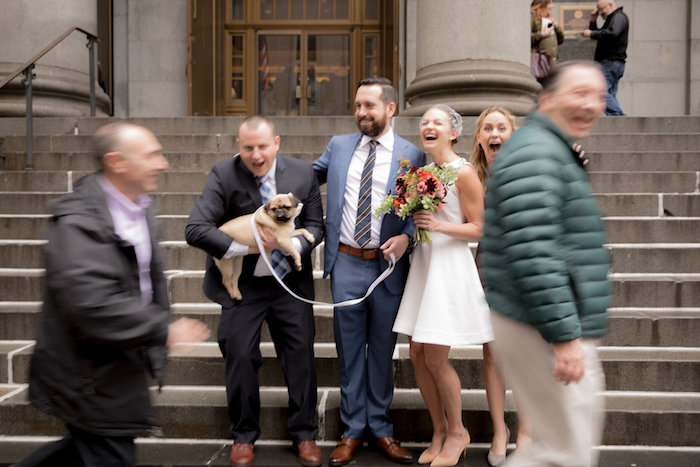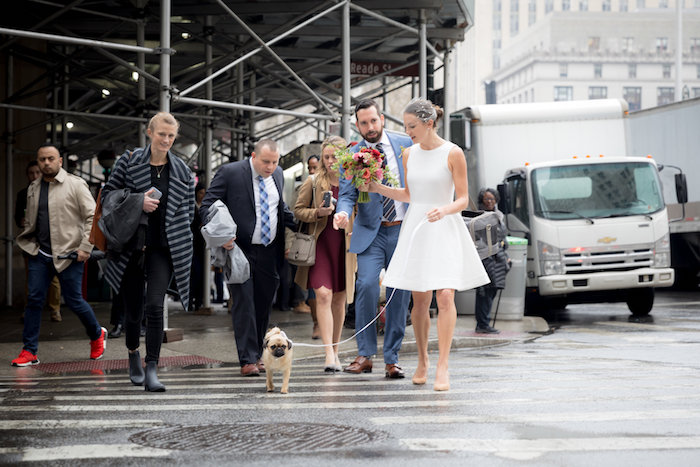 The best part about a city ceremony: The energy of New York City is just incredible, and the hospitality of strangers really pours out for newlyweds! We did portraits in a few locations near City Hall between our ceremony and our luncheon, and I especially love the candid outtakes as our little crew made our way around the city.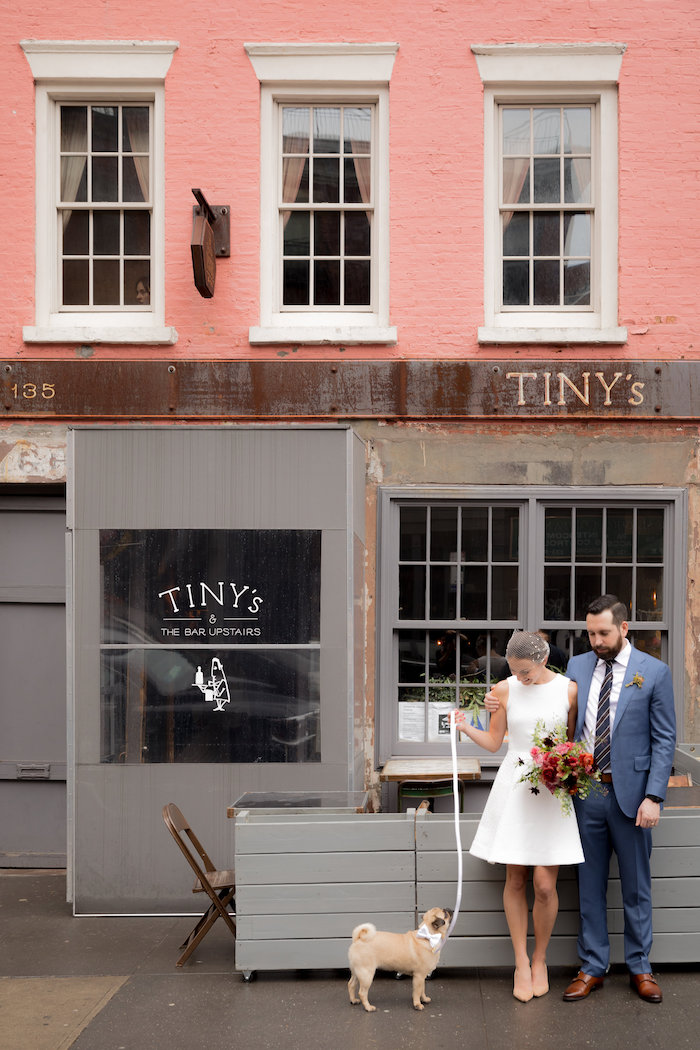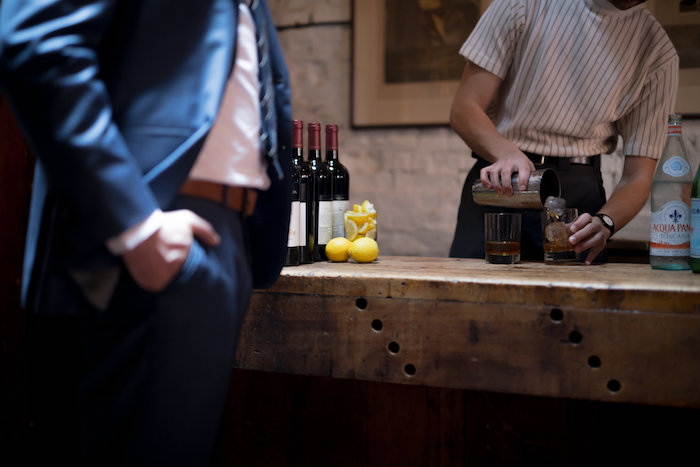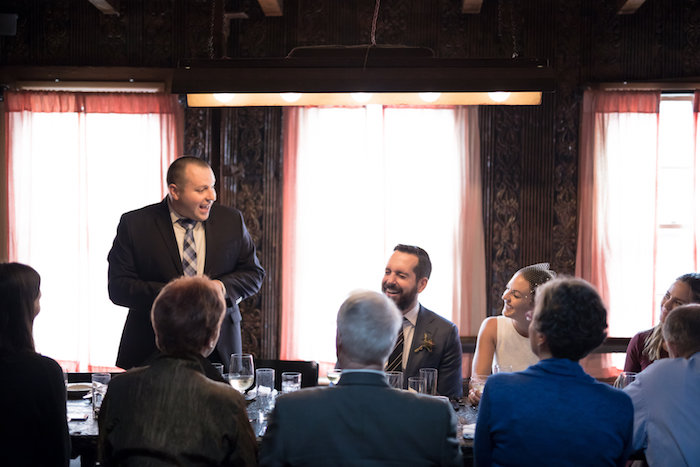 The luncheon: We went to Tiny's & The Bar Upstairs for a lovely meal (and plenty of champagne) in their private upstairs room. There were quite a few toasts, and conversation and laughs flowed freely. We opted for a simple carrot cake from Baked: it's David's favorite type of cake, and I always forget how savory and delicious carrot cake is. Plus, it's all iced in white so it feels surprisingly like a wedding cake! After lunch, we young ones (and a few more friends) headed back to The William Vale for more drinks on our balcony. David and I stayed there that night before an early morning flight to Saint Lucia–I think it was nice to not go right back to our apartment and our regular life just yet.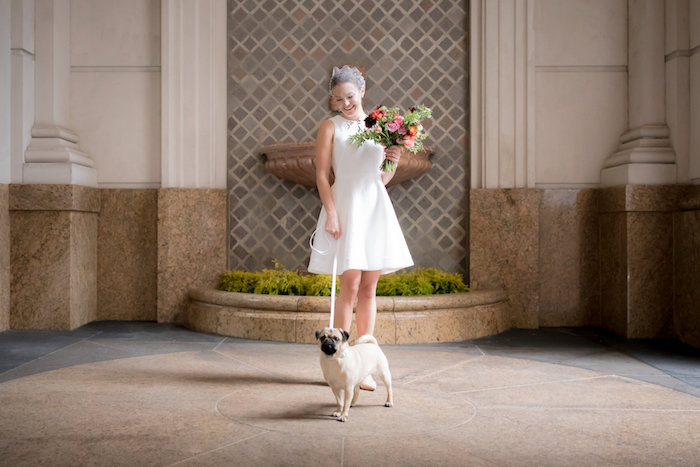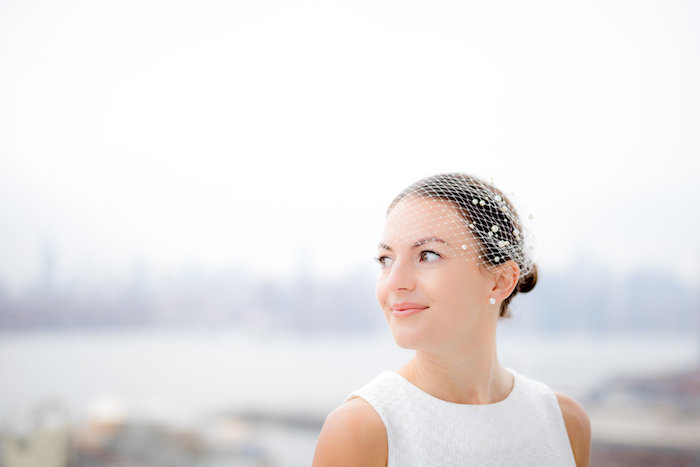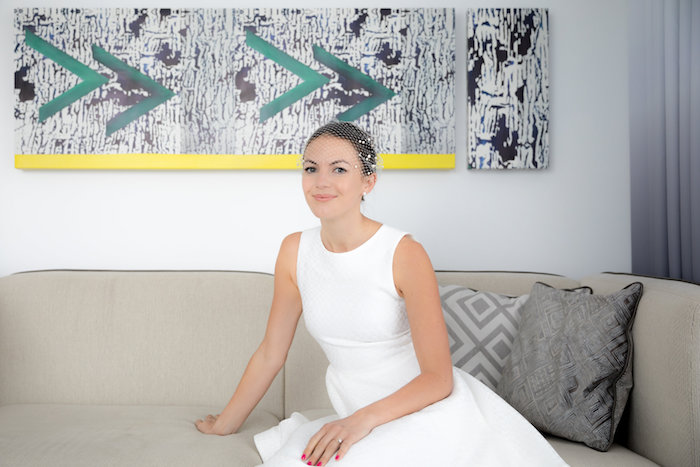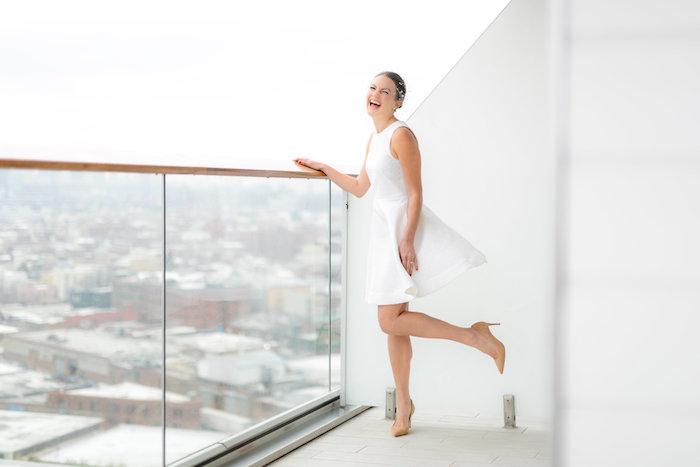 My look: Overall, my goal was classic and chic. I'm actually very surprised I ended up wearing white–I always thought I would wear something bright and bold! My dress is by Alice Walk: I opted for the crewneck circle sleeveless in white jacquard. It felt very comfortable and easy to move in while still being structured, and my absolute favorite part was that it had really deep pockets! My shoes are by M.Gemi (similar here), and I'm glad that I invested in a super versatile pair of nude heels. The birdcage veil is by Twigs & Honey, and I think it pulled the whole look together to feel a bit more special. I used Glamsquad for hair and makeup: I did just a normal updo and makeup–nothing "bridal"–and I found it to be easy to use, affordable and great quality. I splurged on an incredible bouquet from Peartree Flowers–I just told them the rough color scheme I wanted and a few of my favorite flowers, and let the florists work their magic!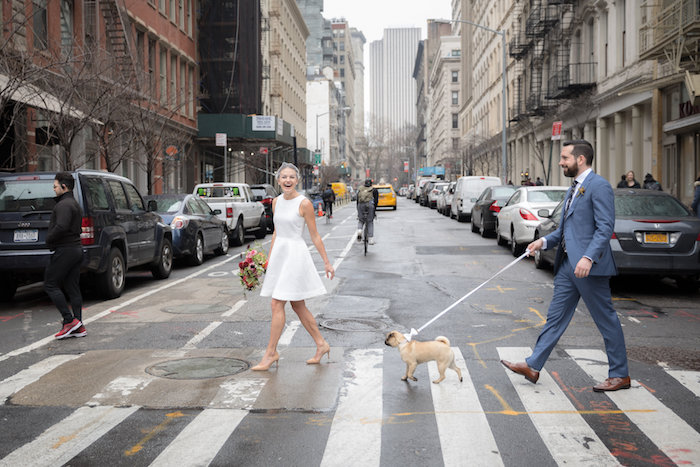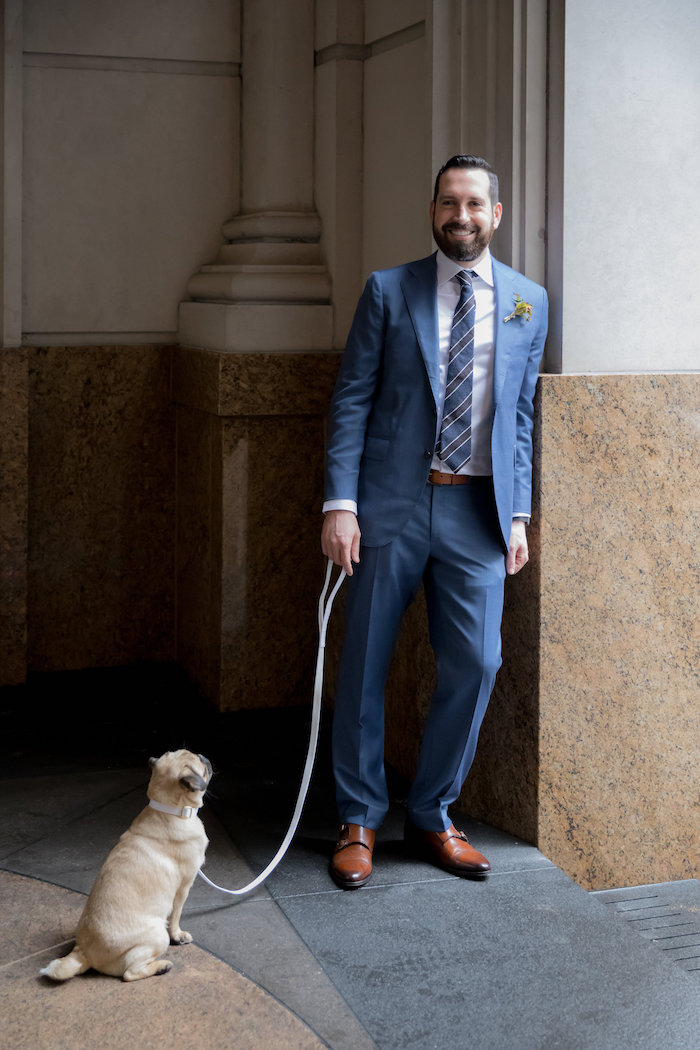 David's look: David's suit is from Suitsupply, and I think he looked very dapper! I also had no idea how intense and varied suit shopping could be–it was quite the adventure helping him pick something out at the SoHo location. I really loved the blue, and I think it's such a classic investment piece. I will say that I thought he was wearing a maroon tie, so that was a bit of a curveball when I first saw him at the altar–but I think he made the right choice!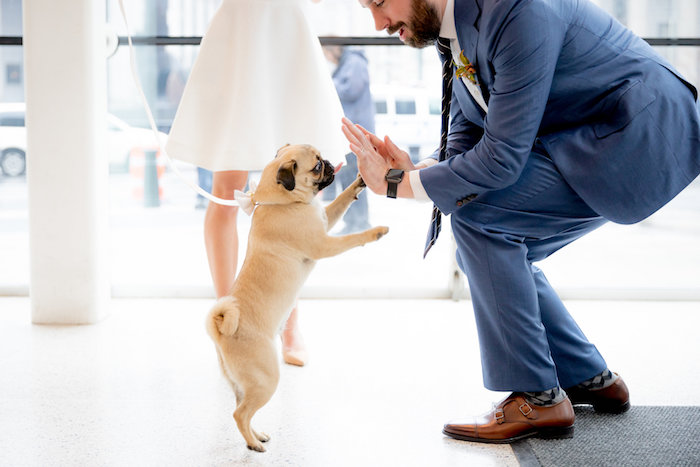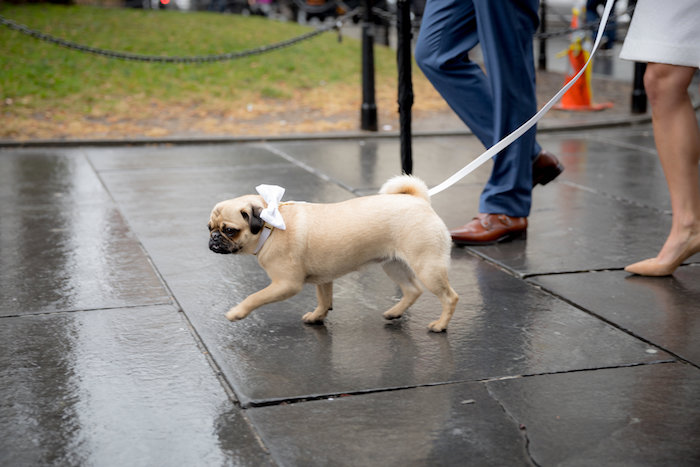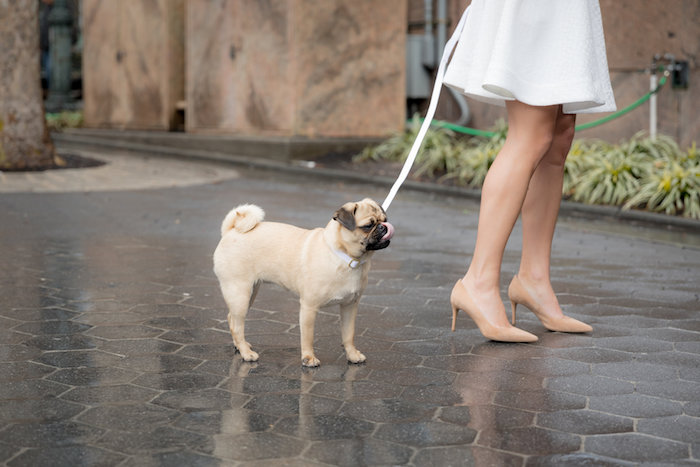 Gert's look: Although Gert didn't come to the ceremony or lunch, my incredible friend slash Gert-sitter extraordinaire Megan brought her by for photos–and I'm so glad she was able to be part of our big day! I bought her a white bow-tie collar and matching leash because I'm a crazy pug mom, of course. I thought she looked very chic as well!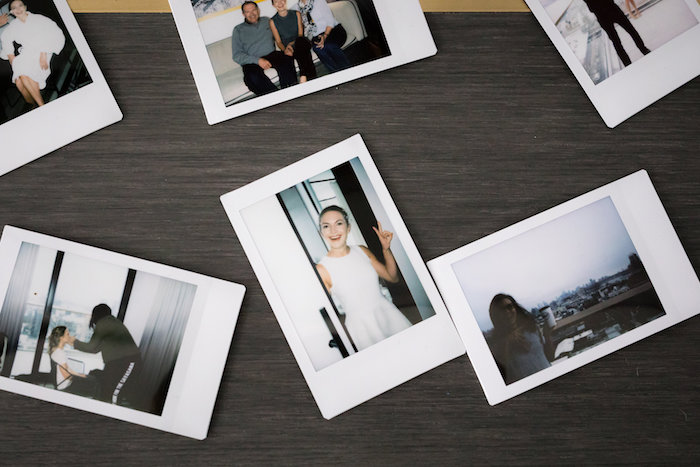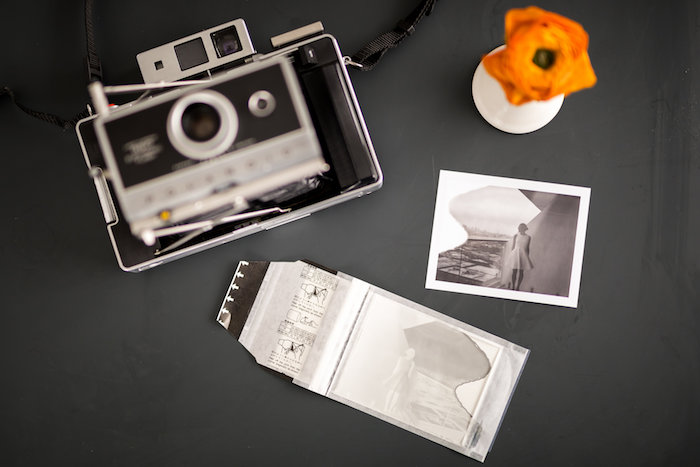 All of the photos: We hired our friend Mat to officially document the day (he also popped out of the bushes to photograph our engagement!), and I'm so thrilled with the photos he took. He really captured all of our joy! In addition to all of the digital files, he also brought this crazy antique Poloraid that took these amazing black and white photos. (If you need a photographer for basically anything, I highly recommend him!) And a fun surprise: Aly brought an Instax and took a bunch of lovely shots throughout the day. We brought all of those little snapshots and Polaroids on our honeymoon, and had the best time immediately reliving everything!
And now we're married! Overall, we had such a fun day and I think the whole thing was very "us." I'm so glad we stuck to our guns about what we wanted and didn't fall into the wedding hoopla too much: I couldn't have asked for anything better!
Thank you again for all of the well wishes–and if you have any questions, happy to answer them in the comments below!