A day on the road to Hana
One of the highlights of our recent trip to Maui: driving the road to Hana–and beyond! I was really on the fence about whether or not we should do it: we only had five full days in Maui (which feels like a lot until you're there, and we were working remotely aka a little more glued to wifi for a few of them), and I hate spending an entire day in the car. Alas: I love a good waterfall, I figured we could spare a day out of direct sunshine, and I thought: we might as well do it once, and then we wouldn't have to do it again!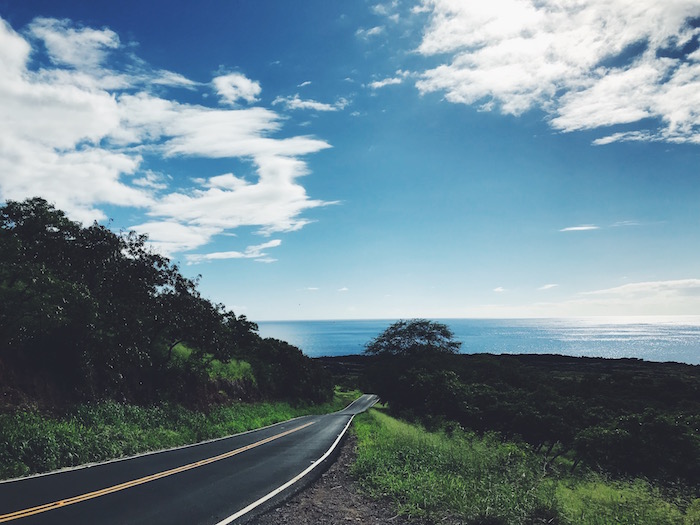 And it totally lived up to all of those things. It was a brilliant change of scenery from the beaches, and I don't think I have to do it again–but it was absolutely beautiful to experience, and I feel like we discovered a whole side of Maui that I didn't know existed. A bit of background: the road to Hana is a 64-mile stretch of highway that features more than 600 curves and 54 bridges, aka it takes a while. It's also full of waterfalls, hiking trails, remote beaches, fruit stands, and plenty of beautiful reasons to stop.
To be honest, we weren't quite as prepared as we should have been. I hate doing a lot of research on things like this: I kind of like to just show up with a few things I don't want to miss, and go from there! In hindsight, I'd recommending packing sneakers (that you don't mind getting dirty) and a pair of flip-flops, a bathing suit, plenty of drinking water, and lots of snacks. There isn't much cell service on the east side of the island, so it's good to have an extra charger on hand as well as a paper map. Also: once you get past Hana to the south side of the island, there really isn't much in terms of food options. If you're hungry, either grab something before you hit Hana or pack yourself a picnic lunch! We left our place in Kihei around 8am after grabbing a couple of coffees, stopped to fill up at gas at Costco on the north side of the island, stopped at all of the places below (but didn't stick around many for toooo long) and were back in Kihei by around 4pm. Definitely a full day!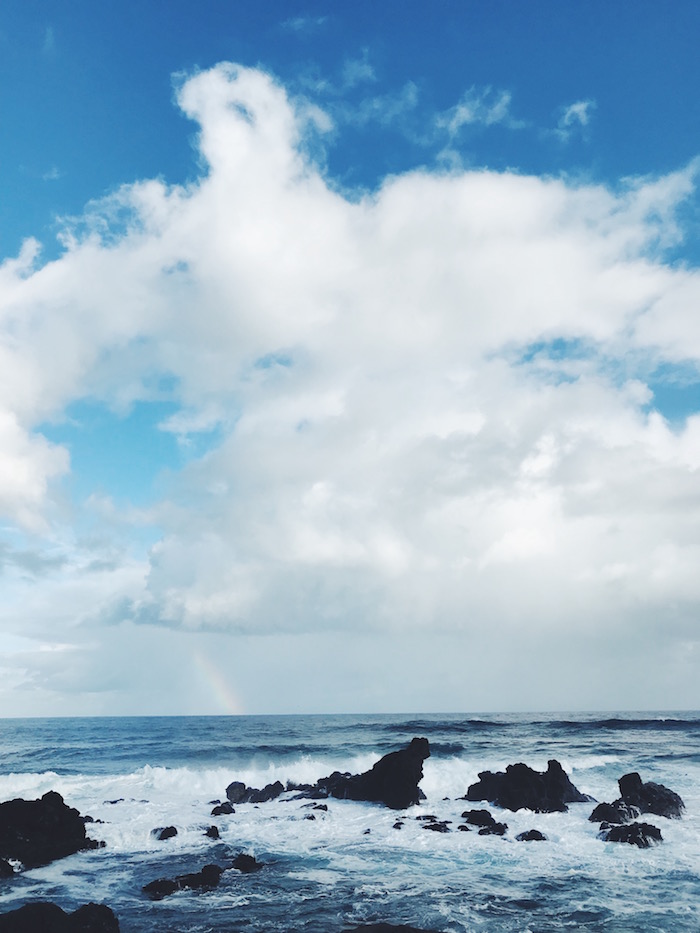 Ho'Okipa Beach
Our first stop on the road to Hana: the overlook at Ho'Okipa Beach! A full rainbow pouring across the ocean was very good omen to the start of the day, as was a tent selling homemade spiced pineapple bread and mango bread (we opted for mango, which went very nicely with our coffees on the first part of the drive). We watched the surfers brave some terrifying big waves, and spotted several giant sea turtles sunning themselves on the rocks.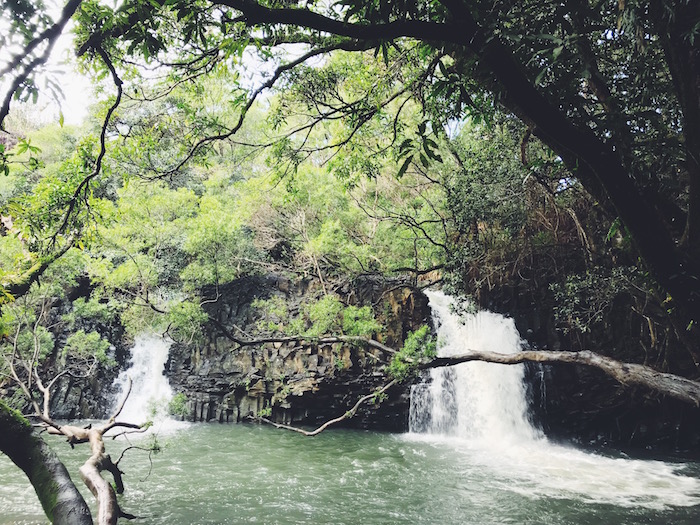 Twin Falls
A good start to waterfall chasing: Twin Falls! I suppose one could call it an easy hike, but it's really just a short (fairly muddy) walk from from the parking lot to the double falls. The pools don't look especially inviting to swim in, unfortunately–a big way that I convinced David to go along on this drive was that we'd be able to swim in some waterfall pools (a la our time in Dominica, which was a highlight of our honeymoon), and we ended up not swimming at all.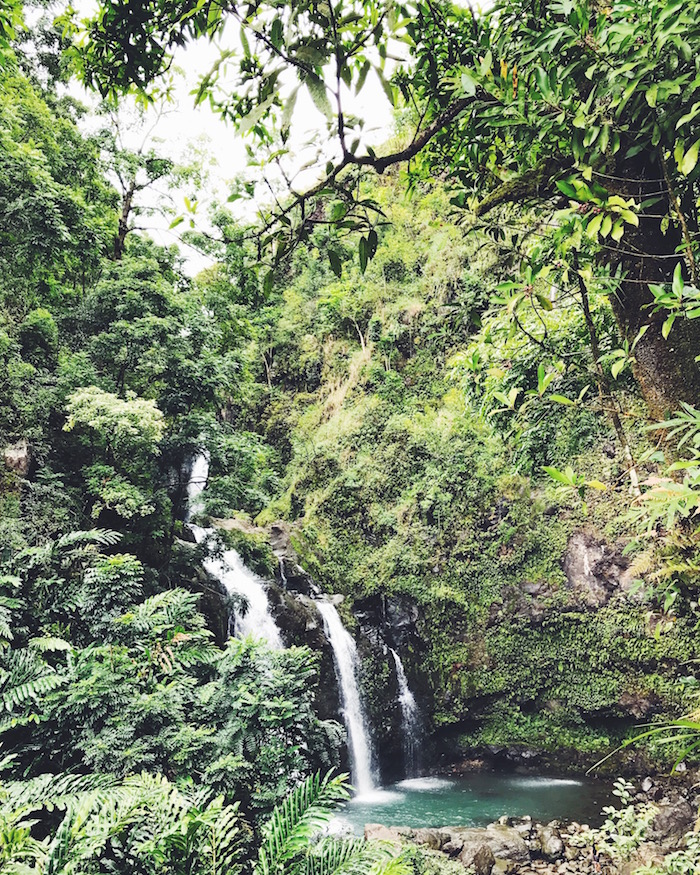 Waikani Falls
Fun fact: this is the sort of waterfall you can just spot from the road! Waikani Falls, also known as Three Bears Waterfalls, is incredibly beautiful and requires pretty much zero effort to enjoy. The hike down to that pool looked fairly treacherous, but in hindsight: it might have been worth it for a swim!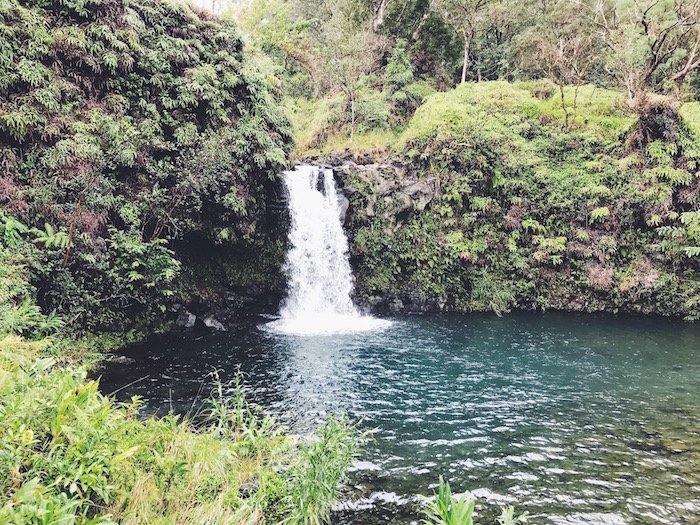 Pua'a Kaa State Wayside Park
Most important thing to note about Pua'a Kaa State Wayside Park: there is a very nice set of public bathrooms. Similar to Twin Falls, this is a nice little waterfall that is an easy walk from the road. The rest stop also features parking spots and picnic tables, so it's an easy and lovely place for a break if you need it.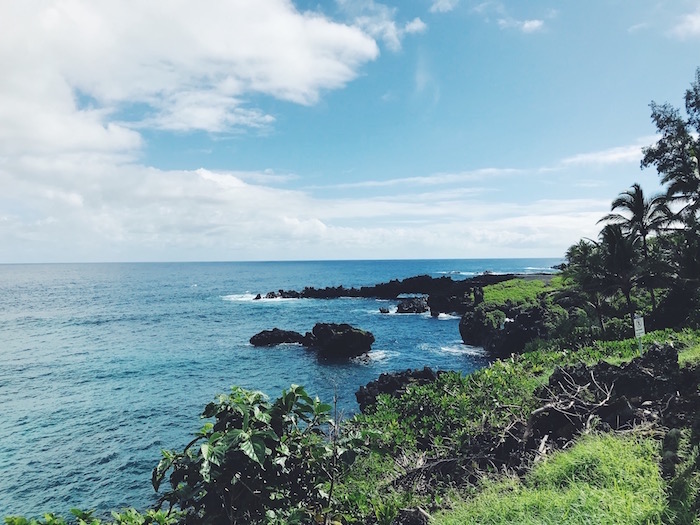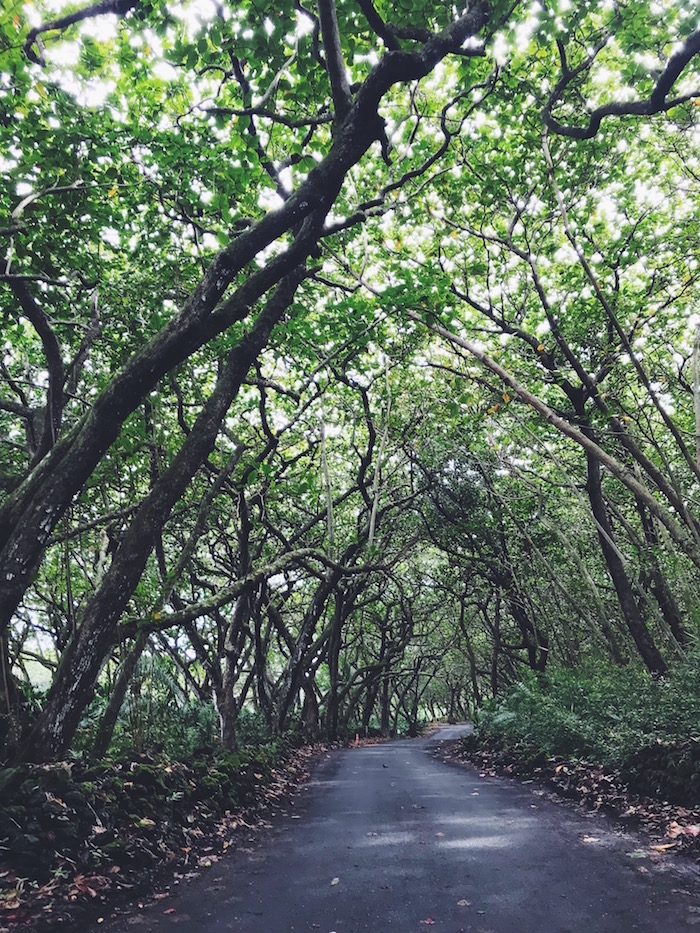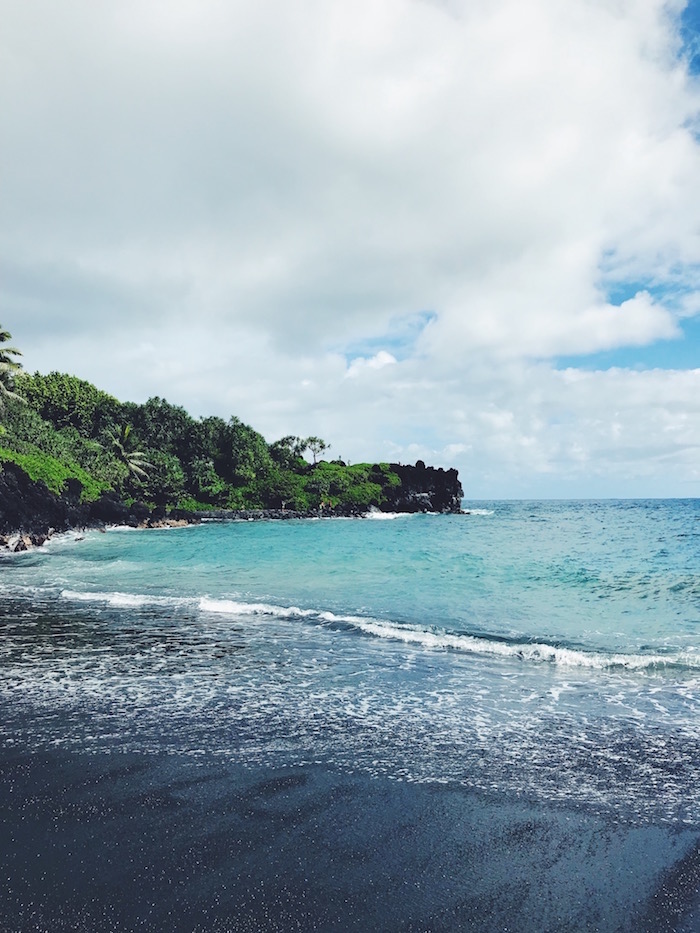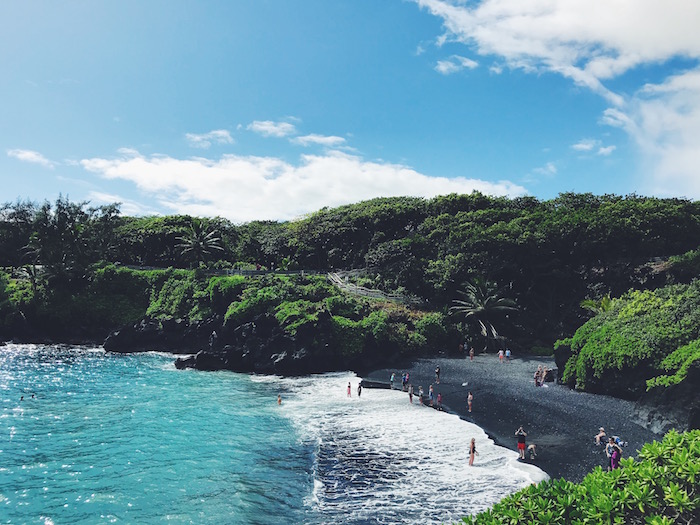 Black Sand Beach
One of the most famed stops on the road to Hana: the stunning volcano-formed Black Sand Beach. Framed by lush greenery and the turquoise ocean, it feels otherworldly. There are cabins and campsites here, and if our trip had been planned a little differently, I think this would have been a fun place to stop for the day and night. It's fairly close to Hana, so there are a lot of food options and it would have been incredible to see the sun rise over this beach.
Roadside stands
One of the most delightful parts of the road to Hana: all of these on-your-honor roadside stands selling fresh passionfruits, mangos, pineapples and tropical flowers. Bring small denominations of cash so that you can pick up some local and healthy snacks at a fraction of the grocery store prices!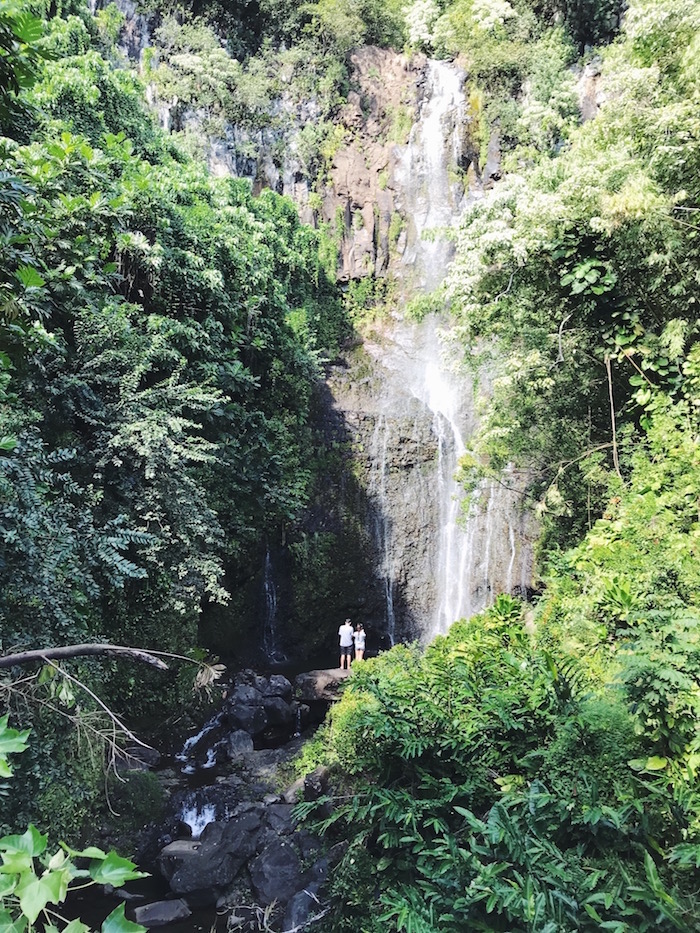 Wailua Falls
We stopped by Wailua Falls as we drove past Hana: this is the view from the road. Although I waited a bit for those people to move out of the way, they never did (or at least, they didn't in the realm of my patience) but in hindsight, I'm kind of glad they didn't: they lend a nice bit of scale to just how enormous the face of that waterfall is.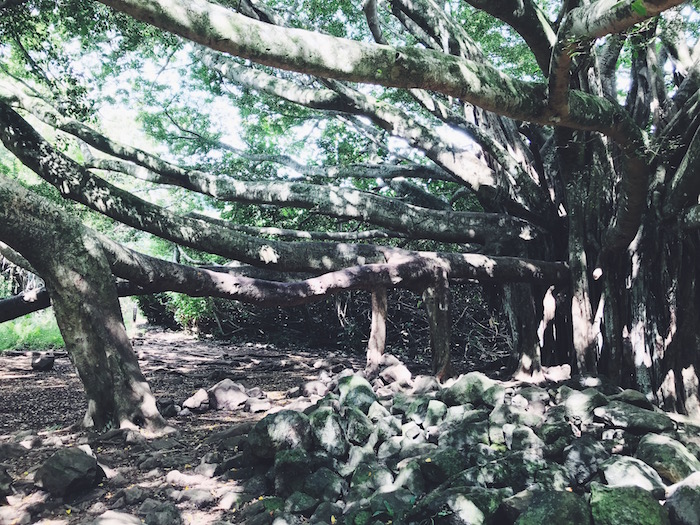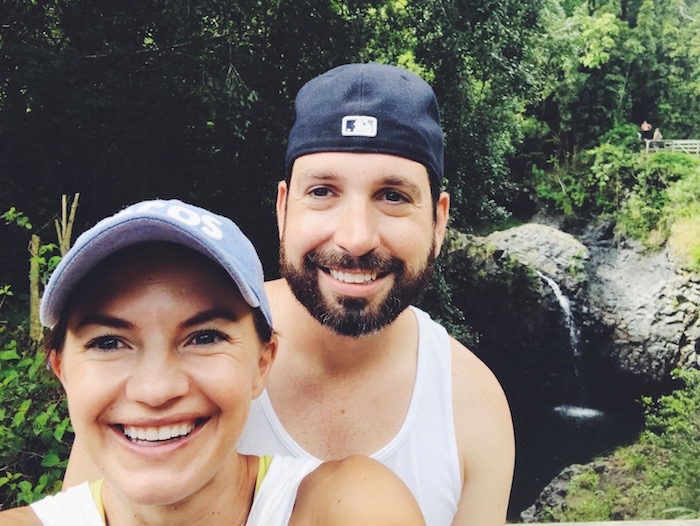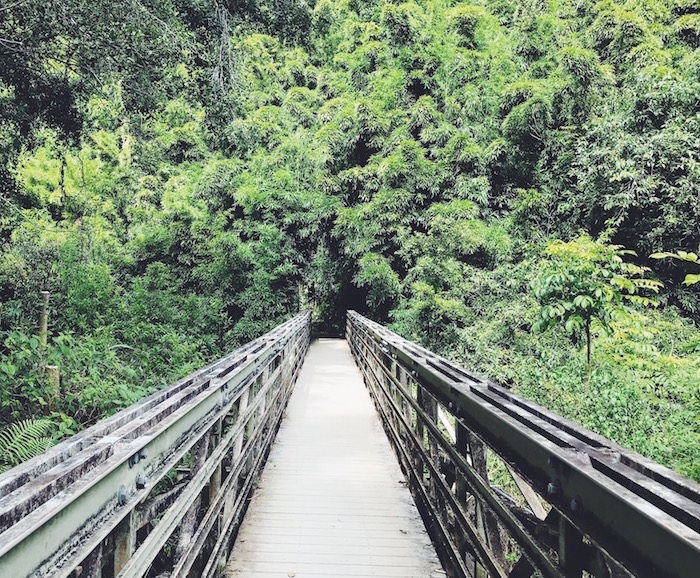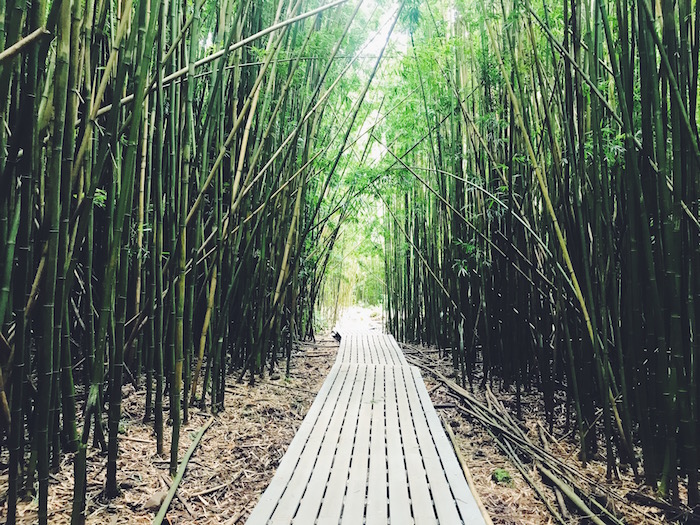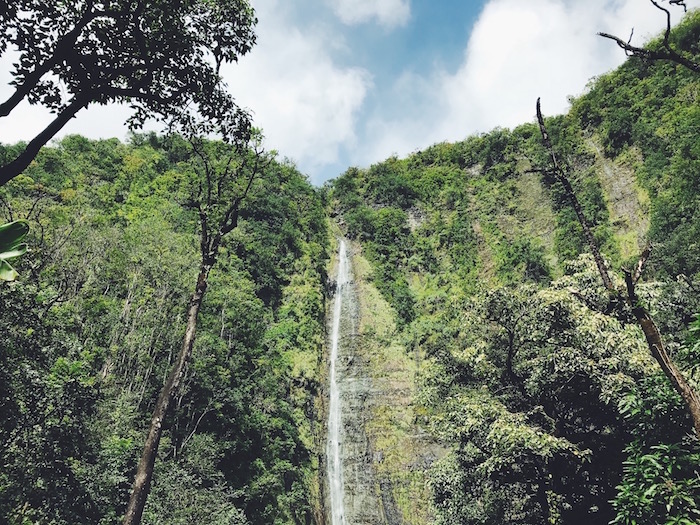 Pipiwai Trail & Seven Sacred Pools
Our main destination: hiking the bamboo forest on Pipiwai Trail and swimming in the Seven Sacred Pools! Sadly, all of the pools were closed for swimming on this day (womp womp!) because of previous flooding–it also sounds like there was a big storm at the beginning of the year, and they're still doing some construction to make it safer to swim. Even though we didn't get to cool off with a dip, the five-mile round trip hike was such a good way to exercise our legs and get out of the car for a bit. My only complaint: the trail just sort of ends with an OK view of the falls (and an excellent place to picnic on a little stream), but it's nothing spectacular. If you're running short on time, you could probably cut and run once you get sick of the bamboo forest–it's an out-and-back trail, so you could just turn around whenever you feel like it. Also: it costs $25 per car for parking and entry to the national forest. Not the cheapest hike, but we figured that we had driven all of this way–we might as well get out and enjoy it, and I'm really glad we did.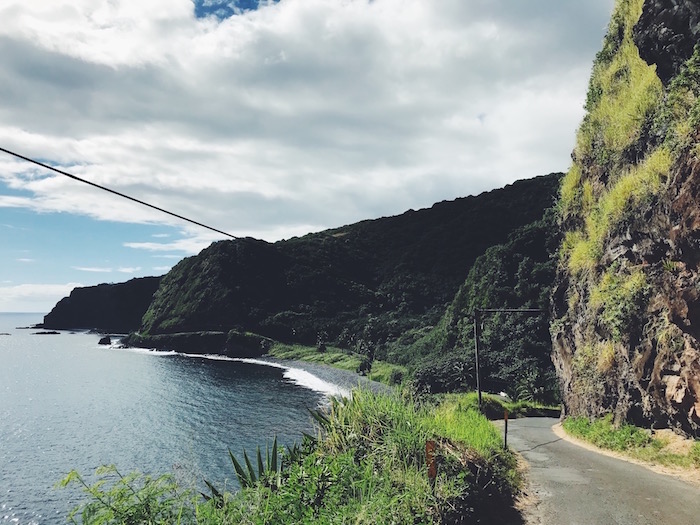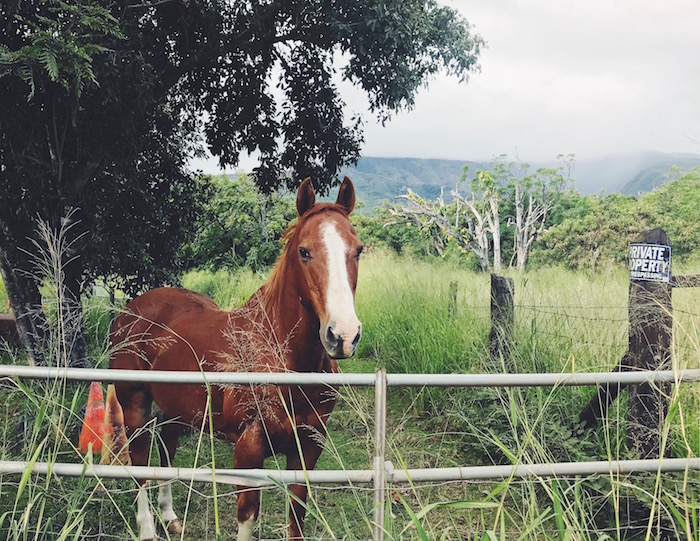 South side of Maui
Full disclosure: driving all the way around the island (basically past the national forest) is not covered by rental car contracts and is not recommended in a variety of weather conditions, especially if you don't have a four-wheel drive. There are many sections where the road is unpaved, and it's full of one-lane blind curves that hug the ocean. Definitely a bit stress-inducing, especially in a mid-size car like ours! We debated going out-and-back or around basically the whole day, but when we asked at the national park about the status of the road, she said it was clear with no reported issues and just urged us to take it slow the first nine miles–so we decided to brave it. I'm stoked that we did: the south side of the island was without a doubt the most beautiful part of Maui I've ever seen. It's completely undeveloped, and it is just wildly gorgeous: all of these lush green rolling hills, empty beaches, stunning cliffs. The driving was definitely a bit hairy, so I'm glad we did it all within good daylight and super cautiously. But if you're debating taking the risk: I recommend it! It was also fun to see some new views instead of doubling back past the same attractions.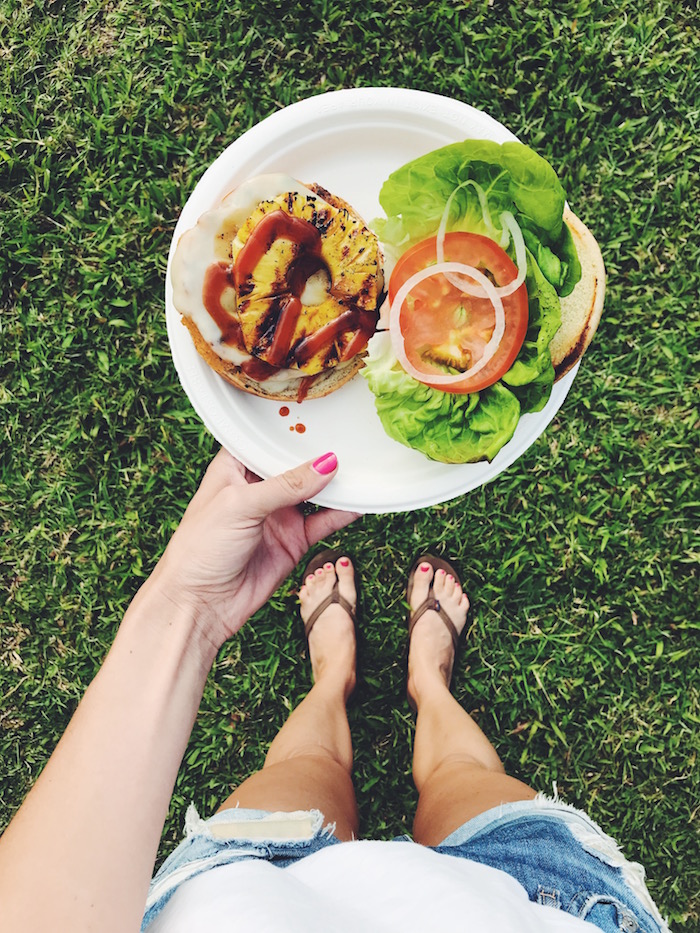 Ulupalakua Ranch Store
Our timing was a little weird so we kind of missed lunchtime in Hana (especially since at that time, we thought we'd be doubling back), and then we realized there was basically no food options until we came around the south side of the island and back into civilization. By the time we spotted Ulupalakua Ranch Store, we were absolutely starved–excellent timing to get a farm-raised venison burger and taro burger (topped with a grilled pineapple, because Hawaii). It's a cute little ranch store (a bit pricey, but that's the cost of convenience) and all of the meats are raised on the property: the perfect place to end the drive!
Have you ever driven the Road to Hana? Is there anything we missed for next time?