The best of Maui
I would like to make a grand defense of the easy vacation: the vacation that is all blue skies and sandy beaches, psychological thriller paperbacks and catching up on all the podcasts, morning walks along the water and rum-POG cocktails at sunset. Sometimes, it is incredibly rejuvenating and refreshing to just be somewhere easy: somewhere where the sun is always shining, where they speak the same language, they use the same currency, they drive on the same side of the road.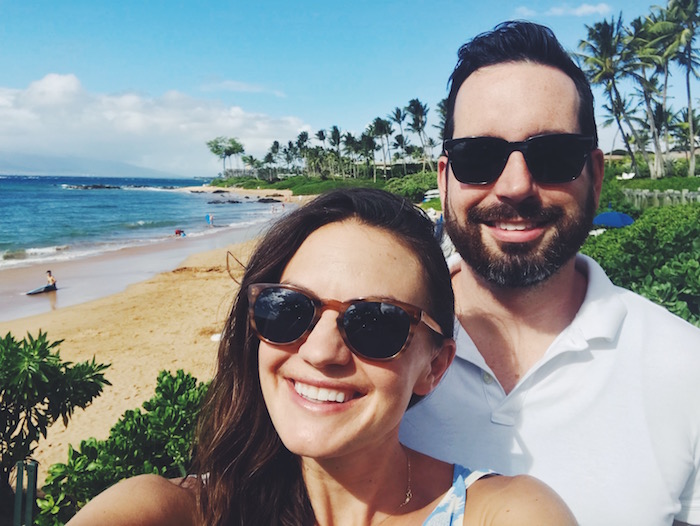 For me, that place is Maui. I've spent several Thanksgivings and Christmases with my family at our timeshare in Kihei, and as soon as we knew that we would be moving back to the West Coast, booking a trip to Hawaii was my first priority. My husband and I spent a week in Maui over Thanksgiving, and oh my gosh, it was so easy and so wonderful. It was back to the beaches and roads that I knew like the back of my hand, and back to my favorite shave ice shacks and food trucks. But this was the first time I've been back as an adult, with a rental car of my own and my own schedule, and so: we explored a few new things and relaxed on the same beautiful beaches, and the whole trip reminded me of just how much I have to be thankful for.
One thing that I do want to note is that while Maui is very easy, it is also very expensive. One of the things that made the biggest difference in our holiday budget was staying in a timeshare that came with a kitchen. We stopped at Costco (conveniently located right outside the airport) and the grocery store on our way into Kihei, and stocked up on things like pineapple, coffee, POG juice, cereal, Hawaiian sweet bread, etc. We had a simple breakfast of coffee, cereal and sliced fruit at home almost every morning, made egg sandwiches a few times for lunch, and either grilled or made a veggie pasta dish for dinner a few times. Although I am a little bummed that we maybe didn't eat quite as much poke and macadamia nut pancakes as I would have liked, I do feel like we saved a lot of money (even just breakfast out can easily run up to $30 or more for two people!). This was especially key when it came to alcohol: instead of splurging on$15 mai-tai's (or teeny tiny ones for $7 at happy hours), we whipped up our own rum (thank you Costco) and POG tropical cocktails or had a cold beer (also thank you Costco) at home or on the beach. If you have the opportunity to stay somewhere with a kitchen when visiting Hawaii, it will make a HUGE difference for your wallet!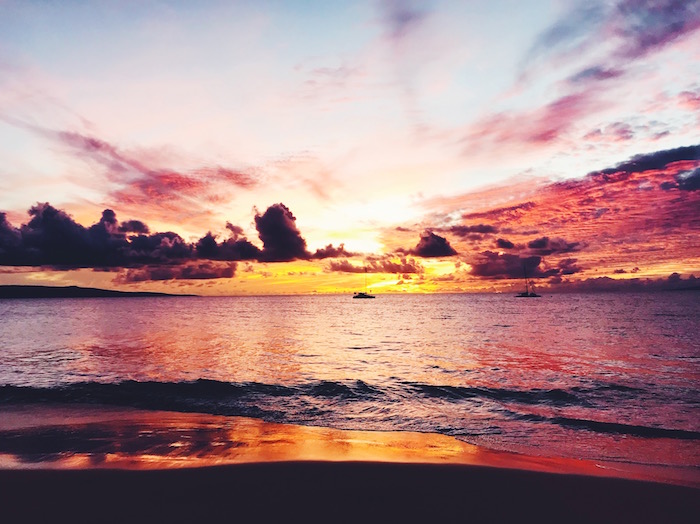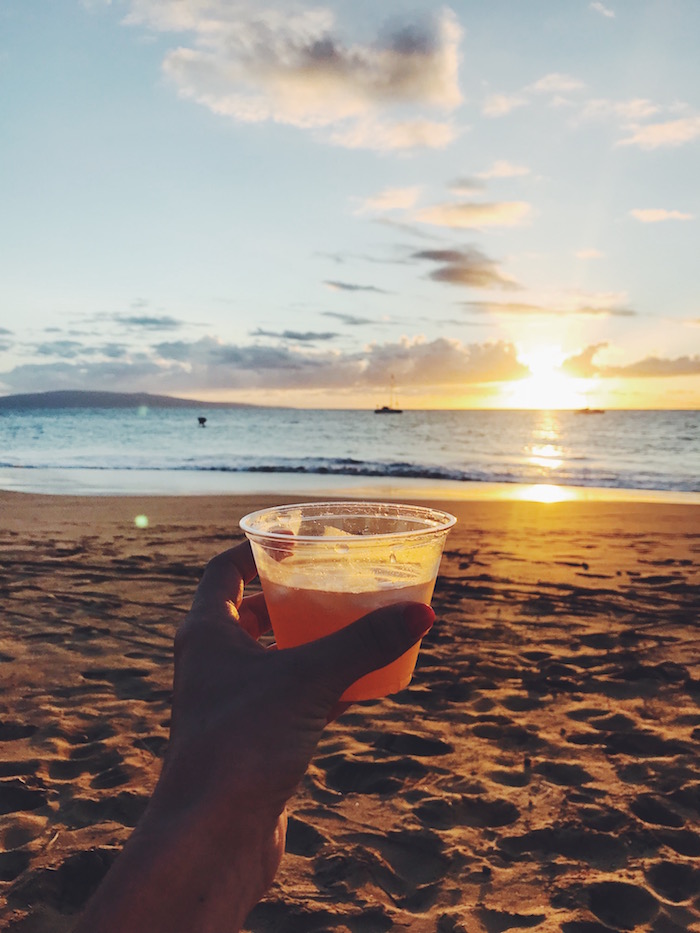 Sunsets
One of the mini traditions I set for the week: I'd see every sunset over the ocean every day. My parents' timeshare is located right across the street from beach, so around 5:30pm every night, I'd pop across with a water bottle of rum and POG juice for a sunset happy hour. Sometimes David would come, and sometimes he opted to stay at home–but no matter what, it was so pleasant to see the colors explode across the sky and watch the sun sink below the horizon and just take a moment to appreciate the end of another day. It's one of those indulgences that I don't always have time for in "real life," and I'm so glad that I committed to it on vacation.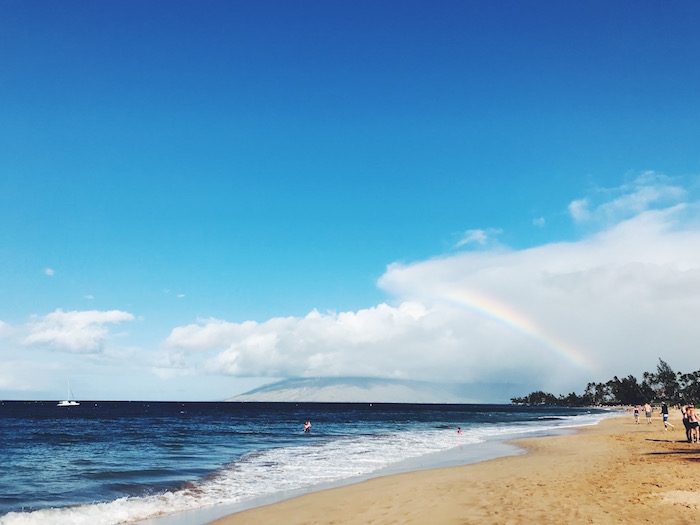 Kamaole Beach
It was weird to be back on this beach. When I was 15 and 16 and 17 and 18 and 19 and 20, I used to set up shop on this beach. My parents would golf, and I would mosey across the street with a full bottle of browning lotion and a first-generation iPod and a book and a stack of magazines, and spend every moment of sun light possible on this beach. I did pretty much the same thing on this trip: I tore my way through paperbacks, and walked up and down the beach with my headphones in, and took quick dips in the water to cool off and make my hair turn the sort of perfect salt water waves that only happens with Hawaii ocean water. It felt like a throwback to simpler times and wonderful memories.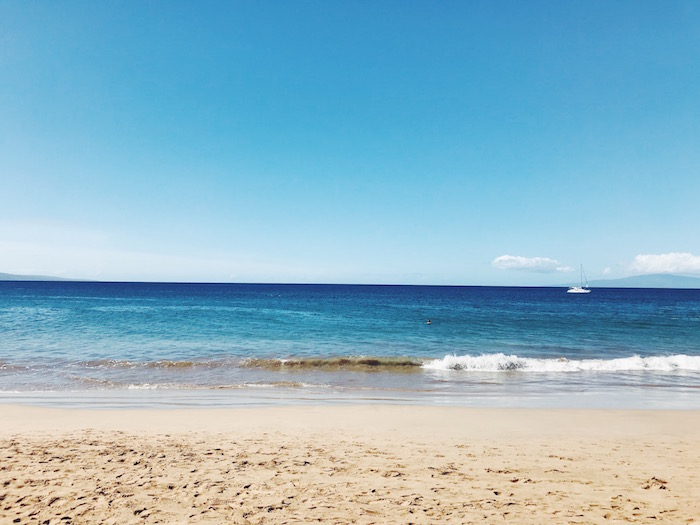 Snorkeling with sea turtles
Maybe the best surprise, though, was going snorkeling for the first time on this beach that I knew so well–and swimming with sea turtles! I rented a snorkel set for the week and we went to a few different spots up and down the western coast of Maui. Without a doubt, the best snorkeling we did was just past the rocks on the left side of Kamaole Beach III. We went out around 10am, with the sun streaming down and the water completely still and glassy: perfect conditions! We ended up swimming with around six sea turtles: one had a wingspan almost as large as me, and one was a a tiny babe, and all of them were just so chill and majestic. Without a doubt, one of my favorite moments from this trip.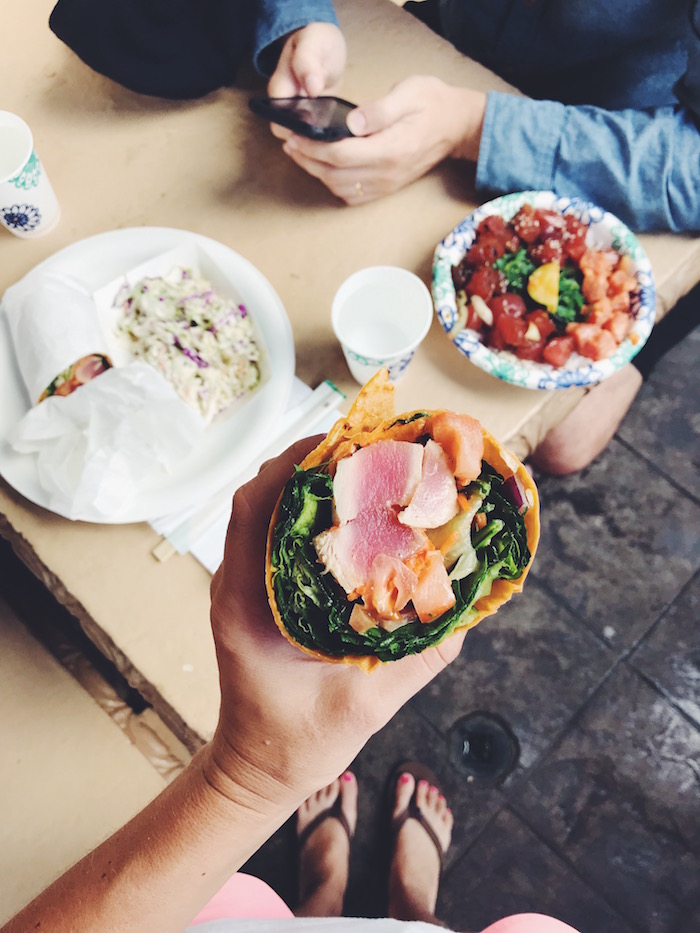 Eskimo Candy
Eskimo Candy is one of my family's favorite spots in Maui: they have the most incredible fresh fish on the island (perfect to take home and BBQ), and I'm also a big fan of their ready-to-eat meals. It's certainly known for fancy ambiance: the discreet deli is tucked away in a semi-industrial neighborhood, far from the ocean-facing balconies along Kihei Road. But the food and the fish make up for just about everything. I opted for a fresh ahi tuna wrap, and David got the most intensely delicious, fish-forward poke bowl that I've ever seen. Highly recommend!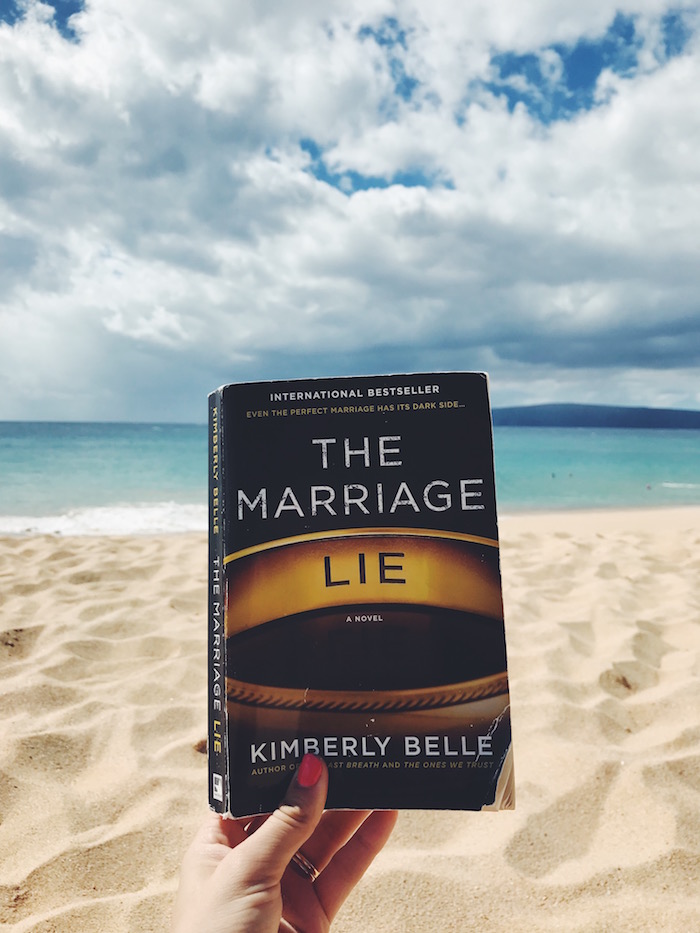 Reading on the beach
As previously noted, reading on the beach was my #1 pastime on this vacation. I sped through three paperback psychological thrillers that my mom passed on to me (thanks, Mom!): The Marriage Lie, Blink and Liar. And I kept working my way through Hamilton: I'm (finally) almost done!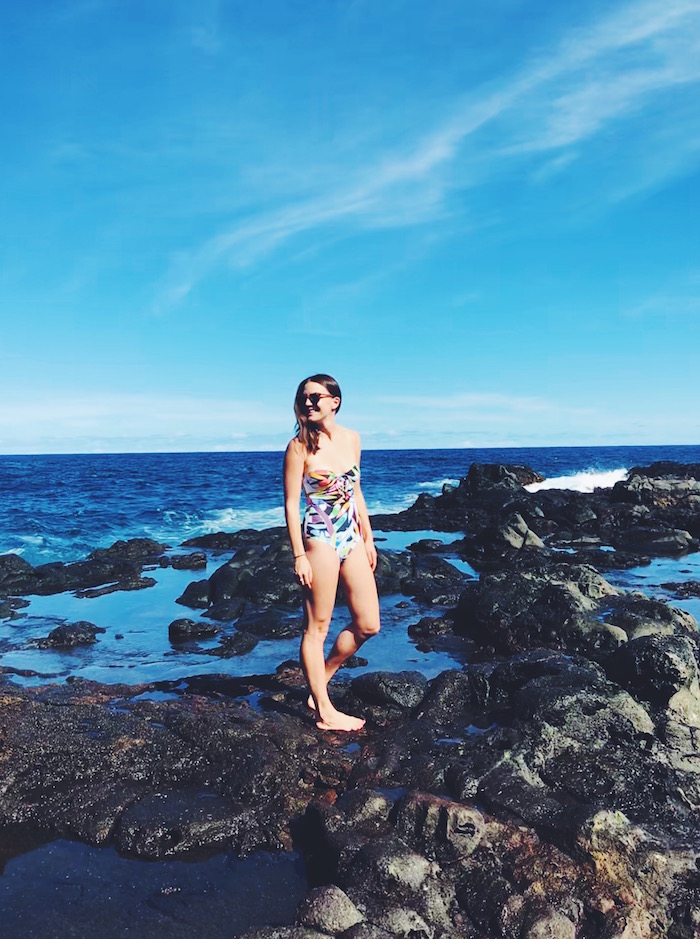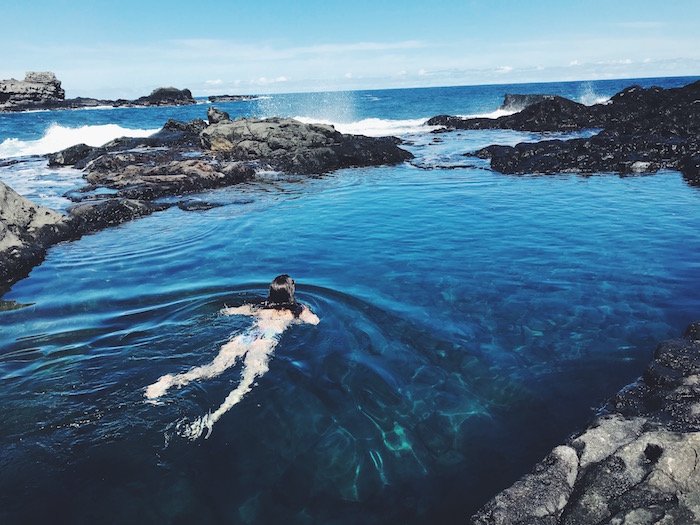 Olivine Pools
One of the most delightful discoveries of this trip: these wonderfully calm pools to swim in, right next to the waves crashing on these black rocks on the north side of Maui. The hike down is a little precarious, and the one-lane road in is exceedingly curvy–but it's all worth it once you get to the bottom.  p.s. swimsuit is Mara Hoffman!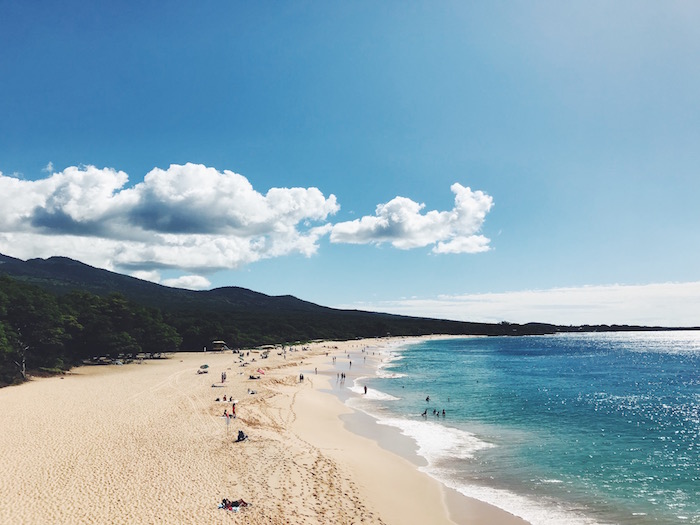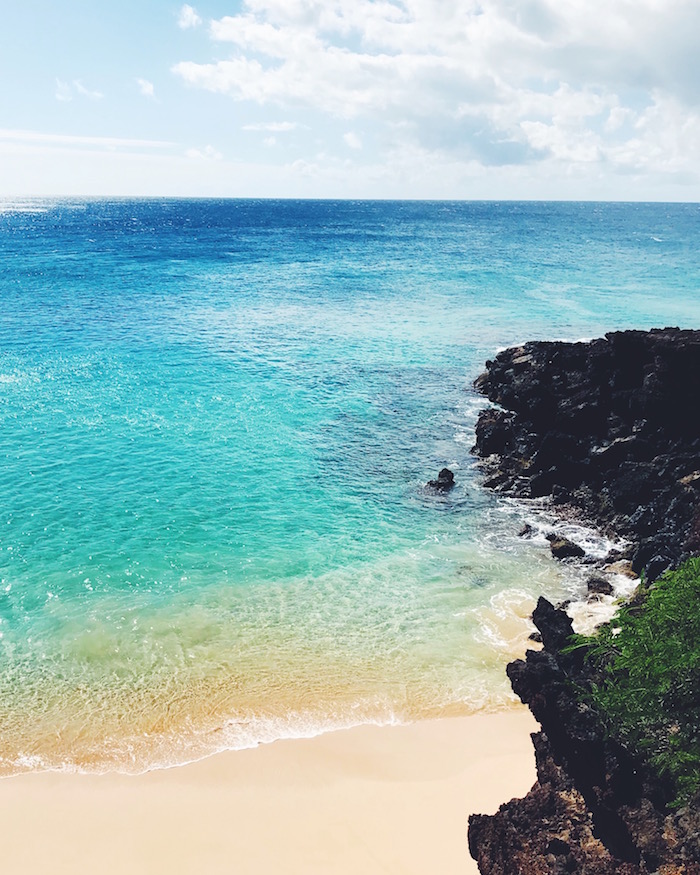 Big Beach
Even though this is a terrible swimming beach–the waves are enormous and break too close to shore, the rip currents are far too strong for me (as a decidedly not very strong or confident swimmer) to feel comfortable in–it's still one of the most beautiful beaches on Maui, in my opinion. Even though I never want to stay here all day, I still like popping by to take a walk on the white sand and enjoy the sparkling turquoise water.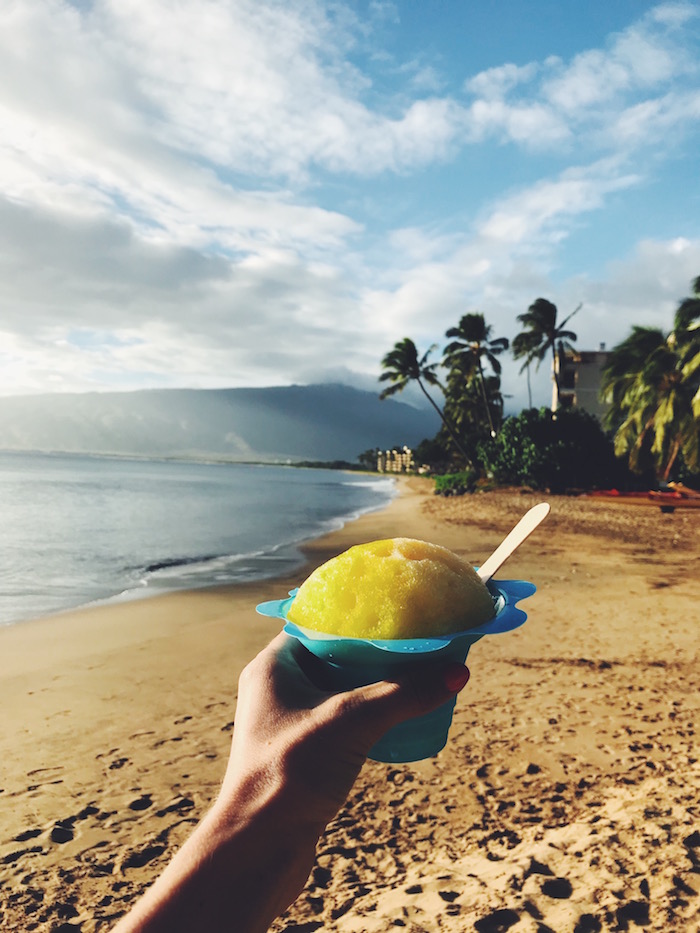 Ululani's Shave Ice
A reader friend recommend Ululani's Shave Ice when I was soliciting Maui suggestions, and I'm so glad she did! It was without a doubt the best shave ice we had in Maui (and we tried quite a few other places). They have an incredible variety of decadent tropical flavors, and you can choose it to be on top of Lappert's vanilla, macadamia nut or coconut ice cream. My personal favorite combination: passion fruit, mango and guava shave ice on coconut ice cream. And I couldn't stop laughing over my husband's five-year-old-at-heart order (although he stands by his claim that it's a totally normal adult option): cherry and cola on gummy bears!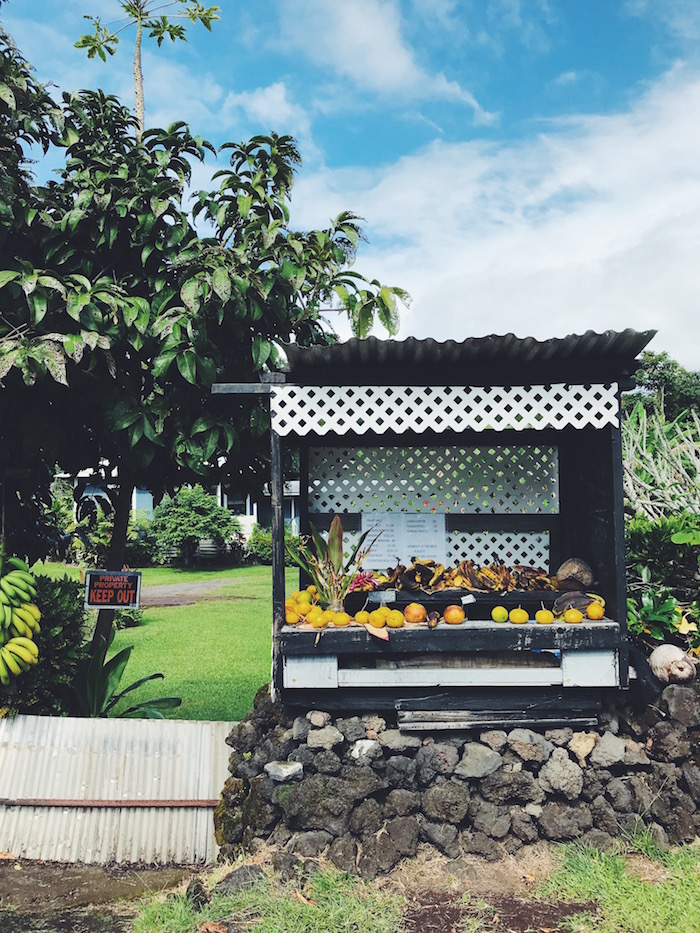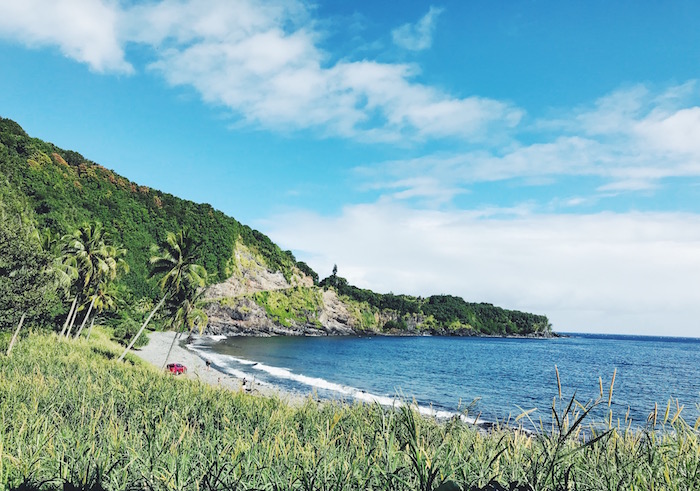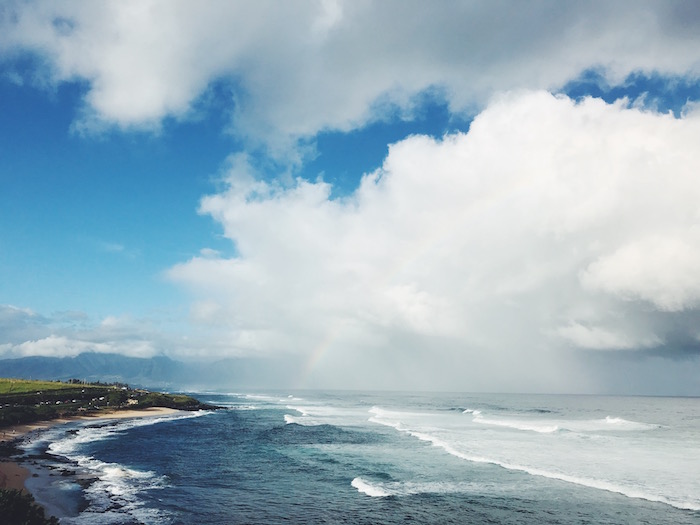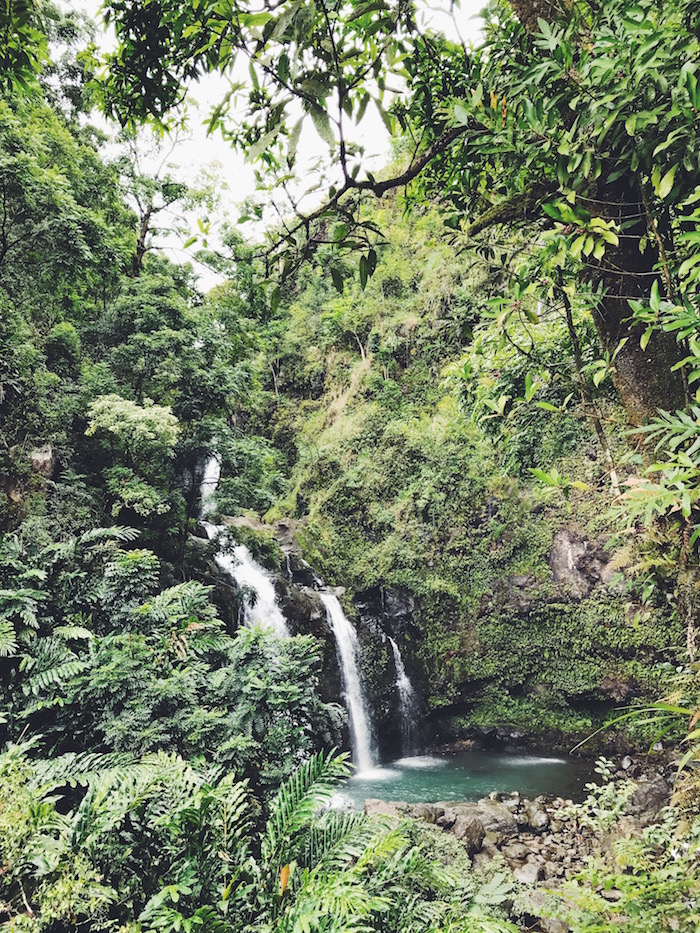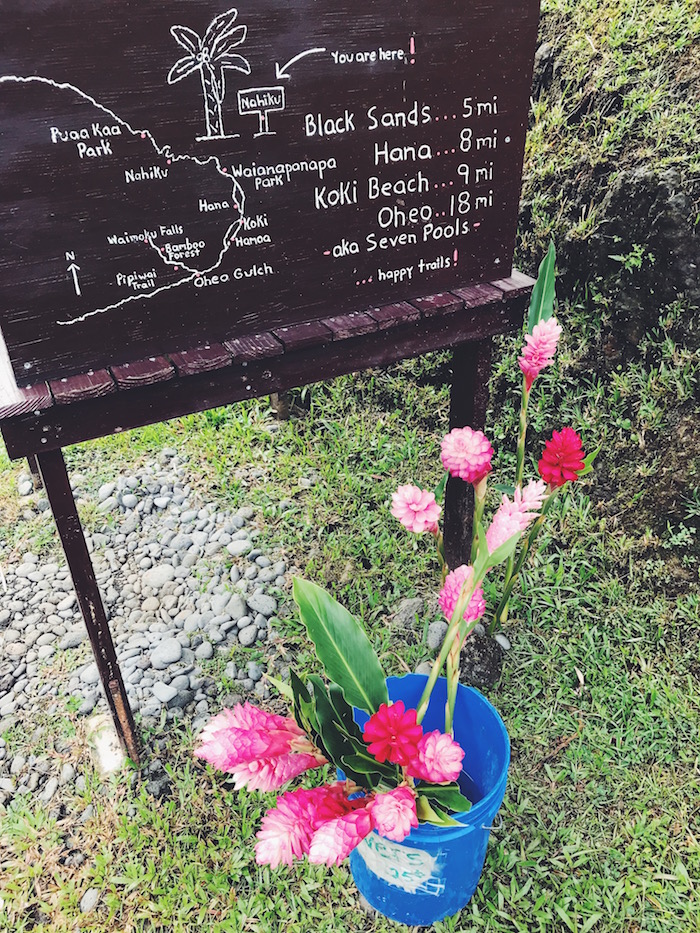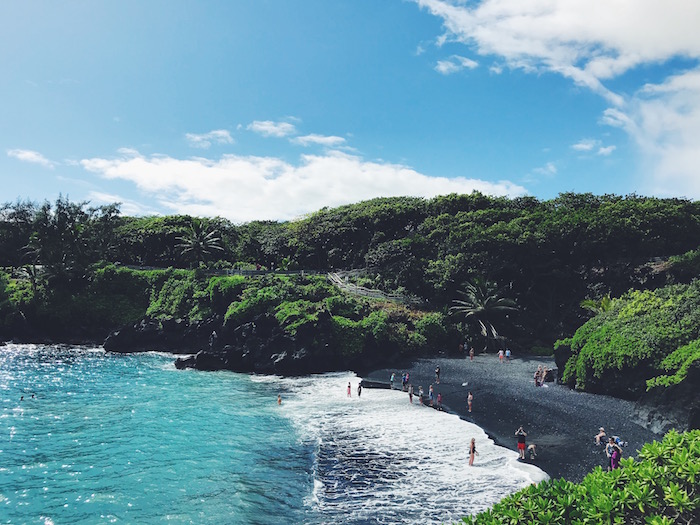 Road to Hana
One of the quintessential Maui activities that I had never done with my family: the road to Hana! More to say in an upcoming post, but even though it was a long day in the car, I'm so glad we did it. We drove 135 miles of the prettiest, windiest roads, and hiked five miles through a bamboo forest, frolicked on a black sand beach and saw so, so, so many beautiful waterfalls.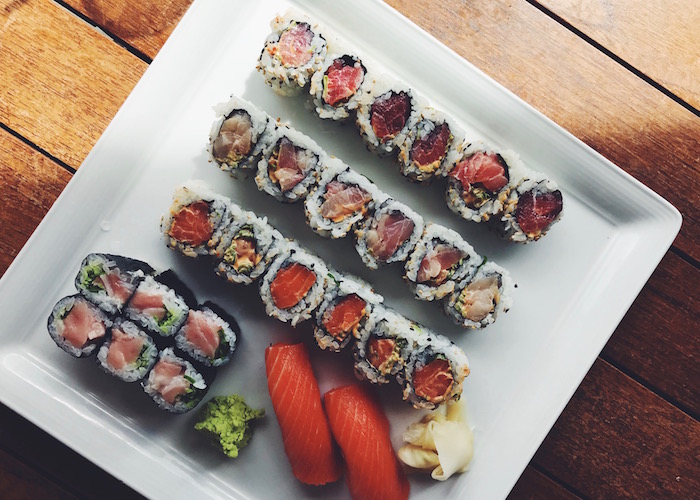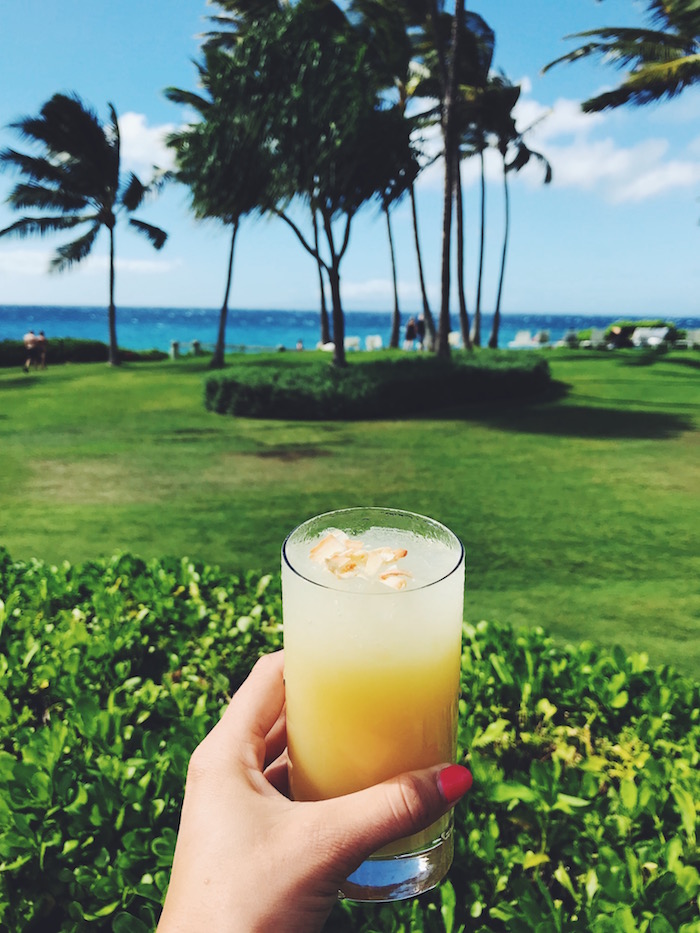 Morimoto Sushi
Instead of turkey on Thanksgiving day: we opted for a sushi feast (and upscale pina coladas) at Morimoto. Incredible food with a beachfront view!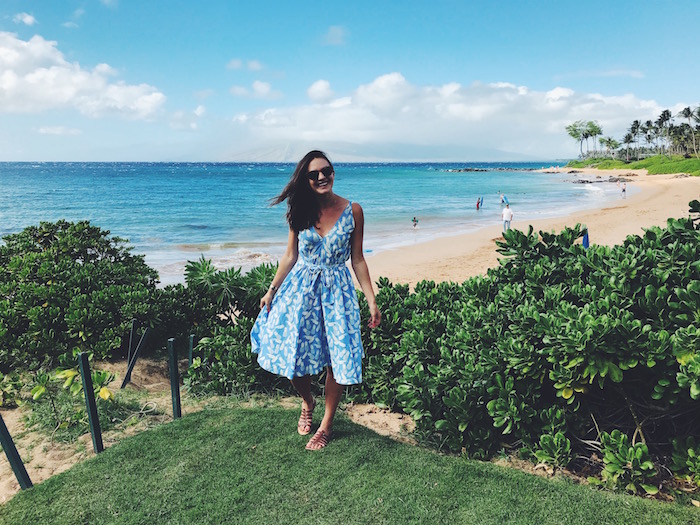 What would you be most excited to do in Maui? Is there anything we missed this trip?
p.s. thanks again to my parents for letting us use their timeshare! So grateful!