What to do in New York City in the winter
New York City in the winter is one of two things: completely magical or absolutely miserable: there is rarely anything in between. You're either in a life-size snow globe or you're spending a lot of brain power (and likely ruining a pair of boots) trying to navigate a gutter of trash-colored slush.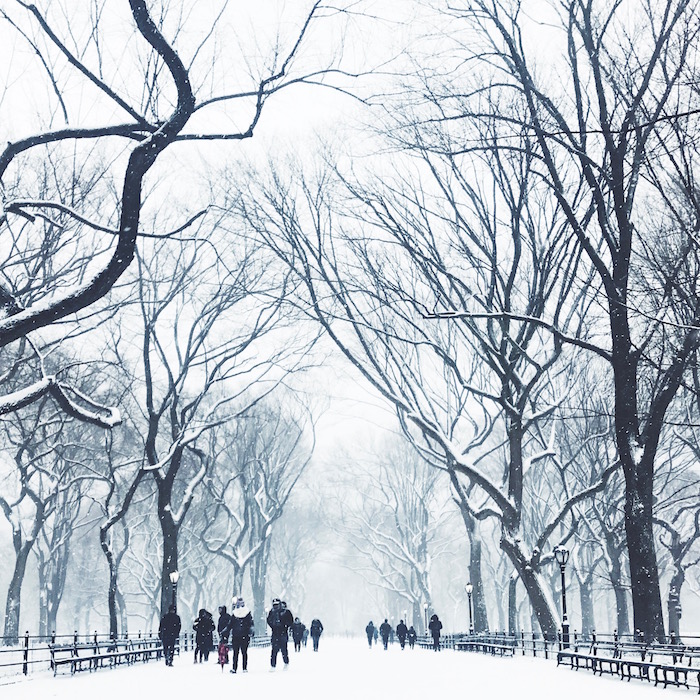 I should note right up front that I am NOT a winter person (see: moving to San Diego), but some of my favorite New York City memories are of wandering through Central Park during a blizzard (a true winter wonderland) or snuggling up in a cozy bar with a delicious hot toddy. So! Here are a few of my favorite things to do in the winter in New York City.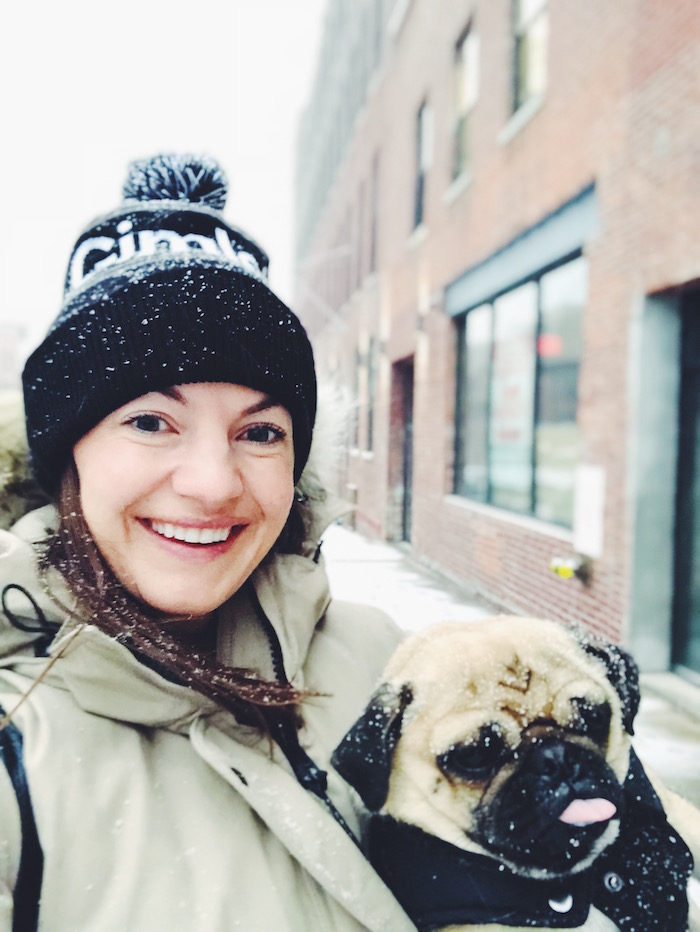 Pack for everything
The most important thing to keep in mind when traveling to New York City in the winter (particularly if you're used to warmer environs): the right wardrobe makes all the difference. As a native Californian, this isn't something I really figured out until my second or third winter! But having a good parka, thick socks, snow boots that are made for slush and not fashion week. On a similar note, temperatures can fluctuate pretty wildly in the winter months (going from a high of 7 degrees to a high of 50 degrees and then back down to 29 degrees in the span of week): check the weather before you leave, and pack plenty of layers.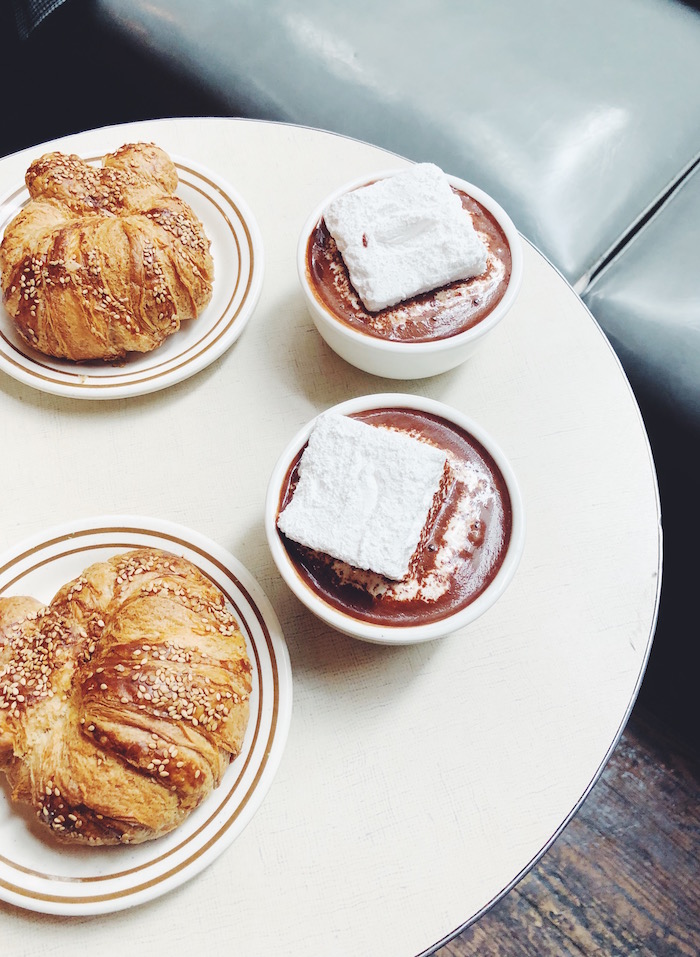 Indulge in hot chocolate
On a chilly day, there's no better afternoon treat than a mug of incredibly decadent hot chocolate. City Bakery is the best in the city IMO: it's basically melted chocolate, topped with a can't-miss homemade marshmellow. In February, there's a different flavor of hot chocolate every day in addition to the classic: check out options like chili pepper, white chocolate and lemon, bourbon and caramel. A close second is the hazelnut hot chocolate at Balthazar Bakery: I used to pop in when shopping in SoHo and splurge on a to-go cup of what is essentially melted Nutella.
Dive deep into a museum
New Yorkers love to get cultural when it's cold out: spending the day at a museum is a lovely way to get out of the house and still stay warm. If you're visiting in winter, I recommend doing less of the museum hopping through all of the major ones–instead, choose one or two and really lean into a particular collection or opt to take a tour. In other words: figure out a way to spend less time outside. Museums like the Met, the Museum of Natural History, the MoMA and the Whitney are all great options with constantly changing exhibits to explore. Alternatively, you can probably miss some of the "seeking-indoors" crowds at museums that are a bit off the tourist track: try the Frick Collection, the Tenement Museum (note that you can only see it on a guided tour, so best to book in advance!), the Brooklyn Museum and the Morgan Library (and if you love this: you might like other NYC things for book lovers).
Feel fancy at high tea
When the weather outside is frightful, sometimes it's especially fun to do something extra classy–like spending an afternoon whiling away over high-end tea. My personal favorite is at BG Cafe in Bergdorf Goodman: wear your finest, spend a bit extra for a flute of Veuve and request the whisper chairs overlooking Central Park for the full experience. After filling up on tea sandwiches and sweet treats, I always love browsing the swoon-worthy collections on the lower floors. Another beautiful interior to enjoy high tea: the Palm Court at the Plaza. Fulfill all of your childhood dreams with the Eloise-themed tea!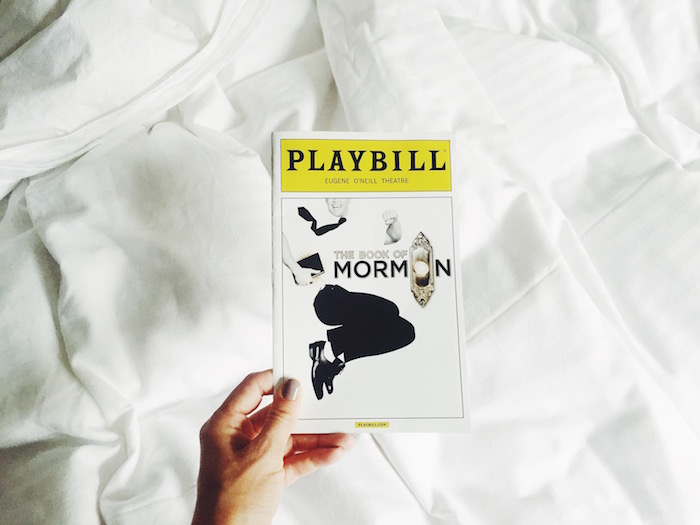 Spend the evening at a show
There's pretty much something to please everyone, from musicals on Broadway to stand-up comedy to ballet. It's all world-class talent in some of the best venues in the world, and it's generally worth splurging to see something while you're here–especially when it's cold out. I especially love a jazz show at Dizzy's, a late-night show at Comedy Cellar, or a matinee at the New York City Ballet (if you're there in December, there's truly no better place to see the Nutcracker). A few ways to save: try TodayTix for same-day Broadway shows, and see what Juilliard music or dance students are showing.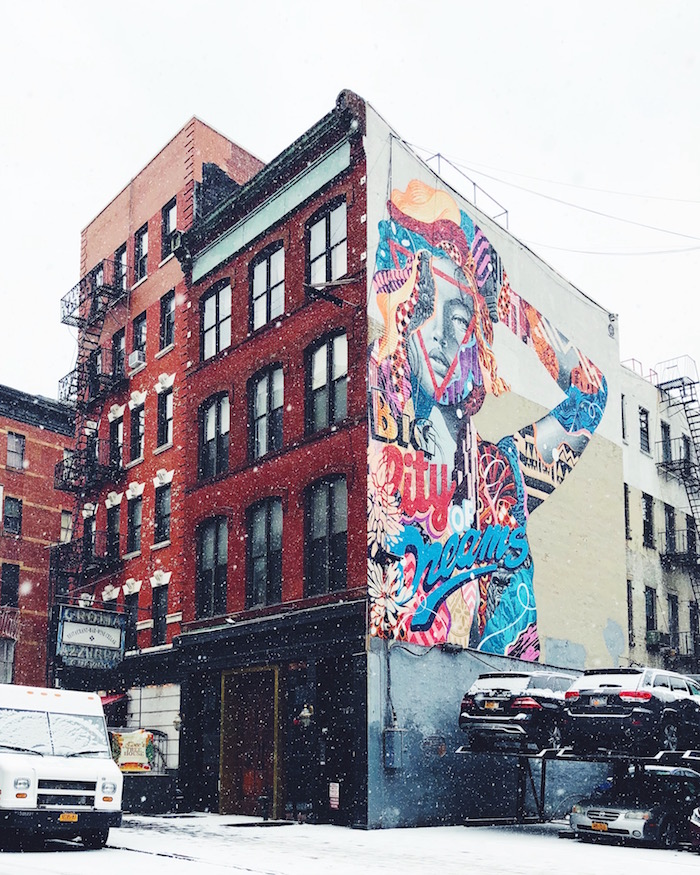 Sneak a drink in a speakeasy
The cozy and tucked-away vibe of most speakeasies are particularly delightful as an escape from the cold. I especially love the beautifully restored Campbell Apartment, a gorgeous cocktail bar hidden in plain sight at Grand Central Station. A few other favorites: the Jazz-Age themed Raines Law Room, the wood-burning fireplace at Dynaco and the whimsical Back Room (still operating since Prohibition!).
Warm up with a spa day
When it's really cold out, sometimes you want to realllllly warm up. For an escape from the chaotic and chilly city streets, soak up blissful relaxation in the Aire Ancient Baths: located in the heart of Tribeca, it's an oasis of thermal baths, spas and saunas. For a more intense jolt of warmth and energy, check out an infrared spa or enjoy the basement sauna before a treatment at Tribeca Beauty Spa. And if you want to get a little further out of the city, Spa Castle is a cultural adventure all itself. p.s. here are my favorite spots for wellness in the city if you need more ideas in this vein!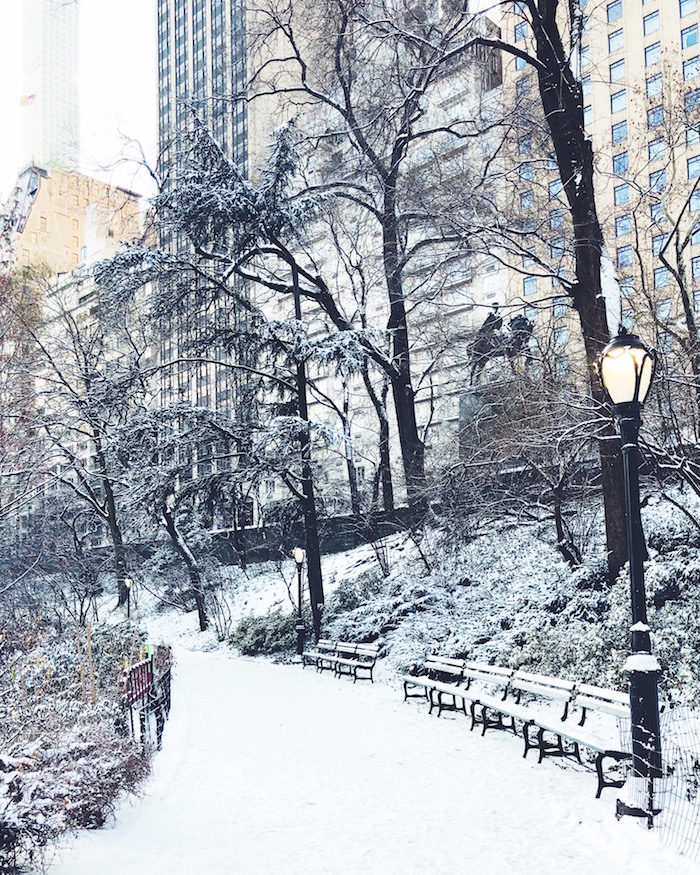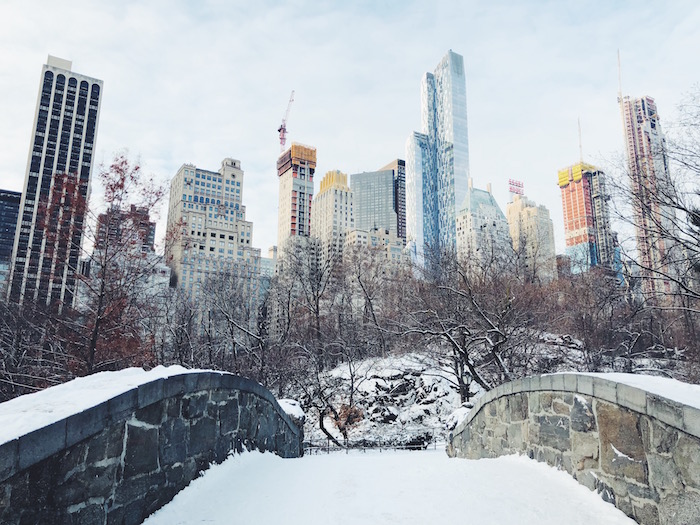 Embrace the chill
Even though most winter activities in New York City involve finding a way to be inside, it can be really fun to be outside–especially during or right after a snowstorm! Taking a walk down the empty streets or through Central Park in the middle of the blizzard (with all of the proper attire, of course!) can be surreal and incredible. Embrace your inner child and buy a sled before heading to a park, or go ice skating in Bryant Park, Central Park or under the giant Christmas Tree at Rockefeller Center.
Don't miss the Christmas decorations
If you're visiting in December, it's worth going on some adventures to see all of the incredible Christmas decorations: the outrageous windows in the department stores lining Fifth Avenue, the tree at Rockefeller Center and in the lobby of the Plaza and under the arch at Washington Square Park, the outlandish Christmas light displays on the homes in Dyker Heights, Brooklyn. And the Rockettes Christmas Spectacular and the New York City Ballet's presentation of The Nutcracker are both once-in-a-lifetime performances.
What's your favorite thing to do in a big city in the winter?
p.s. 10 things you can't miss in NYC, and the best hidden gems near Times Square!