How to make the most of a trip delay
Fun fact: for all of the travel that I've done, I've only had two flights cancelled! The first was on our honeymoon last year: hurricane-level rains completely shut down the airport in Dominica for the day, and we ended up spending one extra night drinking emergency pina coladas. And the second was last week: an epic winter storm shut down airports in the Northeast and wreaked havoc at JFK for days. Our flight on Thursday was cancelled (after 13 hours of delays), and we couldn't get on another flight to San Diego until Tuesday: an extra five days in New York City after a three-week vacation full of family, friends and below-freezing temperatures.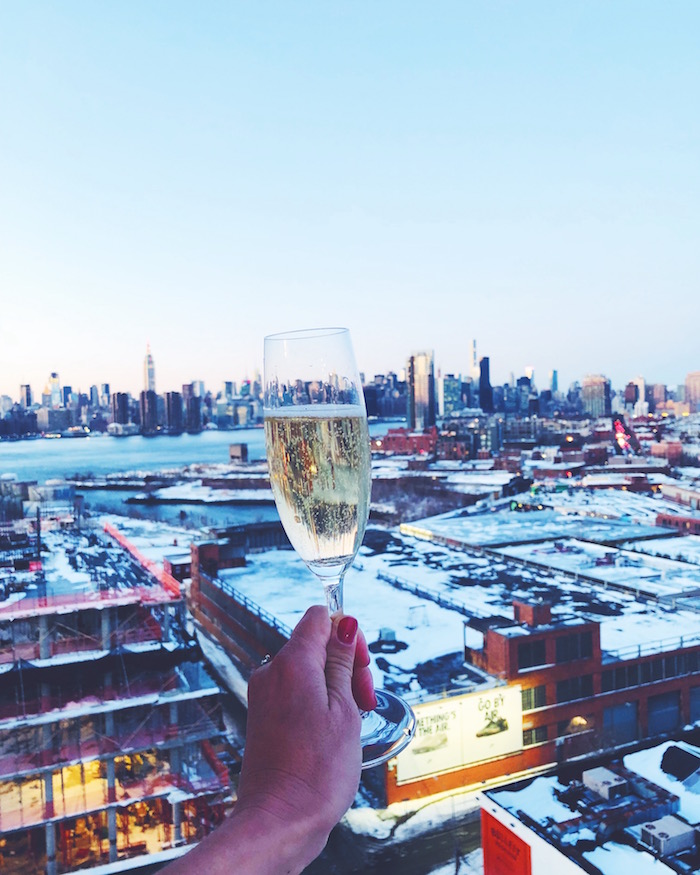 Another fun fact: despite all of the travel I do, I'm incredibly bad at dealing with delays and general travel mishaps. I overreact, and I don't manage my emotions well. So! The day of the storm was really tough for me: I was desperate to be home in my own bed, and the thought of five extra days in the coldest weather on record (windchill was in the negatives!) was horrifying. The best decision I made was sitting on the floor (probably crying) in the chaotic baggage claim of Terminal 5: booking us two nights at a swanky hotel for the weekend.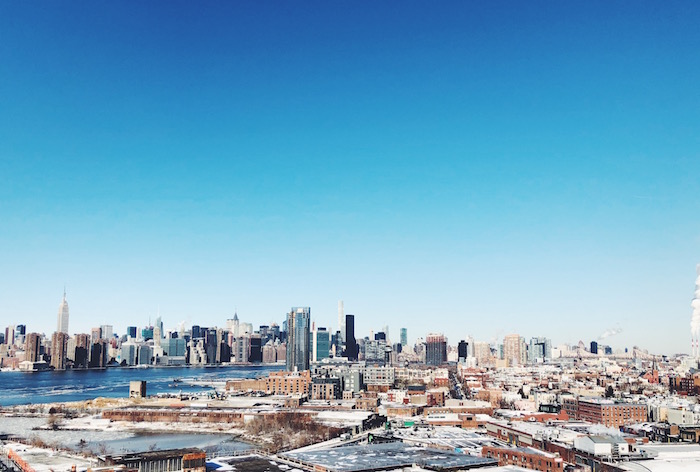 I've used HotelTonight before: it's one of my go-to's for last-minute work trips, and we used it on a last-minute escape to Puerto Rico a few years ago (ps you can use code CAMOROSE to get $25 off your first booking on Hotel Tonight!). But this was the first time that it really came through for me in a big way. We used it to get a great rate (although still a splurge!) at The William Vale–the same hotel where we spent our wedding night! It was my husband's birthday on Saturday, which was reason enough to celebrate–and honestly, I needed a major change of scenery to shake me from my misery (ugh, I know these are all first-world problems but I am not good about shaking this sort of stuff off! I'm still replaying all of the things we could have done differently to get home earlier).  It ended up being such a fun little escape, and I'm SO glad we did it.
Before I go into all of the things that made it so fun, want to quickly touch on one thing that I learned during this whole escapade. Airlines generally won't comp you anything for weather delays: it's out of their control, etc etc. But! Credit cards do sometimes have benefits that cover trip delays. I'm kicking myself for not booking this trip on our Chase Sapphire Reserve (that will cover trip delay costs up to $10K and is generally the greatest credit card in the world), but our JetBlue MasterCard does cover some costs for things like hotels and food while you're stranded. I submitted our claim and am still waiting to see what they'll reimburse, but definitely worth remembering the next time you have flight issues! I always forget all of the benefits and perks that come with credit cards, especially ones that focus in the travel space.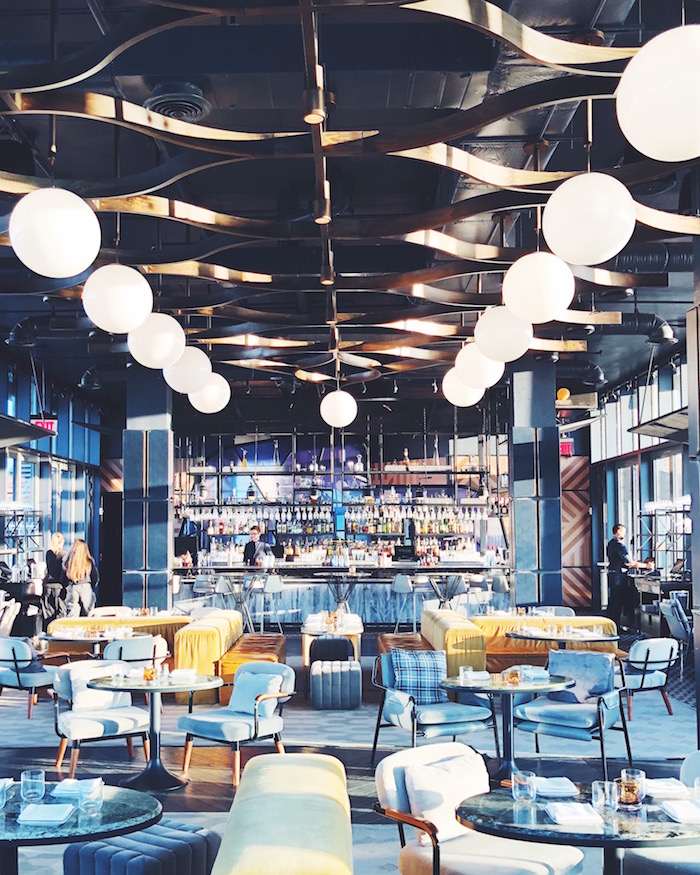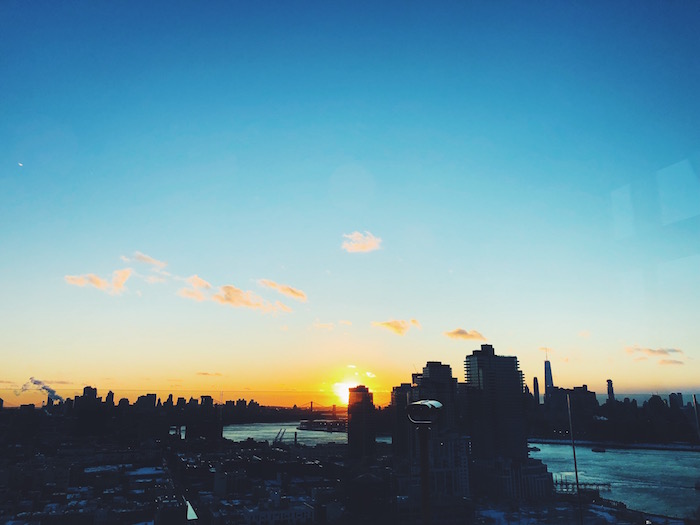 #1: Have a sunset drink at the hotel's rooftop bar
It's probably good that Westlight wasn't really open when I lived in New York City because I think I would have spent far too much money on fancy cocktails with this view. It has such a cool midcentury modern vibe inside, and the sunset views are incredible. The balcony sadly wasn't open (ugh snowstorm and -4 temperatures!) but the view from inside wasn't too shabby. Even if you don't stay at the hotel, definitely recommend a drink here.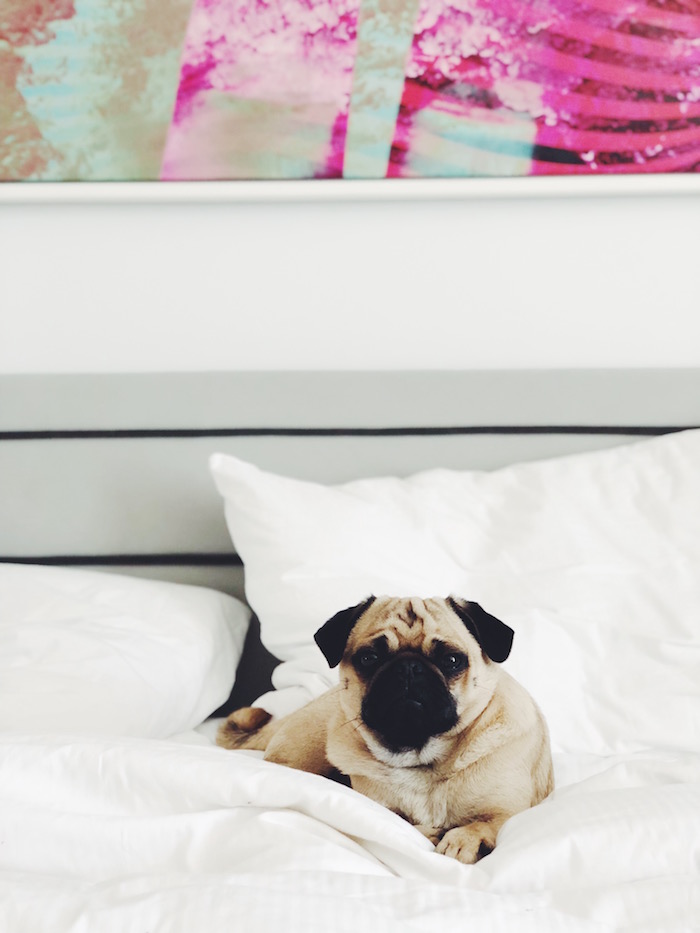 #2: Go to a dive bar for dinner, and then go straight to sleep
I'm pretty sure I've waxed poetic here about the spicy chicken sandwich at The Commodore, but if I haven't: it's my favorite meal in New York City. Give me a hot breast and a boat drink and terrible customer service in this dark dive bar over any five-star meal any day. One of our big reasons for choosing a hotel in Brooklyn instead of Manhattan for the weekend was being able to go to Commodore! We braved the cold on Friday night to indulge in our favorite meal, and then we got the best night's sleep on the super comfy king bed (although I have to admit, Gert took up way more space than I would have liked).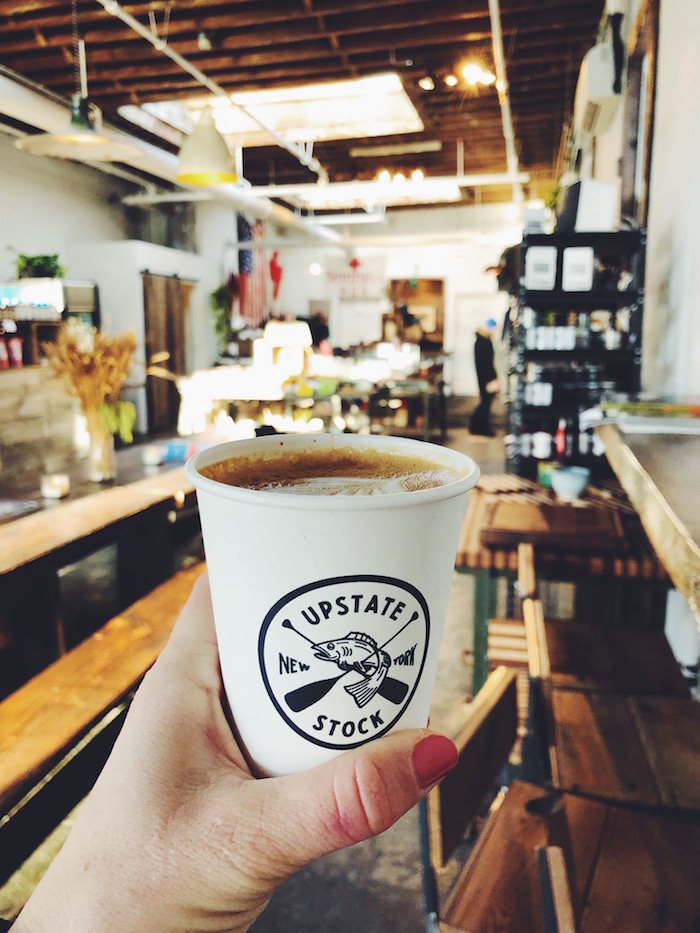 #3: Venture outside for a coconut milk cappuccino
Maybe the only mistake we made this whole weekend was actually leaving the hotel on Saturday morning and not getting room service: it was SO cold and slushy outside. But Upstate Stock is not the worst place to have to venture. It's a super cute coffee slash concept shop: we actually both have their beanies that we bought at Wilderness Field Notes, aka adult sleepaway camp in the Adirondacks!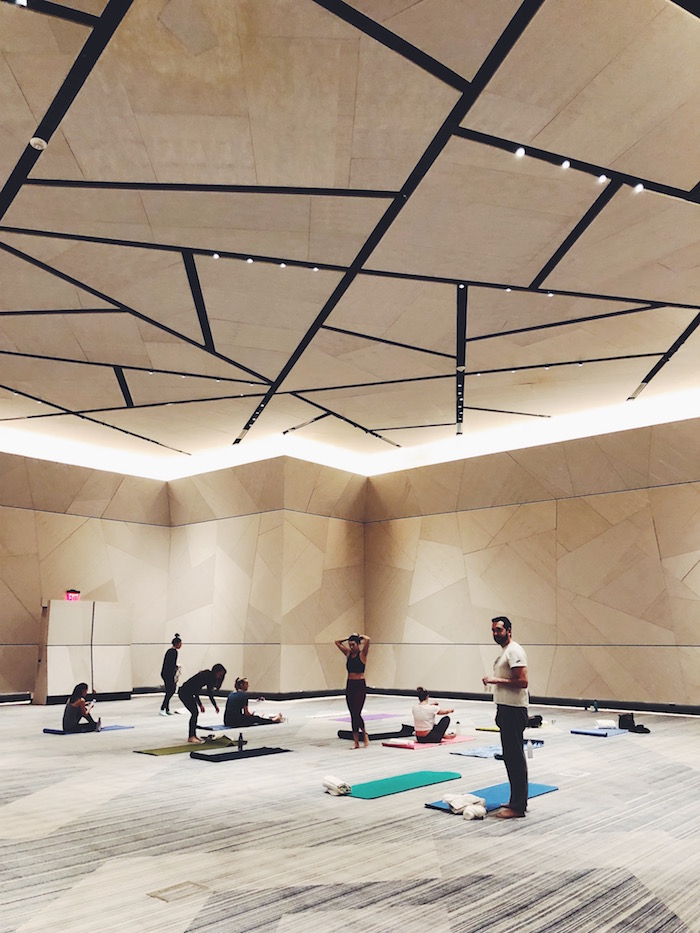 #4: Take advantage of a free yoga class at the hotel
If I still lived in Williamsburg, I'd be stalking the William Vale's event calendar: there are so many cool things going on, and a lot of them are open to the public (aka not just hotel guests!). We took advantage of a free Corepower Yoga class in the ballroom. It was a really nice way to do something active to start the day without having to brave the cold.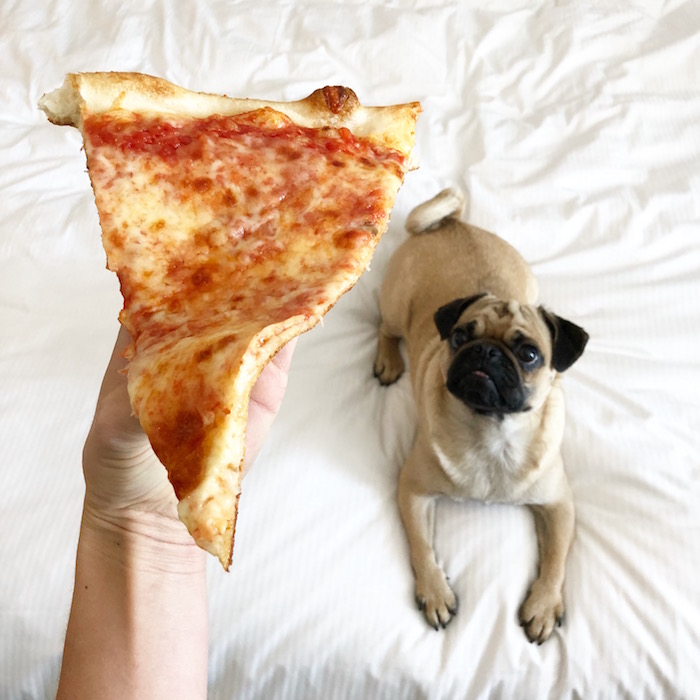 #5: Order in pizza to the hotel room
One of the things I miss most about living in New York City: being able to order just about anything you want to just about anywhere! Case in point: we ordered a Joe's Pizza to our hotel room, which felt SO indulgent and fun (and also delicious).
#6: Binge on all of the bad reality TV you can stand
Sorry not sorry to admit that we spent most of the afternoon watching playoff football and catching up on The Challenge. I rarely have lazy days: when I'm on vacation, there's usually so much I want to see, and there are always errands I need to run at home! But being stuck in New York City for an extra weekend was kind of a bonus in this regard: I had already checked off all of the things I really wanted to do in the city, so it felt really freeing to just RELAX.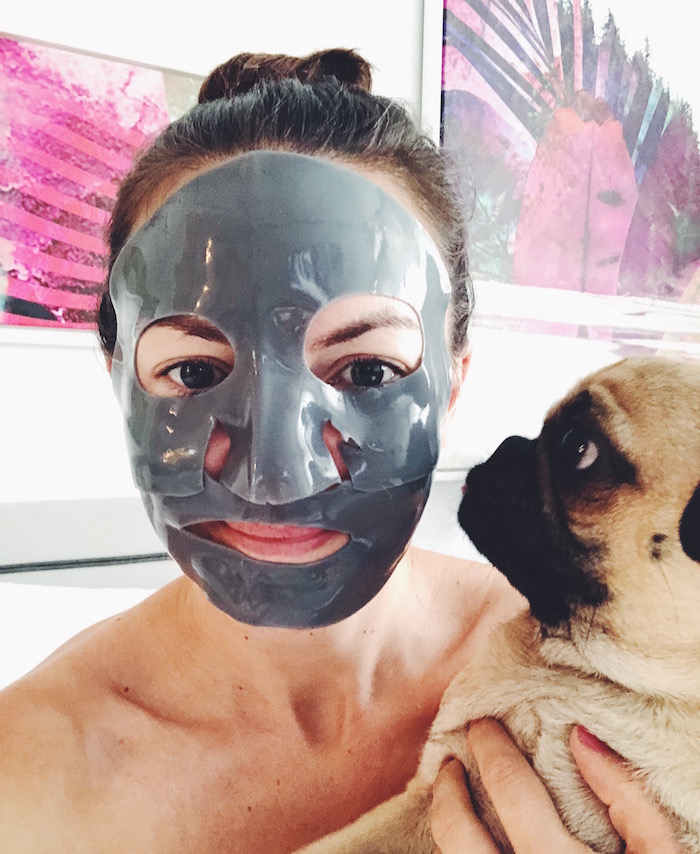 #7: Indulge in necessary self-care
I spent way too much money at The Mask Bar in SoHo (it's my favorite place to stock up on sheet masks), and this Dr. Jart+ Rubber Mask was one of the things I was most excited to test out. You leave it on longer than most sheet masks, but it is next-level moisturizing. Totally worth it in the incredibly dry and chilly NYC air. David's version of self-care: drinking a beer in the shower, ha!
#8: Treat yourself to a romantic dinner at the hotel restaurant
It was David's birthday, after all! I had heard good things about Leuca from a few different friends, and bonus: it was in the basement of the hotel, so we didn't even have to brave the cold (not going outside in the negative temperatures was a big priority on Saturday!). IT WAS SO GOOD. The vibe is super romantic and cozy, and I am still swooning over the butternut ravioli. It had huckleberries and some sort of brown sugar crumble on it: totally unexpected in a pasta dish, but it worked so well.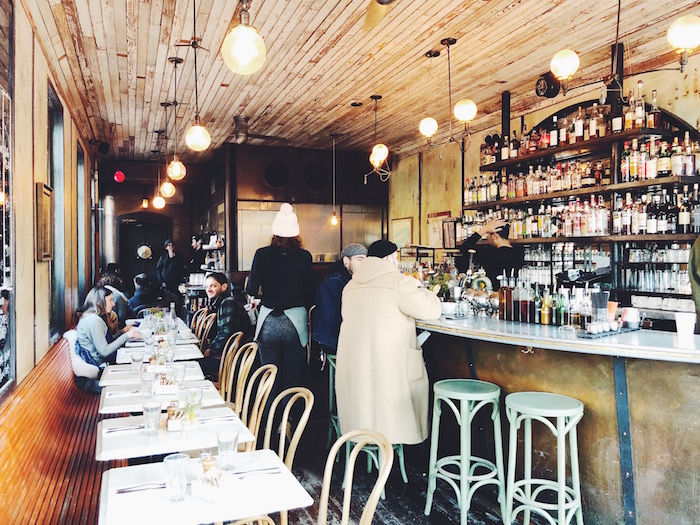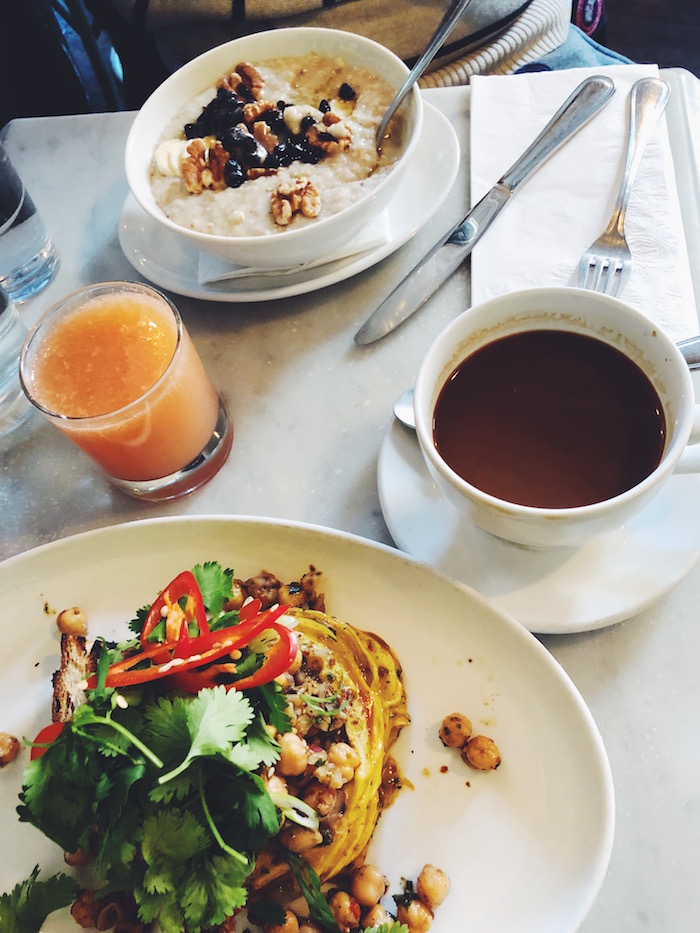 #9: Skip the lines at one of the area's hottest brunch spots
I love Five Leaves, but it's been a while since I've been there: it's widely recognized as one of the best brunches in Williamsburg and it's pretty cozy, so the line can be insane on the weekend. The best way to get around that: go early on one of the winter's coldest day. We sat right down! One downside: New York's crazy liquor laws mean that they can't serve liquor before 10am. I had been looking forward to one of their famous Bloody Mary's, but opted for a fresh grapefruit juice and the Moroccan scramble (which is SO good, I can never bring myself to try anything else).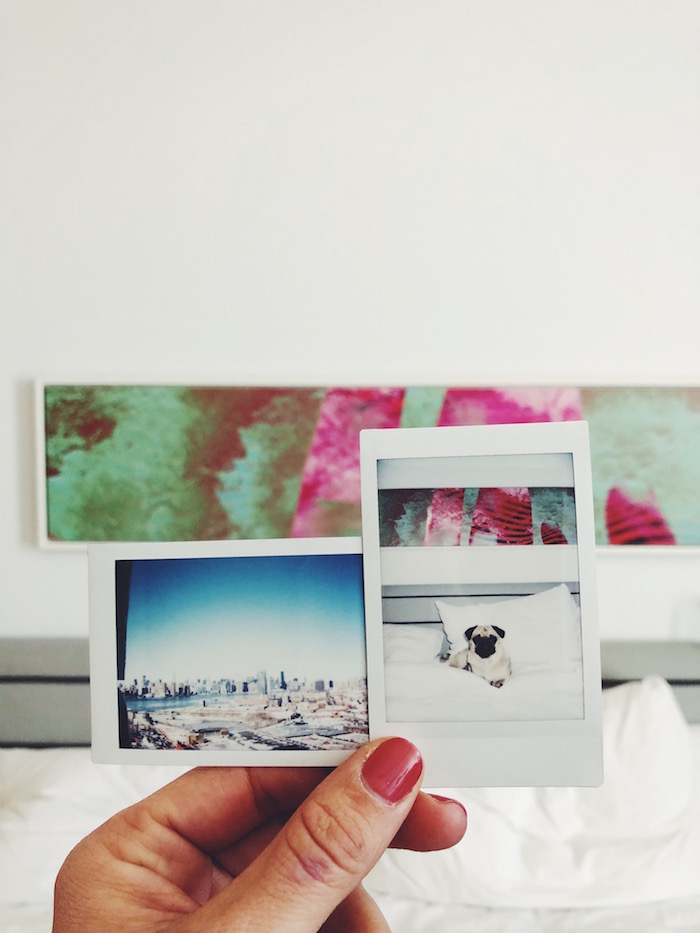 #10: Check out feeling so refreshed
One of the things that I kept reminding myself over this trip: all of these are first-world problems, and we were actually really lucky. We had a place to stay if we needed it, and we have emergency fun funds exactly for situations like this. Usually I can be pretty frugal (my mom would say stingy!) in situations like this, but splurging on something really fun (and also on two really good nights of sleep) totally changed my mood around. I'm not gunning for any more trip delays or flight cancellations in my future, but if they happen: I'm going to use this playbook again.
Special thanks to everyone who was so sweet and supportive on social media!
p.s. not sponsored at all by HotelTonight, but I do recommend the app! Use CAMOROSE for $25 off when you try it for the first time.