My favorite things about Guadalajara
So much about my trip to Guadalajara surprised me: the historic downtown filled with neoclassical and European-influenced architecture, the fields of blue agave stretching as far as the eye can see, the market stuffed to the brim with everything one could ever think to purchase, the soaring stone columns and stunning stained glass of a 19th-century church built true to the medieval process.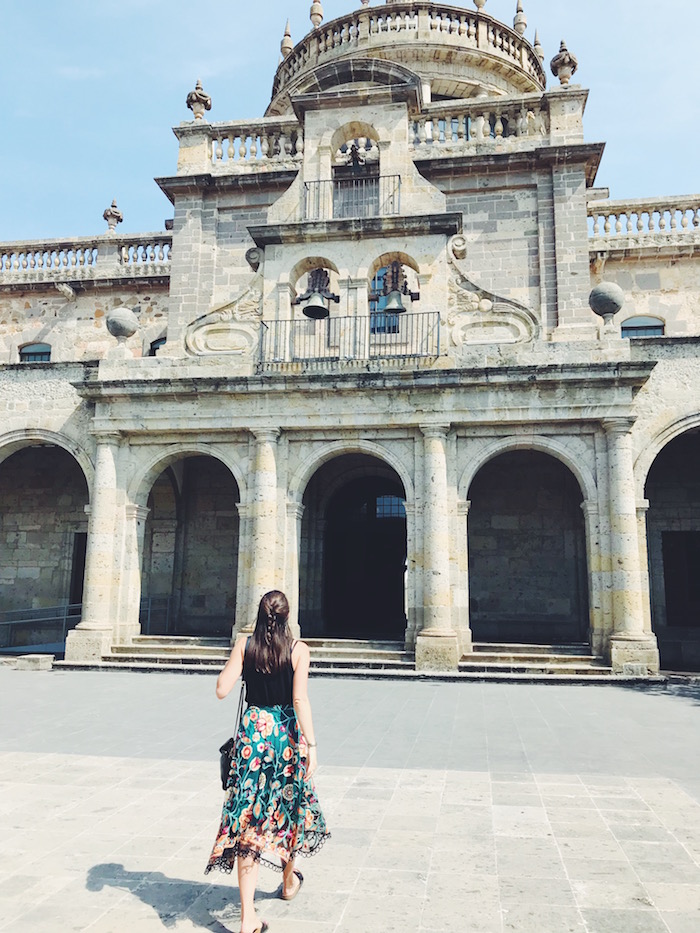 And even the things that didn't surprise me were still a delight: the colorful papel flags strung between brightly-painted buildings, the tables heaping with a spread of guacamole and salsa and tortillas and queso, the warm hospitality of the Mexican people. Perhaps the most magical part of all: being there for the intricately-built altars and incredibly-detailed painted catrinas of Dio de los Muertos.
To be honest, I didn't know much about Guadalajara before the trip. Despite growing up in California, I've only traveled to Mexico once before, and it was to Playa del Carmen. an extremely gringa-friendly beach town near Cancun. One of my West Coast resolutions to explore Mexico more (and go beyond the tourist traps), and Guadalajara was the perfect start to that–and a solid reminder that I really need to work on my Spanish if I want to feel comfortable enough to break out of the expat enclaves. It feels much more like a real city, as opposed to one created solely to fuel most-liked Instagram posts and jumbo-margarita-induced hangovers. Guadalajara is full of stately buildings, cobblestone streets, chaotic markets, world-class murals, hipster-friendly cocktail bars and vibrant, stylish people–and as a bonus, it's located right by the birthplace and continued main exporter of tequila. Plenty more posts coming, but to start, here are a few of my favorite things I discovered in Guadalajara: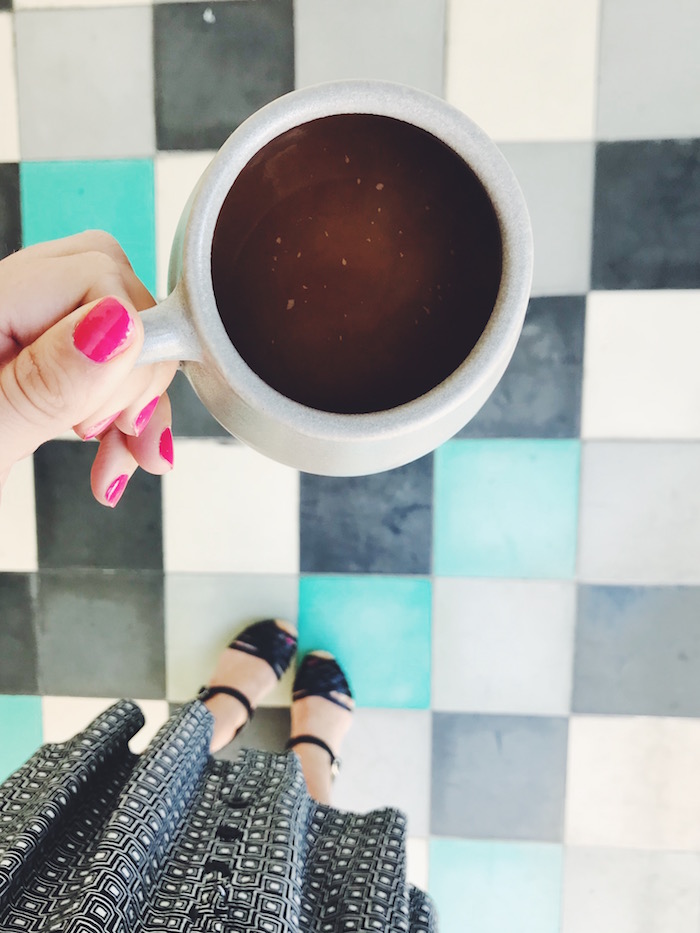 Café de olla
Finding a good cup of coffee is my first and most important priority in every city, and it's even more fun when they put their own local spin on it. My favorite discovery this trip was definitely café de olla: it's a traditional Mexican spiced coffee, brewed with cinnamon and piloncillo. I first tried it at La Postreria: although the cafe is famed for its inventive desserts (and female chef and team), I thought the coffee served was pretty incredible too.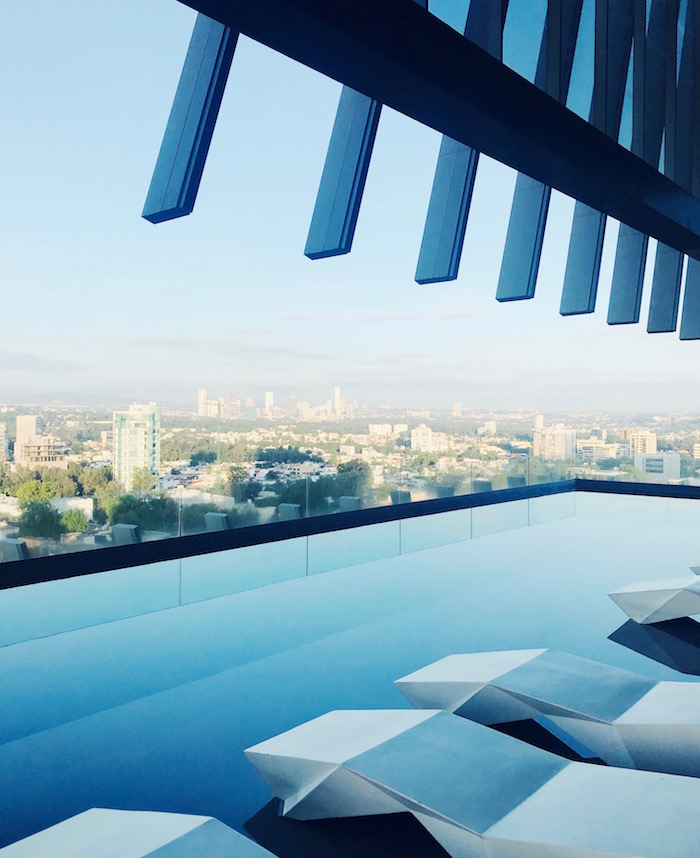 This rooftop pool
It's no secret I'm a sucker for rooftop pools and sunrise views, and the AC Marriott Guadalajara served up both quite nicely. If I had a few more days in the city, I would have gladly posted up in one of those semi-submerged chaise lounges with a good book for a nice long while.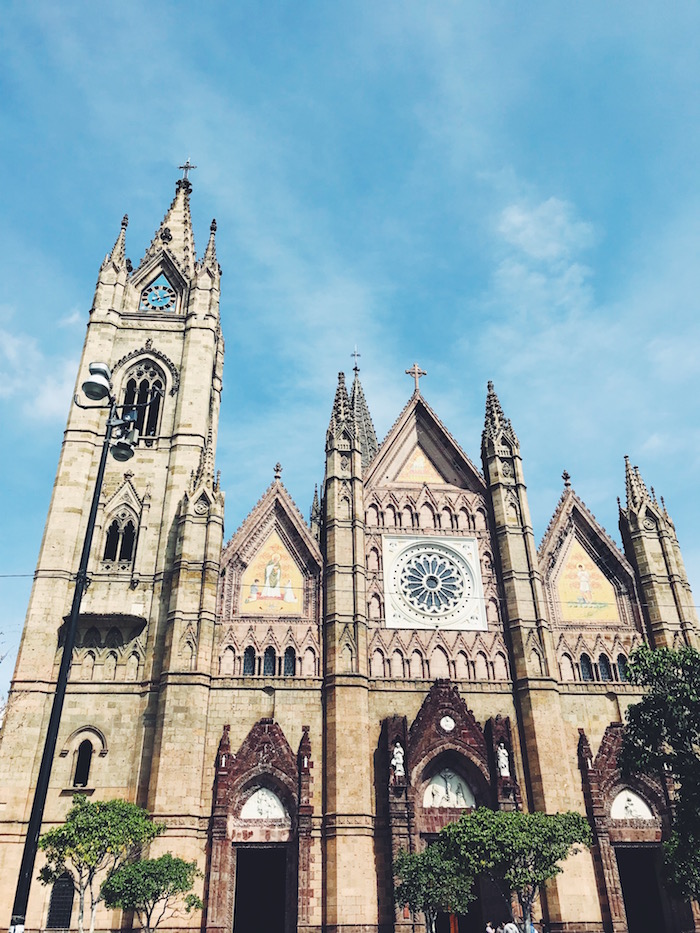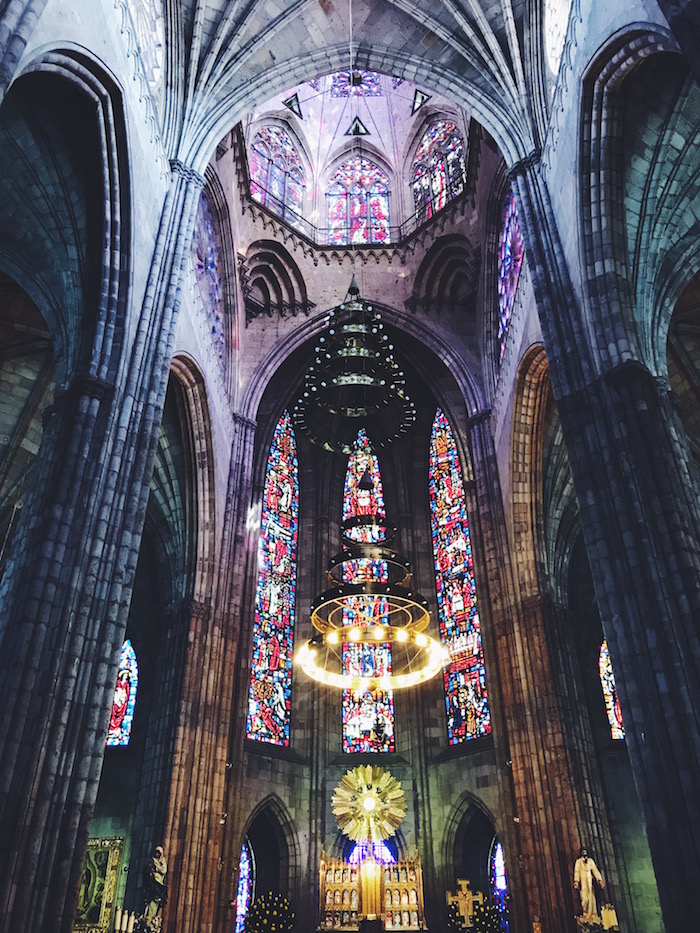 Temple of Atonement
Despite being built in the late 19th century, this church is a stunning example of Neo-gothic style–and was constructed completely of carved stone, just as it would have been done in the Middle Ages. It felt so European, both inside and out! It's famous for its stained glass, and it's not hard to see why: the enormous windows that line the stone columns are absolutely stunning, especially how they reflect colored light all the way up into the arches.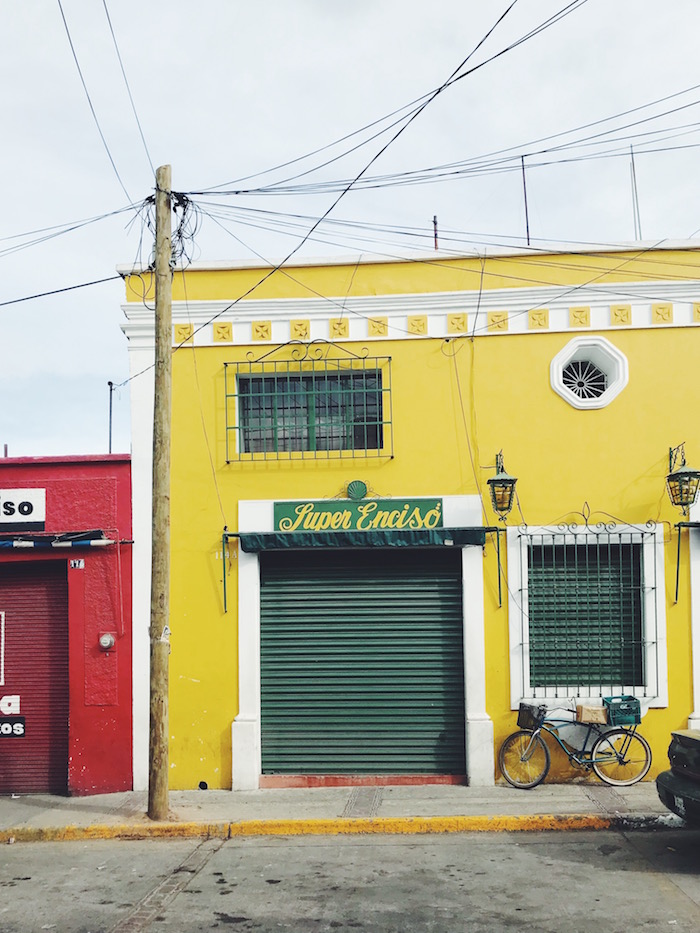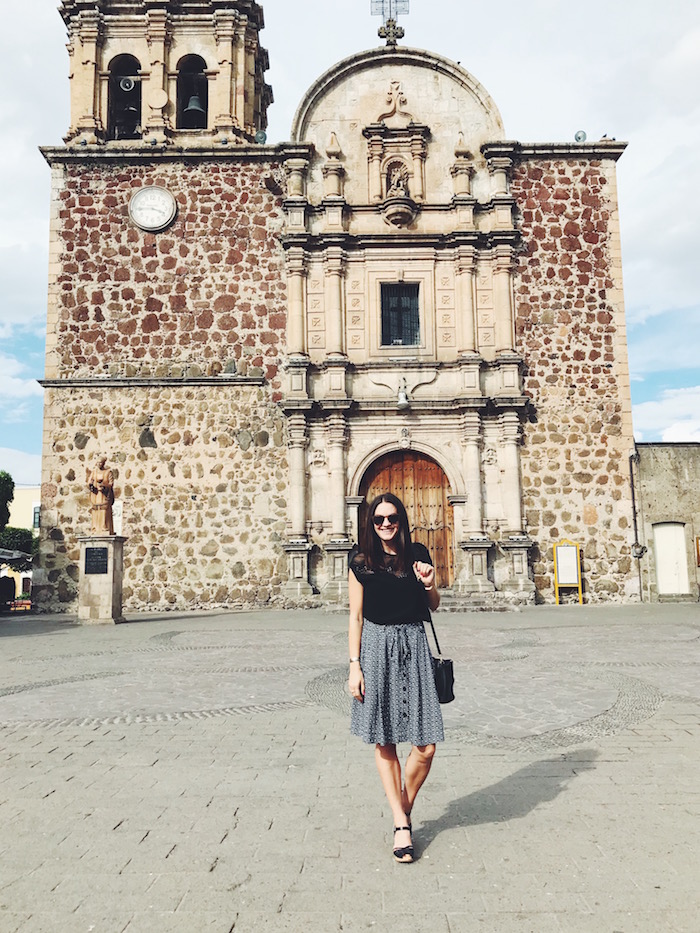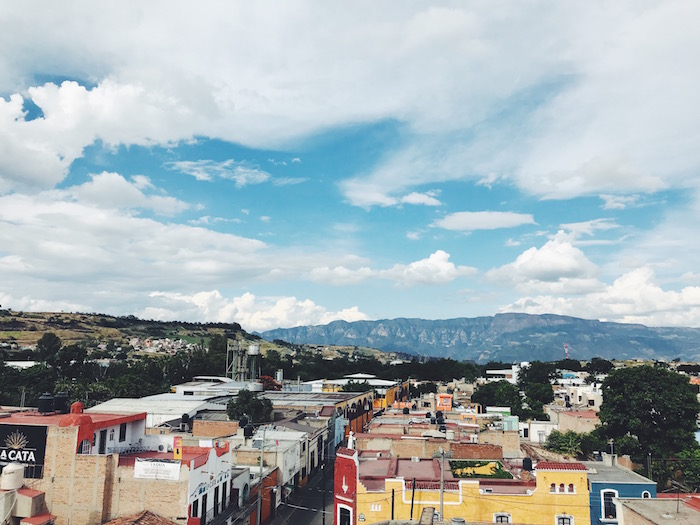 The town of Tequila
More on my tequila-tasting experience below, but I'm also just enamored with the little town of Tequila. Tequila originally meant "workplace" (the irony of this is not lost on me), but is now best known for being the birthplace and biggest exporter of the popular Mexican spirit. The place still pretty much runs on tequila: it's without a doubt the biggest employer and biggest contributor to the town's economy. Beyond the drinks, though, I loved wandering around the colorful, cobblestone streets and poking my head into the tiny shops.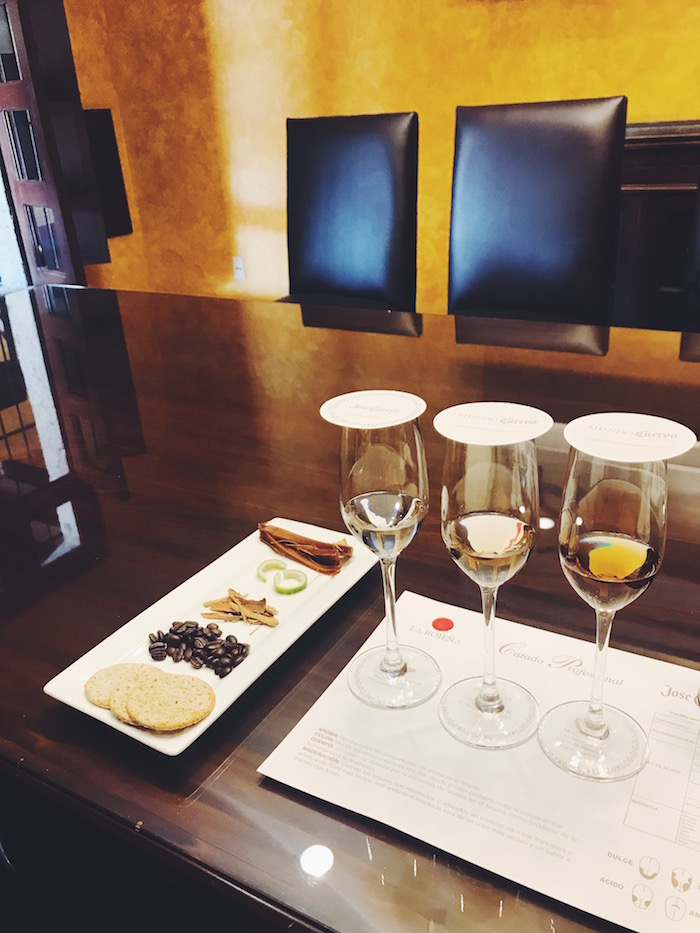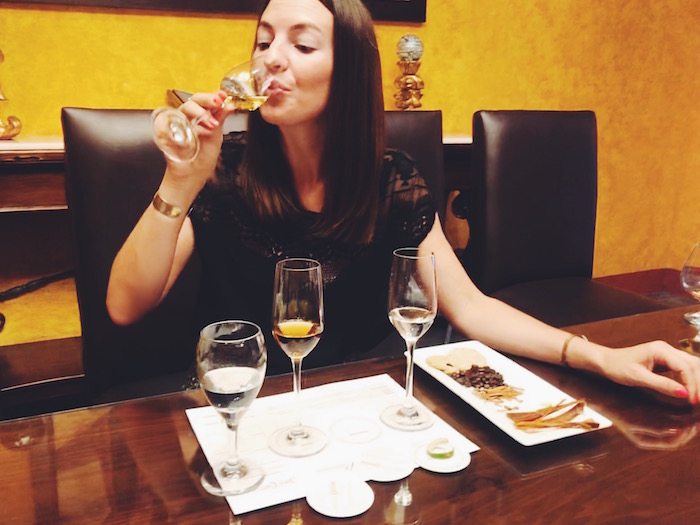 La Rojena
Confession: I knew just about nothing about tequila before arriving in Tequila, other than ordering rounds of shots of it is my biggest telltale sign that I've had too much to drink. I learned SO much on our tour of La Rojena, the Jose Cuervo distillery–including that Jose Cuervo was an actual man, that the brand is still run by descendants of Don Jose Antonio de Cuervo, it was founded in 1758, and it's actually the oldest tequila distillery in the world. I also learned how to properly taste tequila! I've done quite a few brewery tours and wine tasting, and this was a completely new and interesting experience. My favorite facts from the tour: #1, that tequila is basically a terroir just like Champagne, so tequila can only be exported from a few select states in Mexico; #2, that cooked agave tastes just like sweet potatoes!
Side note: if I were going back, I'm obsessed with the concept of the Jose Cuervo Express. You can basically take a day trip to Tequila from Guadalajara on a beautiful dedicated train–that's fully stocked with tequila tastings.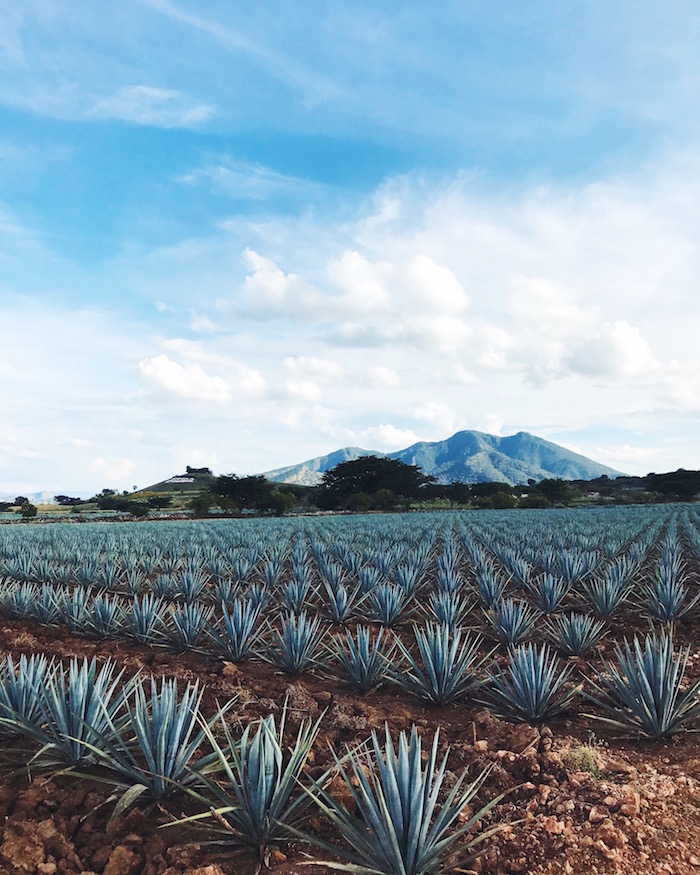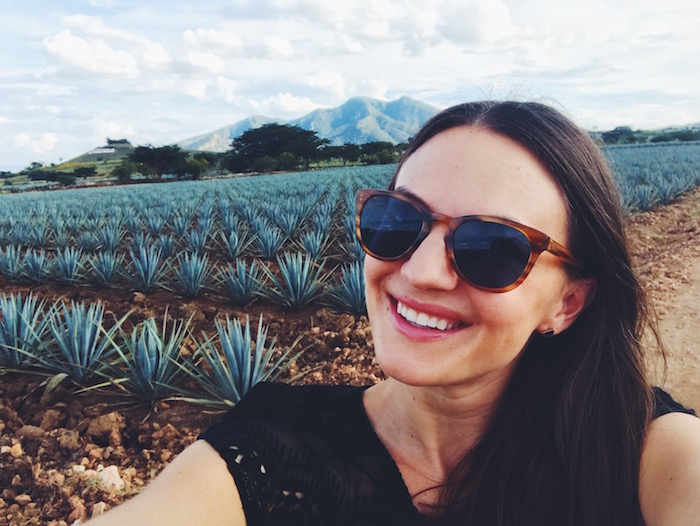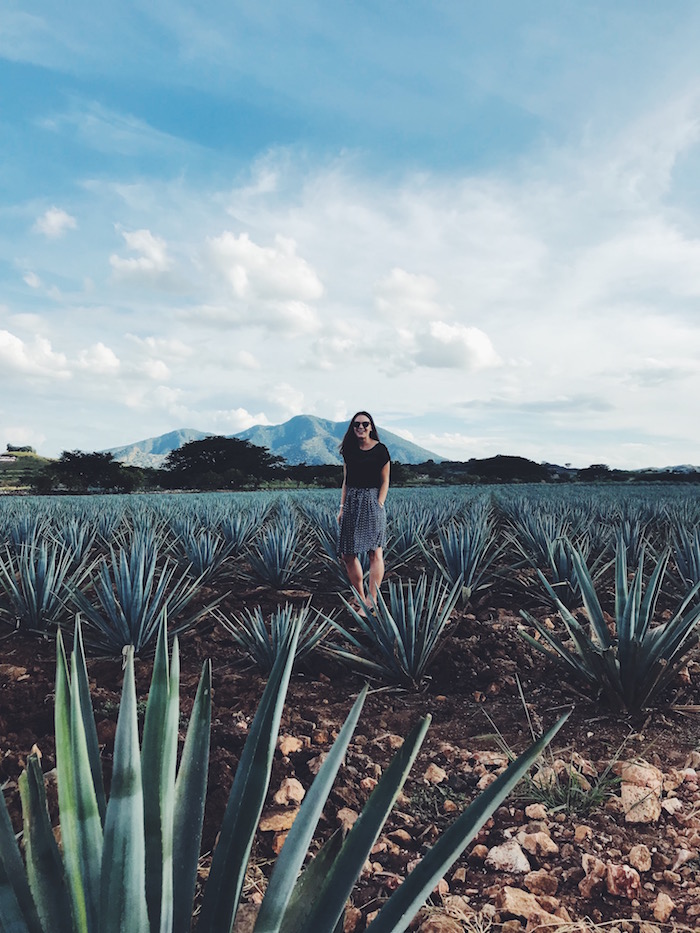 Fields of blue agave
The fields of blue agave that stretch out around the town of Tequila are even more beautiful in person. Part of the reason why tequila can only be exported from select regions in Mexico is that its key ingredient is best grown in the soil enriched by a nearby and long-ago-erupted volcano. They're also recognized as a UNESCO World Heritage site! A couple of fun facts: the blue tonality helps preserve its humidity, and there are more than 200 varieties of agave.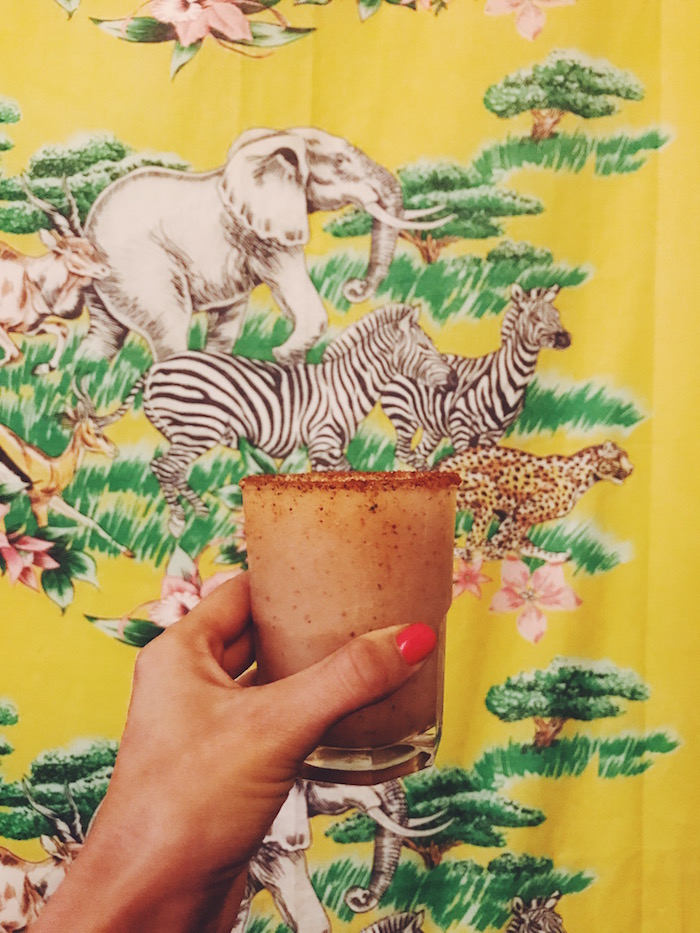 Quirky cocktails at I-Latina
When we had dinner at I-Latina, there were several points where I wondered: Brooklyn or Guadalajara! From the Instagram-ready quirky and colorful wallpaper to the spicy guava margaritas to the incredibly beautiful and stylish men and women at all of the tables: it felt like such a cool girl destination. Bonus: the food was insane! My personal favorite were the taquitos stuffed with roasted brussel sprouts and topped with a rich mole sauce (honestly, that could totally be on a hipster chic Brooklyn menu).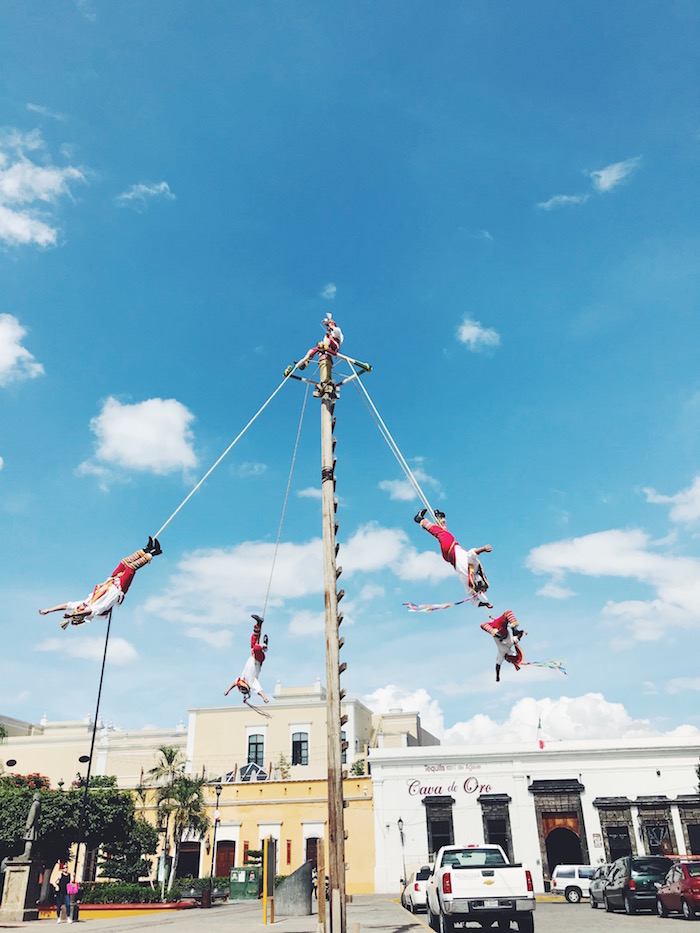 Dance of the Flyers
One of the craziest things we saw while in Tequila was this ancient Mesoamerican ceremony that's a traditional dance for rain (a myth says that it was started to ask the gods to end a severe drought). The ritual consists of dance and the climbing of a 30-meter pole from which four of the five participants then launch themselves tied with ropes to descend to the ground. The fifth remains on top of the pole, dancing and playing a flute and drum. It was nutty to see in person!
Hotel Solar de las Animas
Still swooning over the bar and hotel at Hotel Solar de las Animas. We had a delicious lunch here after our tequila tasting (aka I needed all of the chips and guacamole!), and I would have loved the opportunity to relax by the pool…or have a few more margaritas at the rooftop pool overlooking the town of Tequila. 
Chilaquiles
Chilaquiles is always one of my go-to brunch orders, and I had the BEST chilaquiles of my life at Trasfonda. Chilaquiles is basically fried corn tortillas simmered in salsa and often served with cheese, eggs or beans, and it is a spicy start to the morning. (Also, obviously I had cafe de olla too!)
Guadalajara Cathedral
One of the things that struck me the most about the historic downtown in Guadalajara was how much it felt like Europe. The city was founded by in the late 1500s by Spanish explorers, and there are heavy Spanish and Moorish overtones in the architecture. That gazebo was actually imported from Paris in the 1920's!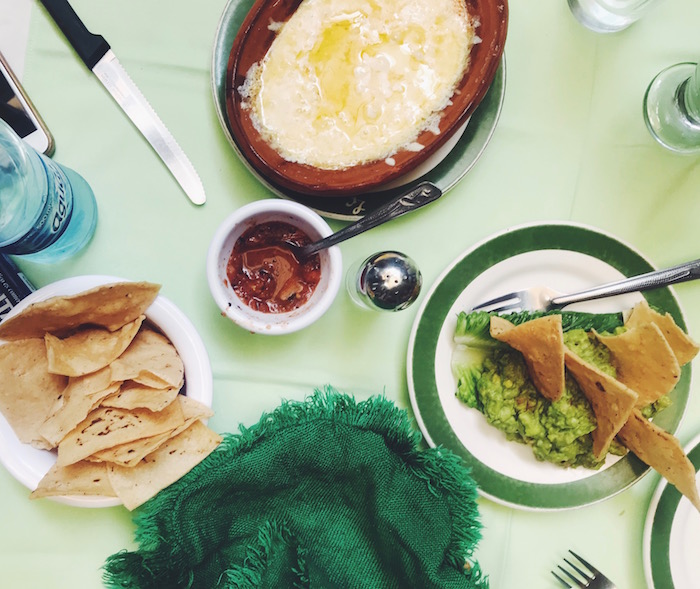 Queso fundido
One of my favorite meals that we ate was also the simplest. In America, queso fundido is usually heavily spiced and full of meat (just google recipes of it). But in Guadalajara, it was just gooey and delicious melted cheese. Served with guacamole and salsa on fresh hot tortillas, it was like a DIY Mexican grilled cheese. They also brought out tortillas with grilled steak, and you could build your own taco with the queso and guac and onions and cilantro. It wasn't anything fancy, but oh man–I wish I could have this for lunch every day!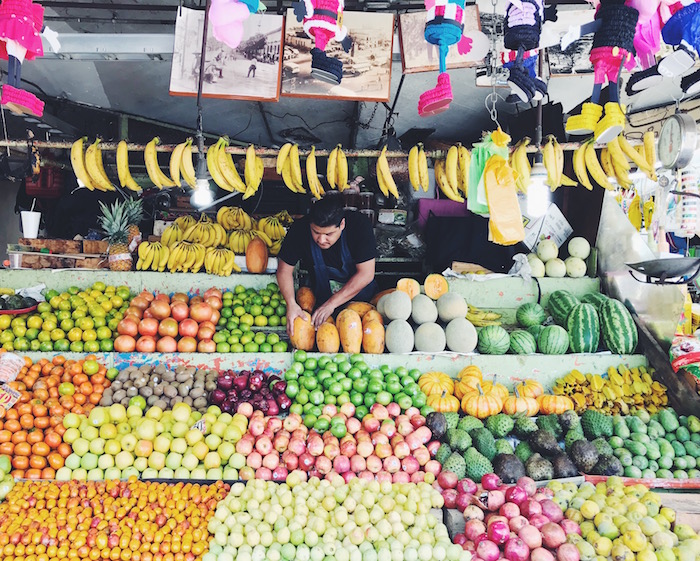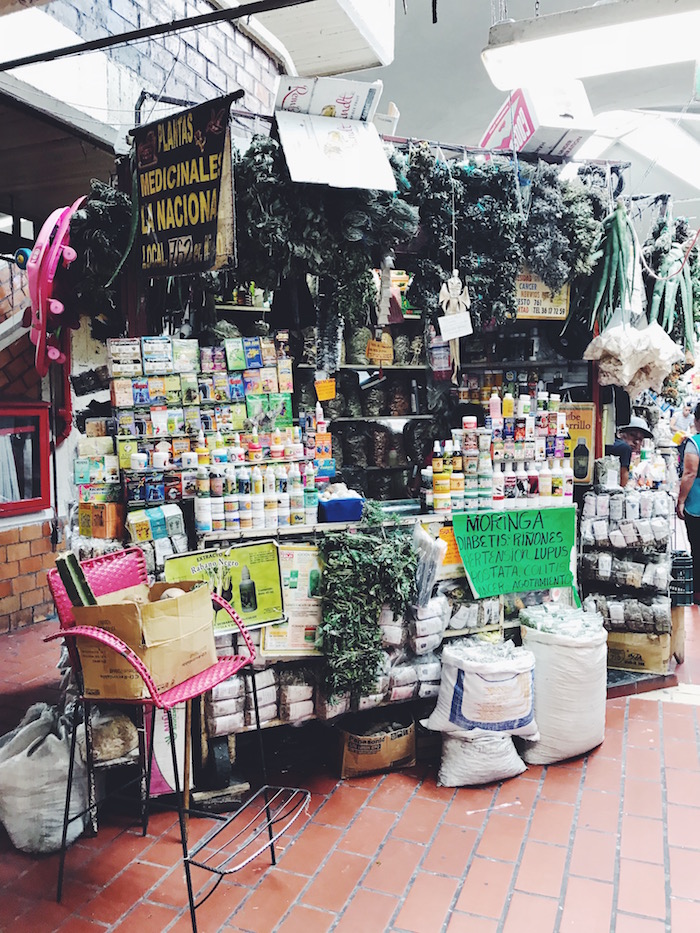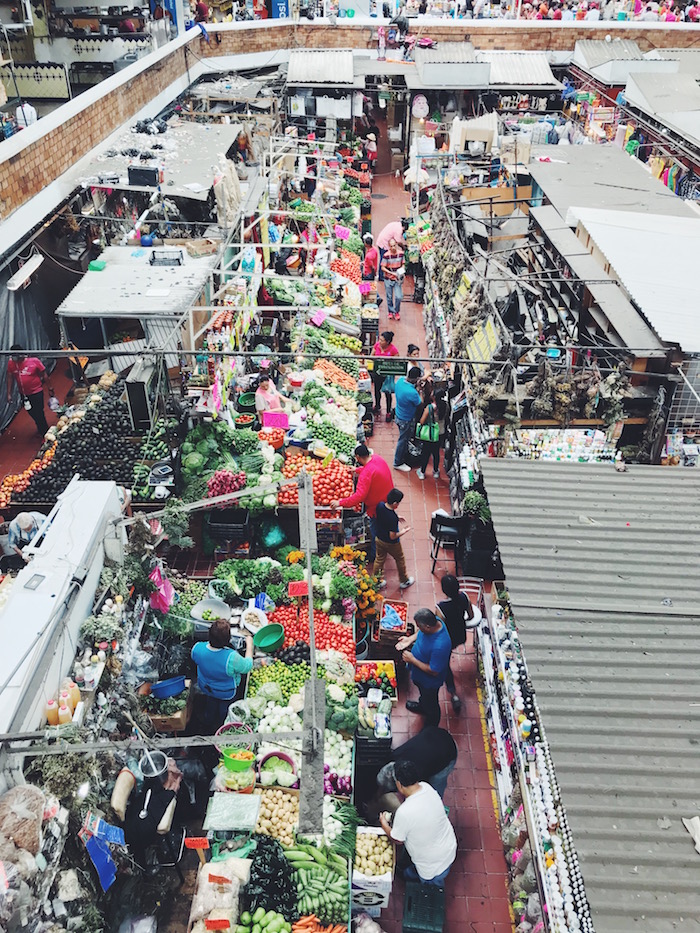 Mercado Libertad
Guadalajara is home to the biggest enclosed market in Latin America! Honestly, I could have spent an entire day (and probably all of my pesos) here. There are sections for just about everything: fruits and vegetables, shoes, horse saddles, candies, live birds. There's even a witchcraft section, and an entire floor dedicated to prepared food aka all of the tacos! It s enormous and perhaps a little overwhelming, but there is just so much to discover: I'm still a little bummed I didn't have more time to investigate and purchase the perfect pair of huaraches. p.s. if I go back to Guadalajara, I'm 100% signing up for a tour of the market with an emphasis on the witchcraft section!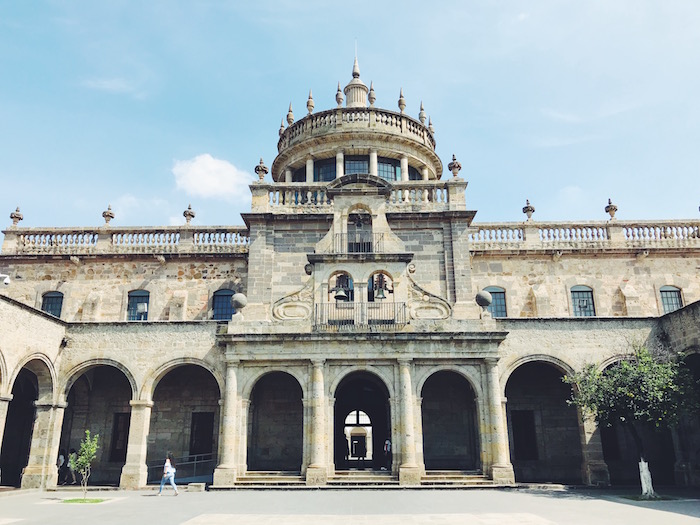 Hospicio Cabañas
I was a little confused as to why an orphanage would be on the UNESCO World Heritage site, and then I saw Hospicio Cabañas: what a gorgeous example of Moor-influenced architecture! Built in the early 19th century, it housed orphans, the elderly and the handicapped. The chapel was decorated with a superb series of murals by Jose Clemente Orozco, now considered some of the masterpieces of Mexican art.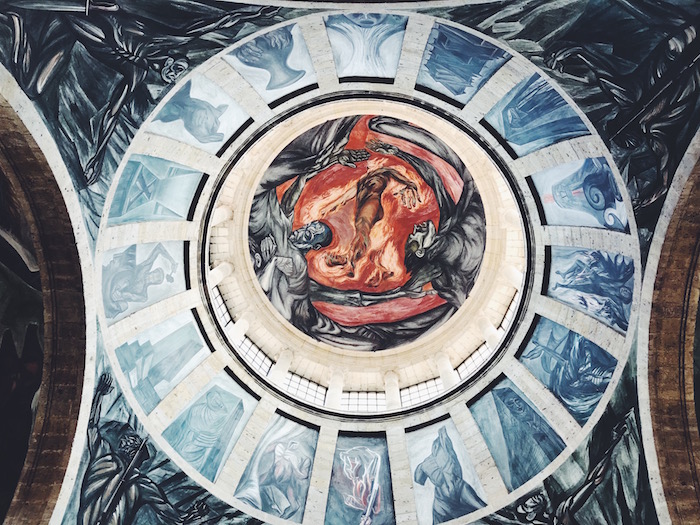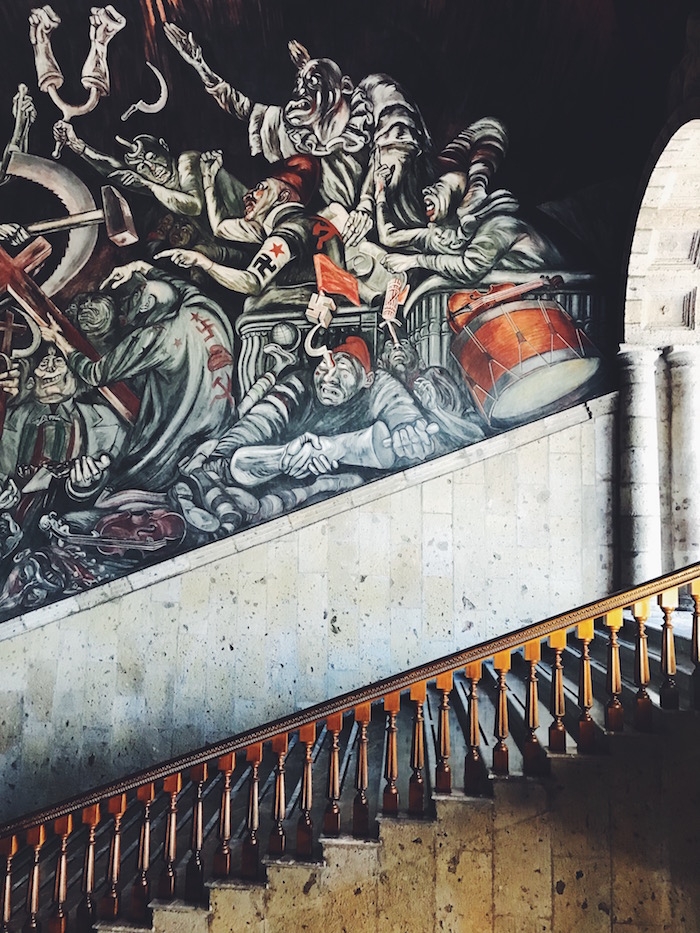 Mexican murals
Several government buildings in Guadalajara, including the Hospicio Cabañas and the Palacio de Gobierno, have incredible pieces of art by famed muralist Jose Clemente Orozco. What makes them even more remarkable: he was one-eyed and one-handed when he painted them! Murals were an important part of social policy: in the early 20th century, many Mexicans in the city couldn't read or write, and so murals were a visual form of communication. Beyond that, though, these two murals are signs of excellence. The first is a true tromp d'oeil: no matter where you're standing below it, it feels as if the man in the fire is standing from the exact same spot. And at the governor's palace, the mural that was painted in 1936 completely predicts WWII. The Mexican government gave a remarkable amount of freedom to artists, and their genius is able to shine through in the works scattered around the city.
Dia de los Muertos in Tlaquepaque
Full post on the once-in-a-lifetime Day of the Dead festivities coming later this week, but suffice to say: it was absolutely wonderful. All of the detailed face-painting and intricate altars, and such warm and friendly crowds. If you're ever thinking about a time to go to Mexico, I can't recommend enough going during Day of the Dead.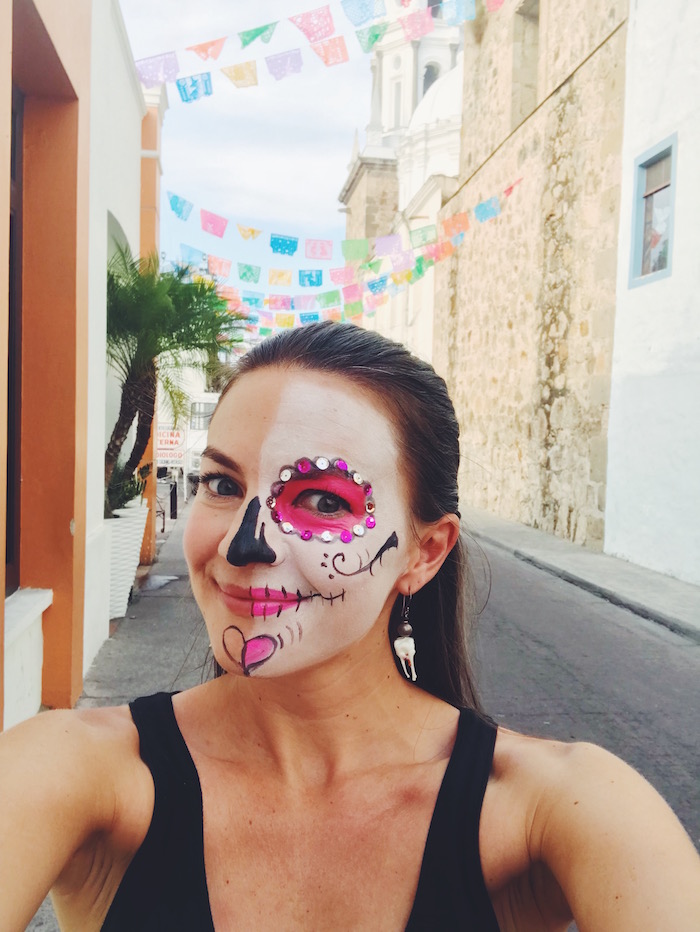 What would you be most excited to experience in Guadalajara?