A hot air balloon ride in Temecula
Fun fact: I have the opposite of a fear of heights. I constantly seek the sensation and the perspective of being high in the air, no matter how I'm there. I love helicopter rides, skyscrapers and rooftops, Ferris wheels, aerial trams, paragliding, ziplining, you name it: if my feet are off the ground, I'm sold. That said, hot air balloons might be my absolute favorite way to experience great heights. There's something incredibly magical and exhilarating about floating above the earth without any real barriers between you and the ground hundreds to thousands of feet below. So far, I've gone on hot air balloon rides in Melbourne, Cappadocia and Scottsdale–and I've been struck speechless every single time.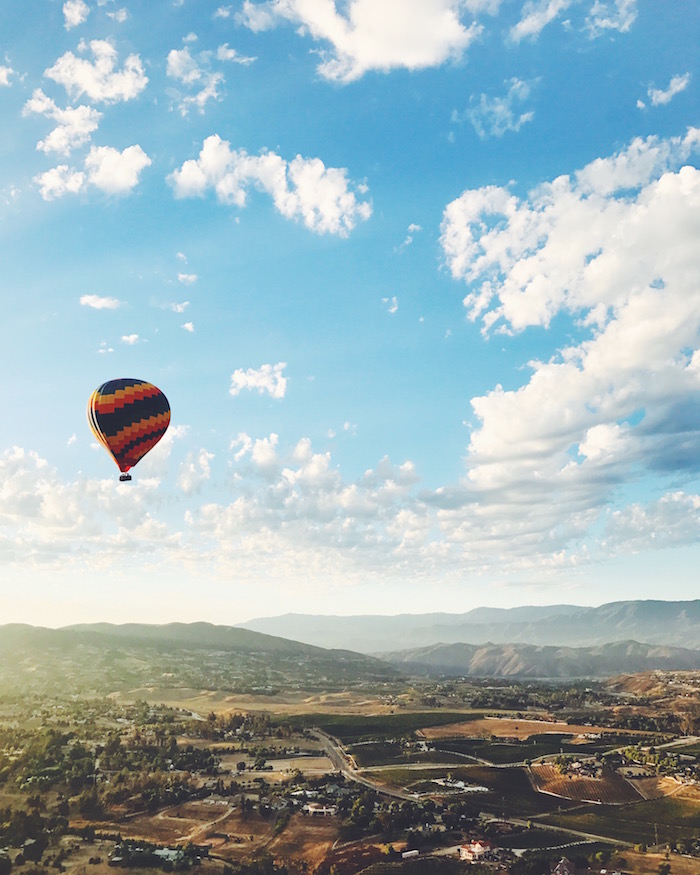 I was thrilled to have the opportunity to go on a hot air balloon ride not far from our new home in San Diego. And I was especially excited to go with someone for the first time: it was David's first time on a hot air balloon! We headed out to Temecula wine country to see the sunrise from above with California Dreamin'.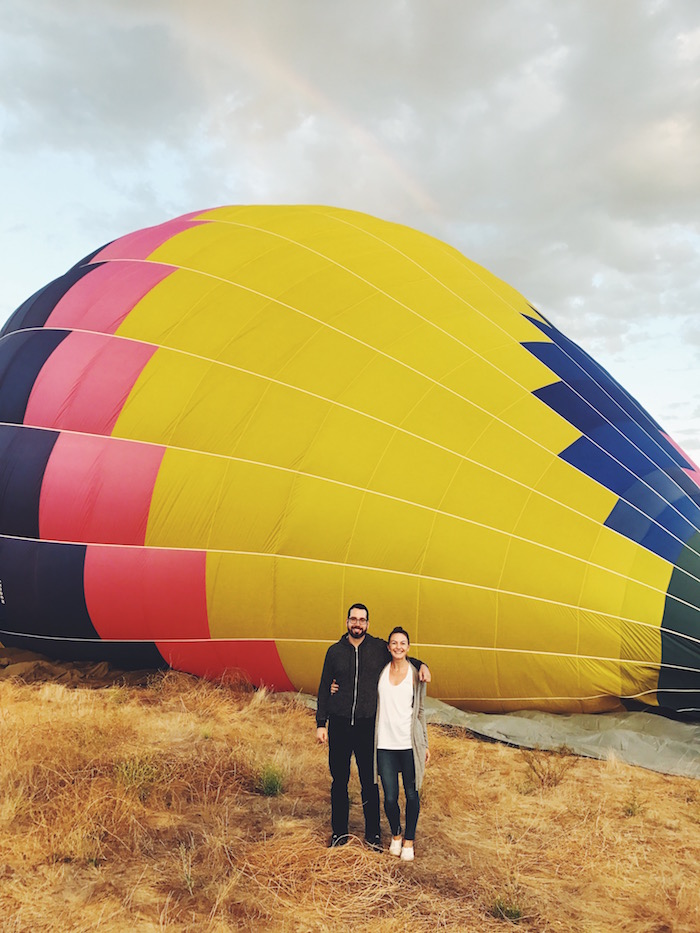 We had a very early wake-up call since Temecula is about a one-hour drive from San Diego: the meeting time was 5:30am, so we were up and on the road just after 4am. If I could go back and plan things a little better, we definitely should have made a weekend of it and stayed the night before in Temecula. Now that I've seen how beautiful the wine country is, I'm already dying to find some cute little B&B and do some wine tasting!
There's always a little bit of pre-flight shuffling as the pilot decides on the best place to launch: the air and wind is a bit different every day, so it's common to pop to a few places before they decide. They actually test the air and winds by letting a helium-filled balloon go!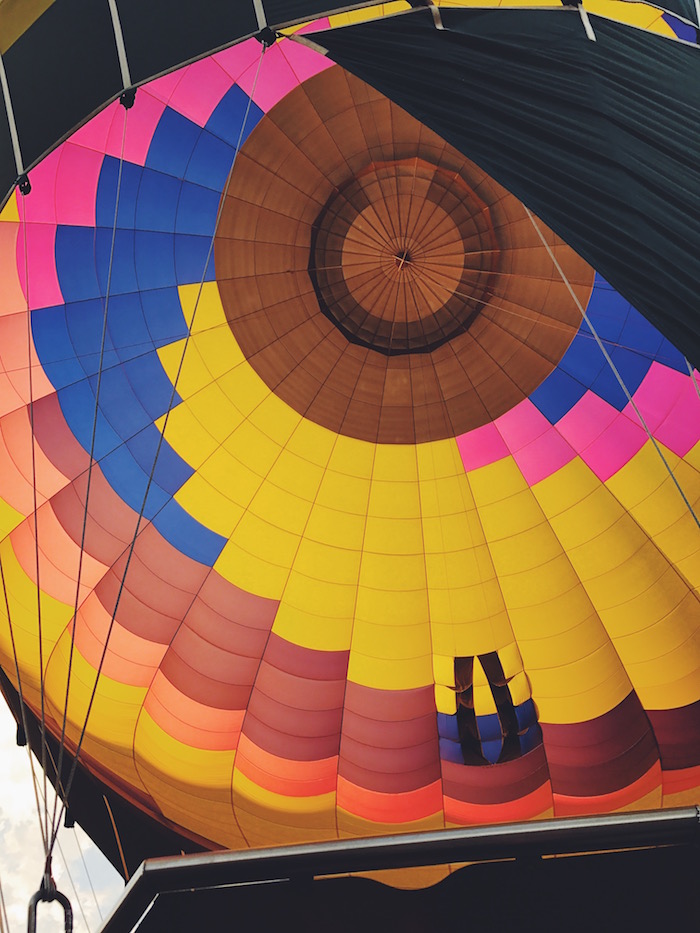 And then once the pilot confirms a spot, the crew still has to fill up the balloon with all of that hot air before you can clamor into the basket.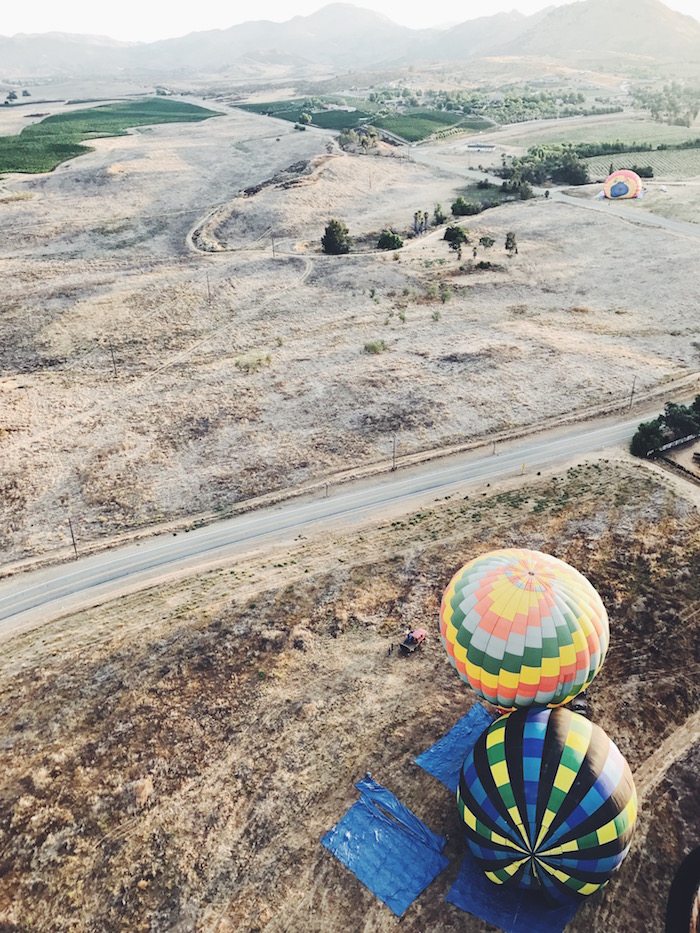 Up up and away! It's always neat to see the balloons down below: they seem enormous as they're getting filled up right next to you…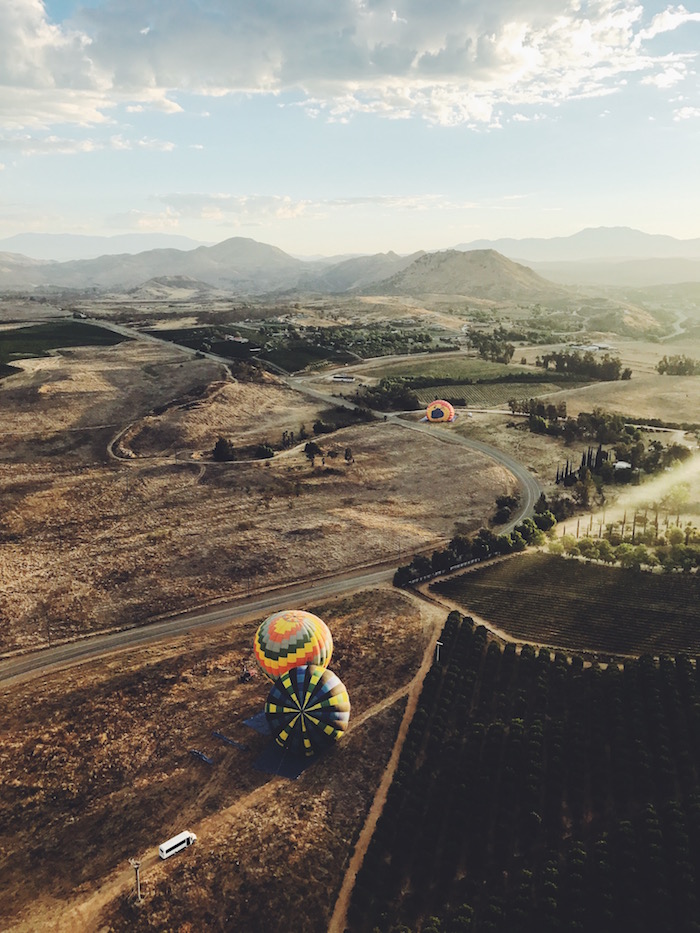 Once you're up in the air, it's so quiet and still. And since it's the first golden hour of the day, the light is so soft and warm: everything looks even more beautiful.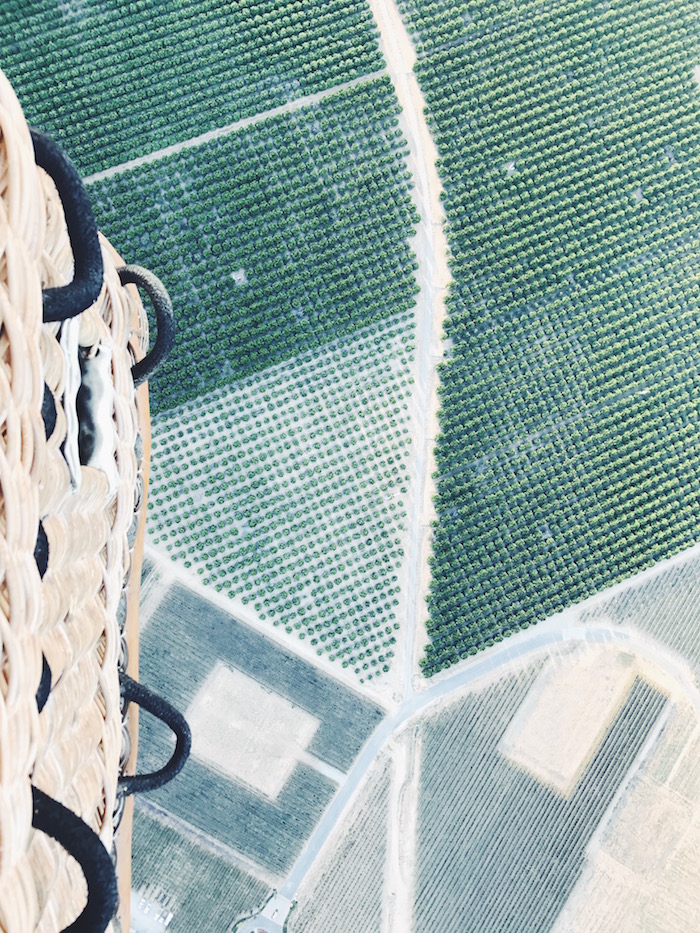 I loved seeing all of the vineyards from above: the perfectionist in me got so much pleasure from all of those straight lines.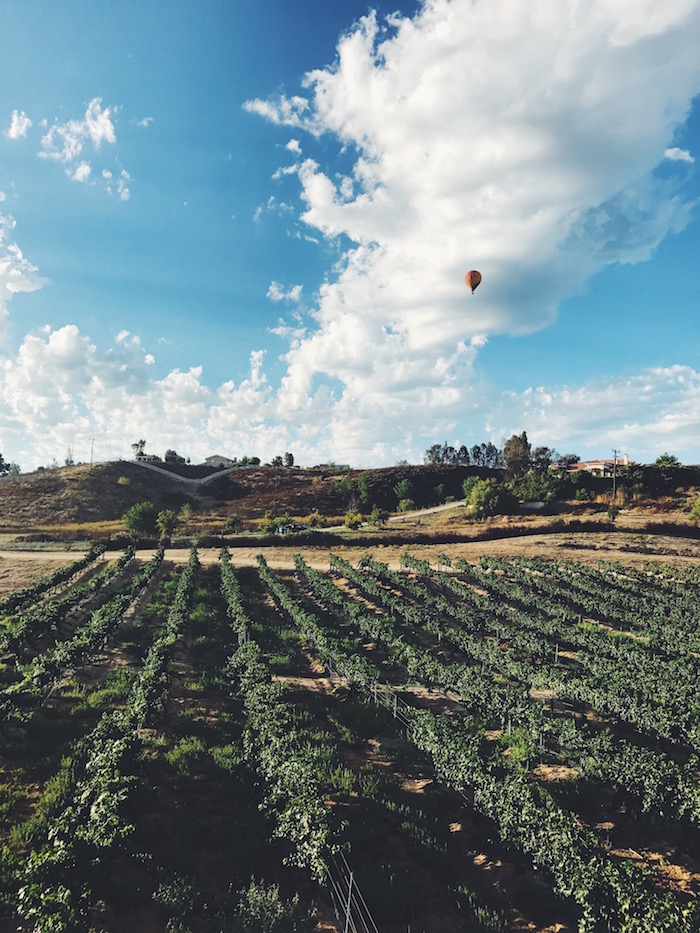 And we also got low enough and close enough to actually see the grapes growing on the vines!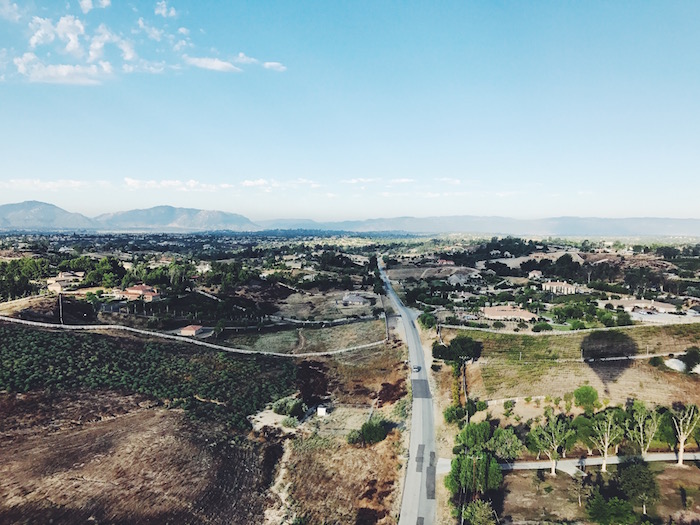 As someone newish to the area, it was also really interesting to see the geography from above: I had no idea how many hills and mountains surrounded the Temecula Valley. Next up: researching hikes in the area!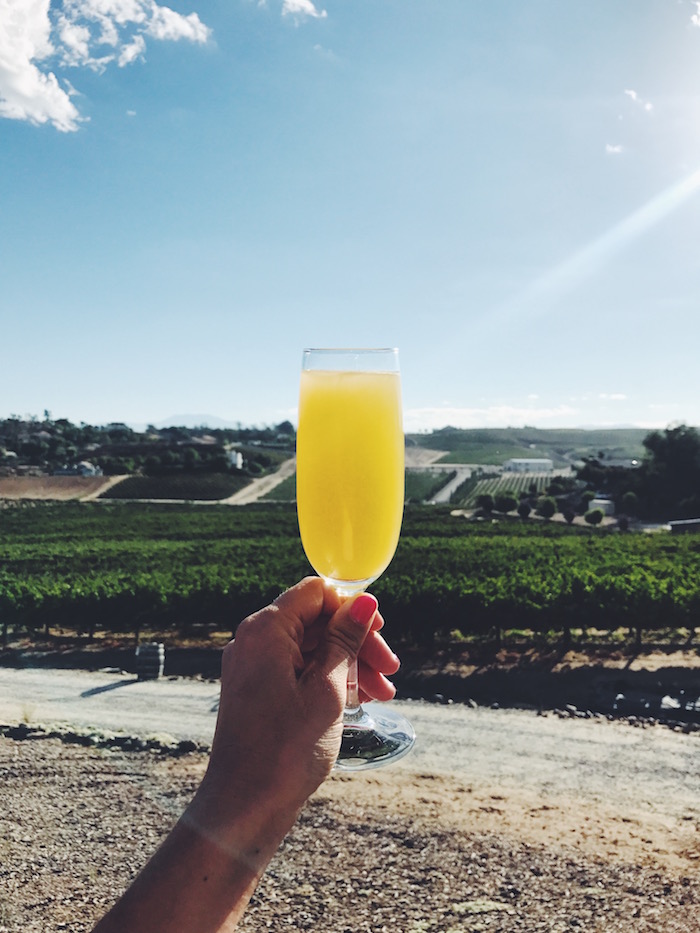 After the flight, we had a light and lovely European-style breakfast of fruit, breads and cheeses–and, of course, free-flowing mimosas! Rumor has it that because the hot air balloon was invented in France, they celebrated successful flights with a champagne toast–the tradition continues strong today, much to everyone's delight.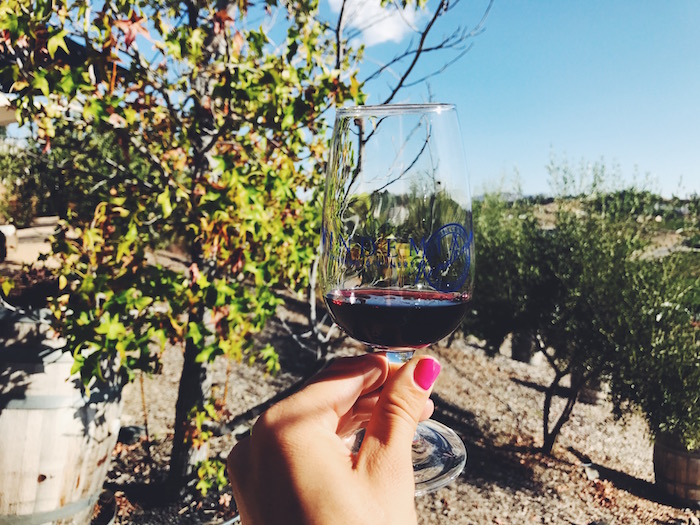 One of the coolest things about doing a hot air balloon ride with California Dreamin' is that the owners of the company (and our pilot!) are also the owners of Vindemia, a family-owned and -operated winery. Talk about truly being able to do what you love! After indulging in a mimosa, we were also able to try out their famous "More Cowbell" zinfandel: although I usually don't start drinking wine at 9am, it was good enough that I splurged a couple of bottles. I can't wait to enjoy them on our patio one night soon.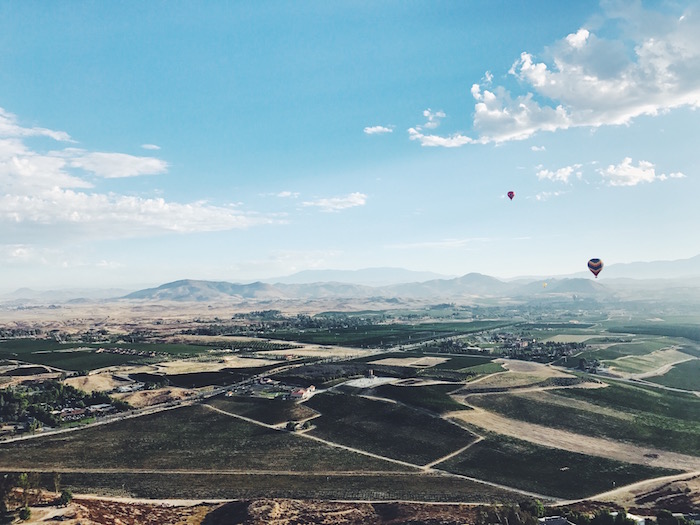 Although we were exhausted from our 3:45am wake-up call, they said they totally have people hang out on the gorgeous terraced hillside and enjoy the mimosas until the winery officially opens for tasting at 11am: you could definitely make quite a day of it, although I think an afternoon nap would be more than necessary.
In general, it was a such a wonderful way to spend a morning–and we were somehow back at our apartment and ready to seize the day (lies: we immediately came home and took a nap!) by 10am. Thanks to California Dreamin' for such a fantastic experience and welcome to San Diego!
Have you ever been on a hot air balloon ride? Did you love or hate it?