Why it's worth visiting Brooklyn
Most of the time when people say New York City, they mean Manhattan—especially from a tourist perspective. The island of Manhattan is where the vast majority of iconic sites are located, and so most people stay there, save a walk across the Brooklyn Bridge or a ride on the Staten Island ferry.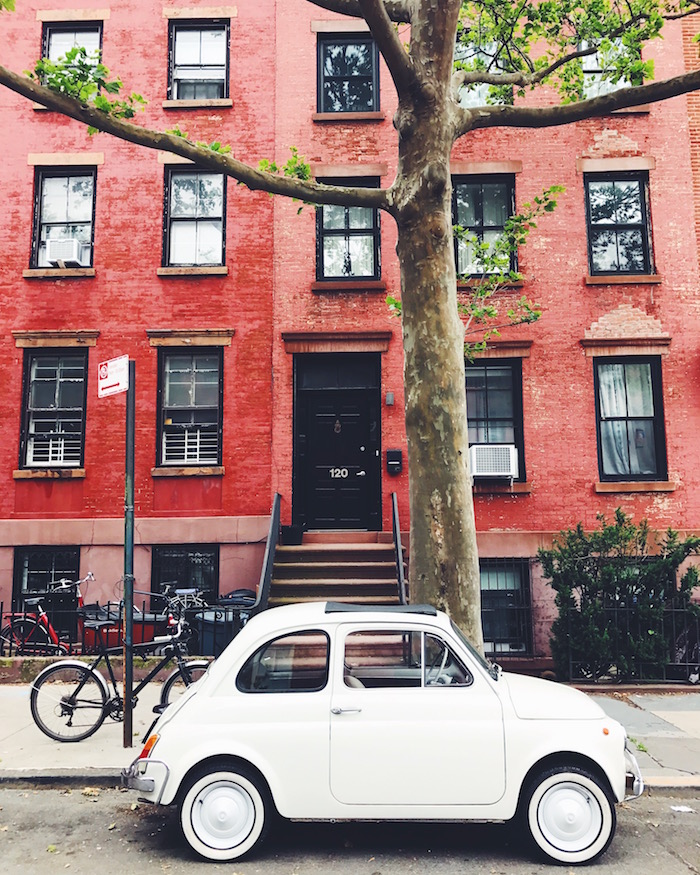 But as someone who lived and loved living in Brooklyn, I do think it's worth a visit—if only as a bit of an escape from the frenetic pace of Fifth Avenue. By no means am I saying that Brooklyn is an undiscovered gem, but I've found that the deeper you go into Brooklyn, the more you'll find the places that are overrun with locals (and sometimes Manhattanites).

Walk across the Brooklyn or Manhattan Bridges…
Walking across the Brooklyn Bridge is one of my favorite things to do, especially at sunrise–the views are gorgeous, and it's just a nice way to get a different perspective on the city. I also love walking across the Manhattan Bridge: similar to how you get the best views of Manhattan from Brooklyn, you get the best view of the Brooklyn Bridge from the Manhattan Bridge!
…or take the ferry!
To be completely honest, the NYC Ferry just totally revamped itself this summer into a magical mode of transportation with cheap tickets and cold brew and rosé on tap. Even without those perks, I still loved taking the ferry from Manhattan over to Brooklyn. You get some of the best waterfront views, especially as you go underneath the Brooklyn Bridge.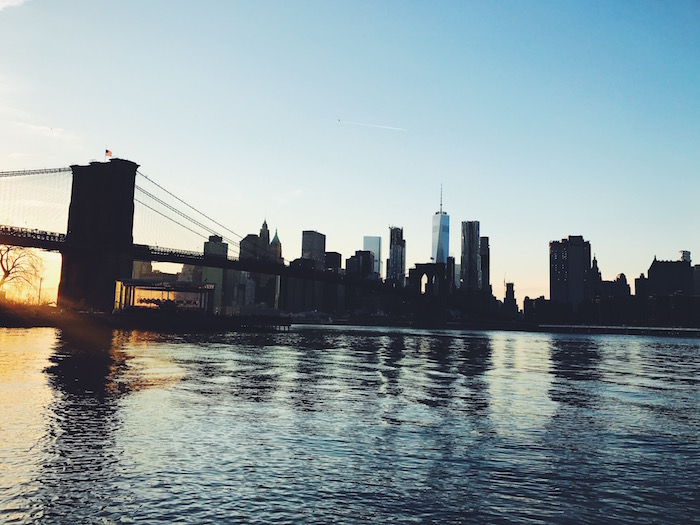 Stroll along the waterfront at Brooklyn Bridge Park…
If you walk across the Brooklyn or Manhattan Bridges, you'll arrive in DUMBO (which stands for Down Under the Manhattan Bridge Underpass). It's a neighborhood of cobblestone streets, startup HQs and expensive glassy high-rises mixed in with converted warehouses. There are a few Insta-famous spots here that make it worth a wander: the Manhattan Bridge peeking through the buildings, the rocky beach with the Brooklyn Bridge gleaming in the background (particularly popular at sunset), beautiful Jane's Carousel. Note that this is likely one of the most touristy areas in Brooklyn, so prepare for some crowds!
…and then on the Brooklyn Heights Promenade
One of my favorite views of the Manhattan skyline is from Brooklyn Heights Promenade, which overlooks Brooklyn Bridge park below. It's a wide expanse lined with trees and benches that's usually filled with elderly couples sitting on benches and little kids learning how to ride a bike. A lovely place to recharge after all of the chaos on the parks down below!
Daydream about owning real estate in Brooklyn Heights
I love meandering through the quiet streets of Brooklyn Heights: they're lined with insanely beautiful brownstones, restored colonial homes and towering trees. I like popping into the Oyster Room to people-watch and pretend that I live in one of the brownstones across the street–they have $1 oysters from 5:15 to 7pm! And Brooklyn Heights is also home to my favorite street name in the whole city: Pineapple Street!
Enjoy the expanse of Prospect Park
Biking the loop at Prospect Park was a standard Saturday afternoon date for my husband and me on a sunny day. We'd often remark on how much more real it felt than Central Park: although it was designed by the same person, it's full of real people actually enjoying it instead of just tourists taking in the view. I love hearing the Caribbean music, smelling the barbecue waft up and watching all of the kids play as we bike through. If you want to do the same, there's a CitiBike station located right outside the park's main entrance. Fun fact: We got engaged in Prospect Park! We took the paddleboats on the lake, and it was an absolute scorcher: note that there's no shade out there. David originally planned to propose in the Ravine (Brooklyn's only forest), but decided at the last minute to do it front of the beautiful Boathouse instead.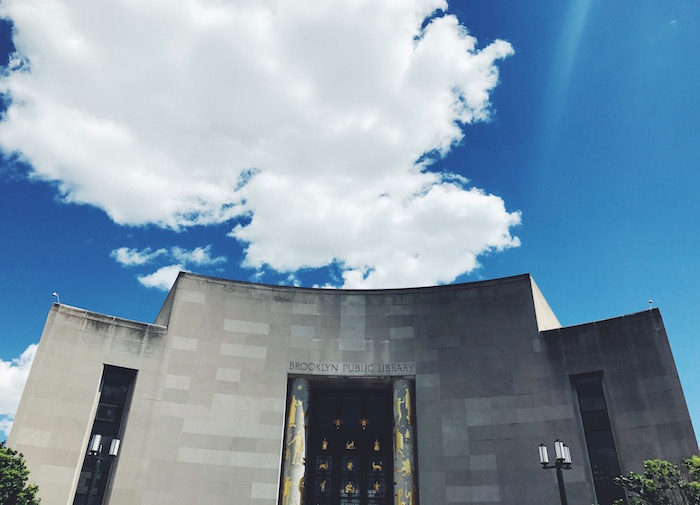 Grand Army Plaza + Brooklyn Public Library
Although it's not quite as imposing as the Arc de Triomphe or as celebrated as the Washington Square Park arch, I have a special place in my heart for the Grand Army Plaza arch. That said, the Brooklyn Public Library across the street from it is one of my favorite facades in the city: I love the art deco details and the literary quotes inscribed outside.
Brooklyn Museum + Brooklyn Botanic Garden
I mean, there is no better place in the world than the Brooklyn Botanic Garden when the cherry blossoms are at peak bloom. It is insanely beautiful and so, so fleeting. I think that the Brooklyn Botanic Garden is way more accessible and easier to manage than the New York Botanical Garden in the Bronx: if you're visiting New York in spring and love flowers, it's definitely worth a visit! And similarly, if the museums in Manhattan feel overwhelming, I really like the Brooklyn Museum: it's not nearly as crazed as the Met, and there are always interesting exhibits on.
Hang out with the (rich) hipsters in Williamsburg
I lived in Williamsburg for a few years, and it's incredible to see how rapidly the area has gentrified. I obviously wasn't there all that long ago, and I've watched the first (and second) Starbucks, Whole Foods, Apple Store, SoulCycle and about a million hip restaurants and coffee shops open. It's honestly a bit mind-blowing! It's become a much more popular spot for tourists and the streets can be a little bit crazy. All of that said, there's still some good shopping to be done on Bedford Avenue and it's home to so many (hip, trendy) delicious bars and restaurants.
…and see the street art in Bushwick
As high rents crowd people out of Williamsburg, many of them have moved to Bushwick and surrounds. Although there are tons of cool restaurants and edgy bars to check out in Bushwick, my favorite thing to do is just to walk around and enjoy all of the awesome street art. I'm sure that this will go away in the future as the high-end apartment buildings move in, but for now, it's still a super vibrant and colorful neighborhood. Also not to be missed: a pizza at Roberta's!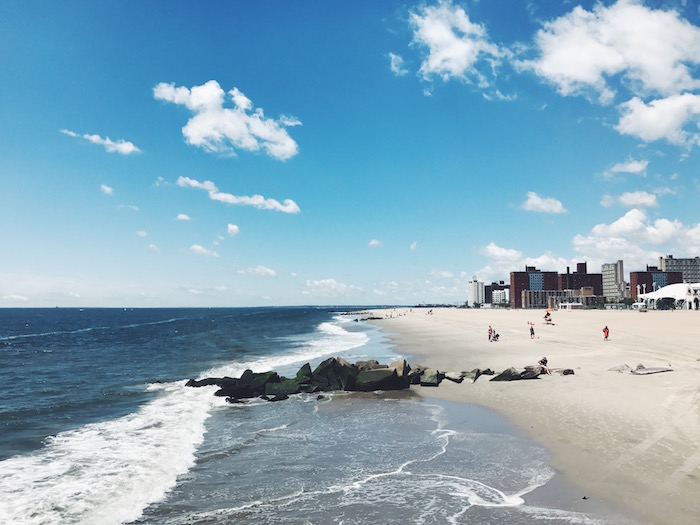 Ride the Ferris wheel at Coney Island
I'm always just awed that Coney Island is technically part of Brooklyn: it feels like a different world! I love that you can take a subway ride (or a long bike ride) and be at the beach. Obviously, the Ferris wheel is my favorite part! Although the rest of the midway and surrounds can definitely feel a little seedy, it's still a fun departure from the rest of Brooklyn.
Wonder if you're still in Brooklyn in Ditmas Park
Ditmas Park is this magical neighborhood just south of Prospect Park that feels like a throwback to an earlier time: it's full of giant houses with wraparound porches and real front lawns and gardens. It feels like you've suddenly transported to a suburb, instead of just being blocks from bodegas and bustling avenues. I love riding my bike around the neighborhood on a sunny day and trying to imagine what life would be like if you lived out here!
 Don't go hungry…
I almost never went into Manhattan on the weekends if I could help it: there was plenty to do, and especially eat, in Brooklyn. My absolute favorite spot is Commodore (we basically had our "rehearsal dinner" here): it's a dive bar that'd be easy to walk right past, but then you'd be missing out on the best spicy chicken sandwich, pina colada and spicy grilled cheese in town (just about everything on the menu is incredible and pretty affordable!). A few other faves: the plantains and fish tacos (and frozen mojitos) on the patio at Habana Outpost, the pizza and calzones at Lucali (get there early to put your name in), the $24 hangar steak and red wine on tap at St Anselm and the burger at the bar at Peter Luger (it can be nuts to get a reservation here, but it's usually pretty easy to walk in and get a seat at the bar at lunch). To satisfy your sweet tooth, I'm obsessed with the ice cream at Oddfellows and Ample Hills.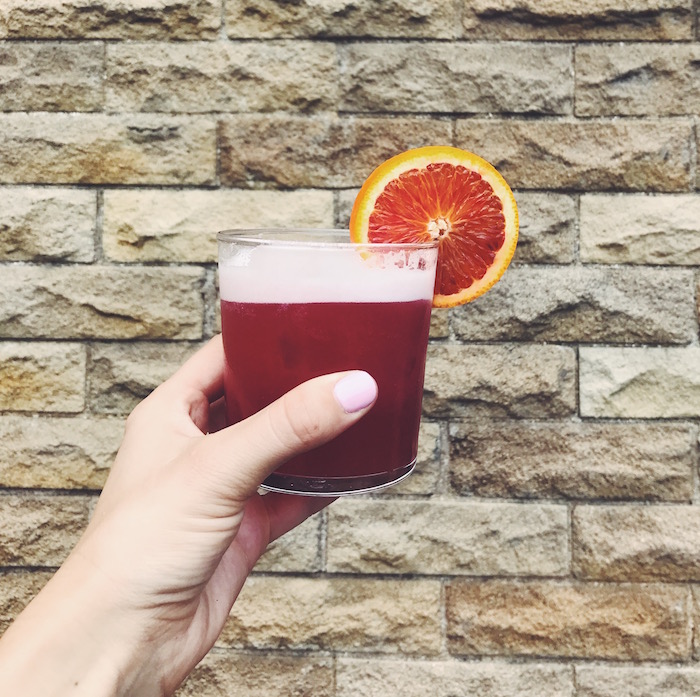 ..or thirsty
There are SO SO SO many good bars in Brooklyn: it would be impossible to list all of my favorites. I'm a bit partial to Kings County Distillery (where we had our wedding party), Brooklyn Winery, Dynaco (it's basically a speakeasy that serves classic cocktails and cake) and Northern Territory (beers on the rooftop!).
Where to stay
Although I think the best way to experience Brooklyn is to stay in an Airbnb in one of the more local neighborhoods (try Brooklyn Heights, Fort Greene or Carroll Gardens), there are more and more awesome hotels popping up. Check out the Wythe, the William Vale and 1 Hotel Brooklyn. Bonus: even if you don't stay at any of those hotels, they all have really incredible rooftop bars with some of the best views around.
What's your favorite thing to do in Brooklyn? Any touristy thing that I missed?