Notes on loving, and leaving, New York
"It is easy to see the beginnings of things, and harder to see the ends. I can remember now, with a clarity that makes the nerves in the back of my neck constrict, when New York began for me, but I cannot lay my  finger upon the moment it ended, can never cut through the ambiguities and second starts and broken resolves to the exact place on the page where the heroine is no longer as optimistic as she once was." –Joan Didion, Goodbye to All That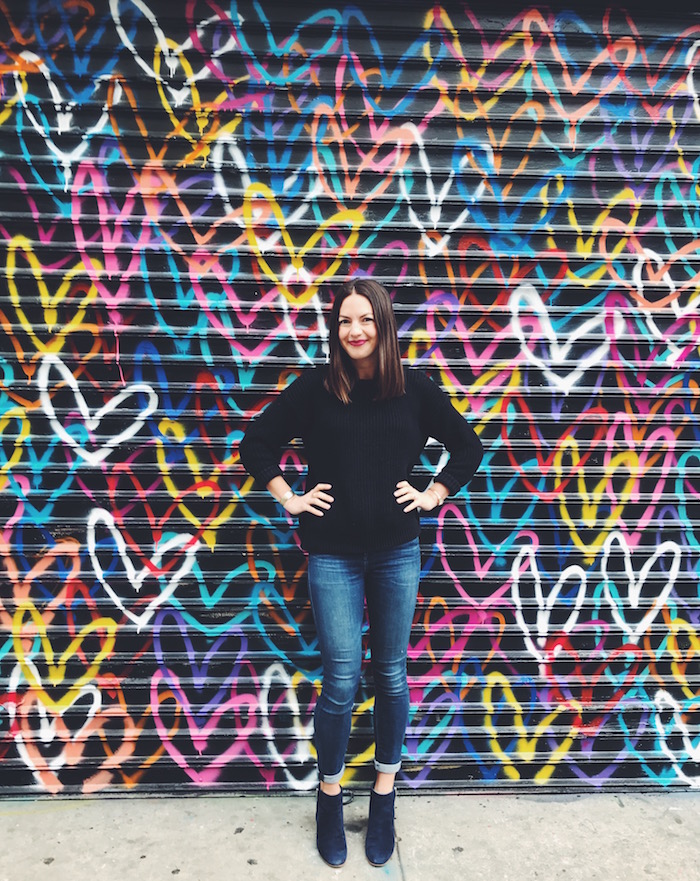 I moved to New York City in the summer of 2012. I was 24 years old: single and young and optimistic with a quickly declining bank account and big dreams of big city living. I never expected to stay as long as I did: I barely thought I'd find a job or an apartment. Five years later: today is my last day living in New York City. It's wholly bittersweet, and perhaps even more bitter than sweet. Despite my subway- and snowstorm- and insanely-expensive-rent-induced breakdowns, I've truly loved living here. I love watching the Manhattan skyline unfold biking across the Brooklyn Bridge or taking the M train over the Williamsburg Bridge. I love reading in the New York Public Library's Rose Room and watching yellow cabs stream down Fifth Avenue and walking down brownstone-lined streets to buy bagels on a Saturday morning. I love being able to say that I live in New York City: if you can make it here, you can make it anywhere. 
I met my future-husband here, spotted his smile for the first time crossing Bedford Avenue on an unseasonably warm winter day four and a half years ago. We made Manhattans and ordered pizza and watched Seinfeld on the floor on our first night in our first apartment together. We brought our pug home on the BQE, crossing the Verrazano Bridge and catching a glimpse of the city skyline. We got married across the street from City Hall in Lower Manhattan, and celebrated with friends in Brooklyn's oldest distillery.
I've had more incredible friends here than I could have ever imagined, girlfriends who are always there to commiserate and celebrate with: friends from high school and college, work contacts turned real-life friends, book clubs and breakfast clubs and monthly dinner dates. Being surrounded by so many ambitious, beautiful, kind and generous women has been empowering and enlightening. To be completely honest, finding more friends as good as these feels impossible: it's maybe the scariest thing about leaving.
I've worked at three jobs here: different commutes and offices and tightly-knit groups of coworker friends. My first office on 39th and Madison: I took the subway to Grand Central every morning, and would be deposited into that crush of commuters under a turquoise zodiac sky. I would pack a sandwich or a mason jar of rice and beans, and eat lunch on the steps of the New York Public Library or next to the fountain in Bryant Park. It all felt so iconic New York City that I didn't even mind being trapped behind the hordes of tourists on Fifth Avenue: I was just as struck by the rushing yellow taxis and shadow of the Empire State Building.
After about a year, the novelty wore off—and luckily, our offices transferred downtown to West SoHo. I got a bike, and instead of Grand Central in the mornings, I joined the pack of cyclists huffing up and across the Williamsburg Bridge and dodging the cobblestones and pedestrians on Prince Street. I discovered the garden oasis that existed behind the brick walls on Hudson Street, and never tired of wandering through the maze of one-way streets and ivy-covered brownstones in West Village.
I was awed when I had my job interview in the luminous Frank Gehry-designed building on the West Side Highway, and even more stunned when I got to work every day what I had referred to as "the igloo" whenever I had spotted it from the High Line. Between my new job's location in Chelsea and a new apartment in Bed-Stuy, my bike commute now took me across the Brooklyn Bridge and up the Hudson River greenway for 8 miles each way—or a treacherously long subway commute on a packed train and 20-minute walk into the wind whipping off the river (lovely in summer, piercing in winter). Whenever I didn't have time to make lunch or needed to buy a last-minute birthday card, I'd wander over to Chelsea Markets; on days that I brought a sandwich and the weather was nice, I'd pop across the street to Chelsea Piers to hit balls or have a pseudo picnic on the grassy knolls on the riverfront.
A big draw of my current job was its location in Brooklyn: no more biking over the bridge or getting stranded when the subway went down! My commute time cut in half, to 20 minutes (or the average time of a podcast): I biked through tree-lined streets, or let out a sigh of relief every time a G train showed up just as I stepped onto the platform. The Whole Foods down the street is closer to a suburban experience than what you're forced to deal with in the city: a parking lot! No line management system! An express lane! I still won't spend my whole paycheck on groceries there, but I splurge on a bulletproof coffee or a kombucha on the days when I'm lagging. The quiet streets filled with kids on scooters and dogwalkers with a gaggle of pups are a far cry from the skyscraper-lined and suit-filled avenues where I started.
I'm not sure how to end this chapter in New York City: it's hard to see the ends. Mostly, I'm so glad that I had the opportunity to live and love in the greatest city in the world, and I'm already looking forward the day when I come back and see the Manhattan skyline rise up again. Thanks for a wonderful five years, NYC–I miss you already.
p.s. thoughts on four years, three years, two years, one year in New York City and the decision to move here.