10 things you can't miss in NYC
New York City is an easy city to be overwhelmed by: heck, I've lived here for five years and still feel like I've barely scratched the surface of everything the city has to offer. There's just so much good stuff–from the tucked away local restaurants and secret gardens to some of the most iconic buildings in the world.
Below are the 10 things that I recommend most to NYC first-timers: these are the things that I think you just can't miss on a visit to the Big Apple. My biggest piece of advice for almost everything: go early! These are all popular tourist destinations and thus, they get busy and can be much less enjoyable. Getting somewhere around opening times will be a much more pleasant experience! But then again, New York City is the city that never sleeps…so you might have to choose your early mornings and late nights wisely.
Wander through Central Park
In my opinion, Central Park is the greatest thing about New York City: it really makes the city so much more enjoyable and livable. It's a lifesaver if you actually live in the city, but it's highly worth visiting even if you don't–it's gorgeous in every single season. Most of the "touristy things" are clustered between 59th and 72nd Streets, but it's really fun to rent a bike to go around the loop and see the beautiful and much quieter upper park (the Pool is one of my favorite places to go in the fall). There are lots of CitiBike stations to make it easy. A few of my favorite spots in the park: the stretch of towering American elms on the Mall, Bow Bridge, Bethesda Terrace, the Alice in Wonderland statue, and the Ramble. It's also super fun to have a drink at the Loeb Boathouse or row around the Lake!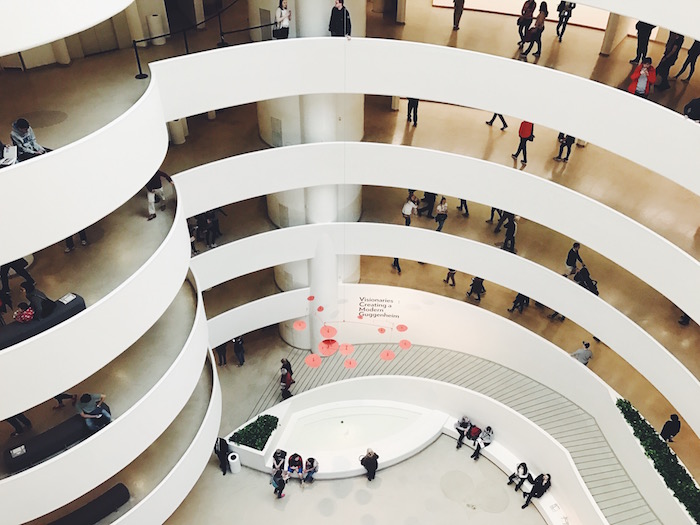 Visit a museum
New York City has such an incredible concentration of high-quality museums and cultural institutions, and it's worth squeezing in a visit to at least one. The big ones–like the Metropolitan Museum of Art, the American Museum of Natural History and the Museum of Modern Art–are all home to enormous world-class collections. I'm also a big fan of the Frick, the Guggenheim and the Whitney if you want a smaller collection in a  setting. A few things to note if you're on a budget: some museums have "suggested" donations instead of hard-and-fast ticket prices, and many do free nights once a month (although those times are notably more crowded).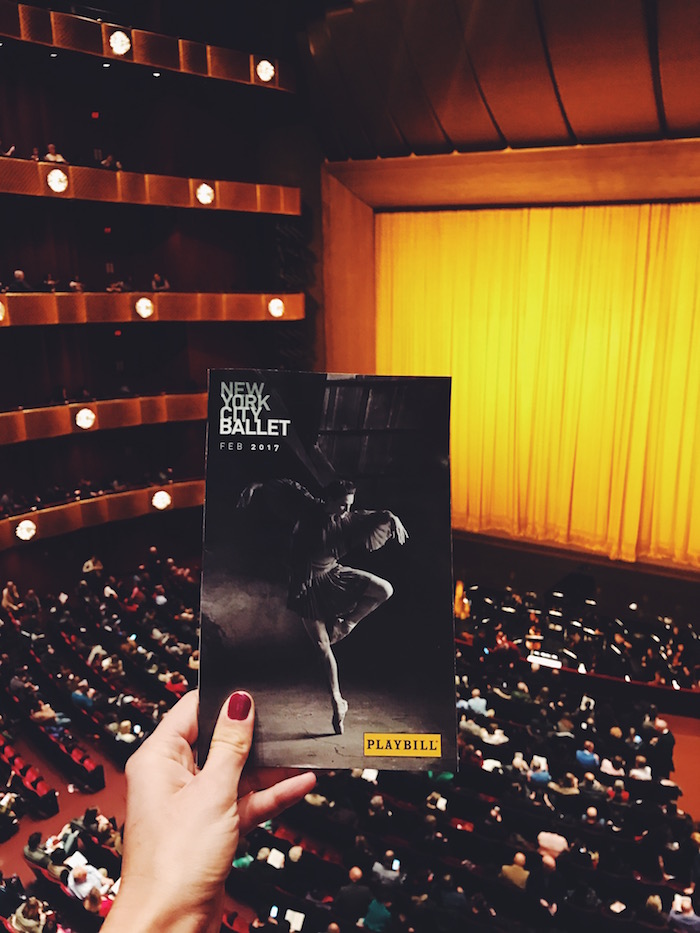 See a show
There's pretty much something to please everyone, from musicals on Broadway to stand-up comedy to ballet. It's all world-class talent in some of the best venues in the world, and it's generally worth splurging to see something while you're here. I especially love a jazz show at Dizzy's, a late-night show at Comedy Cellar, or a matinee at the New York City Ballet. A few ways to save: try TodayTix for same-day Broadway shows, and see what Juilliard music or dance students are showing.
Window shop on Fifth Avenue
I highly recommend starting at 59th Street and working your way down Fifth Avenue. You can see the windows at Bergdorf Goodman and Saks, ooh and ahh over Gucci and Cartier, have a Breakfast at Tiffany's moment outside the store. And although there's plenty of retail therapy to be had here, Fifth Avenue also has some of the most beautiful churches in the city! It's also worth popping into the lobby of the Plaza and maybe having brunch or a cocktail at the Palm Court, or having lunch or high tea at Bergdorf Goodman (reserve the whisper chairs!). Insider tip: the bathroom at Bergdorf Goodman is one of the nicest public bathrooms in the city.
See the skyline and the Statue of Liberty from the water
Being out on the water in New York City is just such a pleasant experience, especially as a break from the chaotic streets or noisy subway. I highly recommend figuring out a way to see the skyline and the Statue of Liberty from the water, especially at sunset. Personally, I think it's not worth actually going to the Statue of Liberty if you're here for a short amount of time: there's a ton of security to get through and lots of lines, and it's really prettiest from the water as opposed to up close. Bonus: there is a way to be on a boat in the Hudson and East Rivers at every budget level! Splurge: sail with Harbor Line. Middle ground: Circle Line Cruise. Cheap: NYC Ferry. Free: Staten Island Ferry.
Eat pizza and a bagel
My best tip for New York City: come hungry. You can eat well at every budget level, from extremely cheap to crazy expensive, and indulge in just about any type of international cuisine. But the two things you shouldn't leave without eating: a slice of pizza and a bagel (low-carb diets be damned, and there are GF options for celiacs!). My favorite spots for pizza: Speedy Romeo, Lucali and Joe's. For bagels, I think it's usually OK to rely on Yelp to find a good spot close to wherever you're staying–but if you're up for a trek, my personal favorite bagels are at Absolute and Ess-a-Bagel.
See the city from above
One of the things that I think is worth splurging on: seeing the city from above! I highly prefer Top of the Rock: you can see Central Park AND the Empire State Building from above. The Empire State Building is great to see more of downtown, but it does feel like you're missing out on the most iconic part of the skyline because you're ON it. (Very similar to why I always recommend going up the Arc de Triomphe instead of the Eiffel Tower in Paris!) Although it's amazing to see the sunset from above, note that it is certainly busiest around this time–it can be a much more relaxing and enjoyable experience earlier in the day and in the off-season. A hack to get the same views, but save on ticket price: go to a rooftop bar! The drinks will be expensive, but it's quite the experience. I love Bar SixtyFive and 230 Fifth. 
Take a peek into the epic buildings New Yorkers actually use
When I first moved to the city, I worked in Midtown: I commuted in and out of Grand Central every morning, and ate my lunch on the steps of the New York Public Library. They've never lost their magic for me! At Grand Central, I still love watching all of the people scurry across the concourse, ducking into the Campbell Apartment for a cocktail and seeing people whisper secrets to each other. And I often opt to work inside the Rose Room between meetings: it's so beautiful! If you're in the neighborhood, I think it's worth checking out Grand Central, the Library, Bryant Park and walking across 42nd Street to Times Square to really knock out all of the Midtown icons in one go. And along with that, my biggest tip: do NOT stay in Midtown! You'll be tempted because it looks like all of these major NYC things are located here, but you can go to all of them in one morning and it's a super boring neighborhood for food, drinks, character, etc. People work here, but don't really live here–look at SoHo, West Village, the Upper West Side in Manhattan or most neighborhoods in Brooklyn instead.
Get lost in West Village
It's surprisingly easy to navigate most of Manhattan: almost all of the island is built on a numbered grid. But then you go into West Village, and all reason falls away. It's a cluster of tiny, winding streets lined with trees and impeccable brownstones, and it's almost impossible to keep your bearings. That's part of its charm! You can spot the Friends apartment building and Carrie's front steps from Sex and the City, along with plenty of other gorgeous homes and gardens. And there are so many bars, restaurants and cafes to choose from. A few of my personal favorites: Buvette, Toby's Estate, Barbuto, Aria, The Spotted Pig, Hudson Clearwater.
Walk across a bridge to Brooklyn…and stay
Walking across the Brooklyn Bridge is one of my favorite things to do, especially at sunrise–the views are gorgeous, and it's just a nice way to get a different perspective on the city. I also love walking across the Manhattan Bridge: similar to how you get the best views of Manhattan from Brooklyn, you get the best view of the Brooklyn Bridge from the Manhattan Bridge! I also highly recommend taking some time to explore Brooklyn once you arrive: a post on all of the best things to do in Brooklyn is coming soon, but in general, the borough is home to just as many beautiful brownstones, plenty of awesome restaurants and lots of local culture.
What do you think can't be missed in New York City? 
p.s. a perfect weekend in New York City itinerary