Two wedding looks for under $1K
One of the things that frustrated me the most about the wedding industry and planning process was how expensive it was to get a "bridal look." I swear, as soon as you mention the word wedding, costs more than double when it comes to hair and makeup. And even when you make a dress white–even if it's exactly the same style and material–the cost often jumps significantly. I get that it's a big day and a crazy industry, but as someone who tried to be a chill bride who took part in some of the traditions (see: white dress, lots of photos)–a lot of it was annoying to deal with.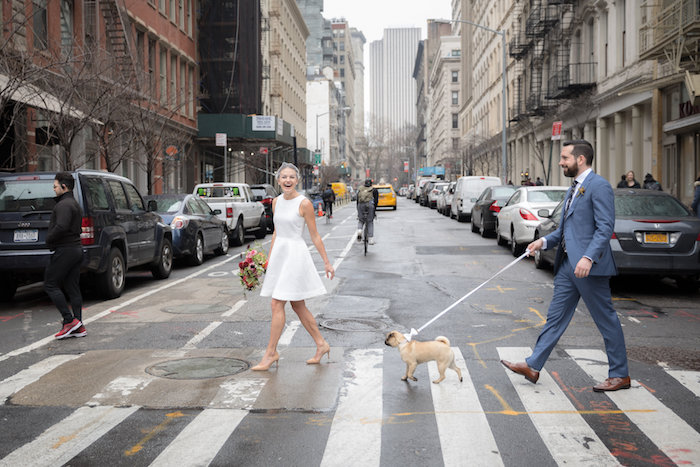 So while I wanted to look bridal–and beautiful, and comfortable–I also didn't want to spend more than $1K on my complete wedding look. Honestly, that number still sounds insanely expensive to me–it's just one day!–but in the grand scheme of wedding things, I think it's pretty reasonable. One thing that did make things more expensive was our decision to split up the days: we ended up having a completely separate ceremony and party (a few months apart!), so I basically did all of these costs twice. A little annoying, but 'tis life!
Ceremony
I opted for a crewneck circle dress in white textured jacquard from Alice Walk ($400), which was very comfortable and flattering (huge bonus: it had pockets!). I'm looking into options to dye the dress as well, which will make it such a solid work week option. I picked up a pair of nude heels from M.Gemi ($250), and honestly, I was missing a shoe like this in my rotation for fancy events. 100% will wear again. The only total splurge on something I'll never wear again was the veil ($160), but I really loved it and felt like it was worth spending a bit more to get the pearl details. I used Glamsquad for hair ($85) and makeup ($75): I didn't book anything bridal, but I think they did an awesome job of creating the exact look I envisioned. I will say that the one big risk with something like this is that you never get a trial–that's built into a lot of the wedding packages–so you sort of have to trust that you're going to get someone who gets you. In terms of jewelry: I borrowed a set of pearl earrings from my best friend, and just wore my engagement (and then wedding!) ring and my grandmother's high school ring. I did get a gel mani/pedi at my regular salon before the event, which cost $50, but since I have my nails done about 350 days out of the year, I'm not counting that cost in here. So that said, total cost of this look: $970. Again, I know it's kind of nutty, but the fact that I can wear the dress and shoes again was important to that splurge. Also: I felt so comfortable and confident in everything I wore and with the hair and makeup that it made the look worth it to me.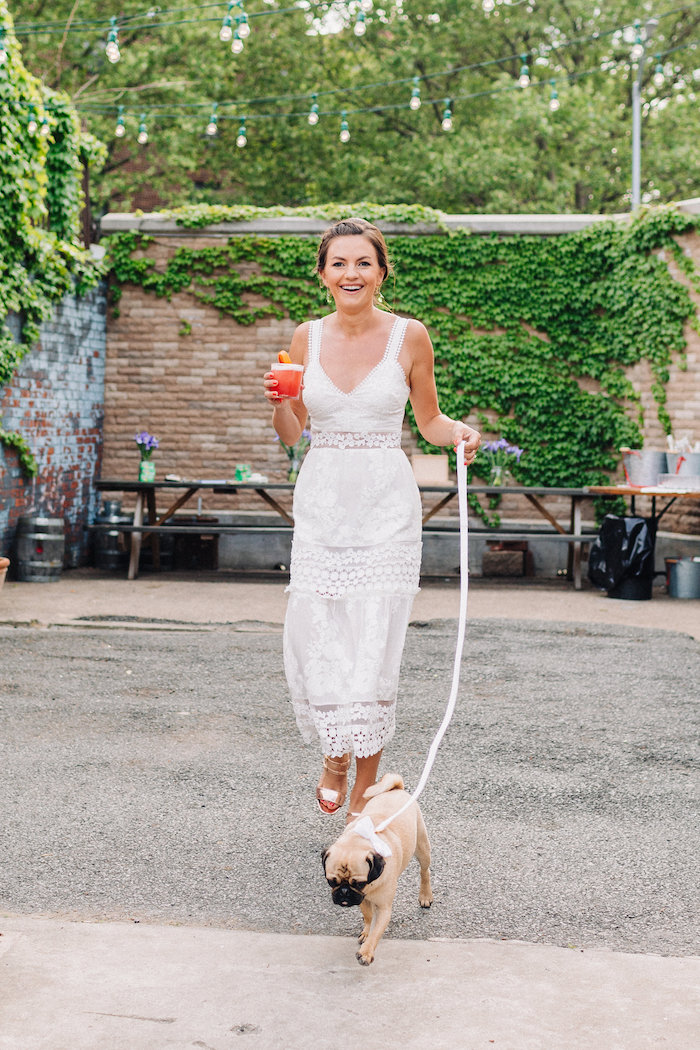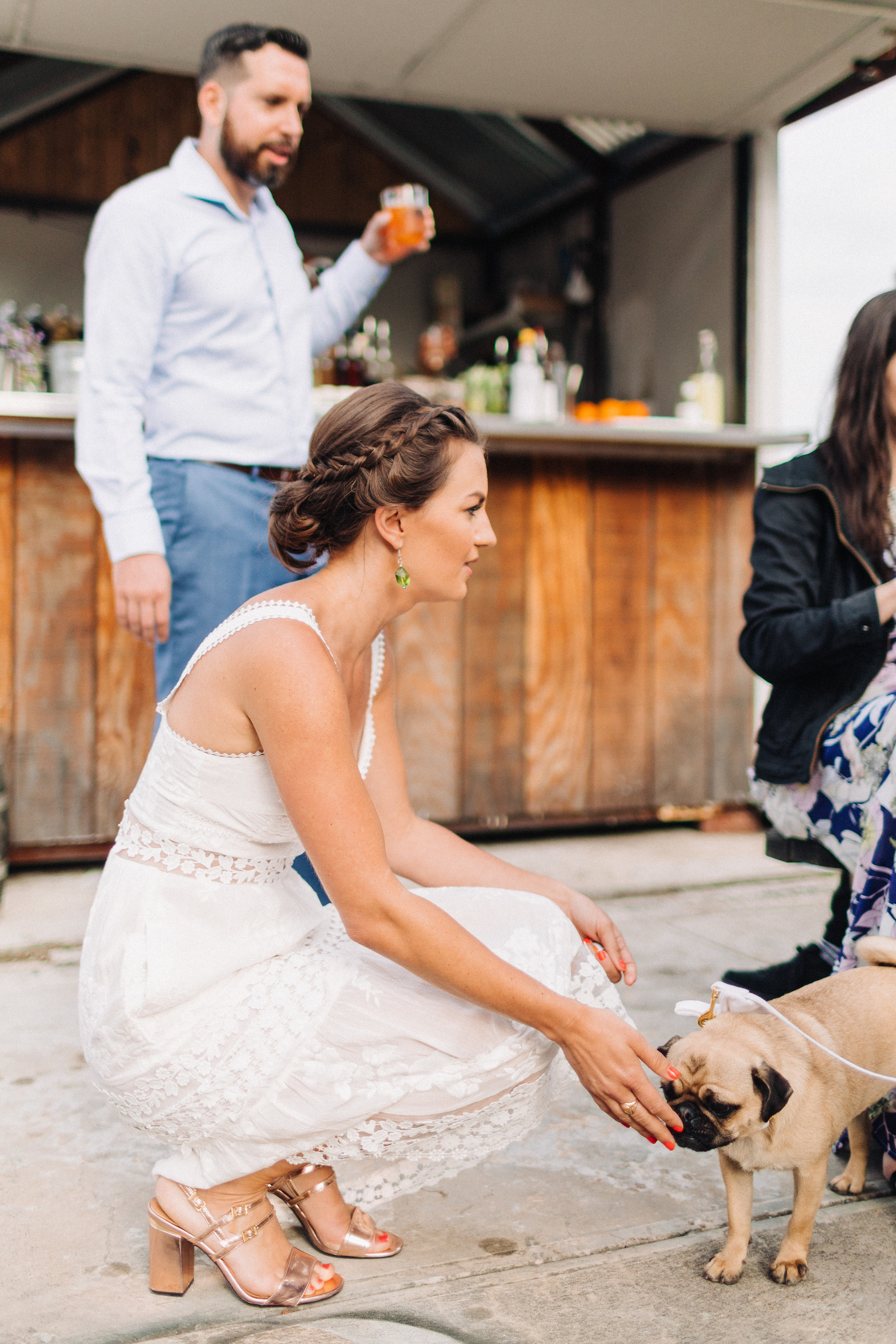 Party
I really love Mr Self Portrait dresses, and I felt like our wedding party might be a good time to splurge on one! I found this one on ASOS for about $500 on a random Monday morning a month or so after we got engaged–and it fit perfectly! I'm also curious to see if I can get this dress dyed: I think it'd be a lovely dress for summer cocktail parties in navy blue or black. And I actually bought these Calvin Klein block heels ($90) to wear to a wedding last summer, but they ended up working really well with this dress too. To be honest, I bought a few different pairs of heels but nothing quite clicked with the dress–and it was easier (and also free) to stick with something I already had. I used Glamsquad for hair ($85) and makeup ($75) again, and I really loved the braided updo that I opted for this time. And I chose to wear those earrings at the last minute, but I'm so glad that I did–I bought them in a little boutique in Florence when I traveled to Italy with friends the summer after my freshman year of college. They've gone around the world with me, and it was fun to wear them on such a special day. Total cost of this look: $750!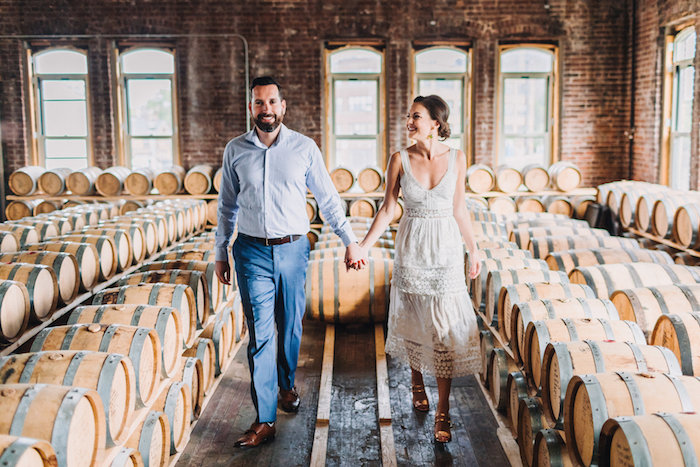 A few tips on saving money on a wedding look
My biggest tip to save money: try to avoid anything overtly bridal. It will automatically be more expensive.
A few good sources for affordable white dresses (or not–I love it when brides eschew the traditional white and go for something bolder!): Alice Walk (I especially love the blush/champagne floral lace embroidery option!), ASOS, Revolve and Reformation. Even if you buy something off the rack, this is an occasion that might be a good opportunity to make the dress fit perfectly with the help of a tailor–still cheaper the full wedding craziness!
Another thing to consider: Rent the Runway! I use this all the time as a wedding guest, and there are a bunch of gorgeous dresses that could be worn for a city hall ceremony or a big party. Only thing to keep in mind: there are occasionally last-minute snafus where your chosen dress doesn't make it. Have a back-up plan and I'd book for the eight-day window with delivery early so that you have some time to figure out another solution if needed.
For shoes, jewelry and other accessories: err on the side of something you can wear again, and take a look into the depths of your closet for something that you can give new life. It's a nice opportunity to splurge on something that's high-quality that will last! And don't be afraid to ask friends, relatives and your new in-laws if they have something you can borrow–it's supposedly good luck!
When it comes to hair and makeup: just schedule makeup and hair for a fancy event, not your wedding. I've never really noticed the difference between the bride and her bridesmaids–you're just paying to make sure you look like the best version of yourself.
My biggest piece of advice: wear something that makes you feel beautiful AND that you're comfortable in. You want to feel confident in front of the cameras, and you don't want to be worrying about exposing too much cleavage or getting blisters from new shoes.
And my second biggest piece of advice: figure out a budget that feels right to you, and stick to it. It's really easy to get sucked into the feeling of needing something new and shiny and fancy because it's your wedding day, and costs can add up super quickly. Figure out what's important to you, and spend the money there.
Do you have any tips on how to look your best for fancy events without breaking the bank?