A girls weekend in Philly
A few weeks ago, I popped down to Philadelphia for our third annual girls weekend with my friend Jillian. After exploring covered bridges in Bucks County and lighthouses and lobster rolls in Maine, we decided to make this weekend all about gardens. Lucky for us, Philadelphia is the garden capital of the USA–a fun fact we discovered after booking!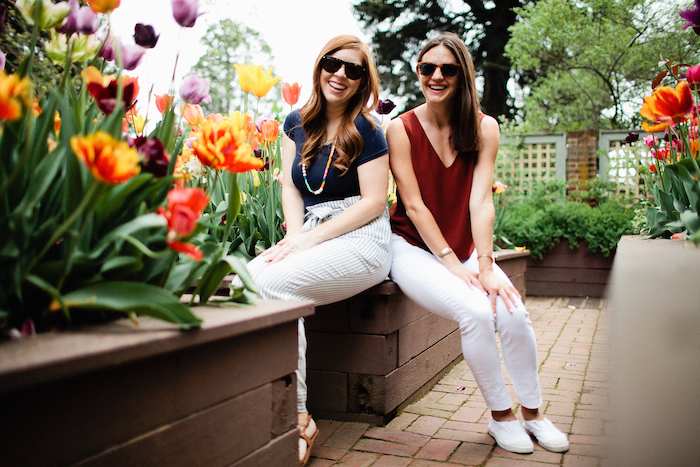 Both of us were really impressed by how much we loved Philadelphia: it felt gorgeous and historical and hip all at once. It was also such a flower-filled and fun place for a girls weekend! The entire city was in bloom when we were there, whether we were at an "official" garden or not. We basically laughed the entire time, and I'm so grateful that we've managed to keep this tradition up–even through moving cities, a baby (for Jillian), a puppy (for me), and plenty of other priorities for both of us. I can't wait to see where we decide to go next year!
Terrain Garden Cafe
Our very first stop was Terrain Garden Cafe and it was everything that we dreamed of and more. It's basically the most Instagram-friendly restaurant and garden store, especially for plant-lovers. We were just dying over all of the beautiful details and backdrops in the outdoor nursery! The restaurant is BYOB, so we stopped at a grocery store on the way to pick up a bottle of prosecco. It went perfectly with the order of simply decadent strawberry rhubarb French toast we ordered as our brunch "dessert"! And I have to say, having a little bubbly buzz as we went shopping in the garden store was especially fun: I might have spent far more money than one would deem necessary on pretty seed packets. Alas! Outfit details: dress, sneakers, sunglasses, purse.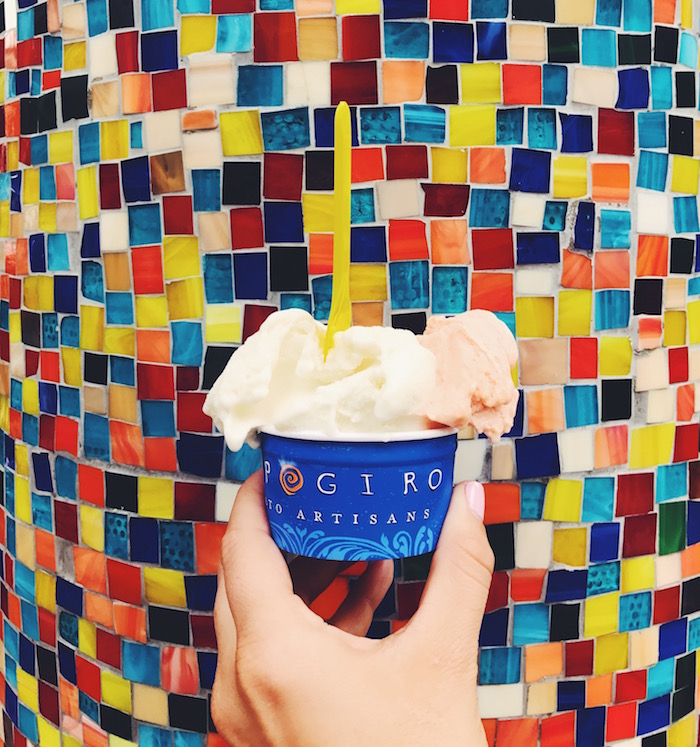 Capogiro Gelato
We both agreed that an afternoon gelato on such a beautiful day was a must, so we popped into Capogiro Gelato for a scoop. I opted for Thai Coconut Milk and Tarocco-Siciliano Orange, and both were refreshing and delicious!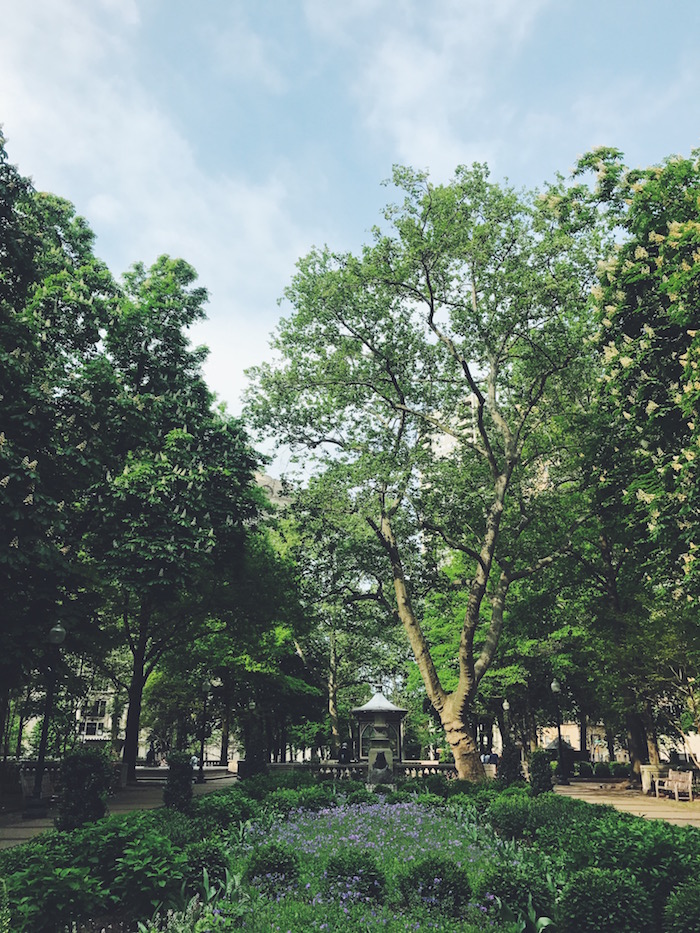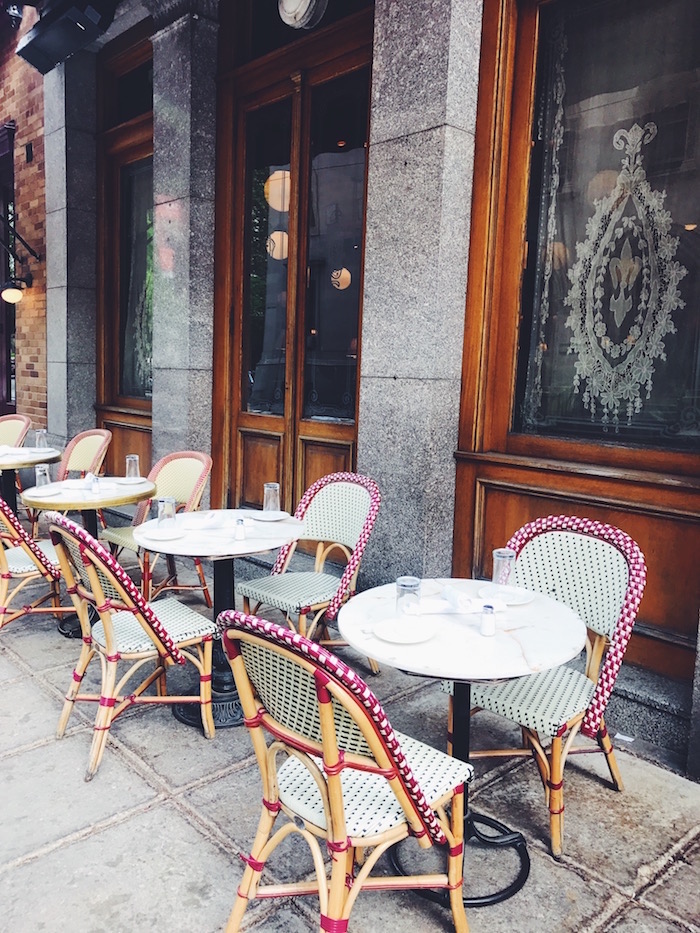 Rittenhouse Square
Rittenhouse Square is such a gem of a neighborhood! The square itself is lovely–leafy and green and full of grassy knolls to relax on. And the area surrounding it is full of sidewalk cafes, historical brownstones and design-y boutiques. We both agreed that if we moved to Philadelphia, we'd love to live in one of the buildings overlooking the square.
Cinder
We had dinner at Cinder, which we loved: they have a crazy selection of ciders and plenty of fancy pizzas. We tried a cherry cider and a pear cider, and both were delicious without being too sweet. And the pizzas had some pretty creative and inventive toppings–my favorite had brussel sprouts on top!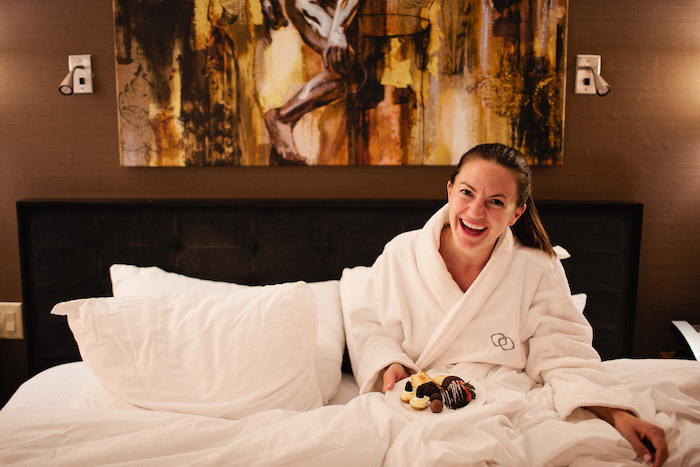 Sofitel Philadelphia
We stayed at the Sofitel down the street from Rittenhouse Square, which was a super central location. It was within walking distance to all of the great restaurants and bars and coffee shops near Rittenhouse Square, and a bit of a longer walk to the historical district. The room was plush and modern, and I loved the French and Philadelphia touches–they greet you with "Bonjour" at the front desk and the art was a contemporary take on the famous pieces in the Rodin museum down the street. We spent the evening in the room: the massive king bed was the perfect set-up for some reality TV, chocolate-covered strawberries and Korean sheet masks (of course!).
Longwood Gardens
Perhaps the place we were most excited to see on this trip: Longwood Gardens! It's more than a thousand acres of perfectly manicured gardens: animal-shaped topiary, wisteria-covered walkways and fields of tulips in bloom. And the conservatory was INSANE, with all of these incredible hanging flower-filled ornaments and palm trees and reflecting pools. We were just so happy the entire time we were there! Outfit notes: top, jeans, sneakers, sunglasses.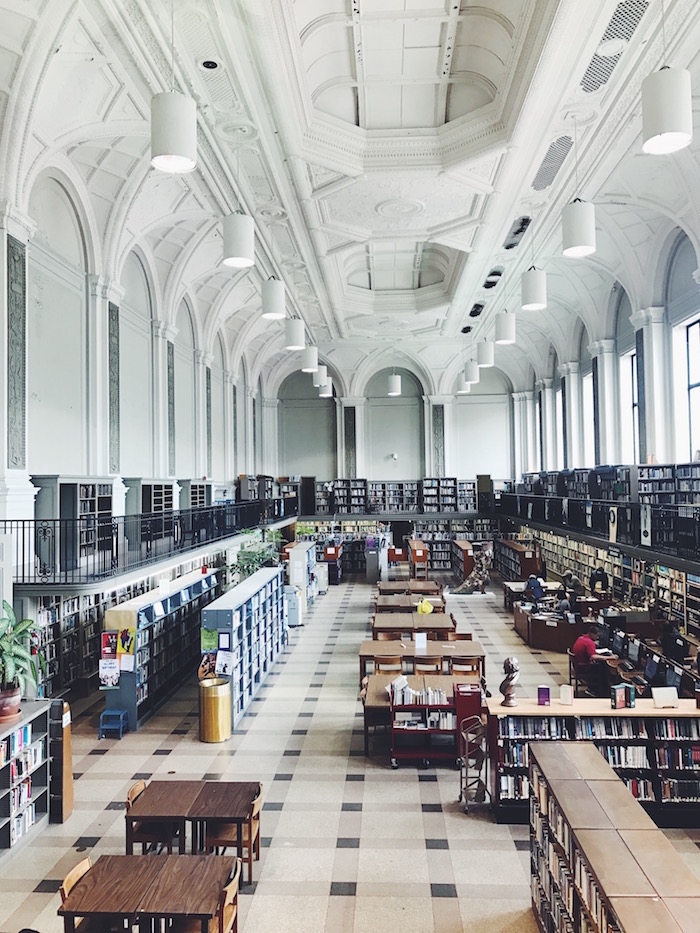 Free Library of Philadelphia
I can never pass up an opportunity to pop into a library! The Free Library opened in 1891 in City Hall, and moved to its present location in 1927–and it's been serving the city of Philadelphia ever since.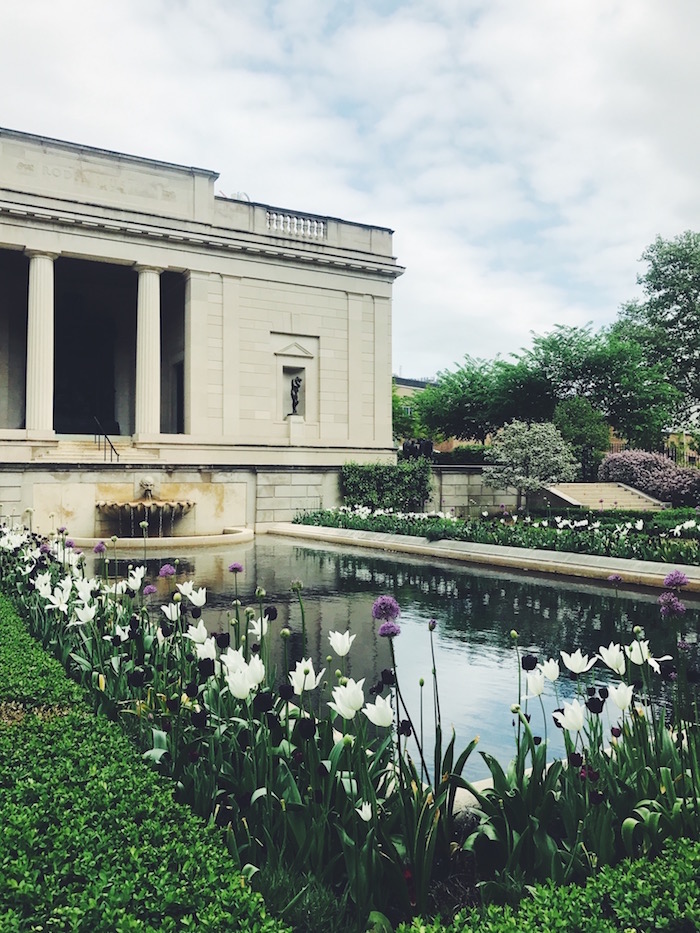 Rodin Museum
One of my favorite public gardens in the world is this flower-lined reflecting pool outside the stately Rodin Museum. Although there are some incredible works inside the museum, I love that two of the most famous pieces–The Thinker and the Gates of Hell–are actually displayed outside the museum and thus free for everyone to enjoy.
Elfreth's Alley
I love this little cobblestone alley! It's our nation's oldest residential street, and it's such a living piece of history. To get there, we walked by the Liberty Bell, Independence Hall, the Betsy Ross house and Ben Franklin's grave–all of the big historical draws. On my last trip to Philadelphia, I took all of those touristy tours, so it was nice to just get to wander past all of these big important parts of our history and just soak up the grandeur. Outfit notes: dress (this is my go-to dress for summer, it's so versatile!), sandals.
Have you been to Philadelphia before? What was your favorite part?