Notes on my pre-airplane routine
Although I'm certainly not a full-time traveler, travel is still (obviously) a big part of my life. I average about 30 flights a year, mostly for pleasure but a few for business. I almost always fly out of JFK, and fly JetBlue 75% of the time and generally fly Delta whenever JetBlue doesn't offer a flight to that domestic destination (aka to Atlanta). I try to do red-eyes or late evening flights whenever possible, although I'll also do a very early morning: in general, I try to avoid any middle of the day or prime commute hours whenever possible.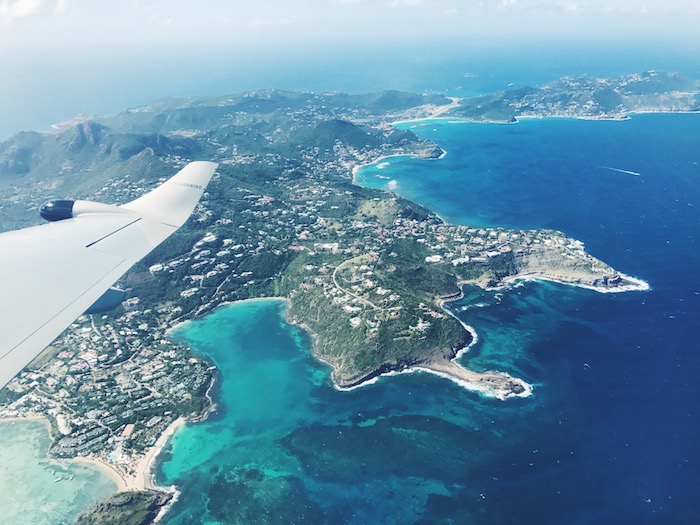 All of that said: I have a pretty solid routine down to make getting out of town as efficient, easy and enjoyable as possible.
The day before
First things first: I make a to-do list of anything and everything I need to do before leaving (picking up food, charging things, etc.) and usually include a quadrant of things not to forget (aka things I usually forget) like contacts, chargers, passport, etc. I've started checking in on the mobile app on my phone and adding my boarding pass to Apple Wallet, so that it's easy to find once I get to the airport. I double check what time my plane is leaving, and do the backwards math on what time I need to be there and thus what time I need to leave my house. Then I call and order car service (or figure out what time I need to be on the subway). I make sure to fully charge my Kindle, my noise-cancelling headphones and my laptop–and then make sure that all of my chargers are packed. I've usually started "packing in my mind" long before I actually leave, but I like to have my bag all packed (minus my toiletries) by the time I go to bed the night before.
How I get there
I generally use a car service to get to the airport. Although it's a bit of a precursor to Uber and Lyft, it's super reliable (they're often early), costs a flat fee and the drivers generally know all of the local shortcuts when there's traffic. I just call the day before and let them know what time I need to be picked up, and they'll be waiting outside my building when I leave. If I'm leaving during a particularly high traffic time (i.e. Friday afternoon on a holiday weekend), I'll usually opt to take the subway and AirTrain. From my apartment, driving to JFK generally takes about 30 minutes and costs $35 plus tip, while the subway takes about an hour and 15 minutes and costs $7.75 ($2.75 for subway fare and $5 for AirTrain fee). I used to exclusively take the subway since it was so much cheaper, but now I don't mind spending a bit more for comfort and convenience (especially if I'm splitting that fee with someone).
What I wear
I wear basically the same thing every time I fly: Outdoor Voices leggings, Everlane tee, Allbirds sneakers, some sort of sweatshirt or jacket. I don't subscribe to the getting dressed up to fly mentality: I fly so many red-eyes that I'm much more interested in comfort. If it's a night flight, I definitely won't wear any makeup and I'll throw my hair up in a messy bun since my first stop the next morning will be a shower. I'd rather just put on some extra moisturizer to protect my skin against the extra dehydrating effects of air travel.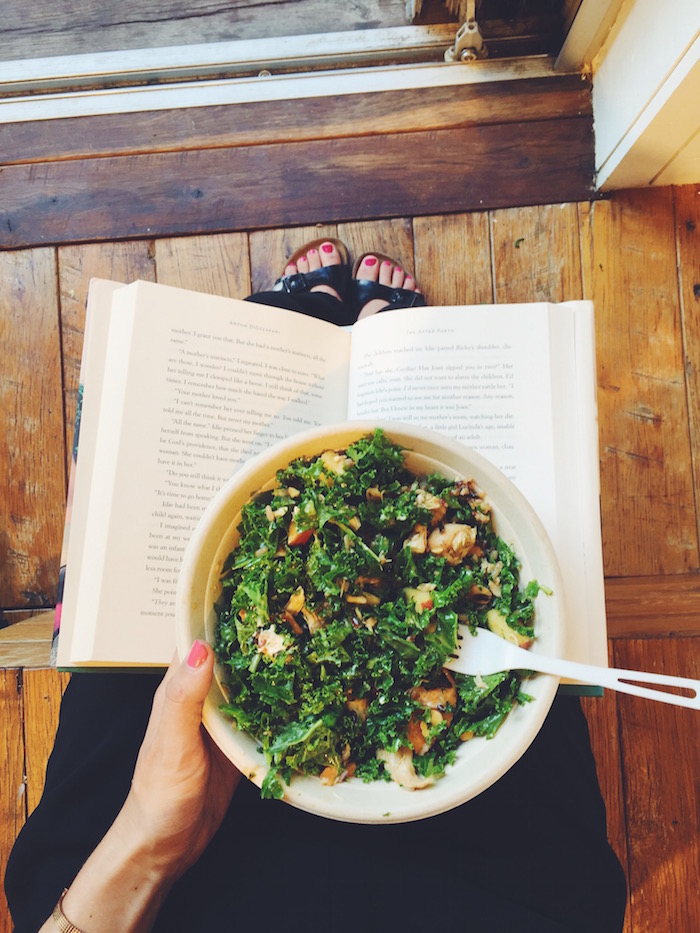 What I bring
Although there are pretty good food options at JFK, most of them are expensive and unhealthy. So! I've started picking something up before I head to the airport–usually a sweetgreen salad or an Eataly sandwich. One thing that I learned the hard way: acai bowls are considered a liquid and can't go through security. Keep that in mind for any food you bring with you! I also keep a Swell water bottle in my bag so that I can fill up with water once I go through security–I'm super conscious about staying extra hydrated when I'm flying.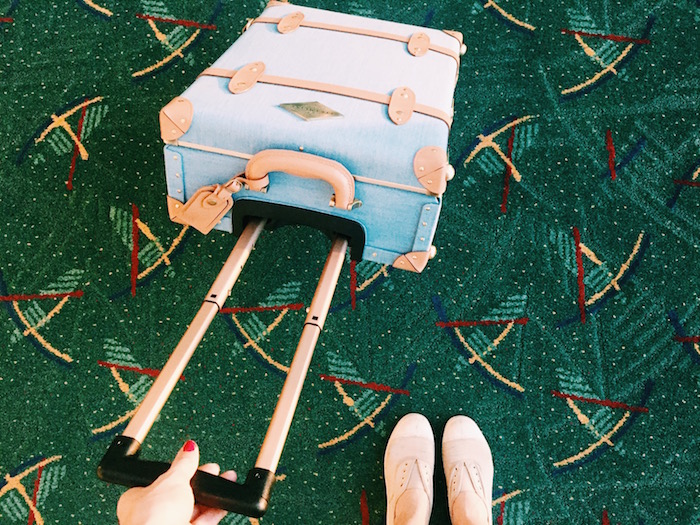 How I pack
I generally bring two bags with me: a tote bag, and either the Everlane Weekender or my rolling Steamline carry-on. My tote bag has my laptop, Kindle, water bottle, wallet, noise-cancelling headphones, keys, passport, chargers, etc. I can't remember the last time I checked a bag–I'm not that worried about it getting lost, I just really hate having to wait for anything once I land (patience is NOT my strong suit). I also believe in being able to carry all of my bags myself, so this is just enough for me to handle! p.s. here are my tips on how to pack for a weekend away in a carry-on.
At the airport
I have Global Entry, which generally means that I'm approved for TSA Precheck–aka I can skip the long security lines and don't have to take off my shoes or take my laptop out of my bag. If you're a frequent (or even semi-frequent) international traveler, I can't recommend Global Entry enough. I can usually breeze through security, and then I head straight to the gate where I'll usually set up with my laptop and try to get a bit of work done before boarding. Two deviations: if I'm there in the early morning, I'll usually brave the line at Starbuck's and grab a coffee, and if I'm flying Delta out of JFK, I always grab something at Shake Shack.
On the plane
My plane behavior veers a few different ways–although I always try and get a window seat. I'm not a nervous flier at all, so I usually just settle right into the flight. If it's a red-eye, I pop a Zzzquil, put in my noise-cancelling headphones and my fancy eye mask, turn on my sleep music and immediately go to sleep. If I'm in a productive mood, I'll listen to music or a podcast during takeoff and then write during the flight. If I'm off on a vacation (or if I've just started a good book–this happened last with Hillbilly Elegy), I'll read for most of the flight. Sometimes I like to not turn on wifi on my phone during the flight to sort of mimic that "cannot be disturbed" mentality–I either get a lot more work done, or I fully enjoy my book!
What's your pre-travel routine? 
p.s. here are my morning, evening and beauty routines if you're interested! Are there any other routines you'd be interested in reading about?