How to: travel with a puppy
One of the biggest reasons why I didn't get a dog earlier was because I traveled so much. I didn't feel like it would be fair to a dog if I was constantly gone, and I (selfishly) knew it would be both more expensive to travel with a dog AND more of a hassle to coordinate dog-sitting while I was gone. All of that said: I'm so glad that we introduced a pup into our traveling life! So far, most of her travels have been limited to weekends away in the New York region (and one fancy plane trip down to Austin), and she's become a regular pro at road trips and hotel life.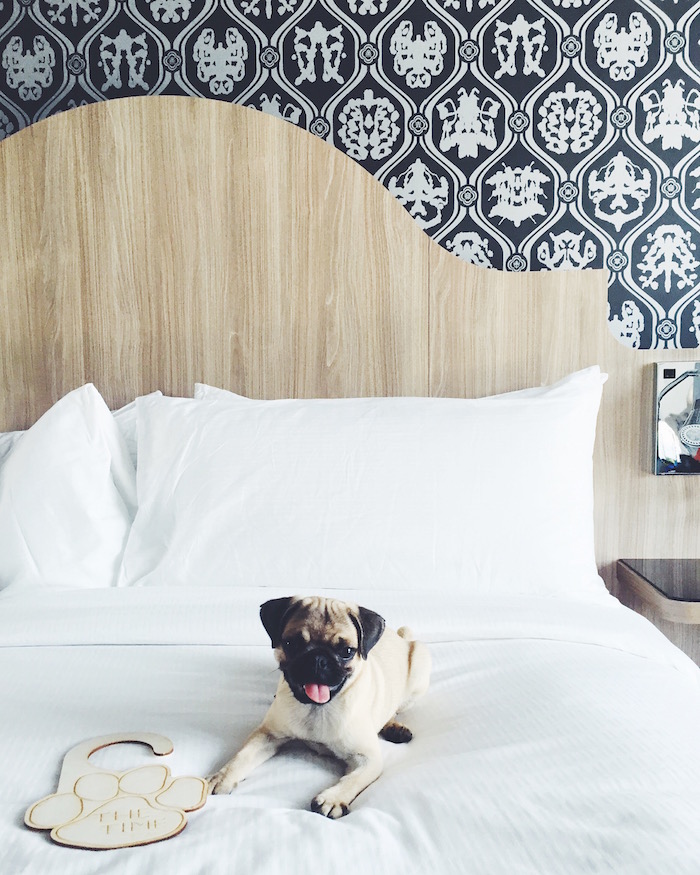 However, one giant caveat when it comes to maintaining our travel lives with a puppy: we're really lucky to have so many dog-loving friends who are more than happy to take care of Gert when we're on a non-dog-friendly vacation. Although it's always a bit of a logistical challenge to figure out schedules and coordinate an Uber to drop off a pup, her belongings and a crate, we're very grateful that we've never had to kennel her. Although she's definitely had a few Manhattan stay-cations while we've been somewhere tropical, Gert has grown into an excellent traveling pug! Here are a few of the lessons we've learned along the way (note that we have a small dog, so we can't speak too much to traveling with a dog who isn't quite as portable):

Think about what will make it a dog-friendly vacation
We live on the fifth floor of an apartment building in a very urban neighborhood, which means a lot of early-morning and late-night elevator rides for leashed walks on loud streets. When we incorporate Gertie into our weekend-away planning, we try to think about places that might be a little different for her (and maybe a bit of a rest for us)–aka lakehouses with backyards and boutique hotels landscaped with plenty of grass. Traveling with a dog makes a busy weekend in another city a little less enticing–we've been much more enamored with outdoor escapes.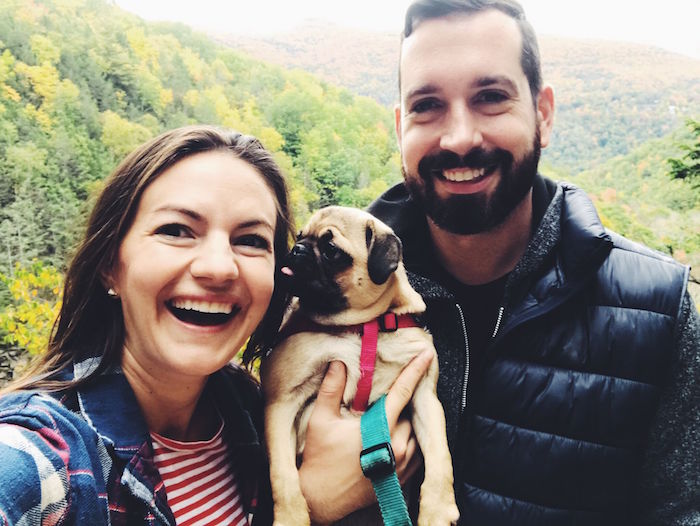 Be flexible with your schedule, and schedule less
The biggest thing that I've had to get used to when it comes to traveling with a dog: we can't do nearly as much in a day. We can't just wake up early, leave the hotel room and spend the entire day exploring. We have to work in morning and evening walks, perhaps one or two dog-friendly activities, and then figuring out a stretch of time when she can be crated in the hotel if we want to do something that's not dog-friendly. It takes a little more flexibility and a general understanding that the pace might have to be a little slower.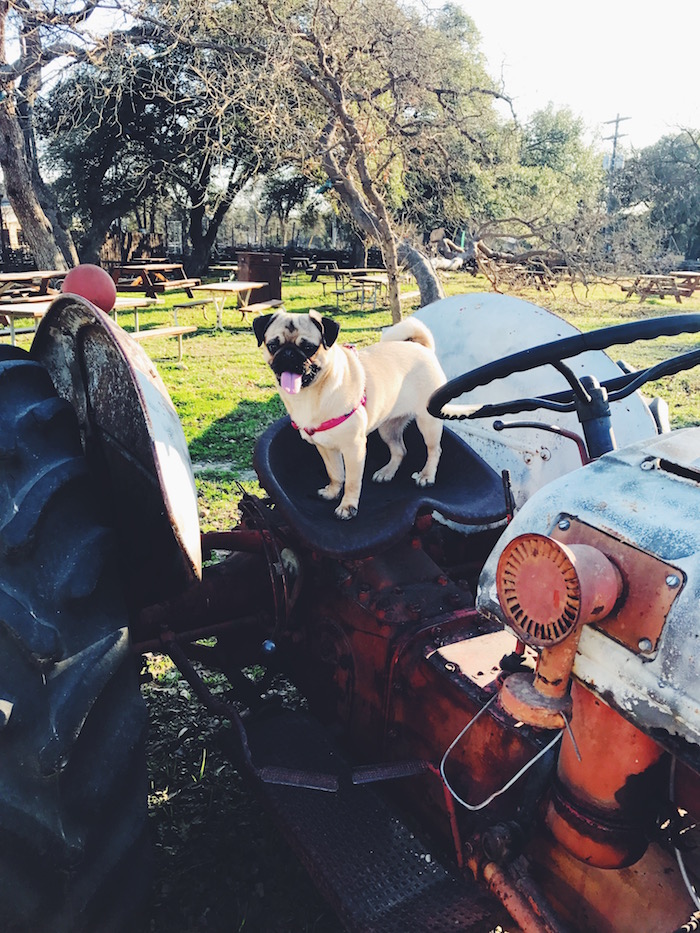 Seek out dog-friendly activities, and double-check whether dogs are allowed
When we were in Austin, we did a bunch of research on what we could do with Gert: it led us to an actual "smushed face paw-ty" put on by a local dog group, a low-key hike next to the Colorado River, lots of cafes with breakfast tacos and outdoor seating, and plenty of parks. However, one of the biggest bummers was finding out that Hamilton Springs is not dog-friendly: I had assumed that dogs would be allowed on the hiking trail, but a bit of online research before we left made it very clear that they were NOT allowed. It's definitely easier to travel with dogs in summer/good weather: not only are there more outdoor activities to partake in, but many restaurants become dog-friendly once they have sidewalk seating available.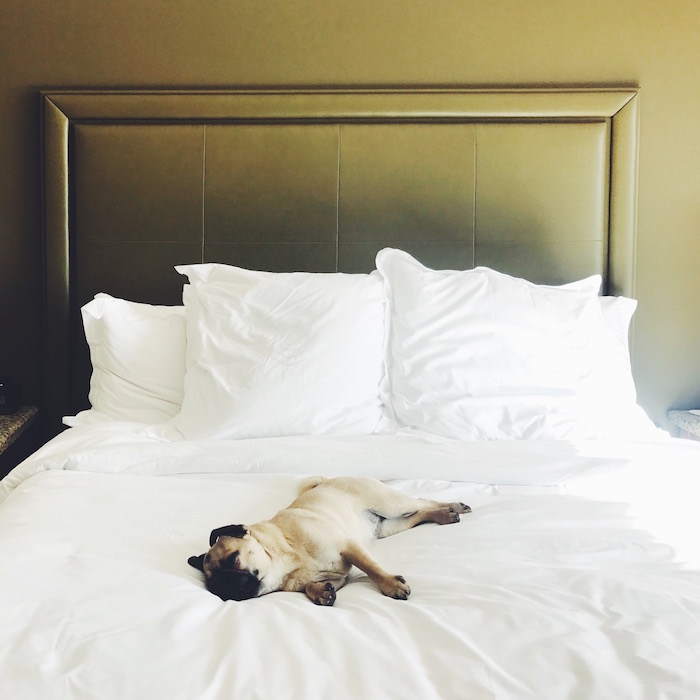 Bring along a bit of comfort
We're super committed to crate training, and part of the reason is that it makes it way easier for Gert to travel. No matter where we go (or whatever friend she stays with), she has a very comfortable little den to relax in. Even when we went to Austin, we just took advantage of Amazon Prime and had a crate shipped out to the hotel to use during the five days we were there. They're not very expensive, and it was worth it to be able to leave her in the hotel room a few times when we wanted to go out for dinner or drinks. Of course, she still gets a chance to relax on the plush hotel beds!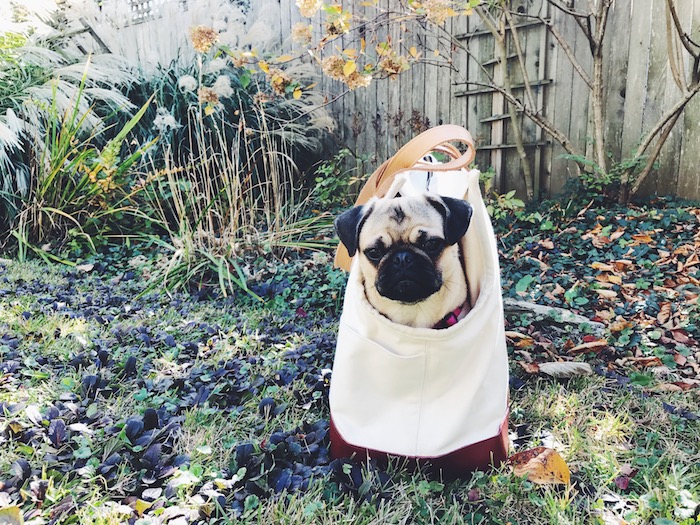 Get them acclimated to all kinds of travel
Basically as soon as we brought Gertie home (at 12 weeks), we started taking her around the city so that she'd get used to being on the loud subway and the motions of a car. We usually hold her in our laps, and she now immediately falls asleep whenever she's in transit. And as soon as we decided to fly with her to Austin, we bought a TSA-approved travel case and started taking her around the city in it so that she'd get used to it. The plan worked: she falls asleep as soon as she's tucked into her carrier, whether it's under a seat on a plane or on a crowded subway.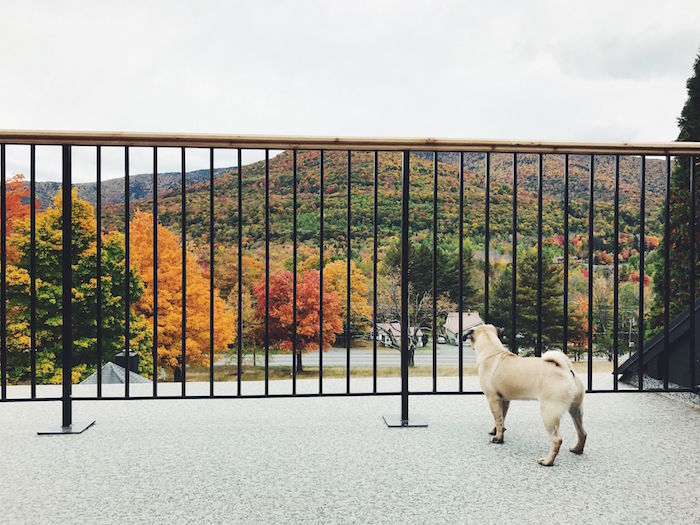 Find a dog-friendly hotel or rental house
BringFido.com is a super helpful resource when it comes to finding dog-friendly hotels. However, most hotels will ask for a non-refundable dog cleaning fee. We've found that most house rental places have been pretty understanding and flexible when it comes to bringing a dog, and rarely have we been asked to pay an extra deposit. That said, we have a small, city-bred dog who's used to existing inside–it definitely becomes more difficult with larger dogs.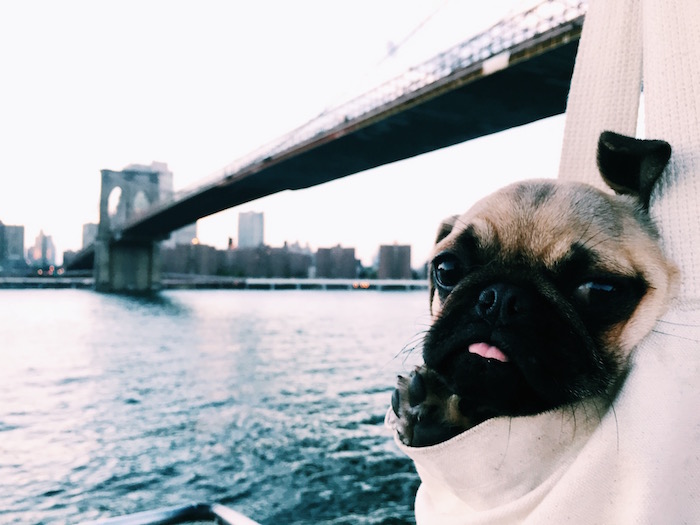 Prepare to pay more
Although the world is becoming more and more friendly to people traveling with their (spoiled) pets, there are still limits. As noted above, hotels will generally ask for a non-refundable cleaning fee. Jetblue charges an extra $100 per flight to fly with a pet who's not a service dog (although the airline is super dog-friendly, and even features an pet roof at their main hub at JFK). Amtrak generally charges an extra $25 to travel with a pet in a fully enclosed carrier. And it's not unheard of for taxis or Ubers to refuse service if you have a dog! And in general, it's often way easier to take a taxi to the train/parking garage instead of dragging a pug and all of her paraphernalia (including a collapsible but heavy crate)–another expense!
Although traveling with a dog can be an extra expense and challenge, we've always had so much fun taking her with us! If you need some traveling dog inspiration, here are all the trips we've taken Gertie on so far:
What are your tips or lessons learned for traveling with a dog?