Finally: our apartment tour!
Finally: our long-overdue apartment tour! David and I moved in together in October after two and a half years of dating. We opted for a brand-new apartment in Bed-Stuy (more about our hunt over at the New York Times); previously, we had lived about 10 minutes from each other in Williamsburg (with our respective best friends, which was pretty ideal).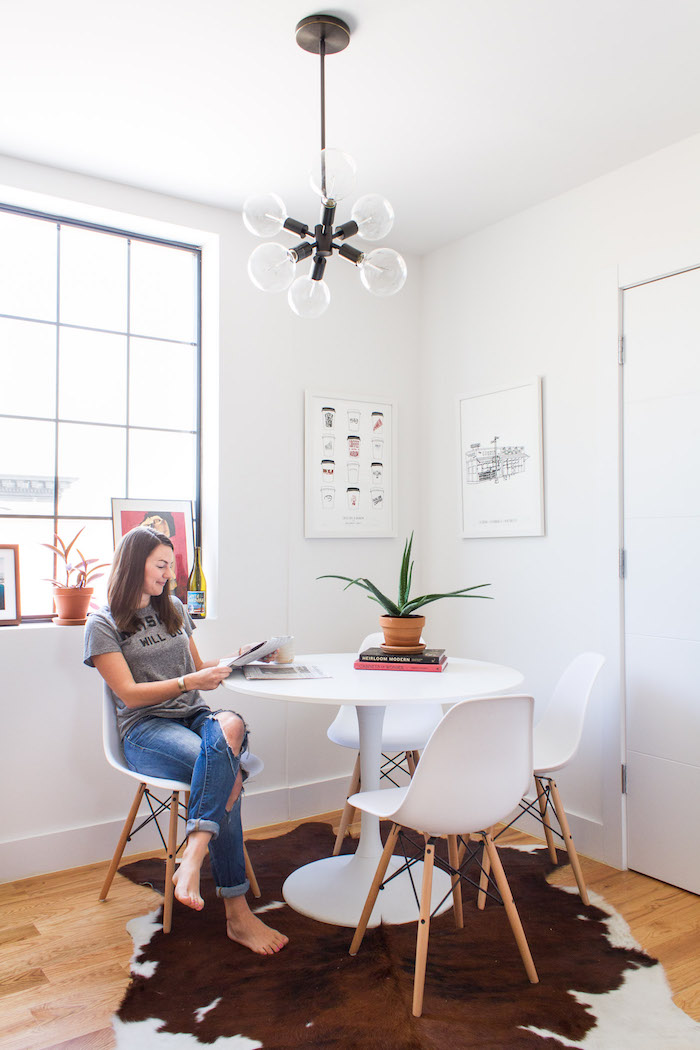 After many years of traveling and living with roommates and being on a very bare-bones budget, it was really fun to finally have a blank slate to furnish and decorate–and a bit challenging to figure out what both my boyfriend and I would love. We worked with Homepolish to help us pick out furniture and design accents that we'd both love at a reasonable budget (and with limited time to spend figuring it out). I veer toward clean white lines with colorful accents, while my boyfriend is all about wood and leather. He also has quite a few cool things that he's picked up on his own travels, like a woven wall hanging from Thailand and soapstone sculptures from Africa.  Will, our amazing designer, did a great job of merging our styles together to create a space that we both love living in: it reflects both of our aesthetics really nicely without feeling overpowering in either direction. Without further ado: here's our place!
Front Room
The front room is super multifunctional: it's home to my boyfriend's desk, our dining room table (that doubles as my desk when working from home) and my closet. It will also soon be our pug's room! It was a little bit of a jumble before we started working with Homepolish, but Will really helped us pull it all together. This was the first time I'd ever worked with a designer, and I especially loved having someone else to source potential pieces: it was such a huge timesaver to just be able to review Will's suggestions (that all worked with our measurements), instead of spending every night after work trolling home furniture sites and having to triple check whether things would fit. For example: David wanted a desk chair where he could lean back and crack his back (and that was also leather and wood and manly, of course). Will sent through a few options, all that had storefronts close to David's office so that he could go in person and test it out. We also decided to swap out the standard-issue light in the room with a fancy chandelier that we really love (that we can take with us when we move), and it really upgrades the feel of the room. And I actually bought that "coffee cups of Brooklyn" print before we even moved into together since it had so many of our favorite Williamsburg coffee places: I thought it would be a fun memory of all of the early morning Oslo trips and Cafe Colette sunny brunches we had when we first started dating.
Desk: Apt2b [no longer available] // Desk chair: West Elm // Table: Ikea // Chairs: Poly & Bark // Shelves: CB2 // Prints: Knowlita // Frames: Framed & Matted // Rug: Decohides // Chandelier: West Elm [small version no longer available] // Framed photo: Artifact Uprising [of this photo]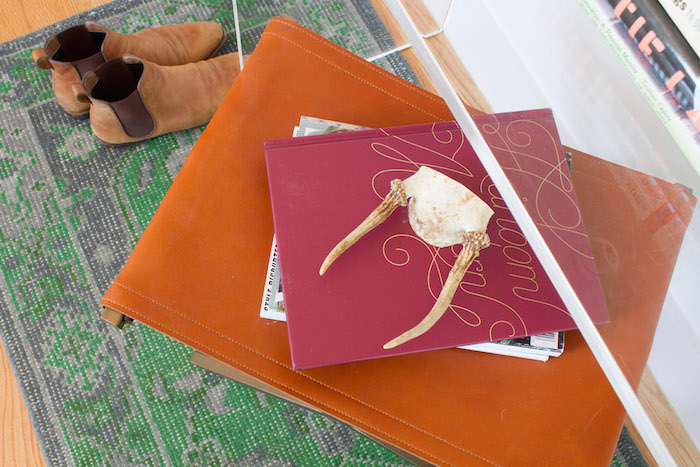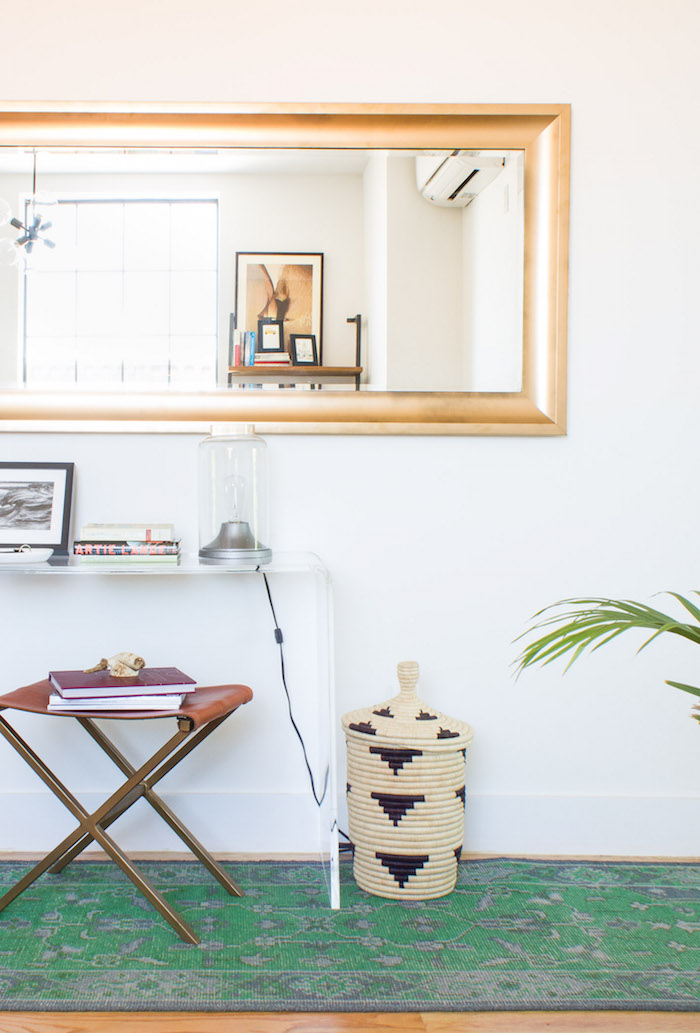 Entryway
This was probably the greatest hack that Will came up with: I had a leaning full-length black mirror that worked perfectly in my old apartment, but we couldn't quite figure out where it worked in our new place. Will suggested spray-painting it gold and hanging it horizontally over our entry-way table: it cost less than $10 and totally upgraded the look of the room. It's directly across from a big window, so it makes the room seem even bigger and lighter. Also: I bought that "pug basket" as soon as we got serious about wanting to get a dog. It will (very soon!) hold her toys!
Console Table: CB2 // Rug: Lulu & Georgia // Stool: CB2 // Light: CB2 // Mirror: Home Depot, spray paint from Lowe's // Basket: The Citizenry [this style no longer available] 
Living Room
This is where we spend 90% of our time, for better or worse. Aly and I bought that couch off a friend of a friend when it was basically brand-new, and it is THE COMFIEST. It was really the only piece of furniture that I insisted on bringing with me–but we updated it by adding mid-century modern legs (that my boyfriend so handily stained one afternoon) and colorful pillows from Turkey. And David insisted on bringing that storage ottoman: I kind of hate it, but I can't deny that it is very useful! We keep all of our extra sheets and towels in it and eat dinner on it four out of five nights.
Couch: Ikea // Couch Legs: Etsy [stained by David] // Media Console: Ikea // Ottomon: my boyfriend's! // Side Table: Target // Fan: Vintage // Pillow Covers: Etsy 
Bedroom
My favorite thing about our bedroom is the amazing natural light: it's so good that I refuse to put up curtains, which lets me wake up naturally every morning. I would have gone with mismatched nightstands and lights, but my boyfriend insisted on some symmetry–and I'm actually so glad we did. In fun facts: I have as many stacks of books and plants as David will allow, I'm no longer allowed to use my actual alarm clock because it's so shrill that it terrifies David (I like that it wakes me right up!), and the rug was a hand-me-down from my boyfriend's parents friends who moved out of their apartment.
Bed: One Kings Lane // Bedding: Parachute // Pillow: The Citizenry // Nightstands: Target [exact style no longer available]  // Lights: Schoolhouse Electric (perfect before-bed reading light, so warm) // Dressers: Ikea // Planter: Schoolhouse Electric 
p.s. we occasionally rent our apartment out on Airbnb when we're traveling if you're ever looking for a place to stay in Bed-Stuy! (You can also see some of the "before and after" Homepolish since our photos for Airbnb were taken before we finished working with Will.)
Note: Homepolish offered us a discount on services, but all opinions are my own.