Where to see spring blooms in New York City
A certain magic falls over New York City every spring: for a few brief weeks, trees turn all shades of white and pink, sidewalks suddenly bloom with daffodils and tulips, and temperatures climb blissfully into the high 60s with the sun shining.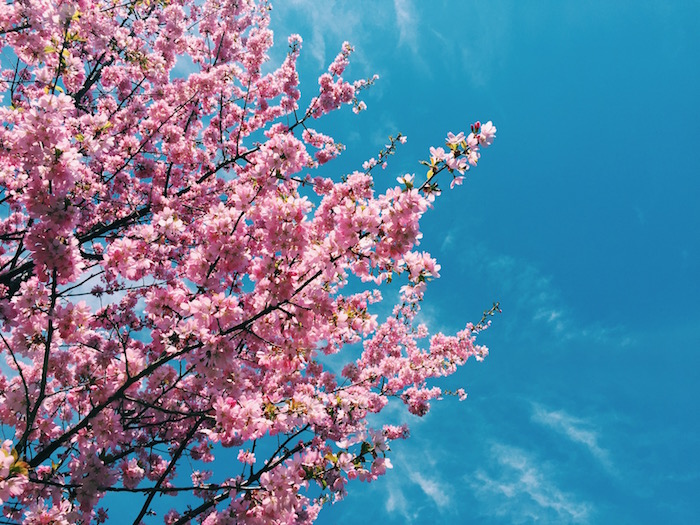 The most wonderful thing about it is that it happens everywhere: in a sea of concrete, you'll suddenly spot a magnolia tree in full bloom. It's honestly one of my favorite seasons in the city, one that encourages early-morning adventures and golden hour explorations and lunchtime walks on the High Line. And even though it's tough to predict and all too fleeting, there are some places that are better to enjoy the colors than others.
Brooklyn Botanic Garden
Without a doubt, my favorite place to fawn over flowers in the five boroughs: the Brooklyn Botanic Garden is famed for its rows of cherry blossom trees, a colorful tulip garden and a Japanese hill-and-pond garden. A few other reasons why it's worth visiting: you can track the cherry blossoms online to go at peak bloom and it's free before noon on Saturdays and all day on Tuesdays.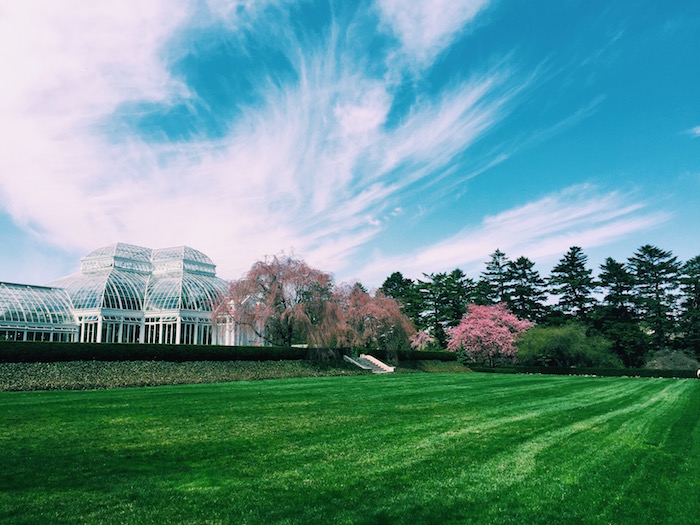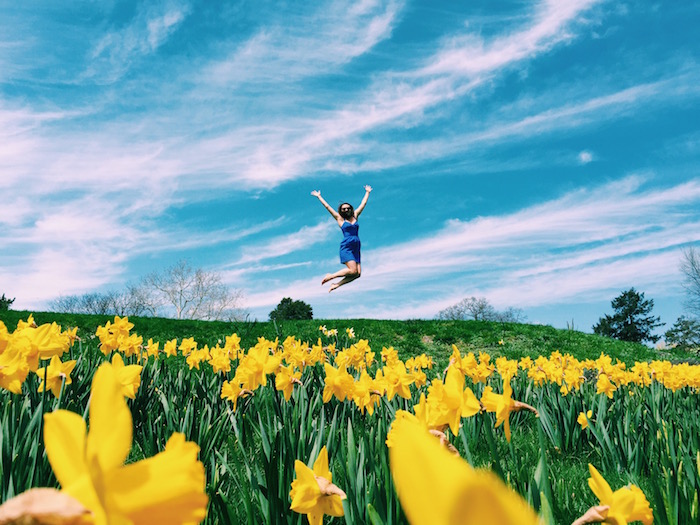 New York Botanical Garden
Compared to Brooklyn Botanic Garden's 52 acres, the New York Botanical Garden is 250 acres: its sprawling grounds are overwhelming in the best possible way. There is a stately conservatory that houses the city's most famous orchid collection, and separate gardens for roses, azaleas, daffodils, lilacs: the list goes on and on.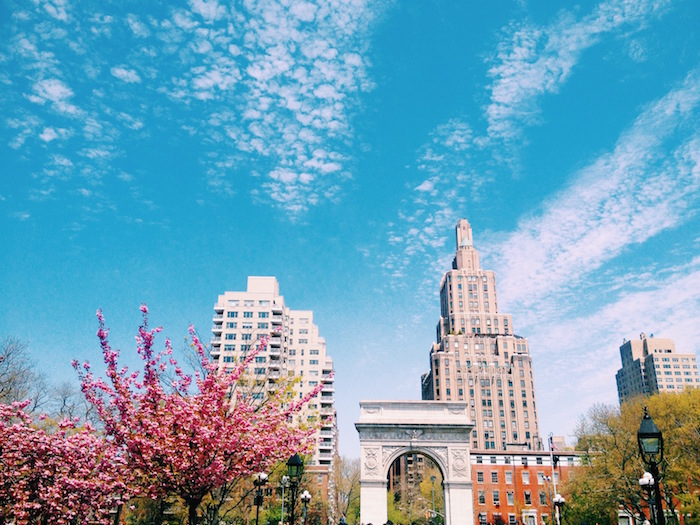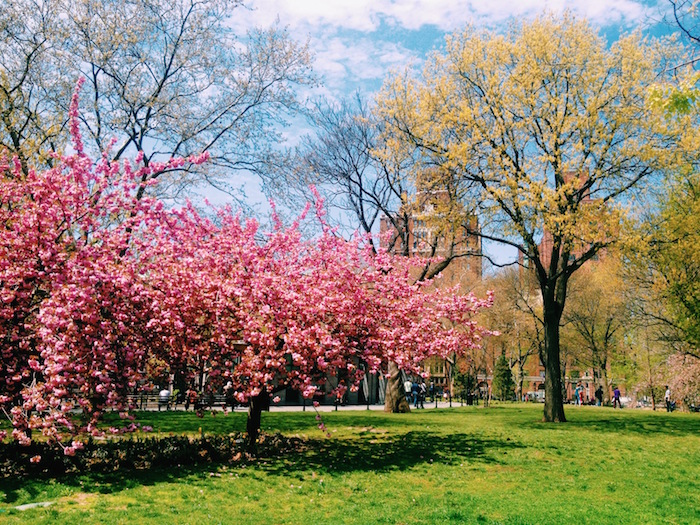 Washington Square Park
I love Washington Square Park in all seasons: the kids playing in the fountain on hot summer days, the leaves changing on the tree-lined walkways, the Christmas tree under the arch. But there's nothing better than Washington Square Park on that first perfect spring day: the trees in full bloom, the buskers on the lawn, the college kids soaking up the sun.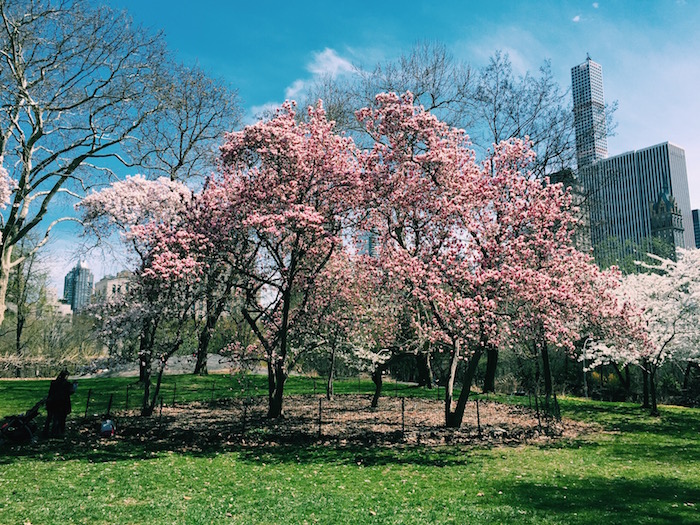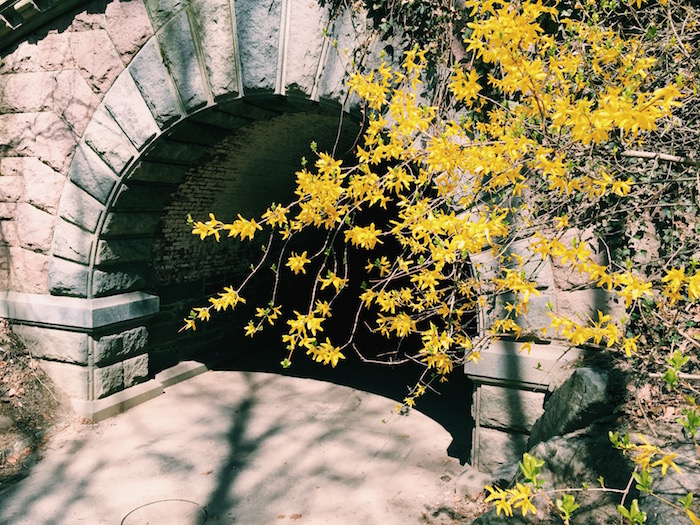 Central Park
While I personally prefer Central Park in the fall, it's not so bad in the spring either: I especially love the harbingers of spring that always bloom first on the intersection of East Drive and Center Drive, and the burst of yellow flowers next to the Balto statue.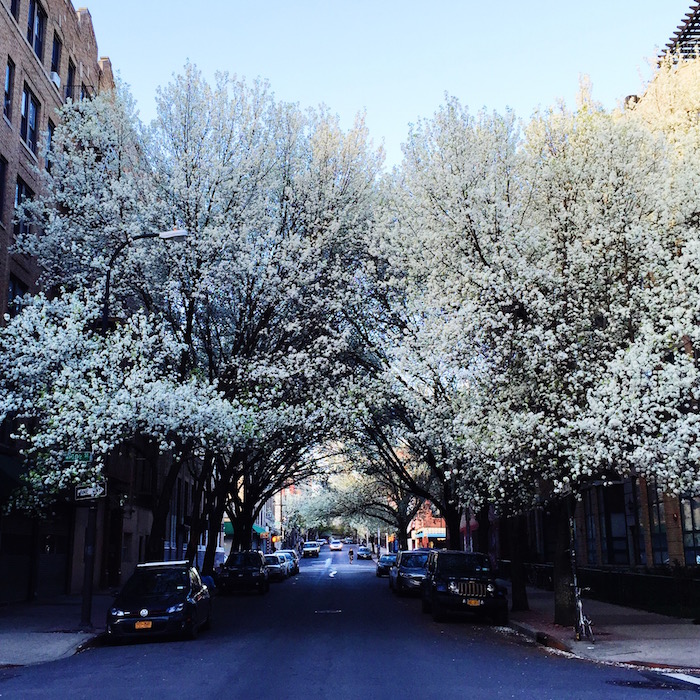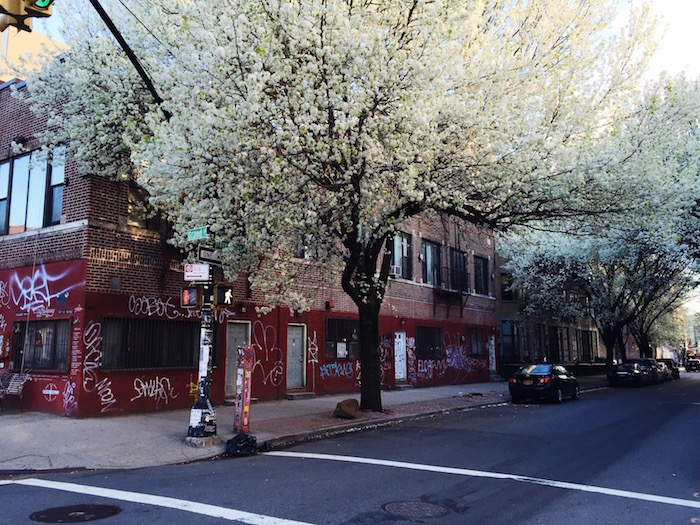 Havemeyer Street between Grand & Hope in Williamsburg
This one isn't quite as famed, but I adore this block in Williamsburg; for a few weeks every spring, it's as if the trees are covered in white popcorn.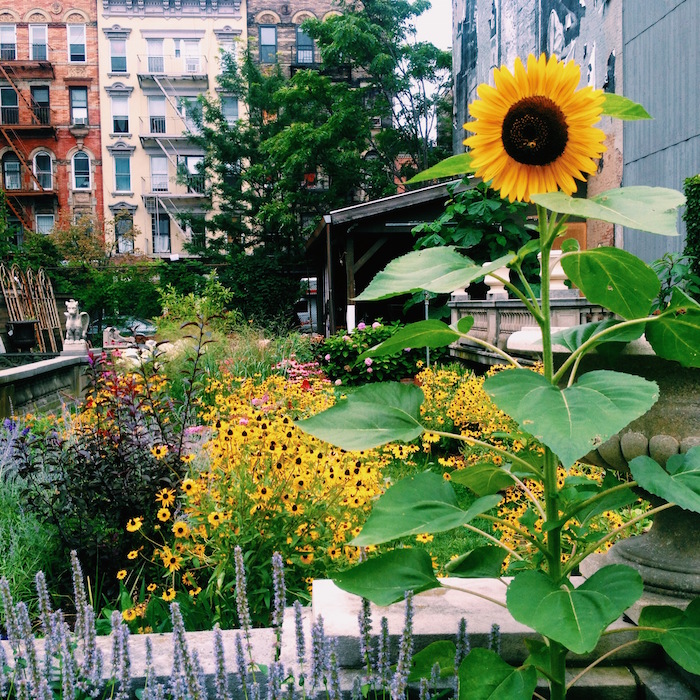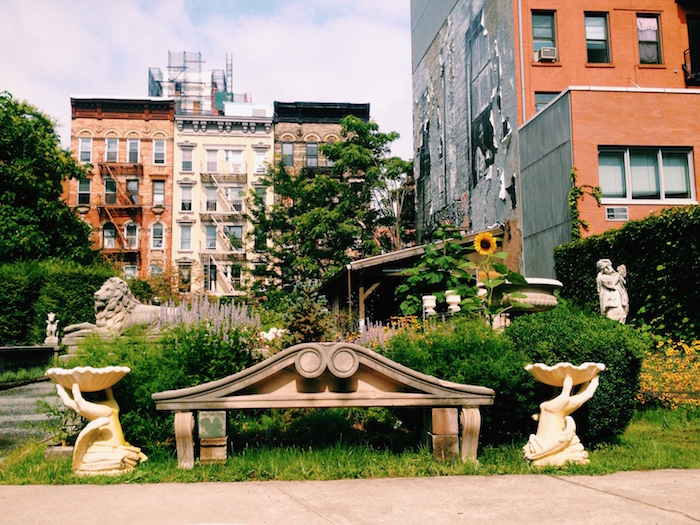 Elizabeth Street Garden
Elizabeth Street Garden is a little slice of green thumb heaven in the heart of SoHo: this privately owned, open to the public garden is full of flowers and sculptures and coveted open space. And if you're interested in doing some gardening yourself, there are community gardening sessions every Saturday morning.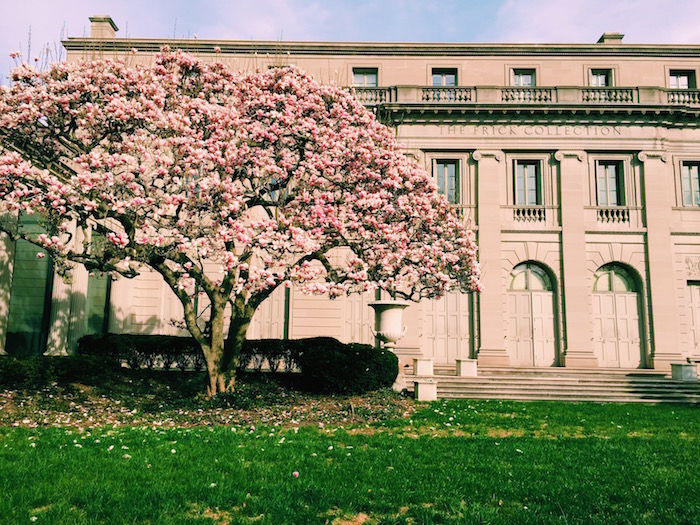 The Frick Collection
The Frick Collection is one of the most beautiful museums in New York City, and there are some very excellent magnolia trees that bloom on the Fifth Avenue side.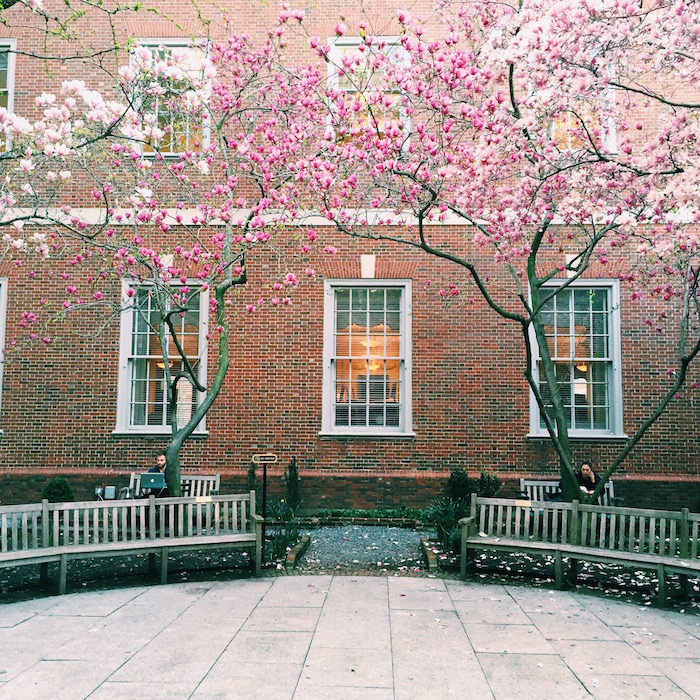 New York University School of Law
Right across the street from Washington Square Park on the southwest corner of the park, there's a little courtyard: ostensibly for NYU law students, but fairly open to the public. When I worked near West Village, it used to be one of my favorite places to eat my lunch when those cherry blossoms are in full swing.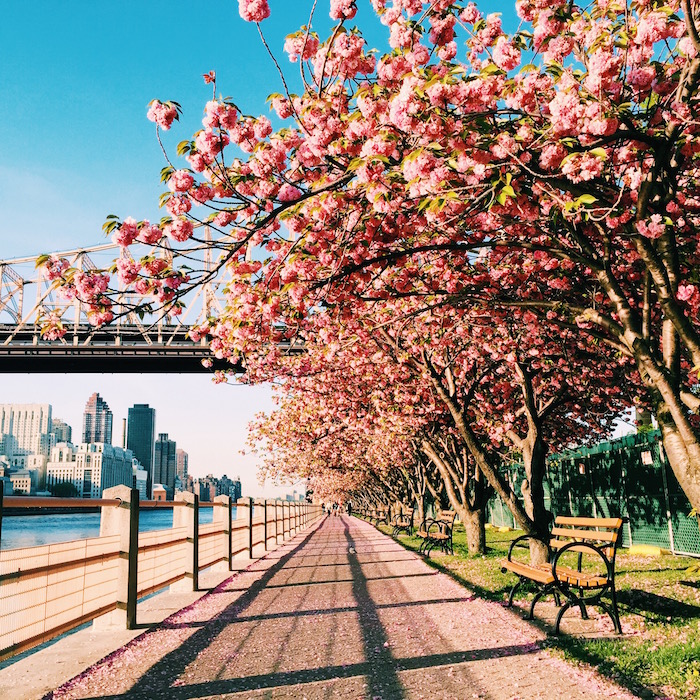 Roosevelt Island
And last but certainly not least: the row of cherry blossoms on Roosevelt Island! They're best right before the sun hides behind the skyscrapers on Manhattan. And bonus: you can take the tram!
p.s. if you love flowers at all seasons, check out these secret gardens in New York City!