A practical guide to moving in NYC
Moving in New York City is rarely a pleasant experience. Sure, the outcome is (usually and hopefully) good: a bigger and/or newer and/or better apartment. But the process itself is generally accepted to be incredibly expensive and high-stress—often multiplied when the move involves a serious life change (aka moving in with a significant other).
That said: there is plenty that you can do to ease the stress, cost and generally-accepted misery of moving day. While our moving experience wasn't completely free of hurdles or tense words, it did go more smoothly than expected–like due8 to plenty of pre-planning and open lines of communication.
Make a list of non-negotiables
This is 100% stolen from Millionaire Matchmaker: I did it while I was dating (it worked!), and I think it's a great way to approach just about any life decision. Essentially, choose a few things that you're absolutely unwilling to compromise on: if you absolutely hate climbing stairs and would be miserable in a walk-up, refuse to see any apartments that are on the sixth-floor in an elevator building (no matter how beautiful the photos are). My non-negotiables were a dishwasher, good natural light and outdoor space (either private, shared, or close to a park). My boyfriend basically wanted as much space as possible in our budget, a commute under 45 minutes and private outdoor space. Knowing exactly what the other wanted made it kept our list of options manageable.
Plan an apartment blitz
That's my boyfriend's favorite term for one day where you look at as many apartments as humanly possible, so that you can weigh the pros and cons of all of them at once. Note: this is easier if you decide to go with a broker because they'll ferry you around to all the different apartments. On California principle, I refused to go with a broker (at least for the first apartment blitz) because I think the fees they charge are ludicrous. Instead, I spent days combing StreetEasy and Naked Apartments (great options for no-fee or low-fee apartments) for options and then set up a detailed schedule of our apartment blitz day.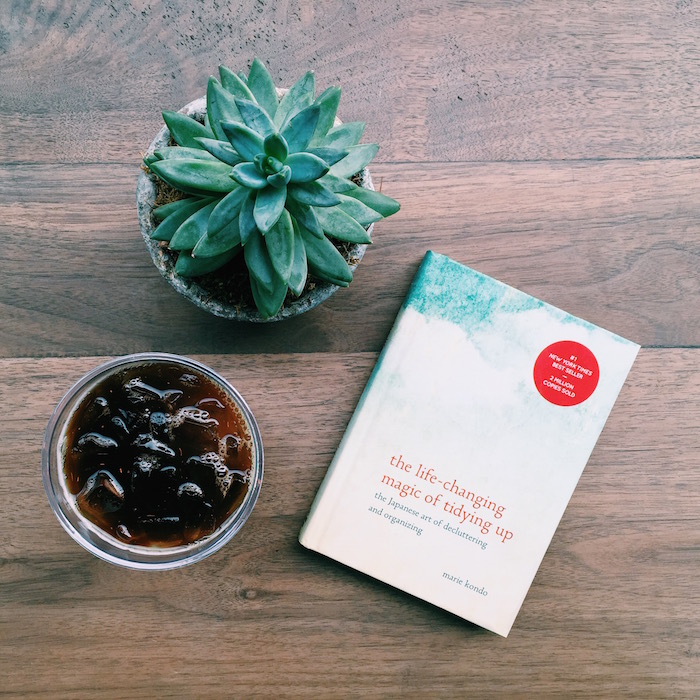 Declutter BEFORE you start to move
I read The Life-Changing Magic of Tidying Up six months before we moved, so I started the process very early—but I also convinced my boyfriend to start getting rid of things before we brought the bins in. My general philosophy here is why would you spend time, money and effort boxing and moving things you no longer want? It makes no sense. I filled up several bags for ThredUp (which is just about the easiest and most convenient way to sell and donate clothes), dropped off books at a nearby Little Free Library and did not feel guilty about throwing out A LOT of stuff—many weeks before we signed on a lease on a new place.
Use Bin-It instead of buying a million cardboard boxes
Discovering Bin-It was what really made this move the most efficient one so far: I had these big reusable plastic boxes delivered to my door a week before our scheduled move date, and then picked up from our new apartment a week after we arrived. Beyond the fact that they are sturdy and reusable—and you don't have to spend any time taping them all up yourself, since they're quickly secured with the supplied zip-ties—I loved that the drop-off and pick-up times kept us on schedule. It made me start packing things up early instead of leaving it to the last minute, and it forced us to unpack and get settled instead of leaving things in cardboard boxes and forgetting about them. Bonus: it comes with a dolly to make it much easier on your back! p.s. the crew at Bin-It was kind enough to offer $10 off any order to all readers with the code CESTCHRISTINE! 
Get an Amazon Prime Pantry of essentials delivered on move-in day
If you live outside of a big city, this step is completely unnecessary because you can just hop in your car and drive to Target. But life is hardly that simple in New York City—and that is where Amazon Prime Pantry comes in. We had toilet paper, paper towel, anti-bacterial wipes, sponges (and bottles of Pellegrino!)—all of those items that are bulky or heavy to carry home on the train, and that are essential as you settle into a place—delivered via Amazon Prime Pantry the day we moved in. To make it even easier, start a cart a few days/weeks in advance and just add in things as you think of them—and then click buy so that it arrives on move-in day.
Have a plan, but be open to change
This is even more crucial when you have an elevator window—aka two hours when you have control of the building's elevator and you need to make sure as much as possible is moved in that time—but I think that having a tight schedule (whether chosen or imposed by elevators or truck rentals) keeps you moving and gets you through the worst parts faster. That said: knowing when to be flexible in your planning is also key. We had two other people helping us, and we wanted to make the most out of their time as well: so at the last minute, we decided to send my boyfriend and his dad back to his old apartment to load up the truck while I stayed and moved all the boxes from the ground floor into the elevator and up. It made such a better use out of all our time, and I'm so glad we thought of it on our drive over to the building—and that we were quickly willing to shift our plans around.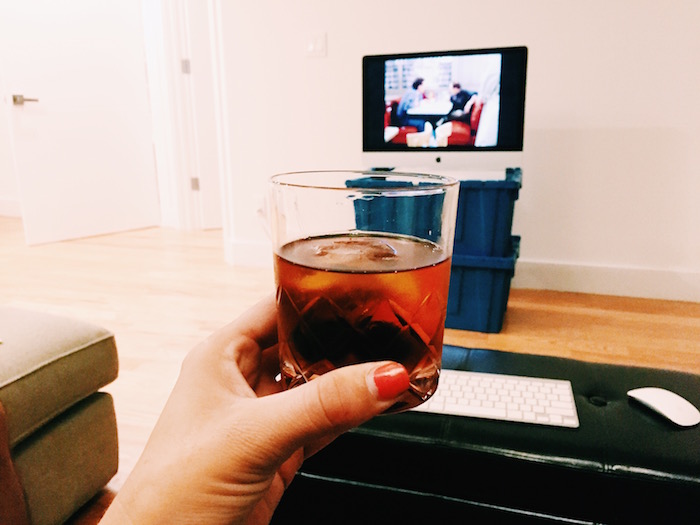 Lastly: don't forget to celebrate!
Although we didn't quite opt for the classic champagne-and-pizza on the floor of the apartment, we went for Manhattans on the couch and Seinfeld on the computer stacked on top of our Bin-It crates—and it felt real good.
What are your best tips for moving in New York City?