A farewell to all the best places in Williamsburg
I moved out of Williamsburg last week. For the past two years, home was a little room in a secluded back house on a tree-lined street off the Lorimer L stop. I grew tomatoes and basil and rosemary in cluttered pots in the shared courtyard, locked my rusty but trusty bike up on the sidewalk outside, and would spend lazy Sunday afternoons with Thai takeout on the couch.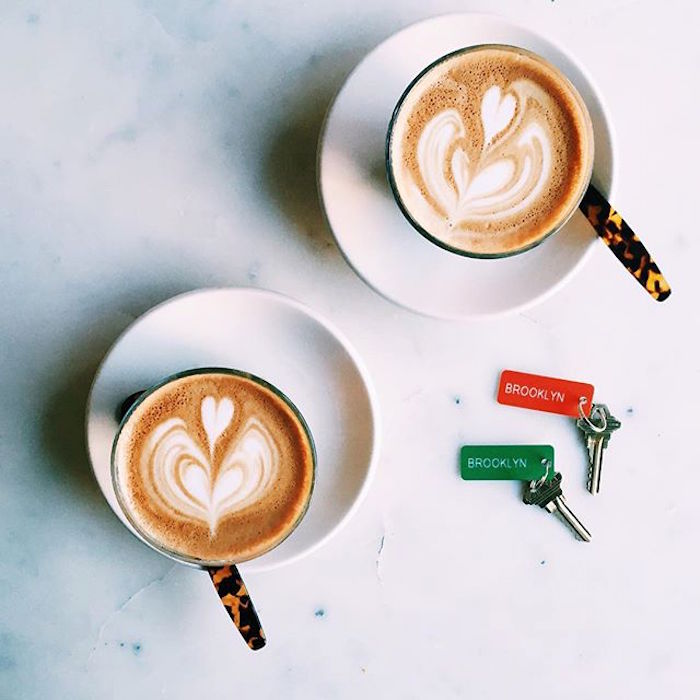 My first year in New York City was a chaotic frenzy of trying to find my place: searching for a job, hopping from sublet to sublet, making new friends while reconnecting with the old. Everything about the city was shiny brand-new and exciting, and I loved being in the heart of it all (noise! trash! bars!) in the gritty Lower East Side.
And then I started to spend just as much time on the other side of the Williamsburg Bridge as I did in Manhattan (a side effect of dating a born-and-raised Manhattanite who defected to Brooklyn years ago). A spur-of-the-moment decision and a whirlwind day of looking at apartments, and my BFF and I decided to move in together in Williamsburg. Reuniting, in fact; we had lived together for two years in college–once with eight other girls, and the next year in a two-bedroom apartment that we joked was twice as big and a third of the price as our humble Brooklyn abode.
Williamsburg is where my life in New York City clicked into place. It's where I started to feel like I was part of a true community. It's where I had my regular spots, places where I could recite the menu by heart and where people knew me by name. I'm looking forward to all the things ahead in Bed-Stuy, but these are the places I'll miss the most in Wburg.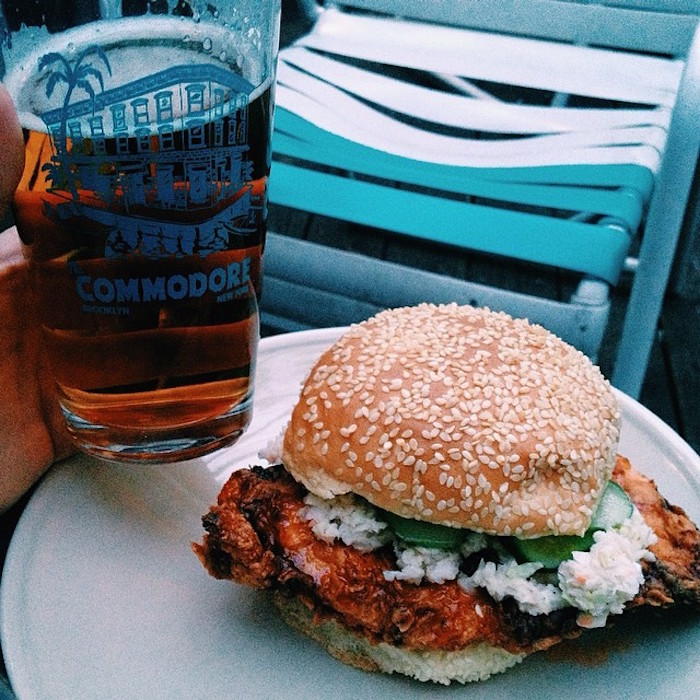 My favorite bar (with really good food)
The greatest spicy chicken sandwich in all the land. The Commodore was my favorite place to take out-of-towners, and our go-to spot for dinner whenever we can't decide what we want (because we always want a chicken sandwich). My friends threw a surprise party for my 26th birthday here, and I threw a surprise party for my boyfriend's birthday here, and we have run into friends here so many times.
My dry cleaner
A dry cleaner who greeted me by name (it felt just like Cheers!) every time, and who is probably the most pleasant person in the entire borough. They made a mundane chore a pleasure, and I miss Top Hat Cleaners already.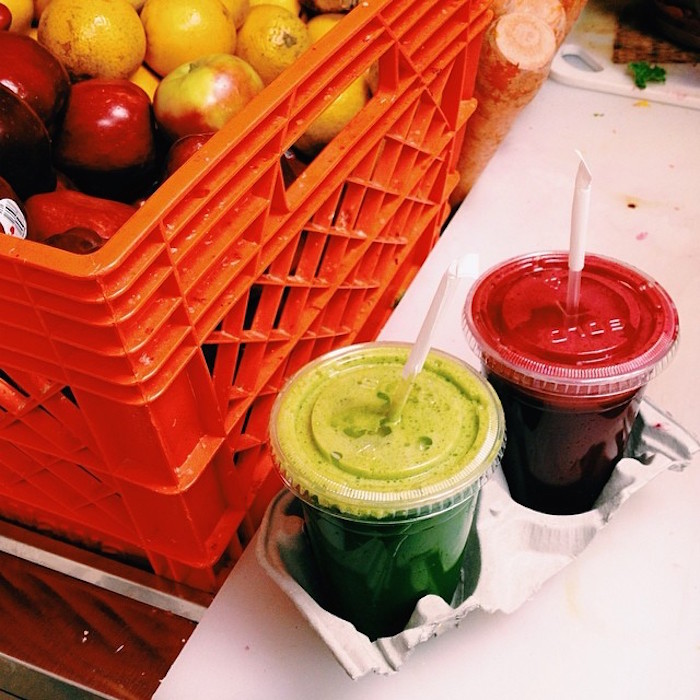 My juice place
Mr Pina looks like just another bodega grocery shop, but their juice bar is a best-kept secret value. For $4, you get a large juice of whatever combination of fruits and vegetables you want. They always make too much, and they always shove you the plastic cup and tell you to "drink some" which is usually about half the cup, and then they fill it up with the rest. My favorite is all the greens, apple and a huge hunk of ginger.
My nail place
If there's one thing a girl in New York's gotta have, it's her nail salon. Agua de la Vida was my go-to spot for manis, pedis and waxing. Sophia is the most gifted and efficient waxer ever (seriously, her Yelp reviews are insane)–and once, she even offered me a ride home in a blizzard–that's when I was like, yup, I shall be loyal to this salon forever. And I was!
My dumpling place
There is no better place for late-night, take-out dumplings than M Shanghai.
My wine shop
All the things worth loving about Vine Wine (beyond the fact that it was less than block from my apartment): they have a loyalty punch card, they have an under-$15 rack and they do free wine tastings with bread and cheese on Wednesday nights.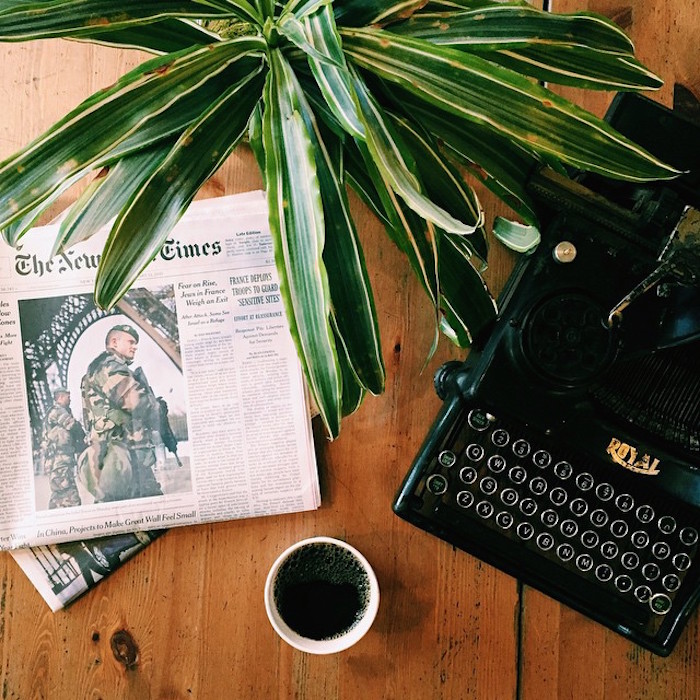 My coffee shops
In true gentrifying hipster fashion, Williamsburg has no shortage of coffee shops–and they're all really good. I bounced around three regularly, all for good and different reasons. Oslo on Roebling, because they post the day's horoscopes and they have a big communal table that always has the day's New York Times and there isn't any wifi. Sweatshop, because the baristas are Australian and the place is designed for Instagram and there is good wifi. Blind Barber, because there are really good window seats and because they also serve brunch.
My date night spot
Desnuda has killer cocktails, $1 oysters and a cozy, romantic, exotic ambiance. Bonus: really incredible Peruvian ceviche. We went here right after it opened when we'd only been dating a few months–and it became our spot for Valentine's Day, anniversaries, a Saturday night worth celebrating.
My bagel place
I won't lie: Bagelsmith does not have the greatest bagels that you will eat in New York City. But on a hungover Sunday morning, having a bagel place with two blocks is key–especially when they know how put just the right amount of cream and sugar in your coffee.
Williamsburg, thanks for having me. I already can't wait to come back and visit. And Bed-Stuy: I need to find equally wonderful spots to replace all my places above. If you have any tips, help a girl out!