Where to eat avocado toast in New York City
Confession: avocado toast is one of the few foods that I am always willing to splurge on, even though 90% of the time I have the ingredients in my own kitchen. And that's mostly because there are so many trendy restaurants and cafes popping up in New York City that do such a darn good job of it, even though it's such a simple dish.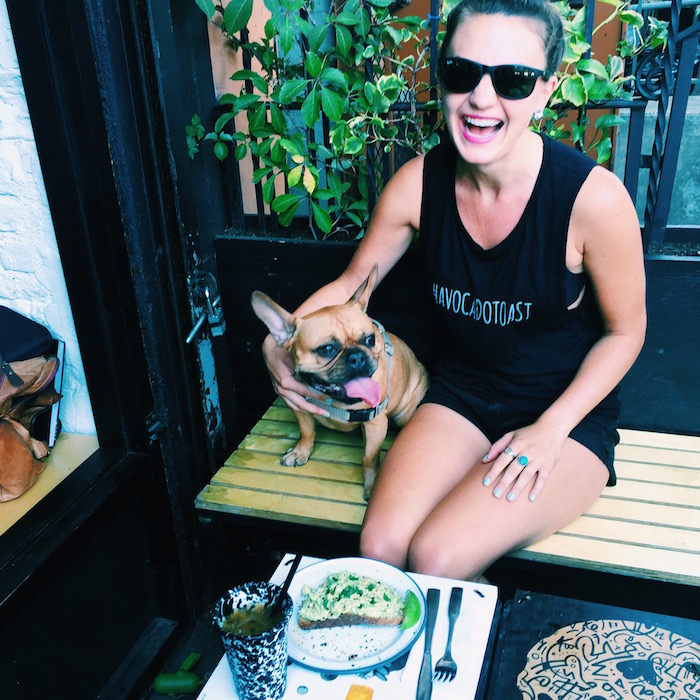 Here are a few of my go-to places in Brooklyn and Manhattan who know how to make the not only the most delicious but also the most photogenic avocado toast. There's a reason why #avocadotoast on Insta is such a trend! Side note: my shirt was a limited-edition collab between Bollare and Knowlita (the brand behind my awesome New York or Nowhere tee), and it's my favorite thing to rock on a lazy Sunday morning.
  Two Hands
The place that put avocado toast on the map in Manhattan. I was obsessed with Two Hands when it opened last July, but it's become a bit of a victim of its own popularity: now there's hostess seating and queues to get inside and the coffee often takes longer than the food. But! The avocado toast is one of my favorites: the toast is thick and hearty, there's a perfect blend of spice, and it's plated for maximum Instagram effect. Bonus: sometimes the Aussie baristas will spread some Vegemite on first if you ask nicely!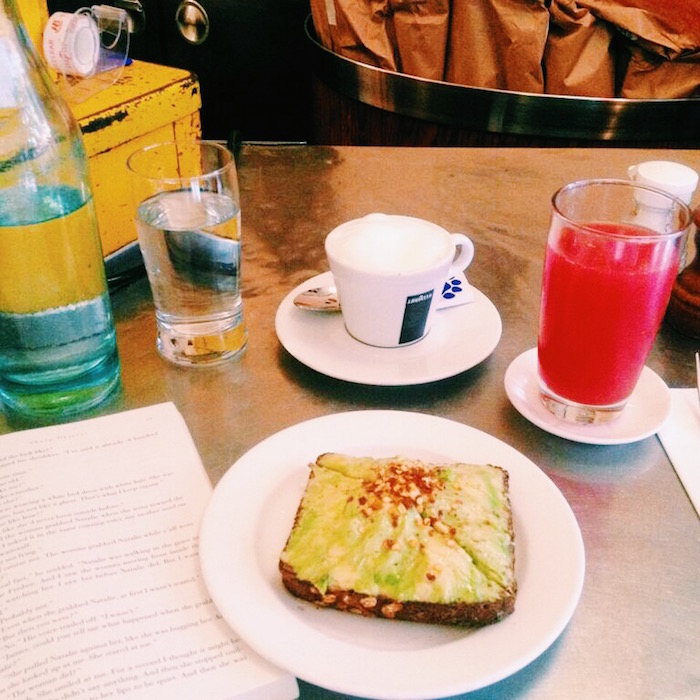 Cafe Gitane
The toast is a bit thinner, and the avocado isn't quite as chunky at Cafe Gitane–but this French-Moroccan restaurant in SoHo is one of those places that is great anytime of day, whether it's breakfast, lunch, dinner, drinks. I love grabbing a seat at the high bar and splurging on a solo mimosa and some avocado toast after yoga in Elizabeth Street Garden.
Buvette
Buvette is one of my absolute favorite places for breakfast in West Village: the interior is the very definition of charming. Their avocado toast is a meal in and of itself: super thick bread, piled with avocado smash and topped with thinly sliced radishes and decorative greens. To be fair, I always have to decide last-minute between this and the granola with thick Greek yogurt, fresh berries and honey. I feel like Buvette does an amazing job of taking things that I currently have in my pantry and making it seem so fancy and splurge-worthy.
Sweatshop
Sweatshop is one of my favorite coffee shops in Williamsburg: the coffee is delicious, the light is perfect, the Aussie baristas are super friendly and I feel like I always run into someone I know here. Bonus: they recently rolled out a full breakfast and lunch menu! What I love about their avo smash is that it has feta cheese mixed in with it, giving it a nice extra salty flavor.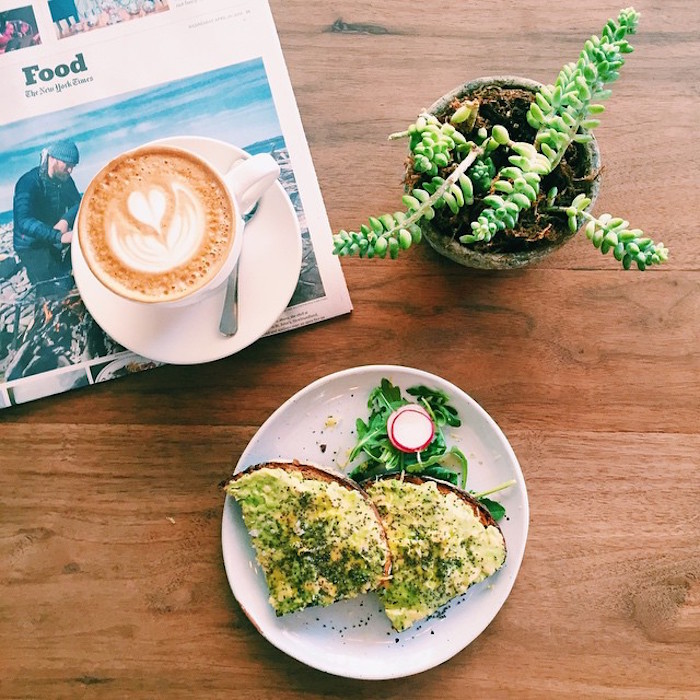 Toby's Estate
Toby's Estate was the very first "cool" coffee shop I discovered in Williamsburg–mostly because I recognized the name from my time in Sydney! They opened up another shop in West Village earlier this year, and it's a little more low-key (although you're bound to run into some Instagrammers). The flaky sea salt sprinkled on the avocado toast expertly pulls all the flavors together.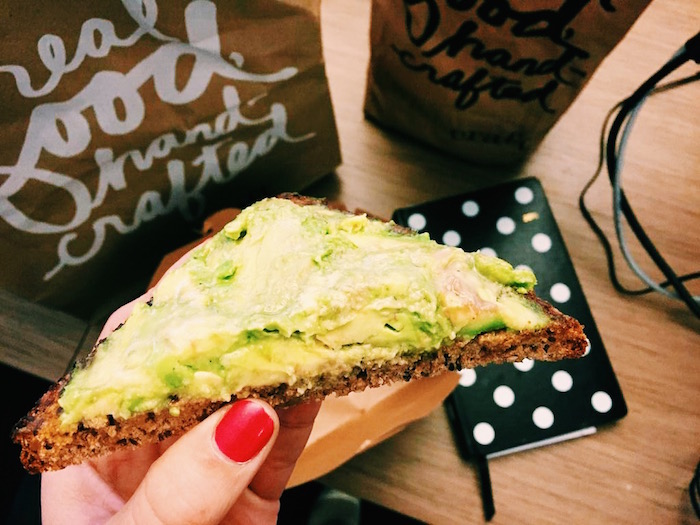 'Wichcraft
'Wichcraft is a sandwich shop with quite a few locations scattered around New York City, and it's one of my go-to spots for a quick and easy lunch. I especially love their roasted turkey sandwich! So I was stoked to find out they do avocado toast: multigrain toast, avocado, lemon. It's cheap, and they deliver! Perfect for an early lunch at the office.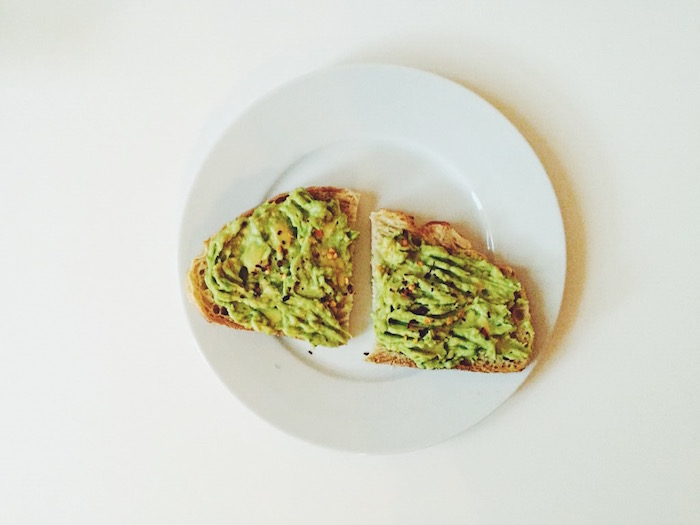 Your kitchen
Seriously, though. Even though the avocados in New York are never as good as California (I have yet to meet a New Yorker who will press me on this point), avocado toast can very easily and deliciously be made at home. Splurge on a nice loaf of bread from the Balthazar bakery (or just pick up a loaf of sliced sourdough at Trader Joe's), and toast to your preferred level of darkness. While toasting, dice one avocado into a bowl and mix well with a splash of olive oil, a squeeze of lemon juice and salt and pepper to taste. Spread avocado mix on toast, and top with chili flakes or an artistic squirt of siracha. Boom. And for toast beyond just avocado: check out my girl Danielle's blog The Daily Toast for all of the toast inspiration!
Is there anywhere I missed? I'm always up to go try more!