Three charmed years in NYC
"People always fall in love with the most perfect aspects of each other's personalities. Who wouldn't? Anybody can love the most wonderful parts of another person. But that's not the clever trick. The really clever trick is this: Can you accept the flaws? Can you look at your partner's faults honestly and say, 'I can work around that. I can make something out of it.'? Because the good stuff is always going to be there, and it's always going to pretty and sparkly, but the crap underneath can ruin you." –Committed, Elizabeth Gilbert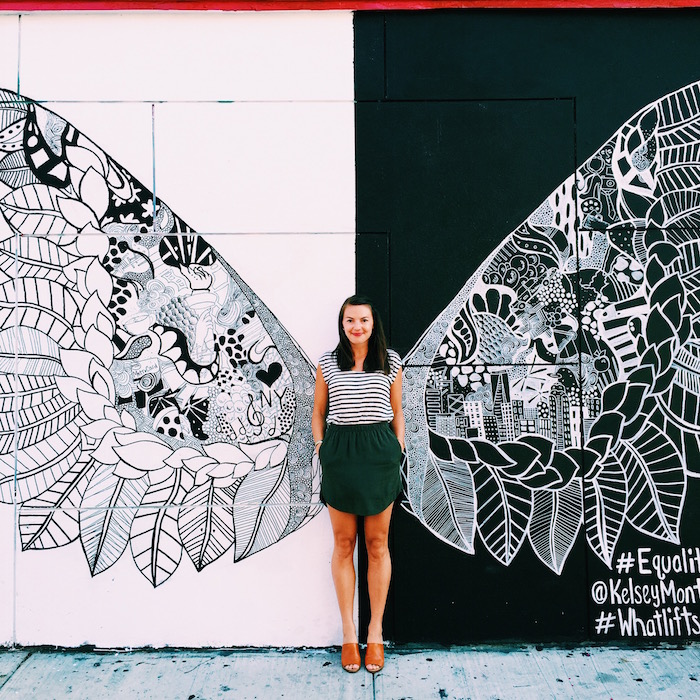 Three years ago, I moved to New York City: single, broke, hopeful and willing to be dazzled. After a sunny stint bartending in Nice, a spell with the street art of Melbourne and an extended solo jaunt around Southeast Asia, I was ready to commit. And despite only having been here once–as an 11-year-old who was in awe of FAO Schwarz and Stomp! and Fifth Avenue–I was convinced that I was ready and willing and able to commit to a city that was as far away from my hometown as you can get without crossing an international border.
I'm still here because I fell in love: first with the city, and then with a person, and lastly, with the life I created.
It's easy to be dazzled by the sparkly stuff of New York City: the glittering skyline at dusk, the celebrity sightings, the incredible food and world-class cocktails, the street art and the avant-garde. It's harder to remain warm-and-fuzzy while biking down Second Avenue at 9am, and you get stuck behind a street cleaner and all you can hear is blaring horns and unbelievably loud sirens coming from all directions and it's 95 degrees at 8am and the humidity is 89% and the entire place smells like rotting garbage and urine.
The past three years have been settling into the faults of New York City, and thinking: OK, I can do this. And on some days, certainly thinking: you know what, maybe I don't want to have to do this. It's about when your subway car inexplicably stops when you're already running late to meet a friend, and when your sidewalk is covered with ice for the fifth day in a row, and when you think about how your rent payment for one tiny room would be double a mortgage payment for a three-bedroom with a pool in your hometown.
But it's also about completely-and-totally relishing the mornings where your train runs express to 14th Street, and when you actually grow fresh herbs in your dusty courtyard, and when you have a date night where you listen to a jazz quartet and watch the sun set over Central Park.
The trick to living in New York, I've slowly but surely realized, is being able to bottle up all the good stuff, to truly savor the highs and be able to dip into that stockpile of joy when the little things go wrong or the big things just don't seem worth it anymore. You have to remember the myriad reasons why New York City is worth it, so that you can conjure up the magic of the 8:37pm cotton-candy sunset after a perfect summer Sunday on a dreary, icy, cooped-up March afternoon.
I feel doubly lucky that I came to New York and fell in love with a New Yorker. He is unfazed by long winters (although he strongly agrees that a Caribbean escape is best in those will-this-snow-ever-end March days), and he believes in having a local go-to coffee shop and dive bar even though there are always endless new restaurants to try. He's taught me how to lean back and enjoy all the layers of New York, how to wrap your head around it being more than just a vacation destination or a few fun years in the big city. He's a huge reason why I'm still here, and a huge reason why it's been worth it.
When I moved here three years ago, I wasn't sure how long I'd stay–and to be honest, I'm still not. But here's cheers to three years, and however many more this city charms my heart.
2014: Another New York City-versary!
2013: Reflecting on a year of living in New York City
2012: The risk of wanting to make it in New York City // Notes from the universe: what's next
Tips, tricks and resources for living in and visiting New York City