Date idea: NYC helicopter ride and sunset sail!
One of the greatest things about living in New York City is that you get to know all of the off-the-beaten-path local gems—but you also have full access to the big-time touristy items that make up a dream, splurge-worthy vacation. Even though I advocate for having a travel mindset every day no matter where you live, I do believe it's easier in NYC than anywhere else.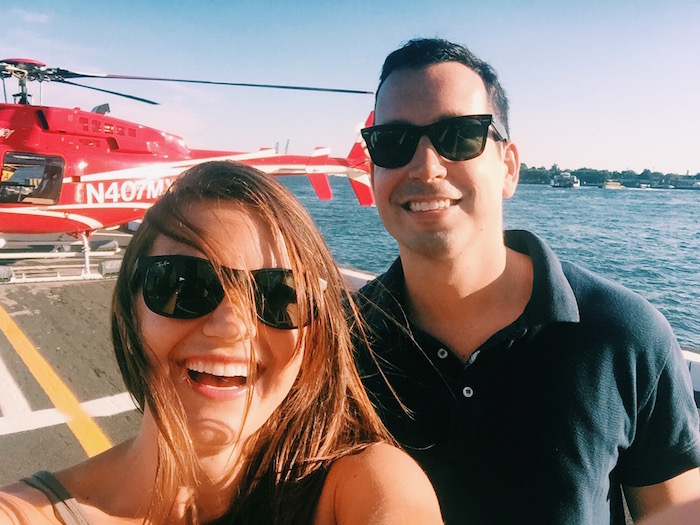 When I realized on a Thursday morning that we had a free Friday night ahead of us—which would normally consist of yoga for me and a run for my boyfriend, a healthy dinner with a couple of drinks, and either NetFlix or curling up with our books—I decided that it'd be a heck of a lot more fun to take advantage of long summer days and all that this city has to offer. I discovered a helicopter ride and sunset cruise on Viator that fit the bill exactly: neither of us had ever done the typical touristy helicopter ride over Manhattan, but the sail to the Statue of Liberty at sunset is a total tried-and-true way we love to spend a summer evening.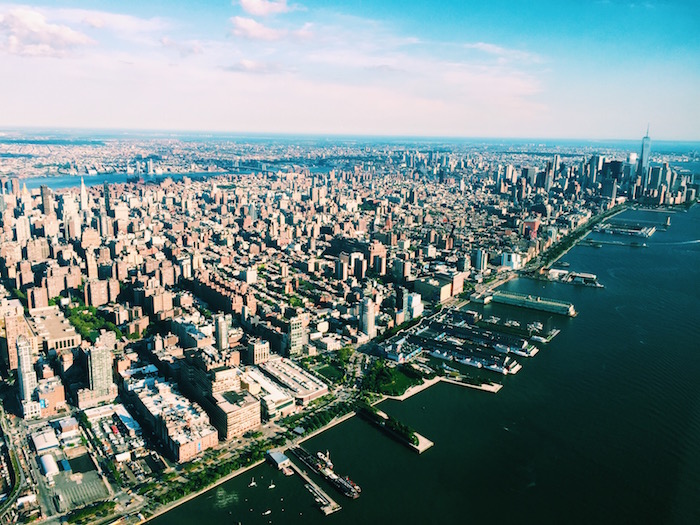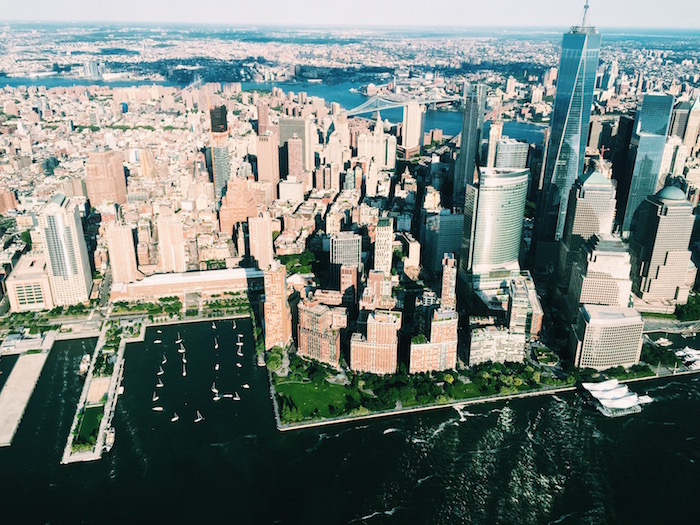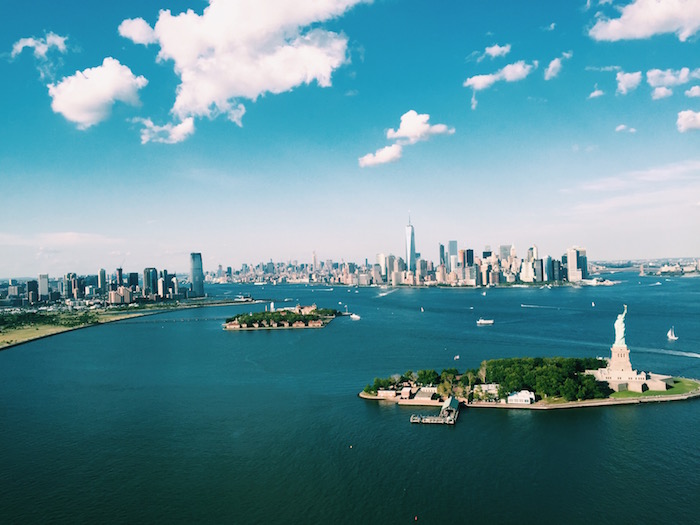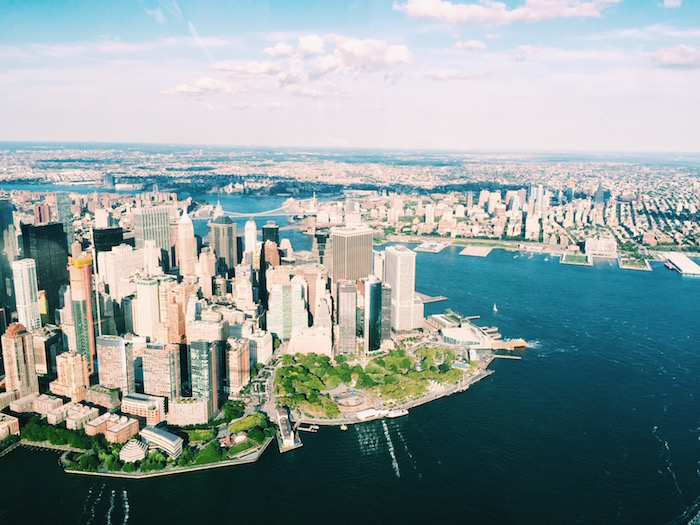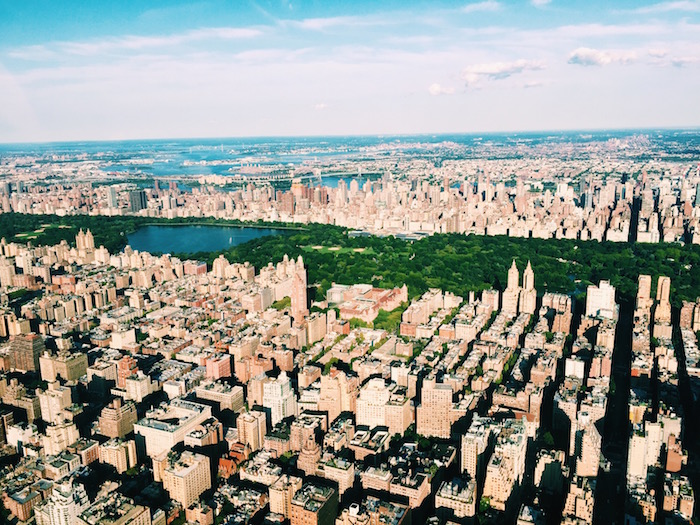 So we met at the downtown Manhattan heliport at Pier 6 at 6pm, and were whisked up and above the city in a helicopter with two other couples: we floated over Governor's Island and the Statue of Liberty, and then buzzed up the West Side of Manhattan over One World Trade, Times Square and Central Park before heading back down and around to land at the heliport. It's only a 15-minute ride—and it goes quick!—but the views are incredible, especially on a clear, sunny day. I especially loved being able to spy the Boat Basin from above—one of our favorite places to grab a drink on the Upper West Side.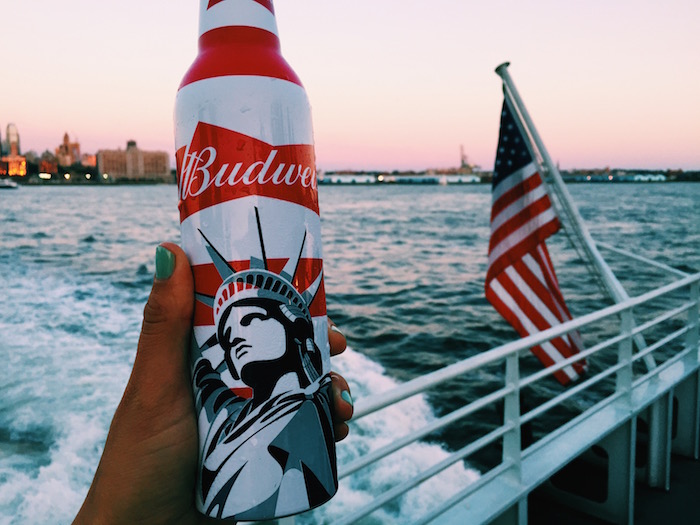 After we landed, we were transferred up to Pier 16 for a sunset cruise on Zephyr: complete with free champagne toast! Although to be completely honest, we skipped the champagne and decided to focus on the most American of beers: a Budweiser in a bottle with a flag and a Statue of Liberty.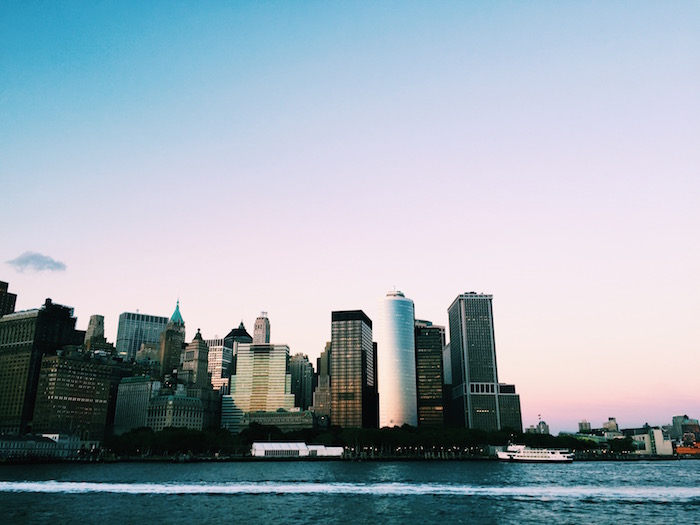 I've done a few different variations of these sunset cruises before, and I just love them: there's something so refreshing about being out on the water with a river breeze, and the sunsets over the Statue of Liberty are always gorgeous. It's especially nice to see all the different ways that golden hour light reflects off the buildings.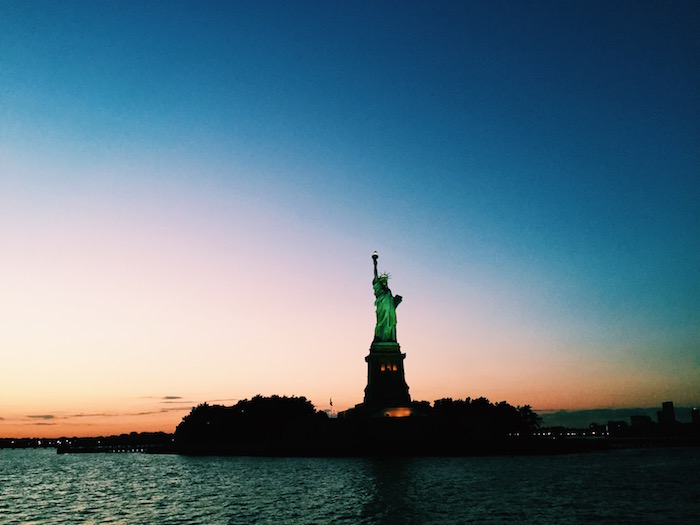 If you're a local, I feel like the helicopter ride is such a dramatic change in perspective—and being on a boat is always a welcome change from sidewalks and skyscrapers. It's a bit of a splurge for a regular Friday night, but it would be a perfect anniversary date or a birthday gift!
And if you're a tourist, the helicopter ride and the sunset cruise are an extremely photogenic way to get a sense of the scale and spread of the city. You also get great commentary and a mini tour from the helicopter pilot and boat captain!
Please note that Viator kindly provided us with complimentary tickets, but all opinions are my own. 
p.s. helicopter lessons and a sunset sail!