Of the moment // 7.31.15
One of the reasons why I blog is simply to have the space to write: getting things "on paper" helps me to process my feelings and organize my thoughts. I also love having a record of my life over the past few years: a place that holds all of my stories, my photos, the ups and downs of travel. But sometimes, I also just want to remember and share the little things that brought me day-to-day joy. Every Friday, I'll give you a peek into the book I currently can't put down, a great restaurant discovery, a fun new product or an inspiring quote: a few things that I think you might enjoy before we all take off into the glory that is the weekend!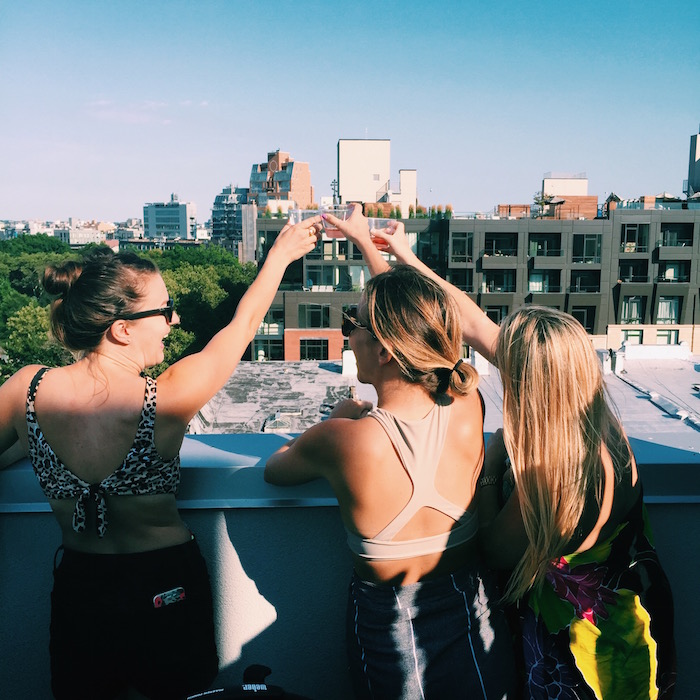 The biggest news of my week: I finally gave in and downloaded Snapchat. I am not an early adopter or avid beta tester in any sense of the word: I like all the kinks to be worked out and to establish that a new app/website/product isn't just a passing trend before I fully commit (aka it took me about two years to join Instagram too!). Alas, Snapchat looks like it is here to stay–and thus, I am on it (username cestchristine). I'm still figuring out how and why to use it, but I'd love to hear from any tips from my readers–or if there's anything you'd especially love to see Snapped!
Eats
My little urban garden gives me SO MUCH JOY: seriously, there is nothing like picking and enjoying food that you've grown yourself. My tomatoes finally ripened this week, so I splurged on some nice burrata mozzarella to make my own caprese: tomatoes and basil from my garden, a big hunk of burrata on top, and drizzled olive oil. SO delicious!
New York City
There is a long list of places in Williamsburg and Greenpoint that I've been meaning to try since I moved into my apartment (almost!) two years ago–and the Bakeri in Greenpoint is one of them. Confession: I really only wanted to go to see the interior, after seeing it so beautifully photographed on Design*Sponge. And the decor did NOT disappoint: the flowers! the flower wallpaper! the wooden basket of baguettes! The food was so-so ($10 for a slice of bread with hummus is stretching it, even for me), but I do think that it's one of the cutest interiors around. Would be great for a girlfriend coffee date!
Fixed Life Envy
So my friend Sarah is this amazing chef and entrepreneur (she sells the most stylish aprons EVER), and turns out the girl has a serious eye for interior design. She just put the final touches on her gorgeous studio apartment (where she can throw you an epic dinner party, btw), and I am just dying over how perfectly she styled the whole thing. The plants! The inspirational neon sign! The bookshelves! It doesn't hurt that there's fantastic light pouring in and a pool right outside her balcony…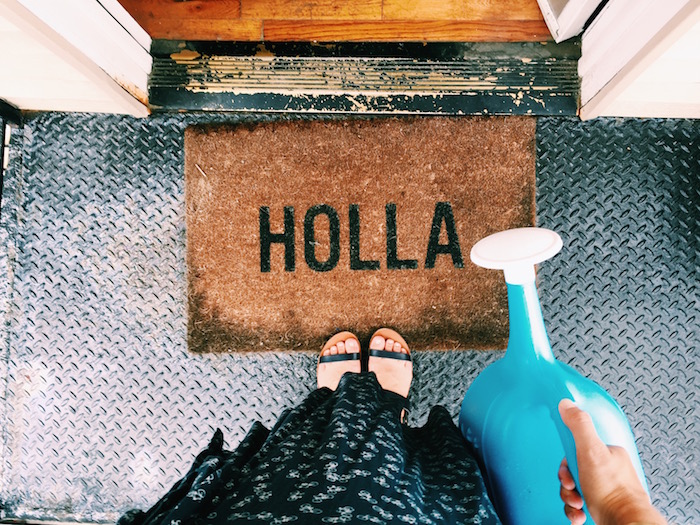 Knick-Knacks
Out of all the things in my current apartment, my favorite item might just be my HOLLA doormat: it makes me smile every time I come home! It went through quite a beating with all the snow and salt from last winter, so I'm eyeing this SUP doormat–although I got such a kick out of my friend's Bye Felicia mat! p.s. sandals are by Everlane and I am currently obsessed.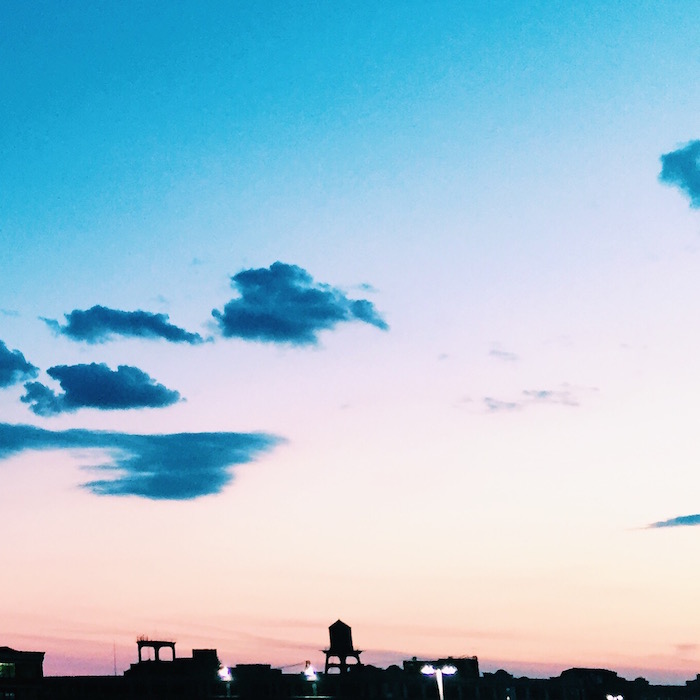 Words
"The world's big and I want to have a good look at it before it gets dark." -John Muir
This weekend, we're going (back) to the Berkshires! For the first time this summer, I'm not working remotely AT ALL–and didn't even bring my computer with me. I'm looking forward to lakeside BBQs, canoe rides, Appalachian hikes and all the relaxation vibes.