Postcard from Pietermaai
Curacao is well-known for the colorful buildings that line the waterfront in Willemstad: as a UNESCO World Heritage Site, the historic downtown and harbor has been carefully renovated and restored. And although Willemstad is fantastic, I think that Pieteramaai might be my favorite vibrant urban neighborhood in Curacao. Mostly because those colors!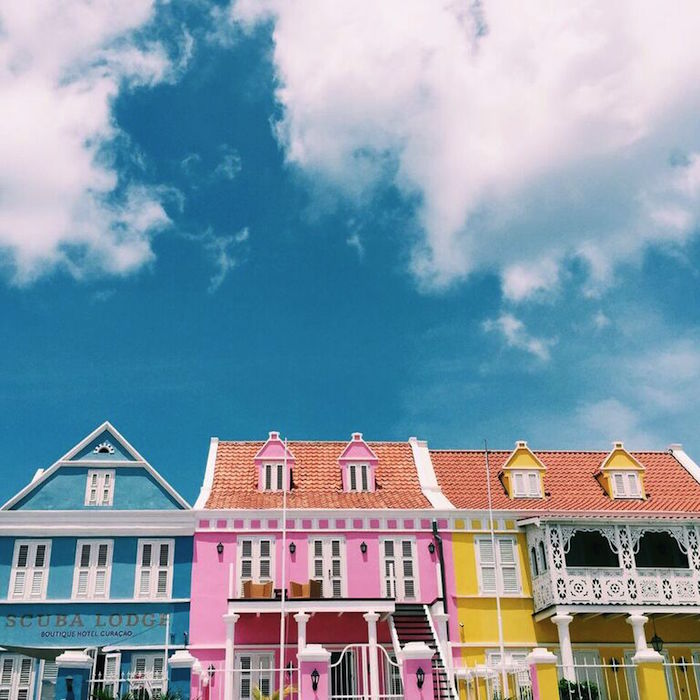 The neighborhood of Pietermaai was completely run-down up until the early 2000s: dilapidated buildings that were breeding grounds for poverty, homelessness, drug use. But an incredibly successful revitalization effort started around 2008 to turn the area into the "SoHo" of Curacao: trendy bars, boutique hotels, shopping and restaurants. Although it's not a UNESCO site, there's been a lot of care paid to respect the historic roots of the area: buildings have been preserved but transformed with luxury details and bright paint jobs.
A few recommendations:
Ginger for dinner (the outdoor seating is fantastic, and the Indian-Caribbean fusion is delicious)
Mundo Bizarro for drinks (the funky decor is actually made up of the crazy things that they found while demolishing the building)
Saint Tropez Ocean Club for drinks or dinner (the decor is super plush, and it's right on the ocean!)