A weekend in Sacramento
I spent last weekend at home in Sacramento, and it was simply glorious. I booked the ticket as a sort of belated Mom's birthday slash early Mother's Day present: essentially, a trip home to hang out with my parents and their dog. Even though I was only home for three whole days–joys of the after-work Thursday night flight and the Sunday night red-eye–it was just long enough to remind me how much I love my hometown, and to leave me wanting more.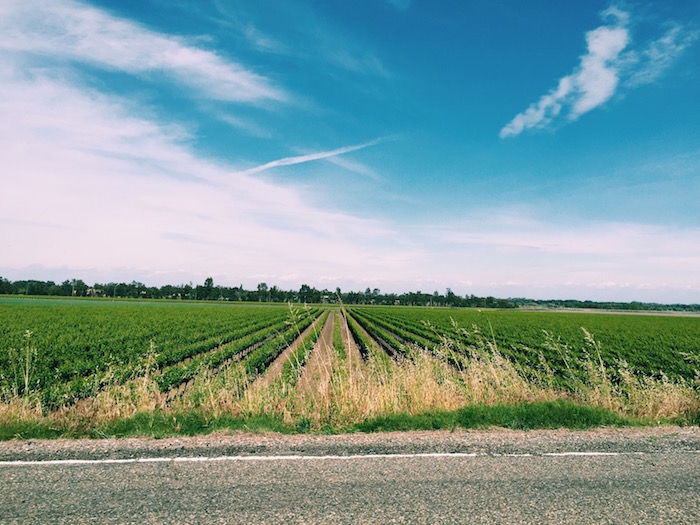 I spent a lot of time laying out by the pool–mostly because I can't put down World Without End–and eating home-cooked meals and and driving around, and it was so nice to not have a jam-packed schedule and to just be able to really relax. Here's a little glimpse into what I got up to: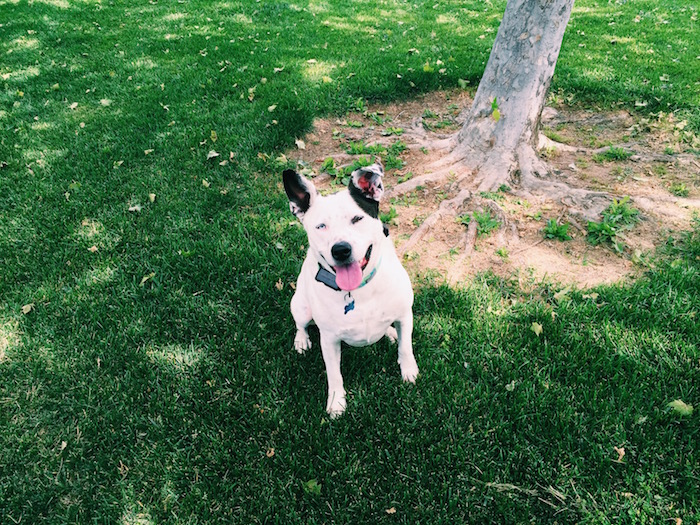 Annie the dog! Bonding with my favorite dog-sister is honestly one of the main reasons I fly home at least twice a year. It's so great to be able to go for long walks in our neighborhood with her: she chases the squirrels and stares inquisitively at the goats, and I just soak up all of that suburban silence.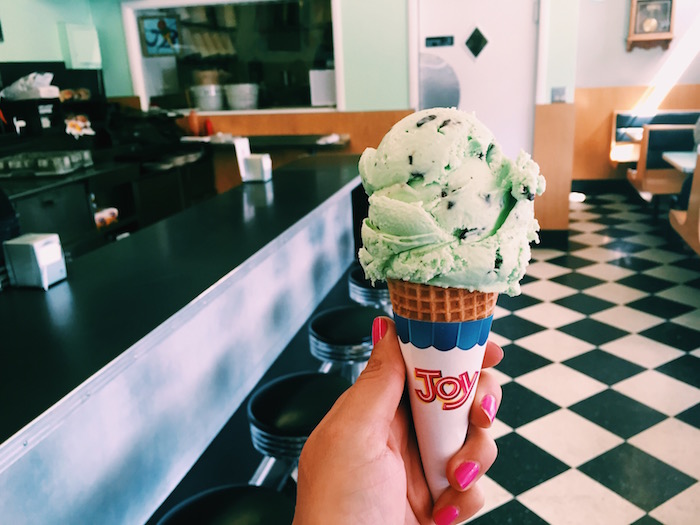 In high school, I spent many a Friday night at Vic's Ice Cream: my friend and I would grab a corner booth and gossip over milkshakes and BLT's before football games or parties. 10 years later, I don't know anyone working behind the counter anymore–but the mint chocolate chip still tastes just as delicious!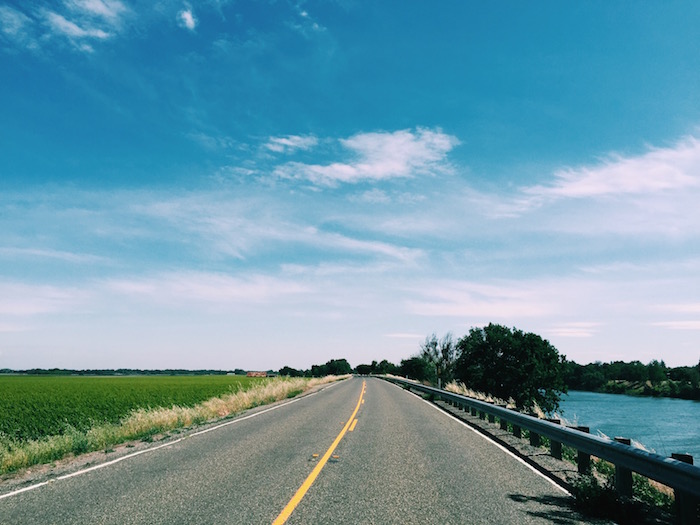 Growing up here, I never really appreciated just how beautiful the natural surroundings were: all of that open sky, lush green fields, and rushing river dotted with fishing boats and wakeboarders. I skipped the freeway and took the River Road home one afternoon, and just cruised: windows down, sunroof open, country music up.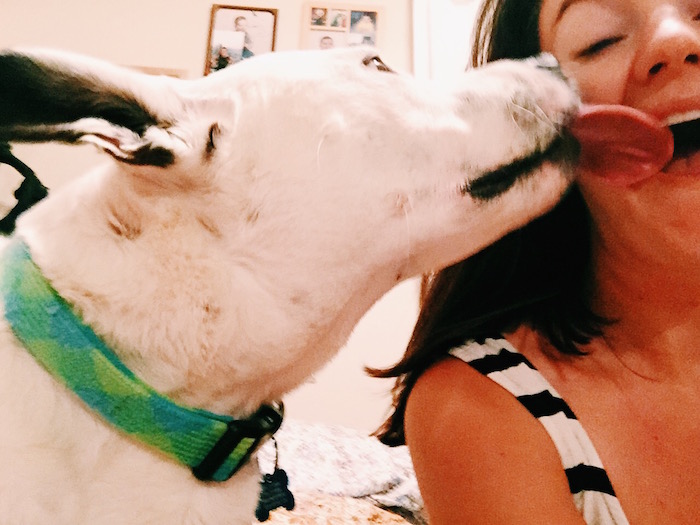 Maybe my favorite outtake from the weekend: selfie gone wrong!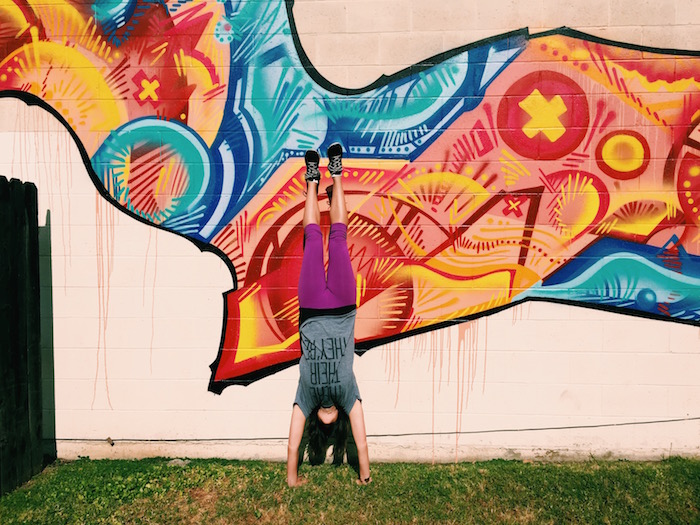 My original plan for Saturday was to start with Yoga in the Park (hands down one of my favorite regular activities in Sacramento), but a forecast of rain shifted my plans indoors. The morning rain never materialized, so I grabbed a coffee at Old Soul at Weatherstone and then took a long walk around Midtown with my friend Katelyn–and worked on my handstand in front of my favorite new mural.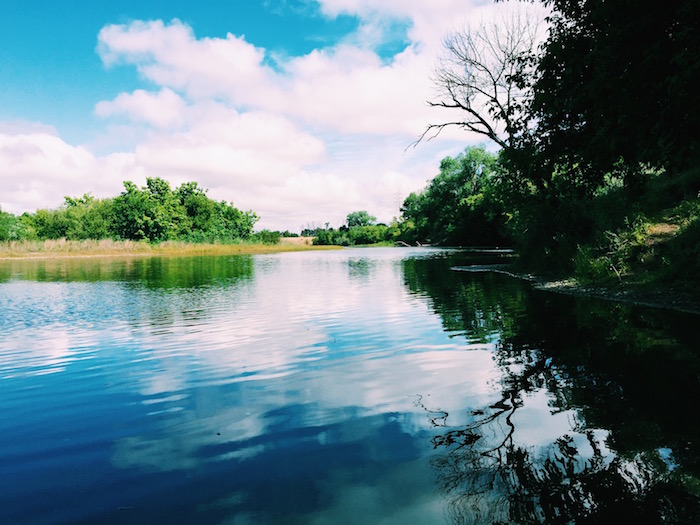 I spent most of my Saturday mornings as a kid riding my bike along the American River parkway and then heading to the Downtown Sacramento Library to exchange my books for the week. No wonder bike riding and reading are still two of my favorite activities! I took a long walk along the river before meeting a friend, and was blown away by how beautiful it is: how nice it must be to have REAL nature right inside your city, instead of just a man-made park and artificial gardens.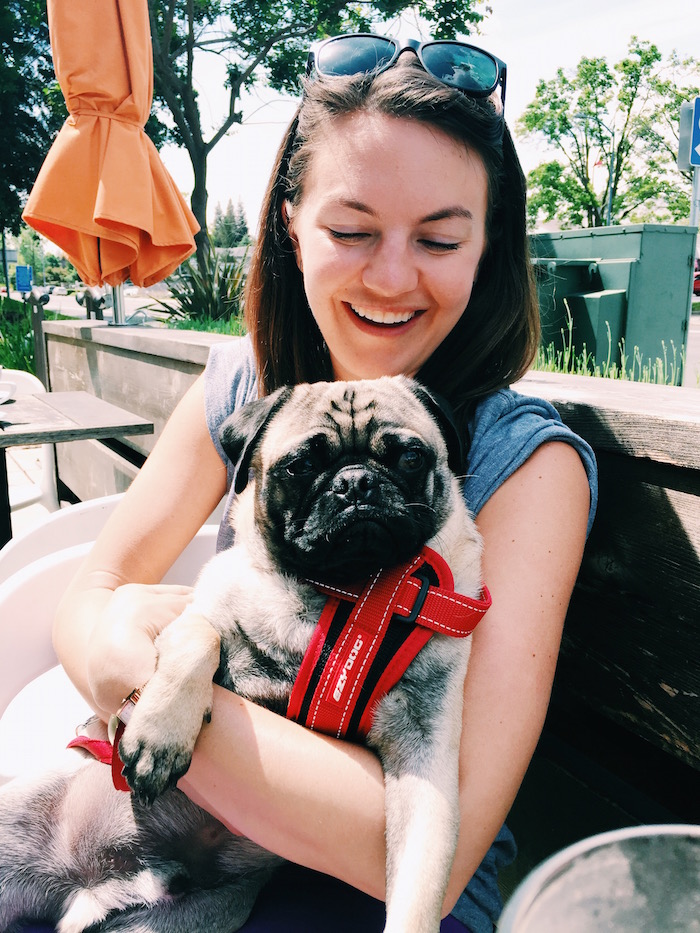 Random fact about me: I'm OBSESSED WITH PUGS. My friend Kimberly got Loki just about a year ago, and so I begged her to meet up with me–and to bring him! Total highlight of the trip was meeting this adorable pug and getting to hang out with him while catching up with my friend over iced coffees on the patio.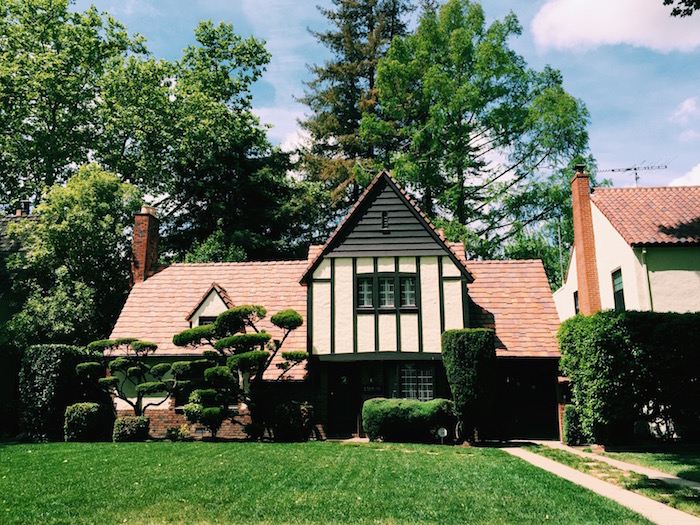 The Fab 40s are known for the beautiful homes and gardens, and this gorgeous place with excellent bonsai trees did not disappoint on a drive around the neighborhood.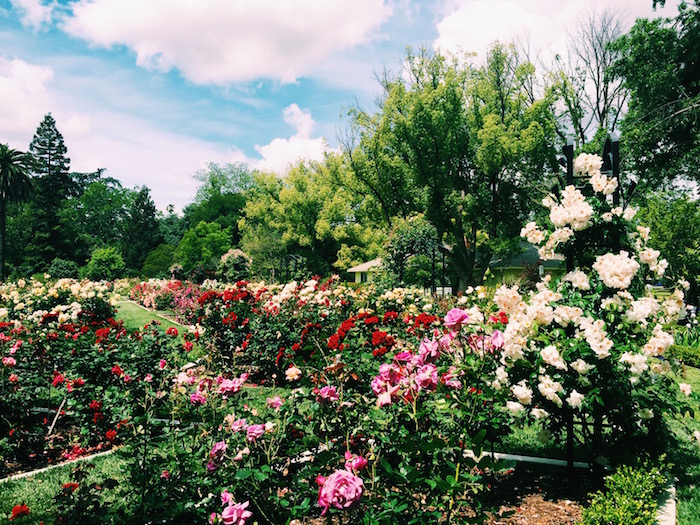 The McKinley Park rose garden has always been one of my favorite places to wander, and it's never better than in the spring. All of those blooms: it smelled divine!
One thing I've realized is that it's been 10 years since I lived in Sacramento–so I don't exactly know the cool places to go anymore, even though I always crave the same places. I met up with Ashlee for delicious fresh cocktails and chats about blogging and her life as a mother of two (!) at Hook & Ladder: so much fun, and it was great to try out a new place!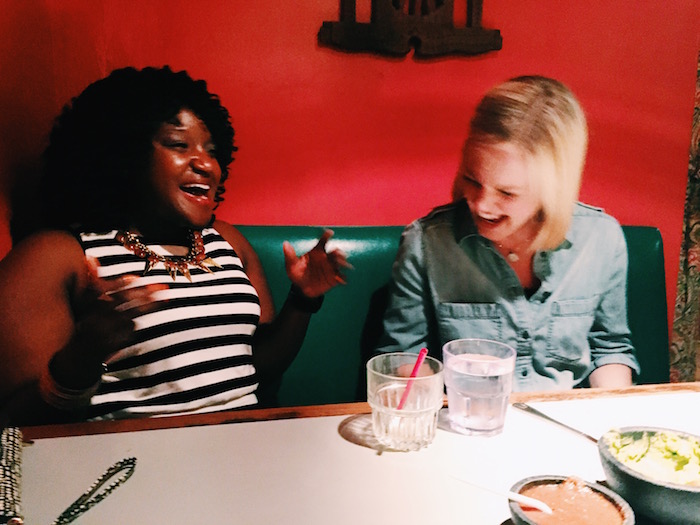 And then I met up with my three best friends from high school for margaritas and tacos at Tres Hermanas: we laughed the entire time. I'm just so darn grateful for those girls, and for friendships that never change!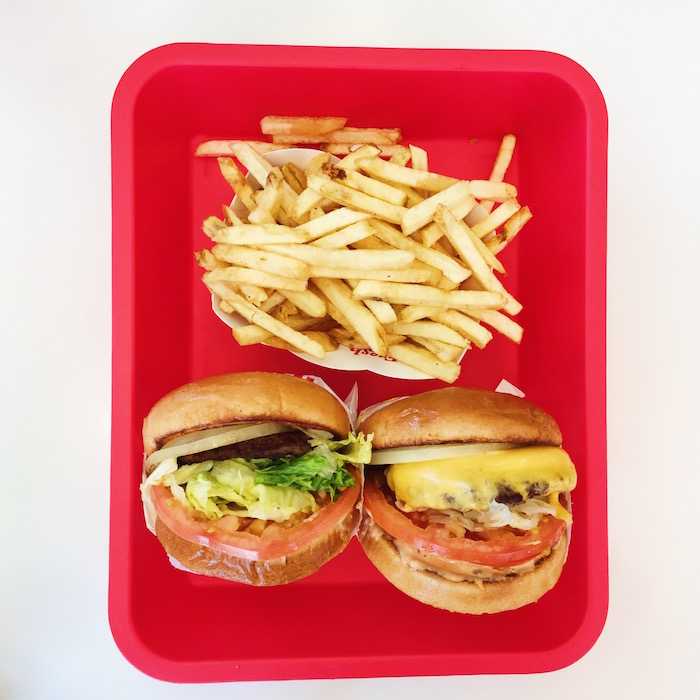 Of course, I couldn't go home without a stop at In & Out! My mom and I went on a lunch date on Sunday, and the burgers were just as good as I remembered.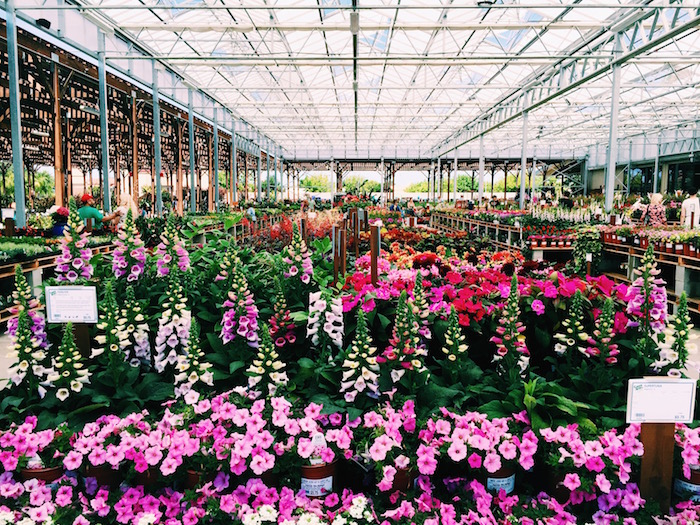 After lunch, my mom took me to the new nursery in town: PLANT PERSON HEAVEN. I wish we had something like this in New York–my urban courtyard would quickly become like a greenhouse!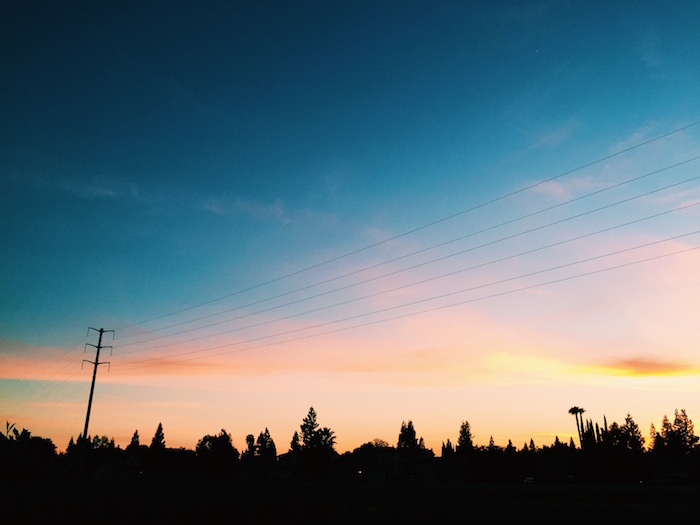 Thanks to everyone who made my trip home such a fantastic three days: so thankful to have such a support system in Nor Cal!