A Greenpoint morning of adventure
One of my favorite things about New York City is that it's so easy to keep the spirit of travel alive, even in my fixed life: new neighborhoods to explore, new restaurants to try, new shows to see. Even though it's easy to fall into a Williamsburg rut–especially when the weather gets chilly–I walked north and headed to Greenpoint for a morning of adventure.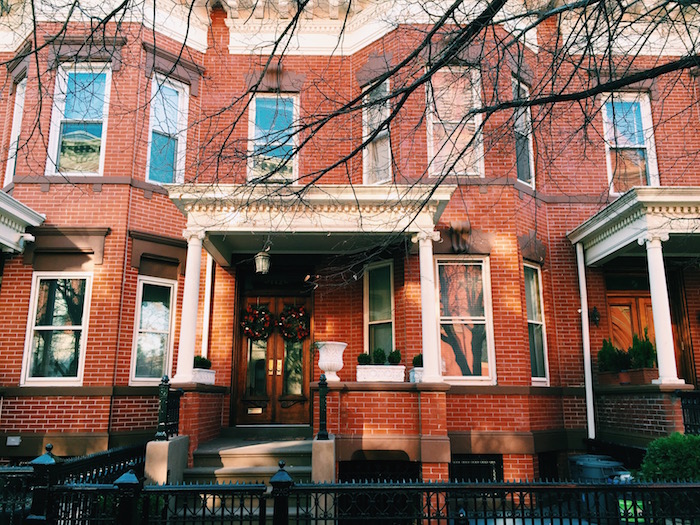 Greenpoint is basically my next-door neighborhood: I'm just a couple of blocks from McCarren Park, which is the unofficial dividing point between L-train-centric Williamsburg and G-train-reliant Greenpoint (this video is maaaaaybe my favorite thing ever on those two points). Here's the thing about Greenpoint: it's amazing. It's cute and quaint and quiet, and still has all sorts of old-world charm and fantastic architecture and a serious Polish immigrant influence. My friend Kate and I recently spent a morning exploring and brunching and ooh-ing and aah-ing over all of the adorable homes.It is all of those things still (instead of ruined by high-rise condos and chain stores) because the G train is the worst, and if you live in Greenpoint and work in Manhattan, you probably have a three-train commute. Moral of the story: Greenpoint is FULL of amazing bars and cafes and design-y shops, and I am so grateful it's only a 15-minute walk from my oh-so-commute-convenient home in Williamsburg.
Five Leaves
Five Leaves is one of my favorite reasons to go to Greenpoint: their brunch is AMAZE. The Moroccan scramble is my go-to (with a Bloody Mary, of course) and I love sitting in the sunshine at the outdoor tables in the summer. Even if the wait is super long (which is often is), it's great to grab a coffee at the to-go counter and take a walk in McCarren Park across the street.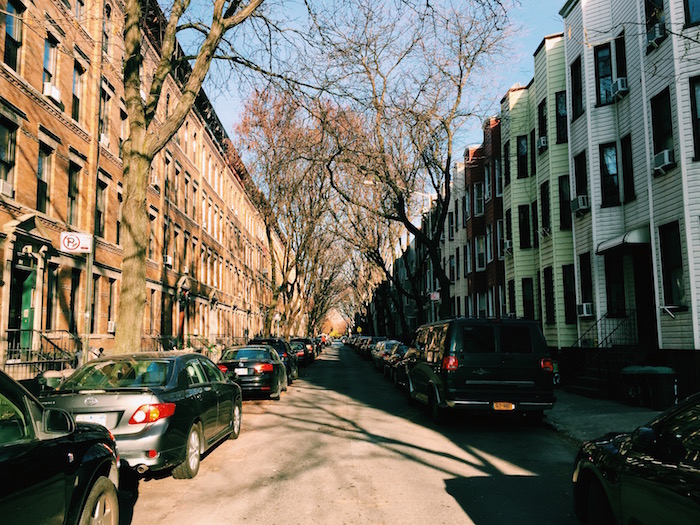 Guernsey Street
Between Norman Avenue and Meserole Avenue, Guernsey Street is a block full of architectural and tree-lined goodness. It's not quite as stunning once the leaves have fallen in winter, but I can assure you that it is the best thing ever when the trees start to blossom in spring and once the leaves change color in fall.
WORD Bookstore
My love of my Kindle is constantly at odds with my affinity for independent bookstores. Even though the convenience of the Kindle can't be beat when traveling, I've started filling up my Brooklyn bookshelves with pieces that are just better in print. Not only is WORD perfect to tuck into for a wander around the shelves on a chilly day, but I love the entrepreneurial ways they're keeping physical bookstores relevant. How great is WORD to your mailbox?!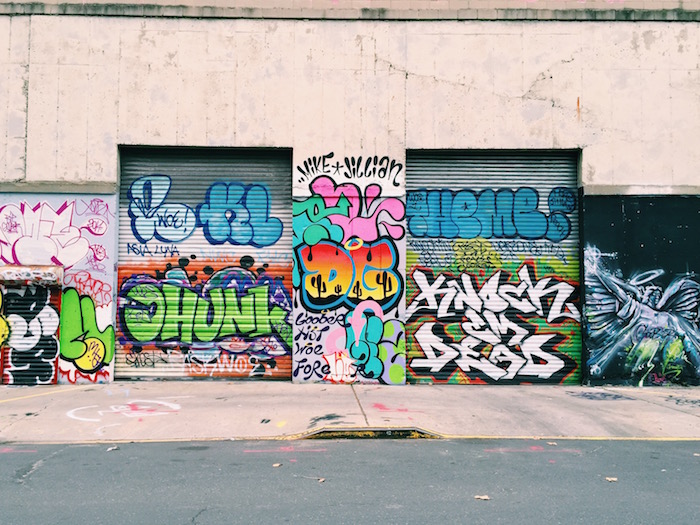 Milton Street graffiti
Most of it is just general tagging, but the intersection of Milton Street and West Street is just so colorful–I love it, especially on a gloomy day.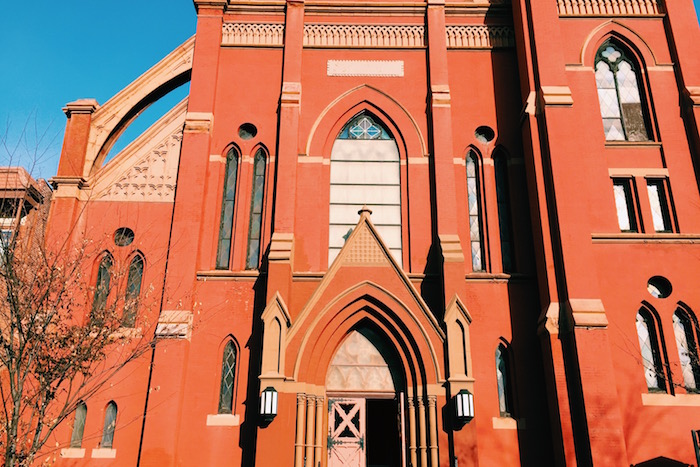 St. John's Lutheran Church
One thing Greenpoint is not lacking: gorgeous, intricate churches that are reminiscent of another time and place. I loved how the sun was hitting the color of this Lutheran church!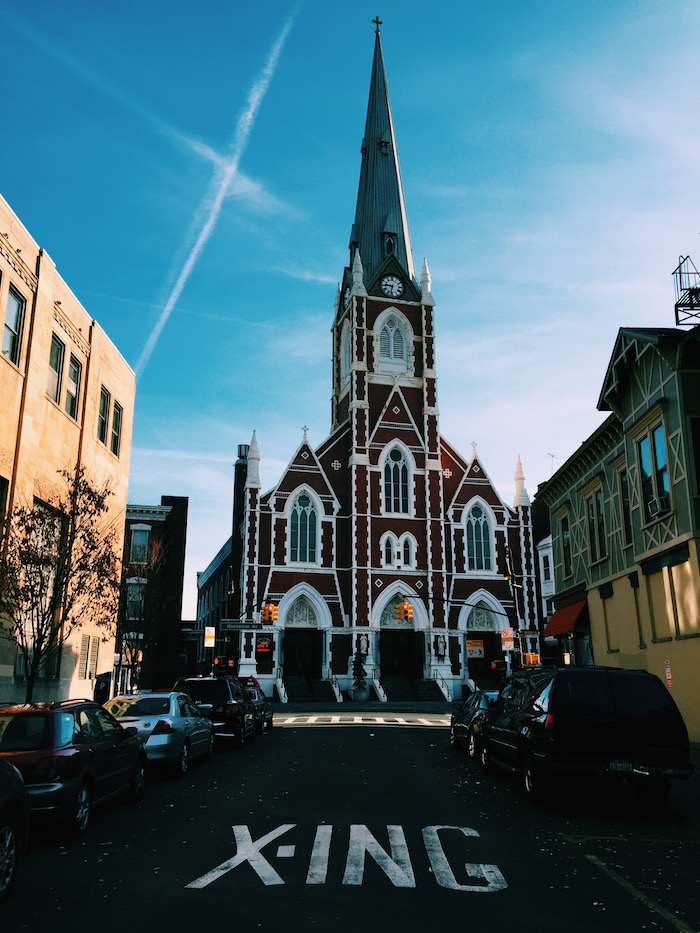 St. Anthony Catholic Church
A landmark since its completion in 1875, St. Anthony of Padua church towers over the main drag of Polish restaurants and discount stores in the heart of Greenpoint. The spire reaches 240 above street level!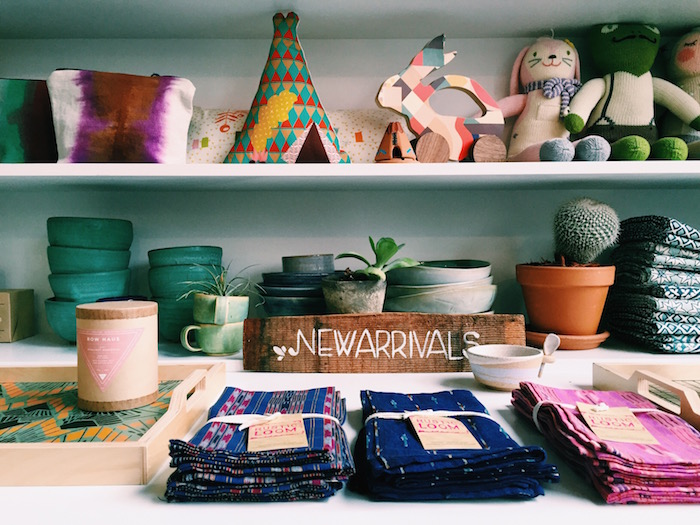 People of 2Morrow
People of 2Morrow is one of my favorite shops that combines awesome vintage finds with cute homewares and paper goods: the perfect place to go shopping for (or with) your best friend!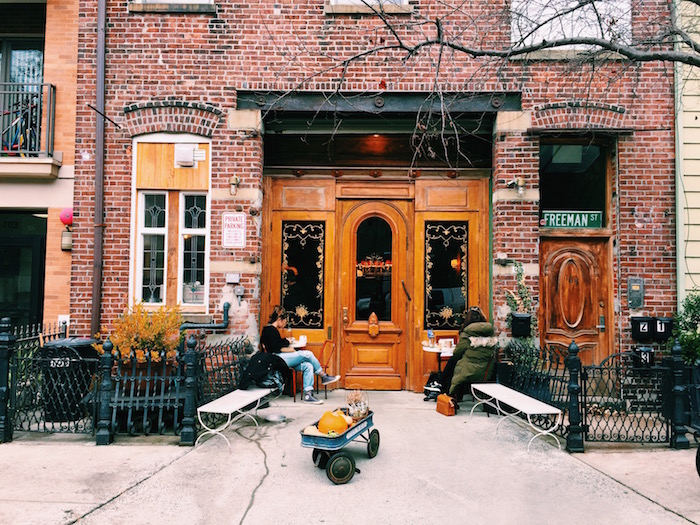 Bakeri
Even though the baked goods and coffee are delicious, the real draw of Bakeri in Greenpoint is the decor. IT IS ADORABLE. I immediately wanted to go after seeing photos of the interior on Design*Sponge, and it was even better in person! Definitely going to spending some serious time on those benches this spring.
Pencil Factory
Fun fact: this renovated warehouse was once the factory where all Number 2 pencils were made! I love that the pencil accents have remained on the building.
India Street Ferry Stop
The Greenpoint ferry stop is next to a nice grassy park–complete with a playground! Proof that Greenpoint is family-friendly, not just hipster-friendly. The views of Manhattan aren't much to write home about, but there's a nice stretch of lawn that's perfect for relaxing in the sunshine. 
Glasserie
I don't know what to say, other than that we won at brunch. Located in the former home of Greenpoint Glass Works, Glasserie is a farm-to-table, Middle Eastern influenced restaurant with killer cocktails. It's a popular dinner spot, but the $19-a-person mezze feast has quickly made it on my short list for best brunch deals.
Pulaski Bridge
The drawbridge leads to Long Island City, but I just loved how the tugboats were juxtaposed with the Manhattan skyline. Such a gorgeous view, and one of the few bridges in Manhattan where you don't have to take photos through a chainlink fence.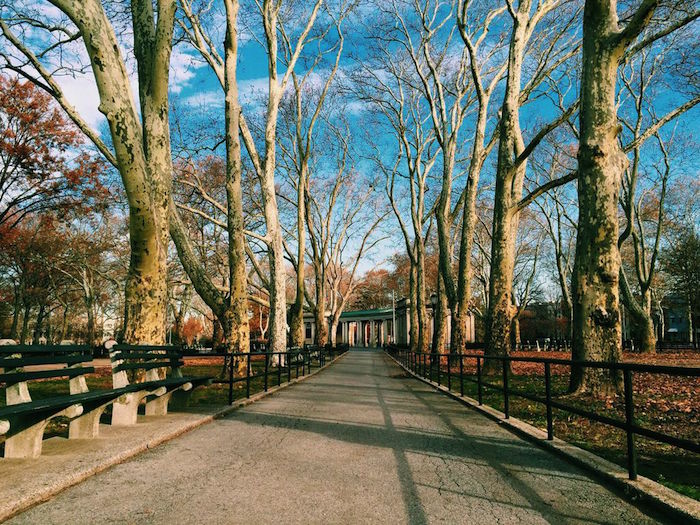 McGolrick Park
Quite possibly one of my favorite finds in Greenpoint: I had no idea this park existed before this weekend! That line of towering trees and the sheltered pavilion: it feels more like Europe than Brooklyn.
Worksong Acupuncture
I just want to quickly call out the one reason I regularly go to Greenpoint: $20 community acupuncture at Worksong.  Not only is it insanely affordable, but the space is super relaxing and the acupuncturists are fantastic. My insurance didn't cover acupuncture for a long time, so I was so grateful to find the community acupuncture movement. Highly, highly recommend.
Any other favorite places that we missed in Greenpoint?
Special thanks to Kate for showing up at 9am to adventure–the morning after a cross-country red-eye flight! Rock star friend right there. 
p.s. an Upper West Side day of adventure and the best secret gardens in Manhattan!