Of the moment // 11.14.14
One of the reasons why I blog is simply to have the space to write: getting things "on paper" helps me to process my feelings and organize my thoughts. I also love having a record of my life over the past few years: a place that holds all of my stories, my photos, the ups and downs of travel. But sometimes, I also just want to remember and share the little things that brought me day-to-day joy. Every Friday, I'll give you a peek into the book I currently can't put down, a great restaurant discovery, a fun new product or an inspiring quote: a few things that I think you might enjoy before we all take off into the glory that is the weekend!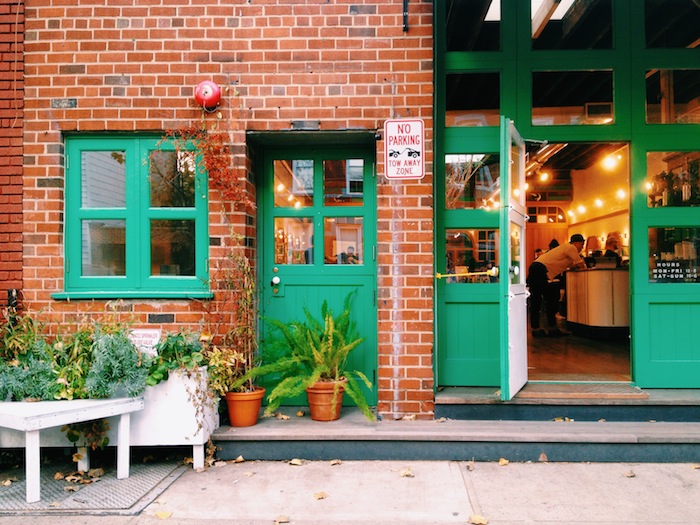 One of my goals this month (especially after disconnecting in Nicaragua) has been to stop using my iPhone while I'm walking: to not text or scroll through Instagram or edit a photo while my legs are moving and I'm navigating chaotic city streets. It's a habit that's been hard to break–sometimes, a return text just feels URGENT–but I'm at least trying to be more conscious of that automatic response to pull out my phone when I feel bored. And to that end, I'm in a meditation group at Vimeo: we usually get together to meditate for 30 minutes once a week, and it's wonderful to just have a break from screens and devices in the middle of the workday. This week, we went on an hour-long silent art walk through a couple of Chelsea galleries: it was so nice to be fully present on the street and with the art (instead of framing a shot). I'm going to try and get back in the habit of going places without my phone!
Wanderlust
We're going to Baltimore next weekend! I am actually very excited about it, but I feel like everyone I tell gives me this look like WHY. Why not? It's a city that I've never visited, and it's not too far, and we're staying at the Four Seasons. It also has a world-class aquarium, and some hipster-y cafes and restaurants (we already have reservations here), and brand-new streets that I've never Instagrammed before. If you have any recommendations: I'd love to hear them!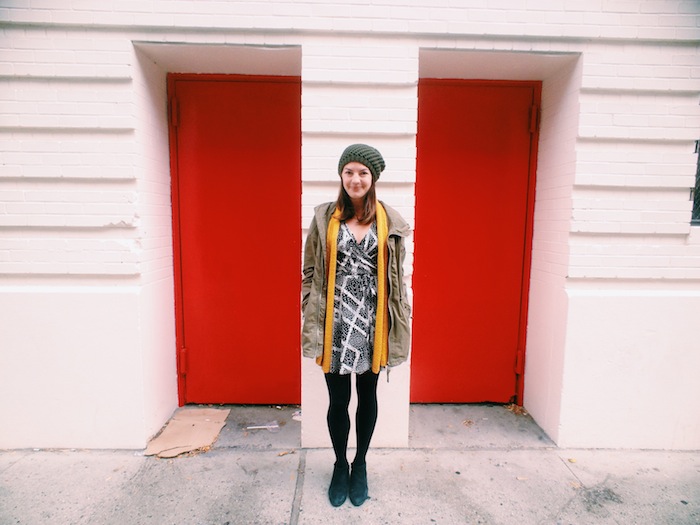 Looks
It's fall: beanie and tights season! I'm also fully obsessed with this gorgeous Yumi Kim wrap dress: you can never go wrong with a graphic black-and-white print.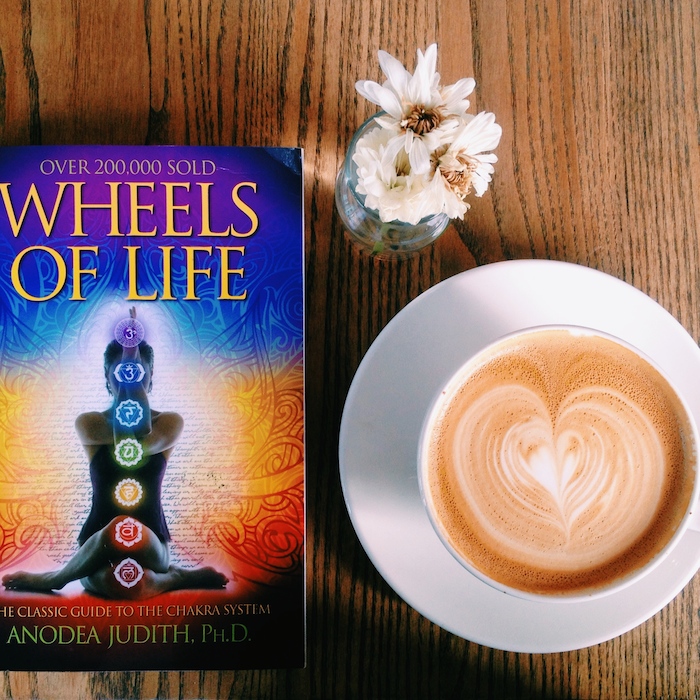 Reads
We briefly touched on chakras during yoga teacher training, but I wasn't too intrigued until the retreat in Nicaragua: there was a lot of discussion around chakras and astrology, and I'm really interested in learning more. The essential source on chakras is Wheels of Life: it's not as enthralling as a novel, but it's definitely captured my attention.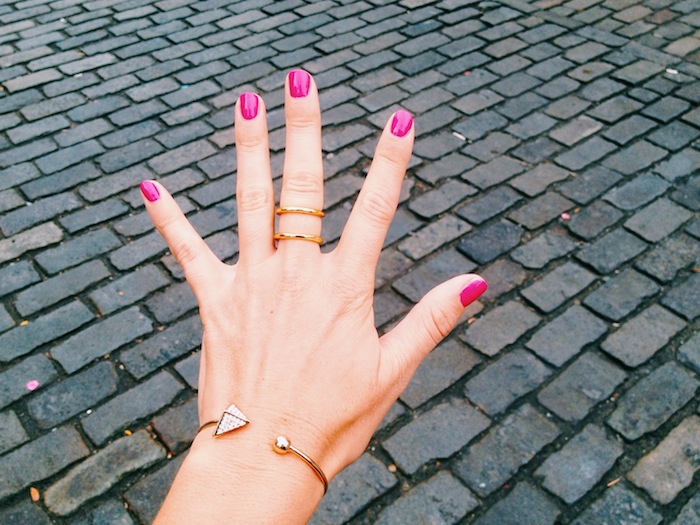 Jewels
I continue to be obsessed with my Rocksbox every month. It's fun to get the big statement necklaces that are total one-and-done pieces, but I have such a harder time with the simple items–like this ring and bracelet. They're so on-point with my jewelry style: gold, basic, pretty but still simple. So I wear them every single day and then get really sad about having to send them back! (Side note: I painted my nails IN BED on Friday night and went to sleep with the hands hanging out of the covers, and I'm just still so impressed by that.)  Bonus: Rocksbox is giving away one month free if you sign up before November 16!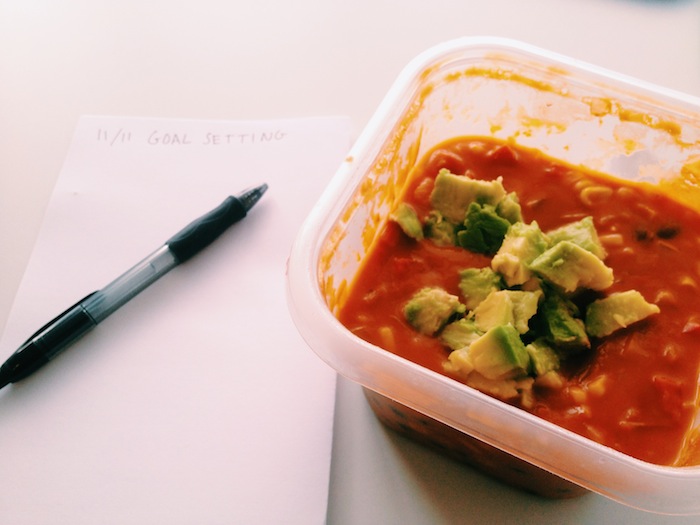 Eats
Forgive the awful styling, but real talk: this is how my lunches usually look. I try to make a big batch of something on Sunday or Monday night and separate it into daily Tupperwares to make my mornings as seamless as possible. This week, I took a giant pot and threw in a box of roasted red pepper and tomato soup, a can of black beans, a can of corn, half of an onion and a red bell pepper (sautéed in coconut oil) and some red chili flakes. At work, I topped it with shredded pepper jack cheese and diced avocado AND IT WAS BOMB. Any other recommendations on how to spice up pre-made soup into a proper meal?!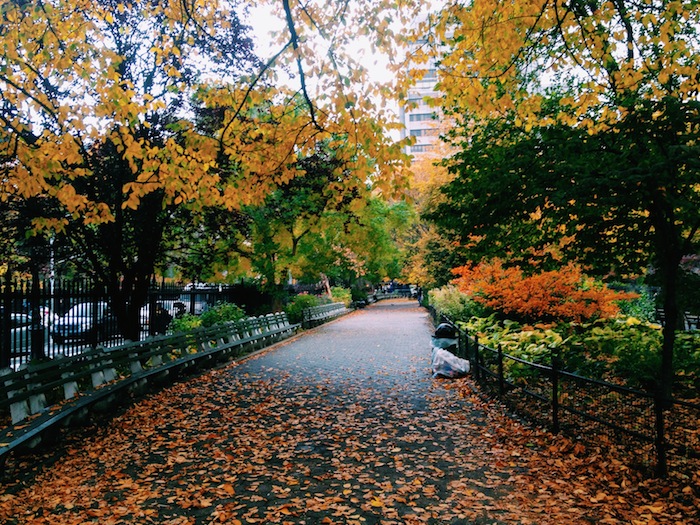 New York City
This was one of my first wonderful discoveries on CitiBike: there are so many places that you just never see on the subway! I biked by Stuyvesant Square last summer–the Second Avenue south-bound bike lane goes right through it–and was instantly enamored with the gardens and towering trees. Definite contender for my favorite secret gardens in Manhattan, round two!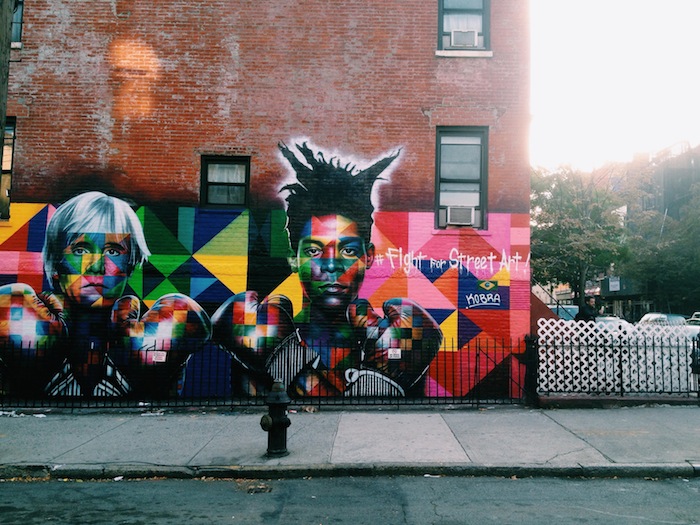 Streets
One of the coolest things in Williamsburg is the painted advertisements: they're actually painted on the wall instead of just papered up. However, it does make it a little confusing: I have no idea if the mural above is actually an art piece or if it's some subversive advertisement. Either way, enjoying the extra color in the neighborhood.
Words
"If you cannot do great things, do small things in a great way." -Napoleon Hill
This weekend, we're going to a wedding (my boyfriend's good friend from grad school!) in Rochester, New York. It will be quite the after-work five-hour drive, but I'm looking forward to seeing the leaves changing along the way–and a night of dancing!