Fun holiday cards: giveaway!
I don't come from a "holiday card" family: whether it's because I'm an only child or because my mom isn't a huge fan of yearly brag letters, I never grew up taking yearly Christmas photos or sending them out. Instead, I send about a million postcards and thank-you notes and just-because letters throughout the year. I'm a huge fan of printing out Artifact Uprising prints of Instagram photos of friends/places/memories and sending them to friends for a fun snail mail surprise!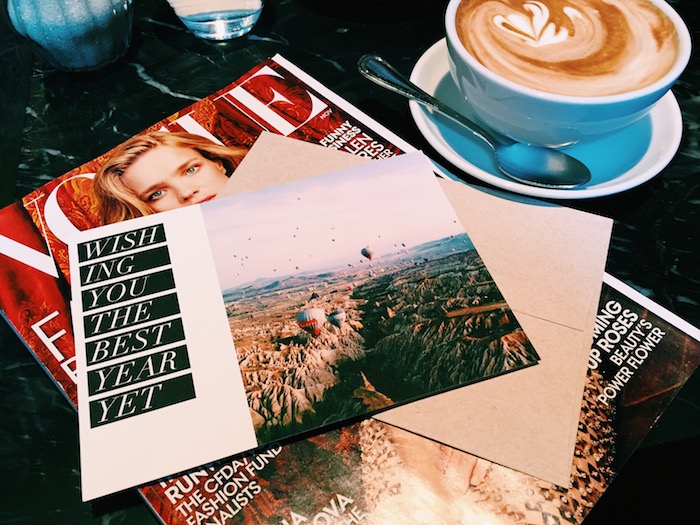 But one thing that has been on my list for the last couple of years has been to send New Year's cards! Confession: my mom totally gave me the idea. I think it'd be so fun to get something in the mail AFTER the deluge of Christmas cards and holiday packages and general merry season madness. I especially loved Artifact Uprising's take on the holiday card–some Christmas options, some New Year's options–but they're all super high-quality and can include one of your own favorite photos. Sneak peek at the card I'll be sending out to ring in 2015: I opted for my favorite photo from Turkey this year. Hot air balloons over Cappadocia at sunrise! I'm secretly hoping people like the cards enough to stick it up on their refrigerator or for a little travel inspiration in their cubicle.
The amazing folks over at Artifact Uprising (I've met them in person and they are honestly the sweetest) have offered to give away pack of 25 holiday cards to a C'est Christine reader. Simply enter below before Friday and I'll announce the winner on Monday.
Side note: I'm planning on making a bunch of Artifact Uprising photo books for Christmas gifts this year! I make one of the small Instagram-friendly softcover books after every trip I take, and it is so great to have those memories around to flip through. They're not that expensive, they're gorgeous and they're personal: highly recommend. Get your order in early to avoid the Christmas chaos AND to check something tangible off your list.
Will you be sending out Christmas or New Year's cards this year? 
Update: the winner of this contest was Megan Stroup. Congratulations Megan!