Postcard from Storm King
A quick love note for social media: I have discovered some VERY COOL STUFF via Instagram. I spotted that awesomely colorful rebel wall and the Audrey Hepburn piece in Little Italy via friends' feeds, and then hunted them down myself to spread the Instagram love. A similar thing happened with Storm King Art Center: friends and friends of friends kept hopping up to Storm King on the weekend, and I had so much Insta-envy!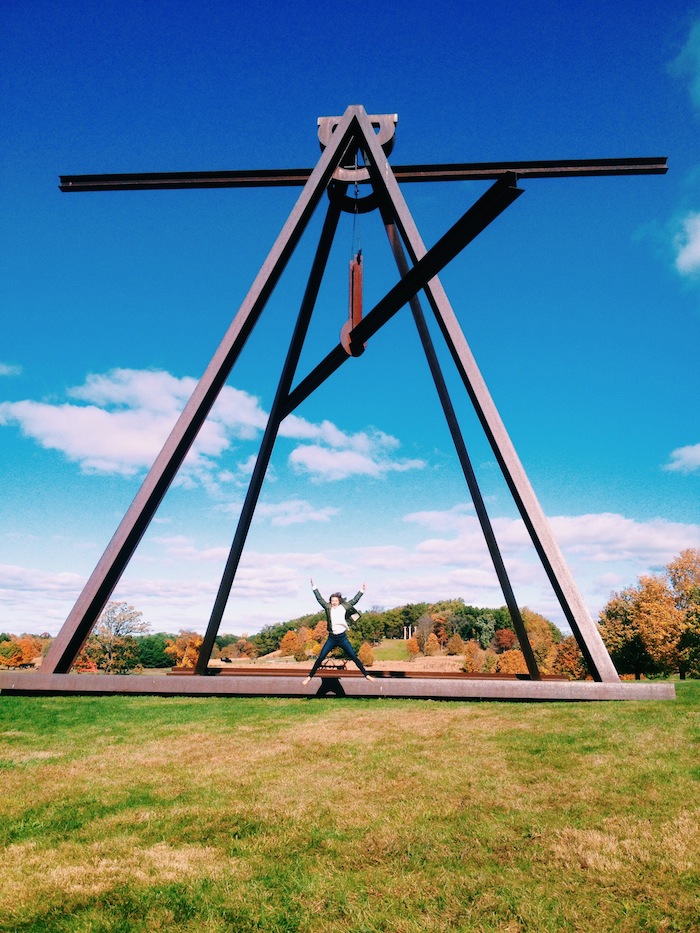 I didn't really know what Storm King was, but I was convinced that it would be the perfect autumn day trip. I tried to convince my boyfriend to skip Sunday football to "go see art and trees!" but he was not sold on it (also, he skipped football the previous Sunday to take me to the Bronx Zoo, so I already used that card). So instead, Aly and I went on one last wonderful road trip before she moves to California–and it was the BEST. Storm King Art Center is basically 500 acres of land in the gorgeous Hudson Valley that features more than 100 pieces of large-scale art. It was a picture-perfect fall day: colorful trees under blue skies with puffy white clouds. We wandered and took the tram and laughed nonstop and talked about art. It's only about an hour drive outside of New York City, and the drive is just as gorgeous: it's about to shut down for the winter, but I'm already dying to go back in the spring and summer!
What's your favorite photo of Storm King? 
p.s. ALY I MISS YOU SO MUCH ALREADY! Thanks for being the best roommate a girl could ask for and for all of the adventures in Brooklyn, Iceland and everywhere else! Love you to the moon!