Of the moment // 10.17.14
One of the reasons why I blog is simply to have the space to write: getting things "on paper" helps me to process my feelings and organize my thoughts. I also love having a record of my life over the past few years: a place that holds all of my stories, my photos, the ups and downs of travel. But sometimes, I also just want to remember and share the little things that brought me day-to-day joy. Every Friday, I'll give you a peek into the book I currently can't put down, a great restaurant discovery, a fun new product or an inspiring quote: a few things that I think you might enjoy before we all take off into the glory that is the weekend!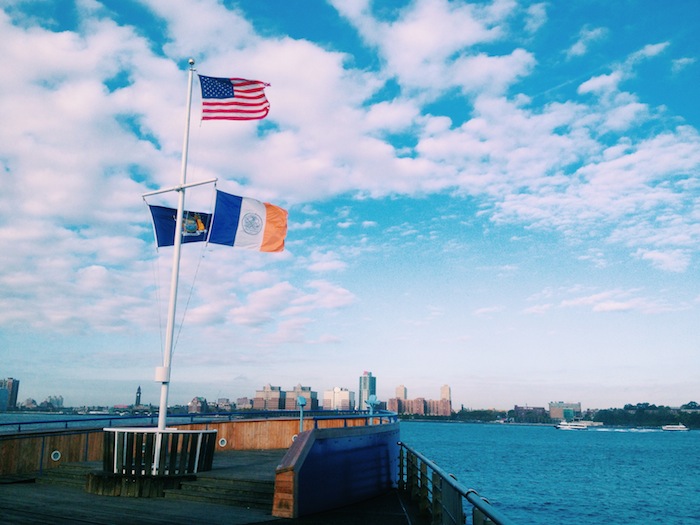 So, I grabbed a drink with my filmmaker friend earlier this week and he told me about how instead of starting a conversation by saying he's busy (because, news flash, we live in New York City and everyone is busy), he specifically calls out a few cool things he's working on (aka WHY he's busy). The glory of New York City is that while everyone is busy, it's because everyone is doing awesome, interesting stuff. So! I hate falling into "the busy trap", but this week, I kept busy with champagne book club (no book discussion or champagne, but plenty of wine!), answering a million emails and roasting all of the squash I could find. I ended last night with a restorative yoga class, a glass of red wine and a few chocolate cookies, which was as good as it gets.  'Twas a nice week.
Take Me Back
So I spotted 59 reasons living in Sydney ruins you for life over on Buzzfeed yesterday, and it made me miss that city like crazy. I know I've mentioned this a million times, but moving back down under is still one of my top life goals. I'm crazy happy in New York City right now, but if any city could win me over more: it would be one that has a beach AND culture AND award-winning gelato.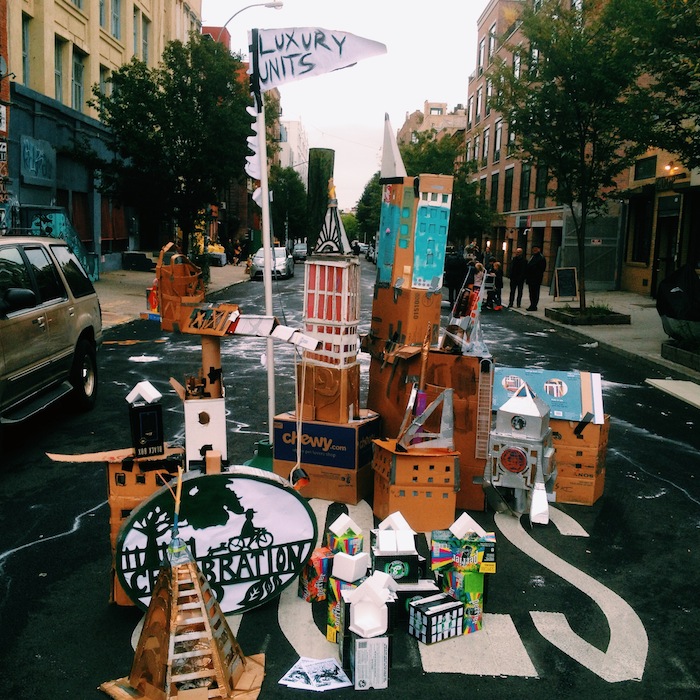 Streets
Williamsburg is such a weird little mix of alternative and mainstream, hipster and hippie. Most of the real artsy types are getting priced out by the FiDi set, with rent prices soaring and chain stores taking over Bedford Street (hello, JCrew!). The other day, Hope Street was blocked off, a girl was playing a guitar, kids were playing foosball and this cardboard art installation had been set up. No explanation necessary.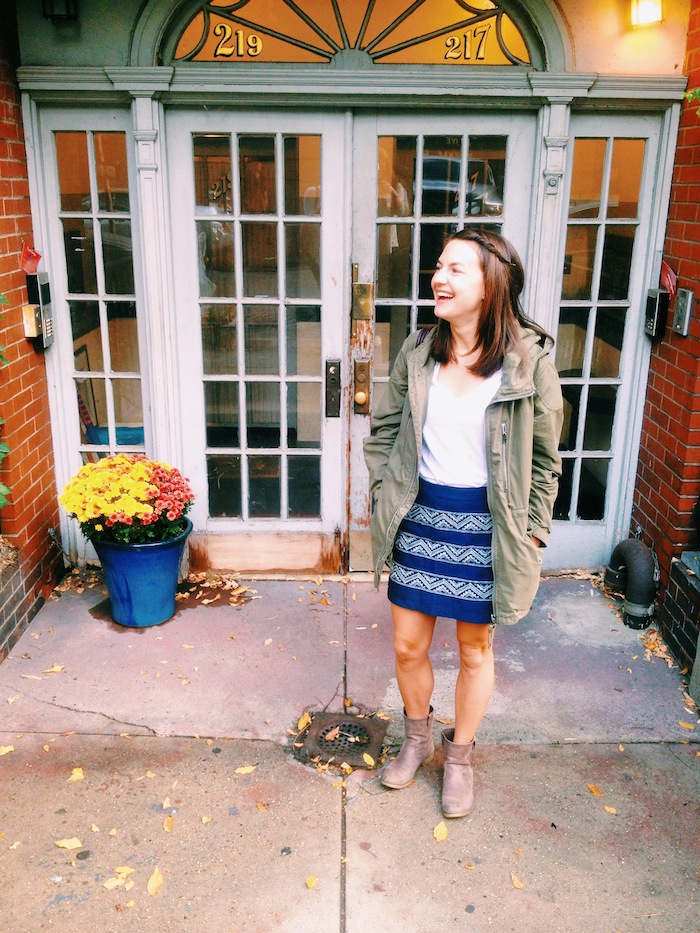 Looks
The weather was amazing this week (sparing the one evening when I got caught in absolute downpour on my walk home from the gym!), with sunshine and temperatures hovering near 70 degrees: aka t-shirt, bare legs and boots weather. I'm still working my favorite Everlane v-necks into just about outfit I can: fall uniform! Skirt is Hinge, jacket is from Aritzia, boots are from DSW.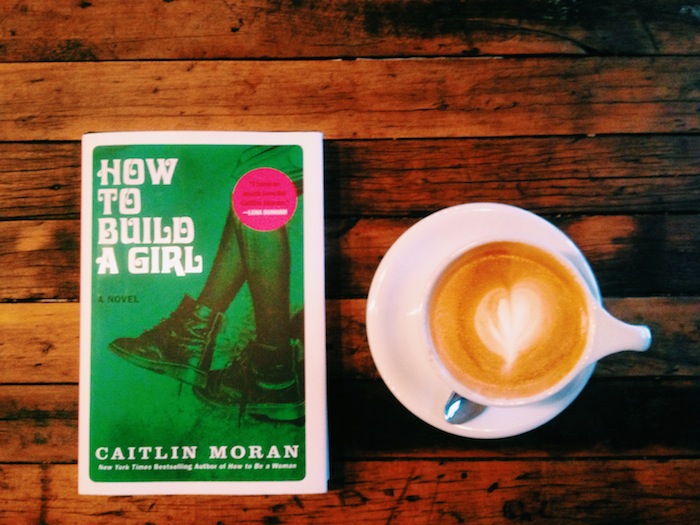 Reads
One of my absolute favorite books is How to Be a Woman by Caitlin Moran: it's a kick-ass, funny, interesting look at what it means to be a feminist in today's world, and I can get behind basically all of her arguments (a personal favorite quote: "You should always be distrustful of days that are preordained to be legendary. When I hear women talking about how their wedding is going to be/was the best day of their life, I can't help but think, You just haven't taken enough MDMA in a field at 3 a.m., love."). Anyway, I'm reading Moran's recently-released first novel called How to Build a Girl: it's not exactly PC or a Sex and the City-esque fairytale so far, but I'm intrigued.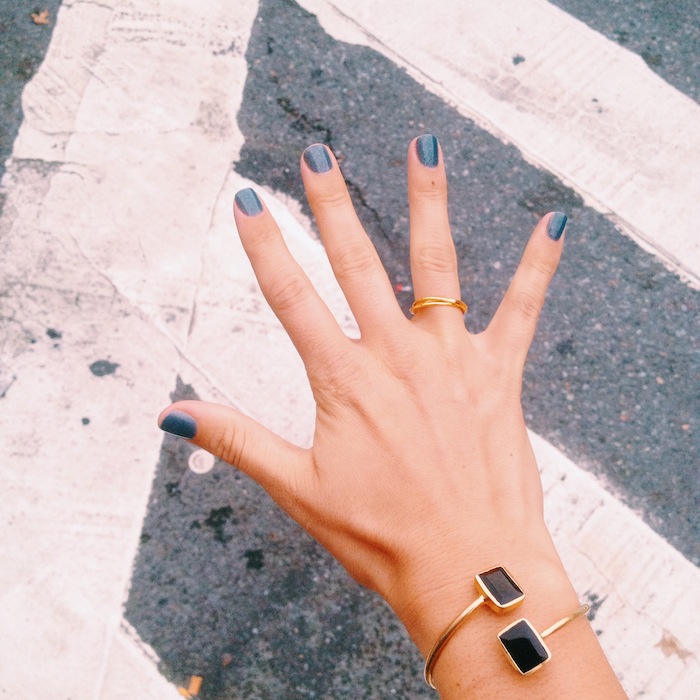 Jewels
I actually just sent back my latest RocksBox for some new goodies, but over the past few weeks, I wore this stacking ring and pretty bracelet almost every day.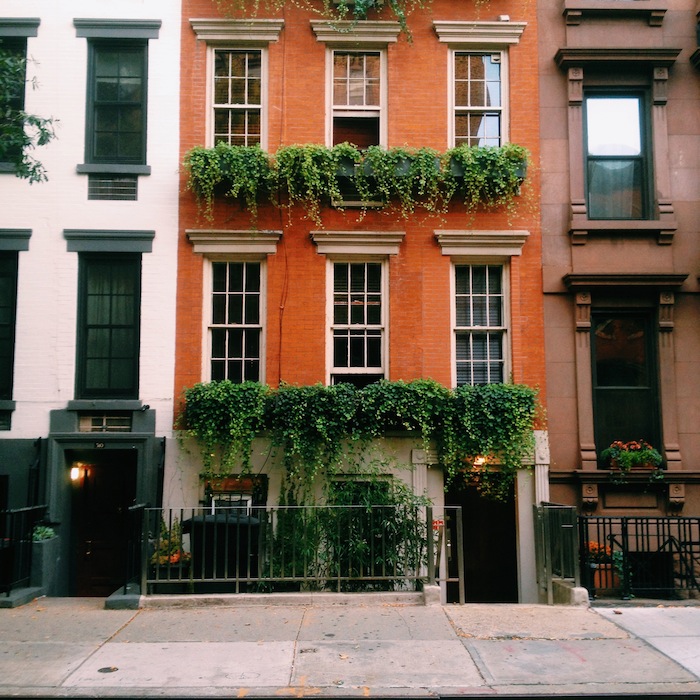 Words
"In the end, we'll all become stories." -Margaret Atwood
What are you up to this weekend? I'm checking out a new wine bar with two of my favorite West Coast ladies, taking Prince (my dog nephew!) over to Prospect Park to play fetch, heading up to the super trendy Storm King Art Center and probably bawling into my IPA at Aly's moving away party.