The best secret gardens in Manhattan
Things that are hard to find in Manhattan: fresh air, open space, a private garden, the sense of being alone, a moment of silence or serenity. For a girl who grew up in the suburbs, these are the things I miss the most: I loved growing up with a backyard full of flowers and vegetables, being able to sit quietly on a bench or a patch of lawn to reflect or read a book.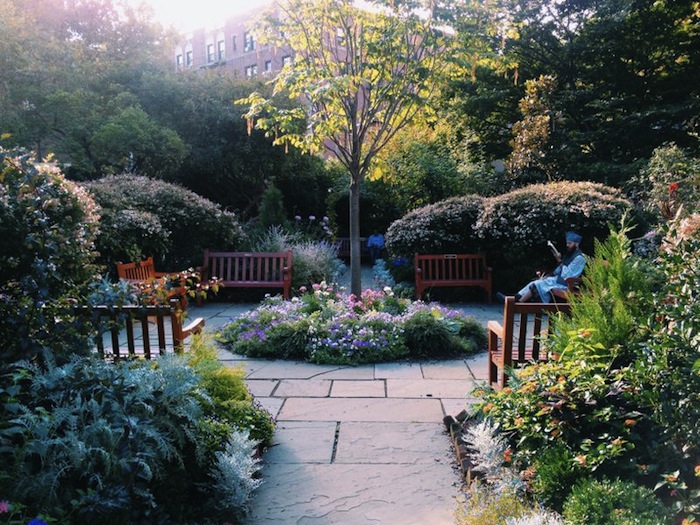 Over the past couple of years in New York City, I've stumbled across a few hidden gems that can provide that same sense of natural beauty, and often, an escape from the chaos of the sidewalk and the anxiety of the hustle. More often than not, I discovered them by simply catching a glimpse of green as I walked by on the street and decided to be nosy. They're not all well-advertised, but the hint of secrecy just lends to their escapist allure. Here are my five secret gardens in Manhattan, perfect for whenever you need a break in the concrete jungle:
Elizabeth Street Garden
This community garden is a refuge from the hordes of tourists and fashionistas that regularly clog the SoHo sidewalks. Elizabeth Street Garden features scattered patio furniture, a sculpture garden and Sunday morning yoga classes. However, Elizabeth Street Garden is only open from noon to 6pm during the week and 10am to 6pm on the weekends. Entrance is located on Elizabeth Street between Prince and Spring Streets.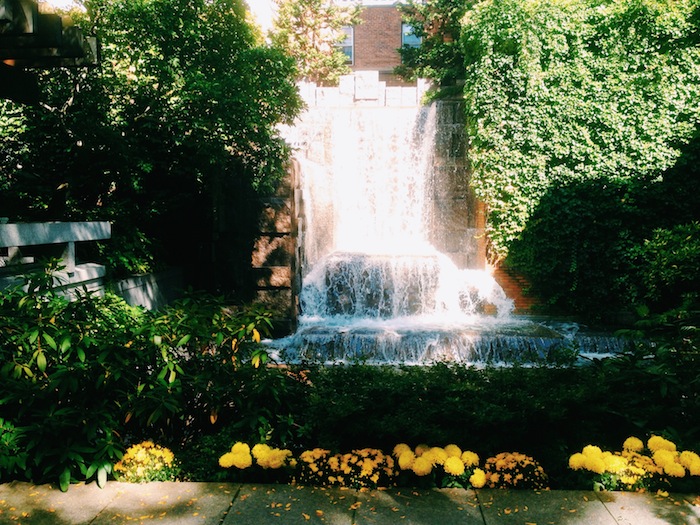 Greenacre Park
GreenAcre Park is a privately funded and maintained public space, and it truly does provide a moment of serenity in a busy city. Even better, there's a little cafe tucked to the side: I enjoyed a hot coffee and the New York Times in the sunny courtyard listening to the rush of the waterfall. Located on 51st Street between 2nd and 3rd Avenue.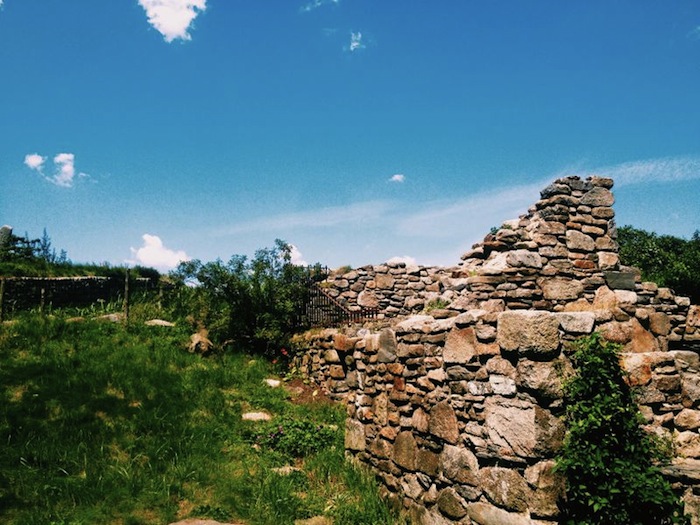 Irish Hunger Memorial
The Irish Hunger Memorial is a public art installation designed to raise public awareness of the Great Irish Famine and Migration of 1845-1852. Consisting of imported Kilkenny limestone (more than 300 million years old, complete with fossils!) and plenty of greenery, the memorial features text from both original famine reports and current statistics on world hunger. Up the sloped hill and pas a ruined cottage and stones, the overlook offers views of the Statue of Liberty and Ellis Island. Truly a hidden gem, and well worth a visit if you're in the neighborhood. Located on Vesey Street and North End Avenue in the Financial District.
The Cloisters
The Cloisters Museum and Garden is actually an outpost of the Metropolitan Museum of Art dedicated to medieval art and architecture. Although there is a suggested donation, it's worth it to see the well-appointed and manicured gardens overlooking the Hudson River. My favorite part is the garden with labels about the medieval plant species growing, and what each plant would have been used for back in the Middle Ages. I highly recommend biking up on the West Side and bringing a picnic to enjoy on the park lawns! Located in Fort Tryon Park.
The Gardens at St Luke in the Fields
 Saved the best for last! I used to work a short walk from the gardens, and would often stop in on my way to work or to eat my sandwich on a sunny bench. Tucked away behind a brick wall,
the Gardens at St. Luke in the Fields
are an oasis of calm with plenty of beautiful blooms. In the spring, there are plenty of birds and butterflies buzzing around: a welcome change of wildlife from the rats scurrying or pigeons swooping. I'm so grateful that the church makes this gorgeous block of land available for public use. Located on Barrow Streets and Hudson Streets.
Have you visited any of these gardens? Which one would you most like to visit?