Of the moment // 8.22.14
One of the reasons why I blog is simply to have the space to write: getting things "on paper" helps me to process my feelings and organize my thoughts. I also love having a record of my life over the past few years: a place that holds all of my stories, my photos, the ups and downs of travel. But sometimes, I also just want to remember and share the little things that brought me day-to-day joy. Every Friday, I'll give you a peek into the book I currently can't put down, a great restaurant discovery, a fun new product or an inspiring quote: a few things that I think you might enjoy before we all take off into the glory that is the weekend!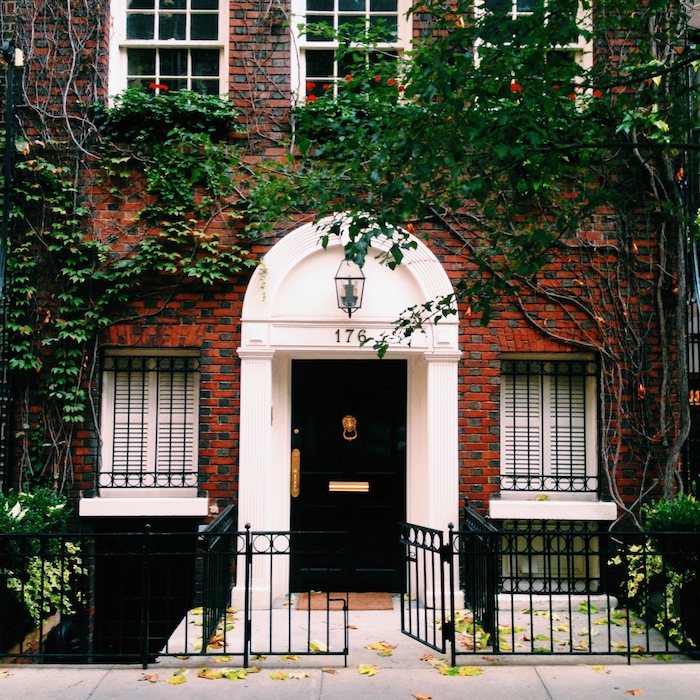 This week has mostly been "the week before I go to the beach for a week." Tomorrow I'm going to Avalon with my boyfriend's family! Even though it's only a two-hour-drive, I can already sense that it is going to feel like a different world. I'm working remotely, so it's not ALL vacation but I'm hoping to squeeze in early morning walks along the beach, lots of tennis, at least one round of golf and a couple of tropical cocktails. And of course, breathing in all of that saltwater air!

Looks
One of the best things about living with your best friend who has awesome fashion sense: unlimited access to each other's closets! Aly got sick of those ripped jeans last year and officially gave them to me, and I am working on giving them a thriving second life. Striped top + ripped jeans + brown stacked wood heels is basically my work uniform; swap the heels for flat sandals, and it's my weekend uniform!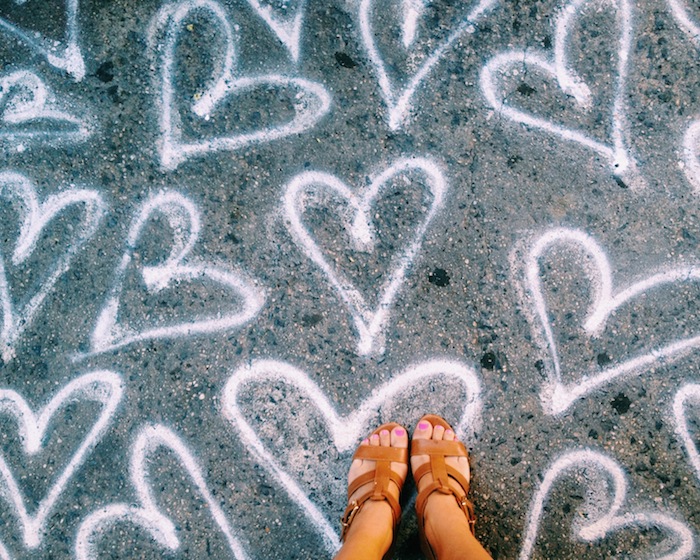 Streets
On Monday morning, I walked by this little square of sidewalk that was covered in chalk hearts. New York City can be grimy and smelly and just chock to the brim full of people, but the people are really what make it magical. There are so many thoughtful, talented, artistic souls that work so hard to bring a little bit more beauty into strangers' lives, and I love it.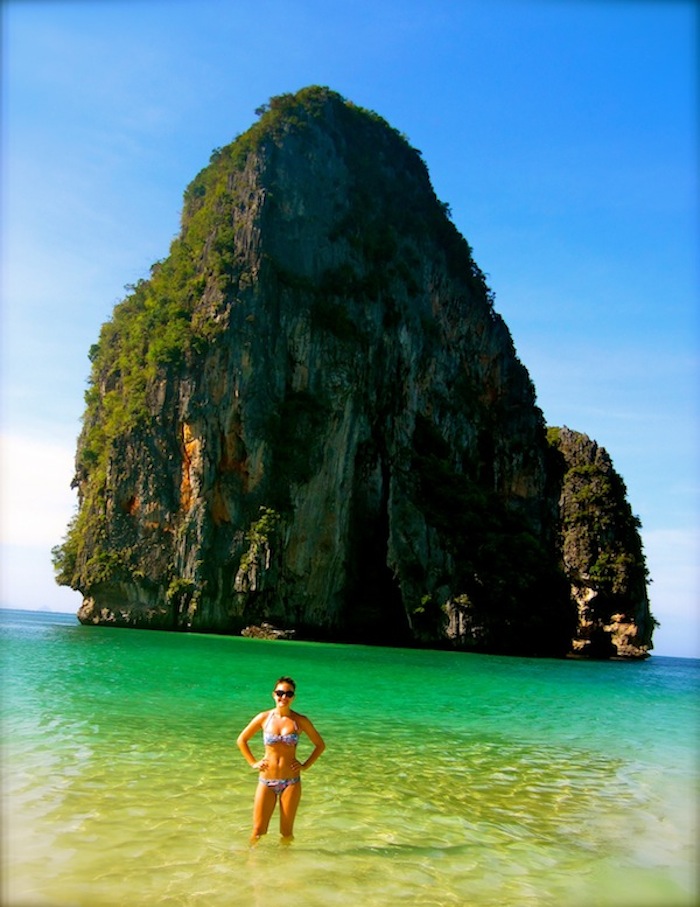 Take Me Back
Even though I am SO stoked to spend a week on the Jersey shore, it's also making me a little nostalgic for my days of being a professional beach bum. One of my favorite beaches in the world was Railay in Thailand. There was shallow, clear water that was easy to swim in, a long stretch of soft sand and a line of boats serving delicious chicken sandwiches. And of course, those dramatic limestone cliffs! I'd rock climb all morning and lie on the beach all afternoon: pure heaven.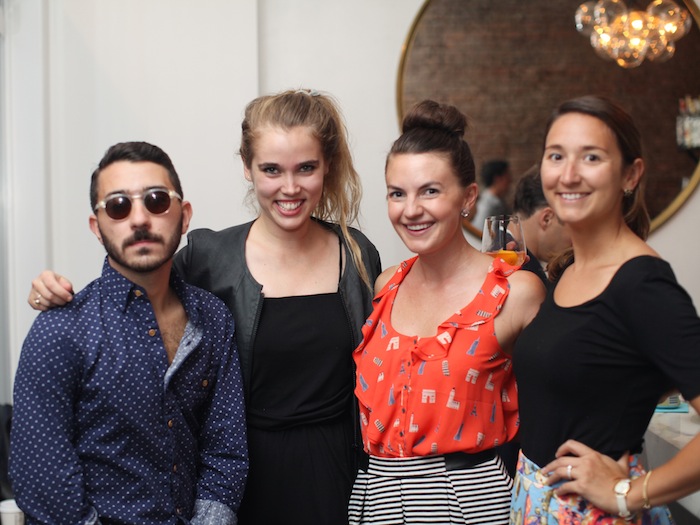 Drinks
CN Traveler just launched a brand-new website, and they had a fun little party out at Marco's in Brooklyn to celebrate. Not only was the food delicious, but the Ravenswood Station cocktail was so refreshing. Couldn't stop sipping them and making new friends–and that's the sign of a good party!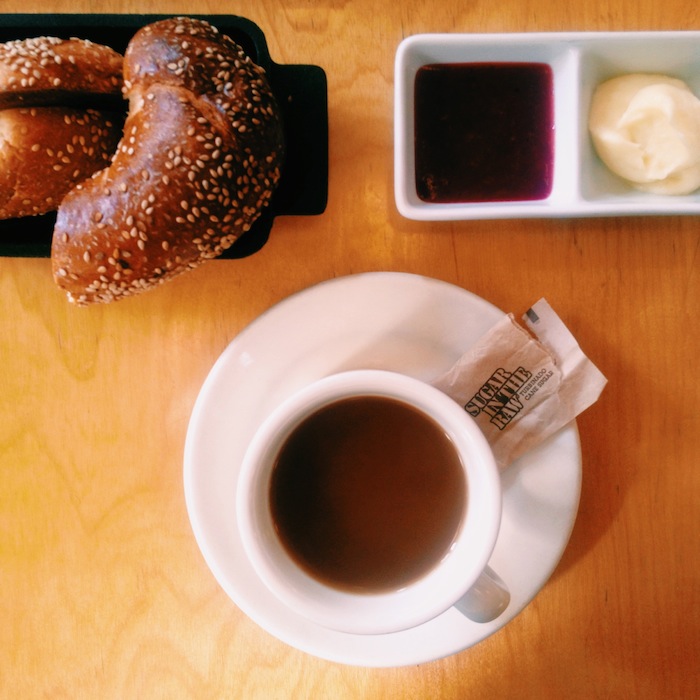 Eats
There is this sunny little corner cafe in West Village that I have walked by a million times: every time I walk by, I think about how much I need to try it out. I finally popped into Snack Taverna for a quick breakfast on the way to work, and oh my gosh, I am SOLD. I had a Murray's Bagel with apple butter and a French press for $5–such a steal in New York City! I was able to sit in a sunny window seat and read The New York Times, and the owner is just the friendliest. I can't wait to go back for lunch with my coworkers, or even pop in for a drink after work. Highly recommend!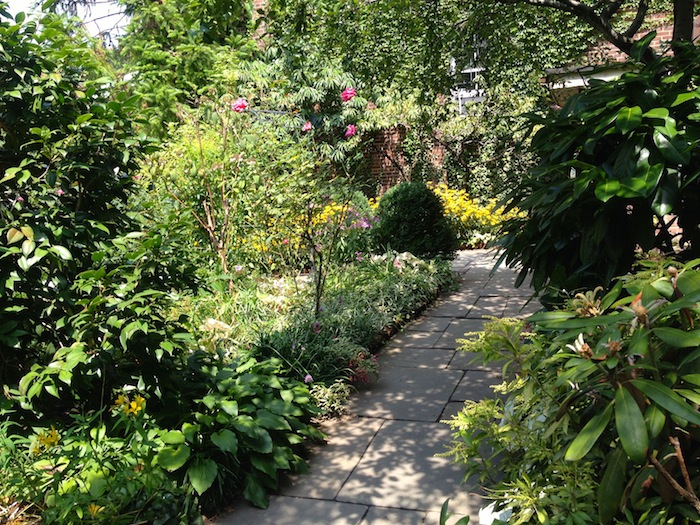 New York City
I loved this piece on Mashable about hidden gems in New York City. I often eat lunch in the garden at St. Luke's, and I can attest that it is one of the most delightful secrets in West Village: so beautiful and peaceful. Now I'm dying to find that subway exit disguised as a brownstone!   
Words
"We cannot cure the world of sorrows, but we can choose to live in joy." -Joseph Campbell
What are you up to this weekend?