The roots of confidence
I recently finished reading The Confidence Code, a book that's billed as "the science and art of self-assurance–what women should know." Authors Katty Kay and Claire Shipman focus on the differences between men and women in confidence levels (mostly: men have more of it), how nature and nurture work together to create confidence, and how women can build their own confidence. Most of the book is designed around careers: there are lot of references to board rooms, promotions, presentations. As a working woman, I found much of the analysis ringing true (like my insanely high expectations and tendency to compare) with the suggestions to build confidence both accessible and actionable.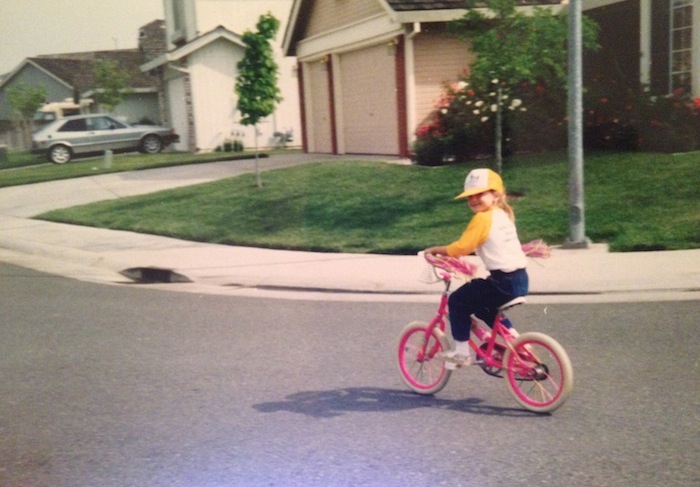 Even though the book is geared for the career woman, I kept seeing parallels to travel and intentional lifestyles: having the confidence to travel alone and the ability to choose joy, being willing to fail and able to embrace the struggle.
Confidence is defined as "a feeling of self-assurance arising from one's appreciation of one's own abilities or qualities." Without a doubt, I'd describe myself as confident–and isn't that a measure of confidence in itself?
When I booked a one-way ticket to Australia and moved to New York City without a job or an apartment, people asked me how I did it: wasn't I scared? I've always had a hard time grasping the question: I quite honestly couldn't figure out WHY I would be scared. The worst case scenario would be running out of money and calling my parents to buy me a plane ticket and flying home with my tail between my legs: not ideal, but certainly not the end of the world. And in the end, those "scary" experiences–living in France and Australia, traveling solo through Europe and Southeast Asia–ended up being some of the happiest times of my life. Knowing that makes it easier to take the risk: I've seen how well things can work out if you just let them.
After reading The Confidence Code, I've started to realize where my deep well of confidence comes from: mostly, my mother. Confidence is a product of both nature and nurture, something that is within our genes but also grows in our intentional thoughts. I realized that my formative years–spent in a quiet suburb where everyone grows their own tomatoes and spends scorching summers on the river–were the years that created the confidence to go new places and try new things, to believe that everything would work out just fine.
Not only is my mom one of the most confident women I know, but she also instilled me with a sense of self-efficacy from a young age. She is loving and full of laughter, but she doesn't coddle: she taught me early on how to be fiercely independent, to fall down and wipe off the dust and stand right back up again. She comes from a small town in Pennsylvania, a place where hard work pays off and trophies are reserved for winning teams, not everyone on the field.
I was an only child, the daughter of a working mother (albeit one with a very flexible schedule). I learned early on how to amuse myself and lose myself in a book, to set my own deadlines and finish my work without being prodded. Starting when I was seven years old, I walked to and from school–across a park and around the corner–either alone or with a group of neighbor kids. There was no question of whether I could; I simply did.
I played sports whenever I wasn't at the library. I was one of two girls on a T-ball team when I was five, yet I still wore pink ribbons in my hair. I experienced the rush of girl power when the U.S. women's soccer team won the World Cup in 1999, truly believed that I'd play soccer in high school and college and beyond. Instead, I tore my ACL when I was 15; I still captained the tennis and lacrosse teams my senior year. The Confidence Code says that benefits of sports can't be overstated: learning to own victory and defeat in sports is a useful lesson for owning triumphs and setbacks at work. Sports taught me the value of collaboration, but the also the necessity of individual effort. It also taught me that you can't control everything: no matter how much you train and prepare and steel yourself, sometimes the other team is just better or gets a lucky break. A win is a win, a loss is a loss; after the fact, all you can control is your attitude–and I've always believed that grace is even more important in a winner than a loser.
One of the things that I love about travel is that sometimes it forces you into action. When you're alone and thousands of miles outside of your comfort zone, you aren't able to be paralyzed by indecision or hide from the spotlight or rely on someone else to choose. Whenever I sense myself shirking, I can hear one of Dennis' signature phrases echoing in my head: "Do SOMETHING, even if it's wrong!" Confidence is linked to doing, created through decisive (and sometimes deliberate) action.
I wasn't the coolest kid: I had the nerd trifecta of glasses, braces (and head gear!), and a bad haircut basically until my sophomore year of high school. But by then, I'd learned how to be all the shades of myself–athlete, student, fashion-obsessed, writer–and how to melt into different social groups by simply putting myself out there.
The Confidence Code inspired me to look deeper at where my confidence comes from: by examining its origins, I'm able to not only better understand a big chunk of my personality, but also be aware that a confident attitude is  probably the most important asset that I'd be able to pass on to a daughter one day.
How did your childhood build or break your confidence?