Of the moment // 7.18.14
One of the reasons why I blog is simply to have the space to write: getting things "on paper" helps me to process my feelings and organize my thoughts. I also love having a record of my life over the past few years: a place that holds all of my stories, my photos, the ups and downs of travel. But sometimes, I also just want to remember and share the little things that brought me day-to-day joy. Every Friday, I'll give you a peek into the book I currently can't put down, a great restaurant discovery, a fun new product or an inspiring quote: a few things that I think you might enjoy before we all take off into the glory that is the weekend!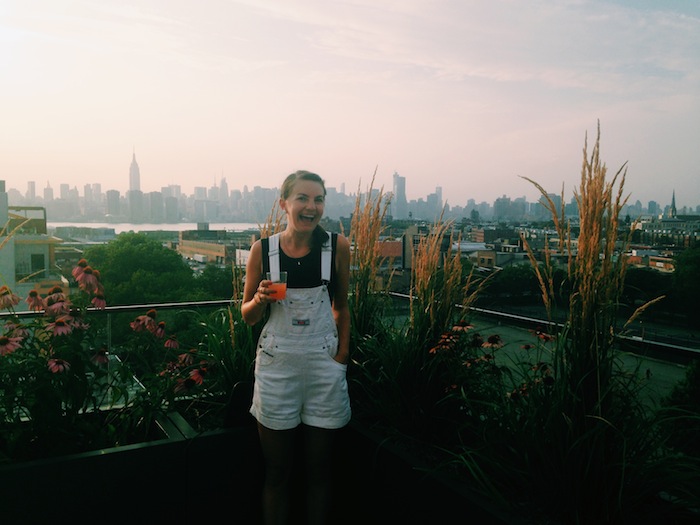 Without a doubt, the most fun thing I did this week was go to #SUNDAZE, a sunset dinner party on an amazing rooftop in Williamsburg. It's thrown by Sarah Ashley, a chef and entrepreneuer and reader of C'est Christine–she emailed me a few months ago for recommendations in Nice before inviting me to this party. I took along my BFF Aly as a my plus one, and we had about as much fun as you'd expect on a Sunday night when delicious tequila cocktails start flowing at 6:30pm. The tacos were insanely delicious and the skyline views were awesome, but mostly, it was awesome to get out of my comfort zone and be thrown into a group of strangers and meet a lot of super interesting and cool new people. Even though I love how comfortable my fixed life in NYC is with a solid close and extended friend network, a totally new environment made me miss those days and nights in new cities where everyone you meet is a potential long-term friend or immediate travel buddy. Overall: if you're in NYC, definitely get on the list for Sarah's future events!
Looks
One of the best parts of my summer is the chance to buy a new bikini! I always have at least three to five in my closet, but this adorable little number by *LSpace might just have won out for favorite bikini of the year. I usually stick to bandeau tops, but I just couldn't resist the intricate back detail on the Hippie Chic top. I wore it on a day trip out to the Rockaways last weekend (because New York City has beaches!) and got SO many compliments!
Take Me Back
Summer travels always makes me reminisce for the very first summer I spent abroad: when I was 16, I spent six weeks with family friends in a teeny-tiny town in Provence. I hopped around a bit with friends of friends: a few days in Marseille, a few days in the mountains. But most of my time was spent right outside of St-Remy-de-Provence, in a farmhouse surrounded by blue skies and fruit trees. I ate my very first fig and took my first sip of pastis, celebrated Fete de la Musique with locals and took day trips to the beach. That was the trip where I fell in love with France and with speaking French, and as much as I love Paris: the lavender fields and the olive orchards of Provence will have my heart toujours.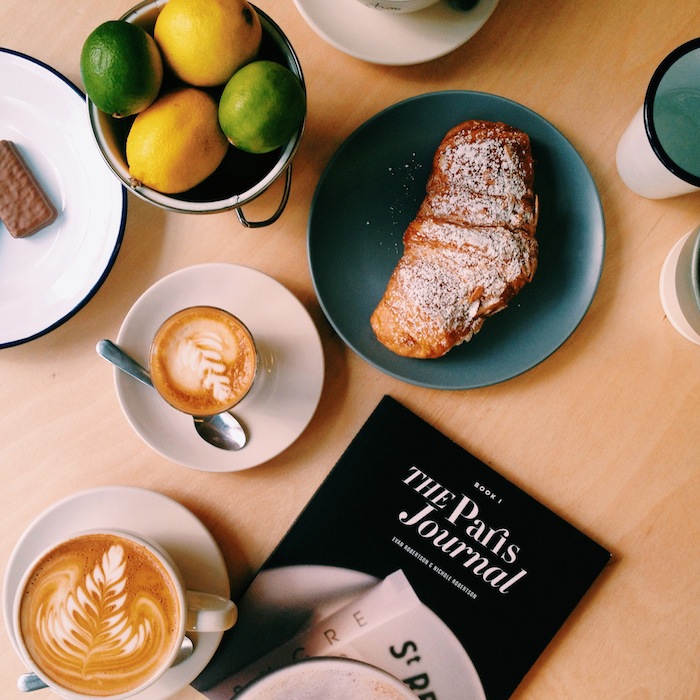 Reads
But even when I'm lusting for Provence, I can't resist the pull of Paris. My friend Nichole Robertson and her husband recently released their book The Paris Journal, and I have been swooning over the gorgeous images of the City of Light and the creative storytelling they employ to share a delightful Paris itinerary. The paper quality is also gorgeous: the perfect book to keep around on your coffee table, if only to flip through the photos!
Streets
It's certainly no Melbourne, but there is definitely some decent street art scattered around Brooklyn. I stumbled by this piece the other evening and it totally captured me. One of my favorite parts about street art is its ephemeral nature, and I love how clearly you can see the evolution of this wall.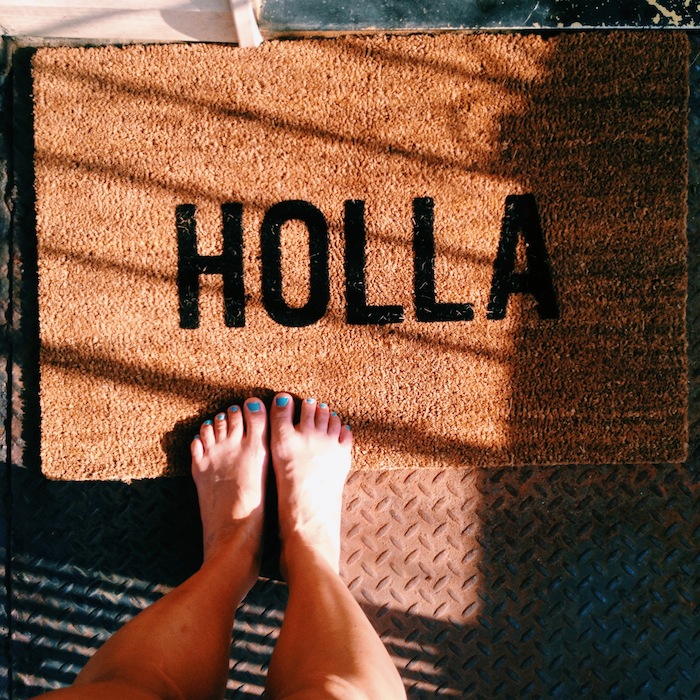 Knick-Knacks
We FINALLY upgraded our doormat game from the dirty old black one that came with the apartment to this Holla Doormat by Reed Wilson Design that I have been lusting over for months. Why now? We just resigned our lease! Super stoked to sign on for another year of Williamsburg living with my BFF.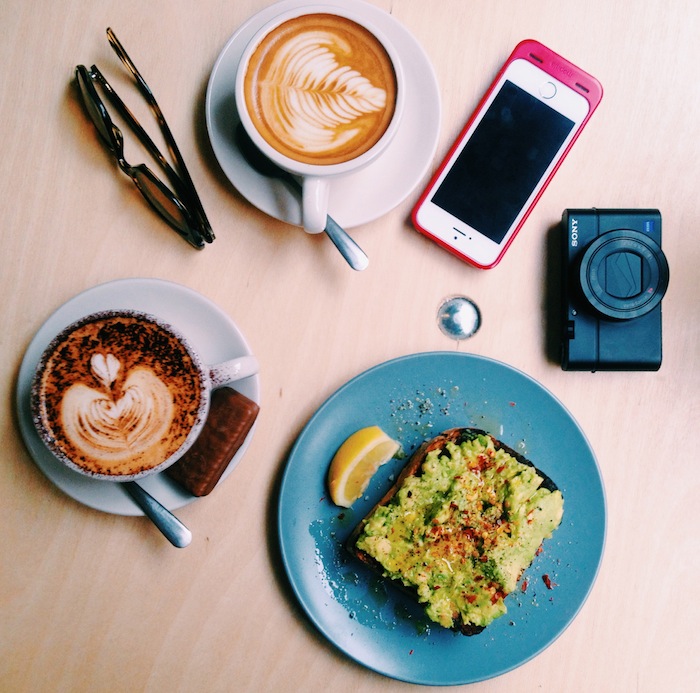 Eats & Drinks
Two Hands just opened in Little Italy, and it's safe to say I am completely obsessed with this Australian-owned cafe. Not only do they do proper avocado on toast (chili flakes and all!), they also make a mean flat white and have Tim Tams on hand for Tim Tam slams. The staff is super sweet and the lighting is incredible: it's only been open two weeks, and I feel like it's the buzziest place around–and I hope it stays that way!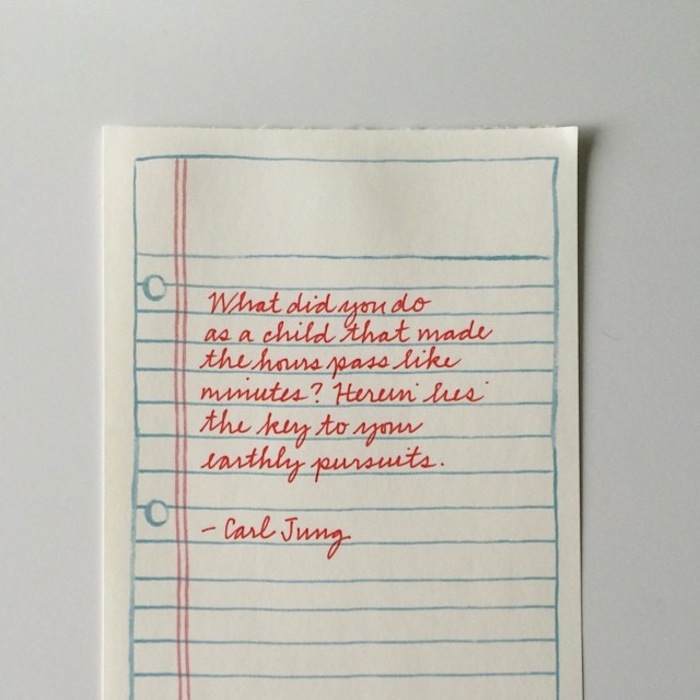 Words
"What did you do as a child that made the hours pass like minutes? Herein lies the key to your earthly pursuits." This post reminded me of my happiness project, and all that I loved to do as a kid that I still love now: riding bikes, reading books, walking dogs, being outside in the sunshine. Photo courtesy of @designcrush. 
 What are you excited for this weekend? I'm heading back upstate and off the grid!