Postcard from Seven Arrows
The weekend before I left to celebrate my birthday in Turkey, I spent one of the final weekends of yoga teacher training at Seven Arrows Retreat Center in New Jersey. The second-to-last-weekend retreat is a tradition in the Greenhouse Holistic training program as a way to bond and relax after four intense months of spending nearly every weekend with the same 17 other yogis and three core teachers.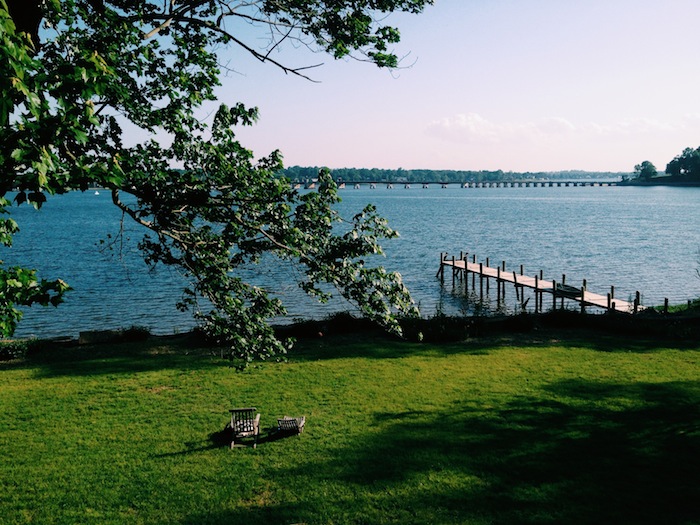 Granted, I don't know much about New Jersey–the only other time I'd stepped foot in the Garden State was to promptly fly out of it during my helicopter lesson. But I was quickly blown away by the fact that such a beautiful, QUIET place was just a 45-minute ferry ride away from Manhattan.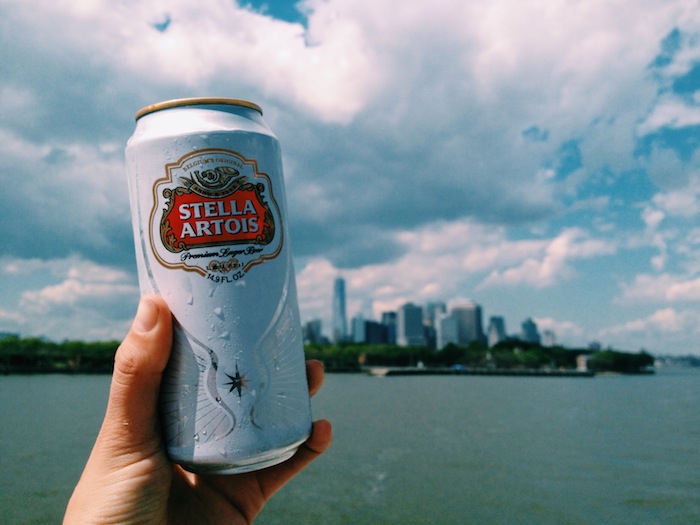 We took the Seastreak Ferry from Wall Street down to Sandy Hook Beach in New Jersey. It cost $50 round-trip (including a bike) and takes about 45 minutes. With milli0n-dollar views of the Manhattan and Brooklyn skylines, cheap beer and a balance of breeze and sunshine on the top deck, it sure beat sitting in traffic.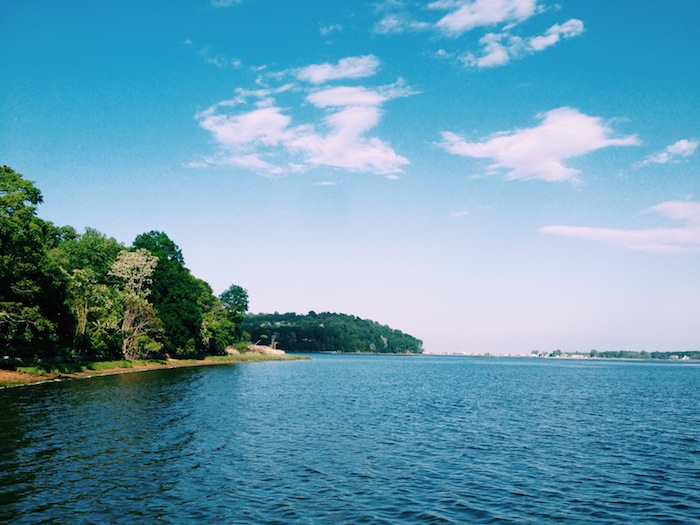 Seven Arrows functions as a farm as well as a retreat center: so much of our vegetarian meals had been freshly picked that day.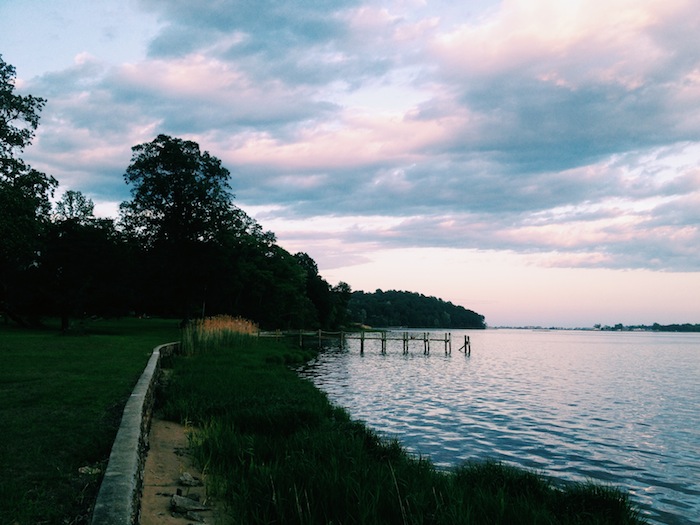 We spent the first night in silence, so it was glorious to wander down to the edge of the water alone and just listen to the water lap against the shore as the sun set.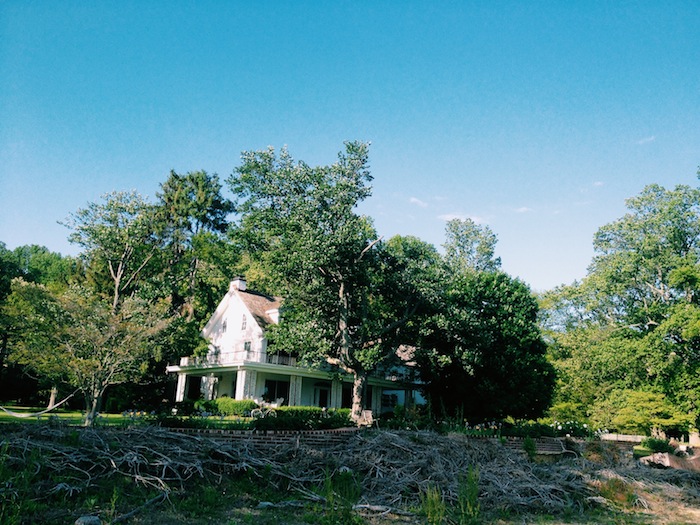 The 200-year-old farmhouse has plenty of charm–and enough room for 17 people to stay! I stayed in the "dorm" with 9 other girls–top bunk, of course!–but it felt classy, not crowded.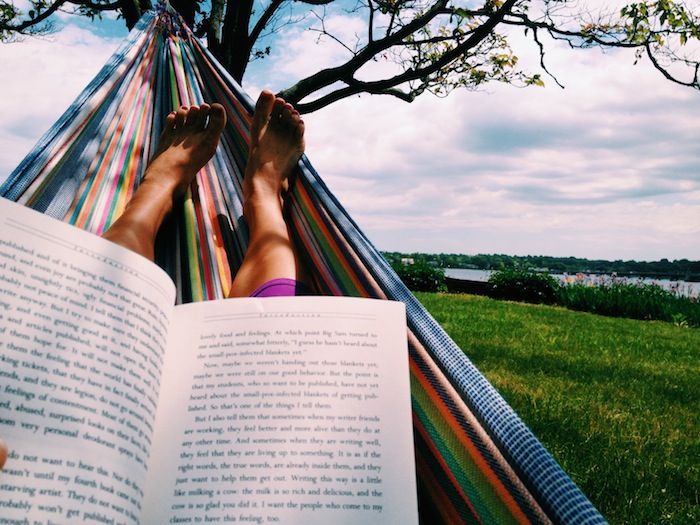 An afternoon reading break on the hammock.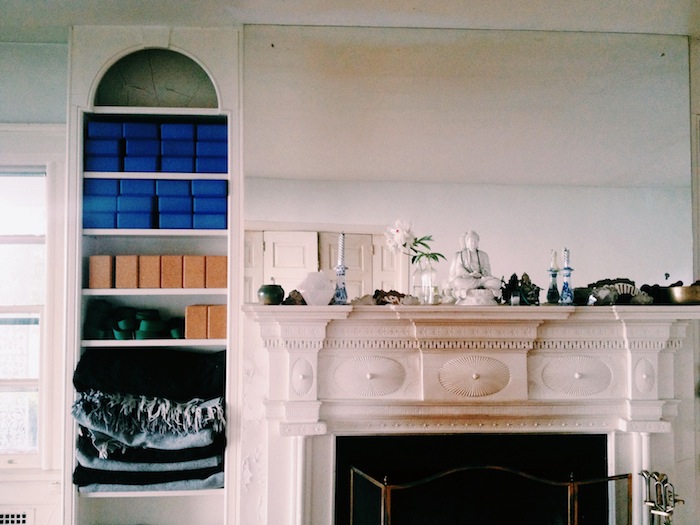 I adored how the entire farmhouse was decorated: a mix of antiques with yoga accents. There was a teak china cabinet that was filled with giant crystals! The yoga room had plenty of exquisite details in the molding and the fireplace, and was lined with crystals, buddas, fresh flowers. Plenty of fixed life envy here.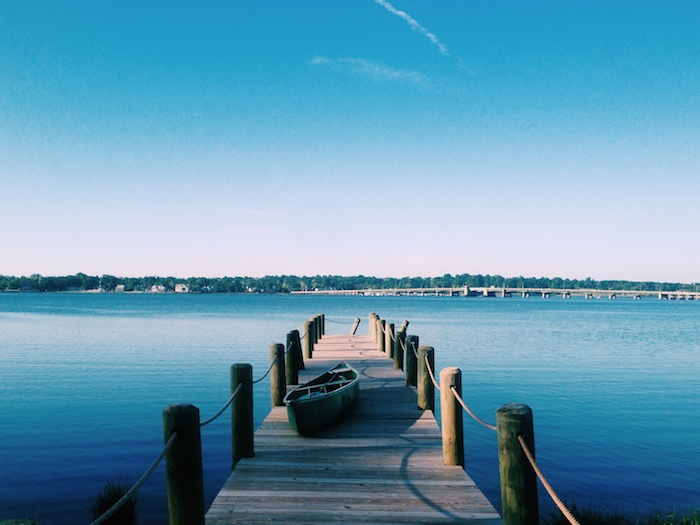 I meditated in the sunshine on this dock each morning, and holy moly, it was tough to go back to creating that same sense of stillness in my Brooklyn apartment.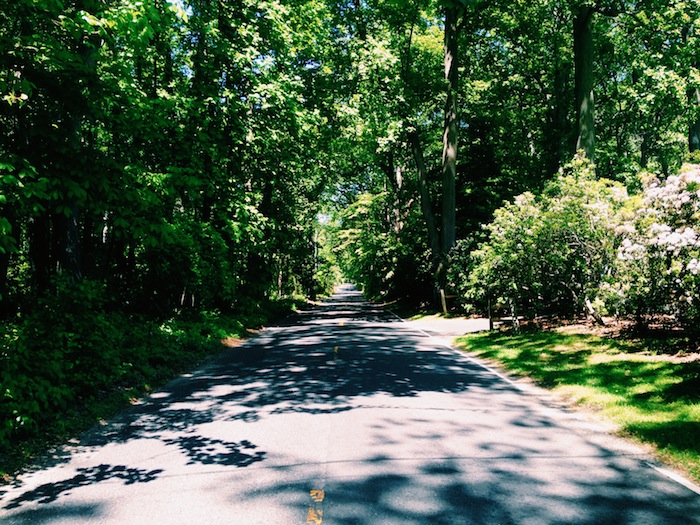 It was an easy 15-minute bike ride from the ferry terminal, much of it through wooded roads like this. Such a nice change from the hectic Manhattan streets!
What's your favorite photo of Seven Arrows? Would you ever want to go on a yoga retreat in New Jersey?