Postcard from a hot air balloon ride in Cappadocia
It's rare that I buy the ticket and board the plane and essentially go to a very faraway place exclusively for ONE activity. But when it came to Turkey, more and more people kept telling me that I couldn't miss a hot air balloon ride in Cappadocia. So when I started planning my trip, I organized to fly from New York City to Istanbul and immediately continue on to Cappadocia for a few days on my own before meeting up with Nevin in Istanbul.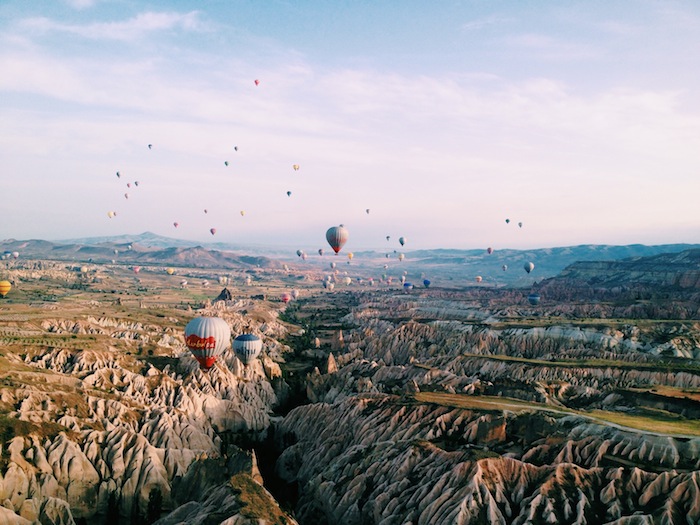 The first order of business in Cappadocia: a hot air balloon ride at sunrise with Voyager Balloons. A 4:45 pick-up time was organized at my hotel, and I fell into a jet lagged sleep with notions of fairy chimneys and colorful balloons dancing in my head.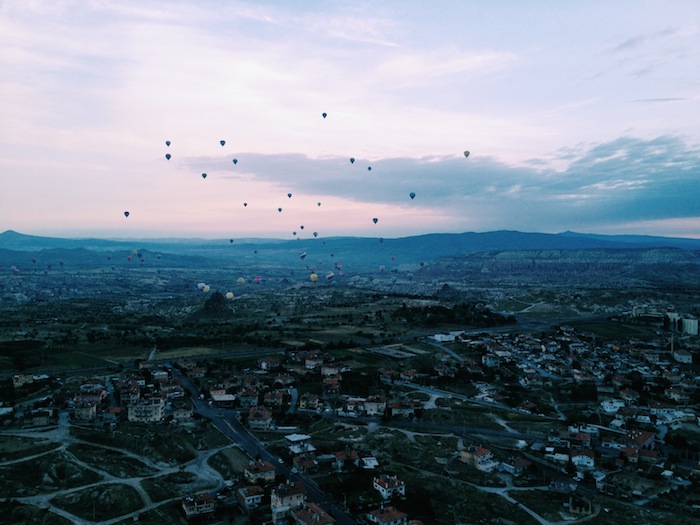 As soon as I arrived in the tiny  town of Goreme, I was struck by how many hot air balloon companies lined the main street. And I was amazed at how many people crowded into the lobby of Voyager Balloons for coffee and breakfast before our flight. It was clear this was big business! Halis, the owner of Voyager Balloons and our accomplished pilot, said that up to 100 balloons can be in the air over Cappadocia at any one time. The Cappadocia region offers near perfect ballooning conditions at sunrise–and spectacular scenery below–which means there are balloons in the air more than 300 days a year!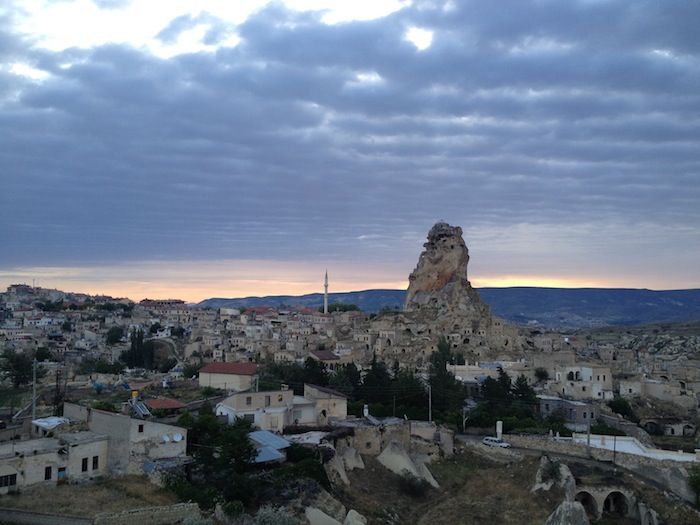 This wasn't my first hot air balloon ride; I had already experienced the magic of Melbourne at sunrise. But holy moly: there is nothing like the scenery of Cappadocia. Uniquely formed by thousands of years of erosion after a volcano eruption thousands of years ago, the caves of Cappadocia offered refuge for Christians in the form of secret cave churches starting in the sixth century. More recently, "pigeon lofts" were formed in the caves so that farmers could easily harvest pigeon manure for their fields. And now–of course!–the caves and the fairy chimneys are home to boutique hotels, like the fantastic Koza Cave Hotel.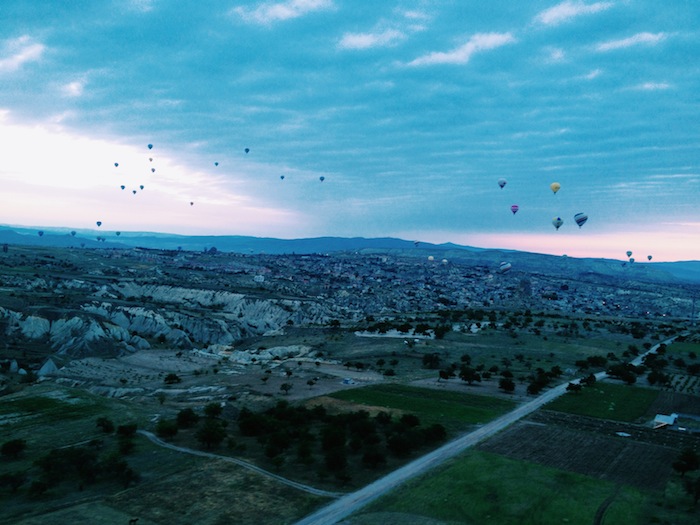 I had insanely high expectations for this part of my trip, mostly because of all of the amazing photos I had seen through friends on social media and in guidebooks. But honestly: going up in the air with Voyager blew all of them away. It was one of the most jaw-droopingly beautiful scenes, and the fact that you're literally floating above it is so magical.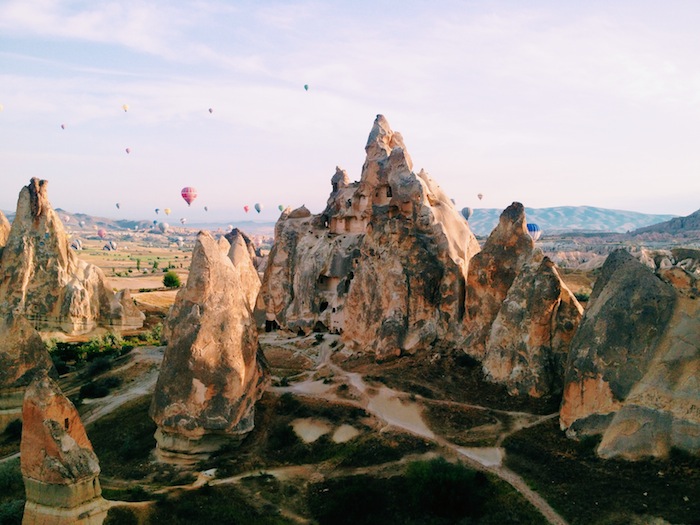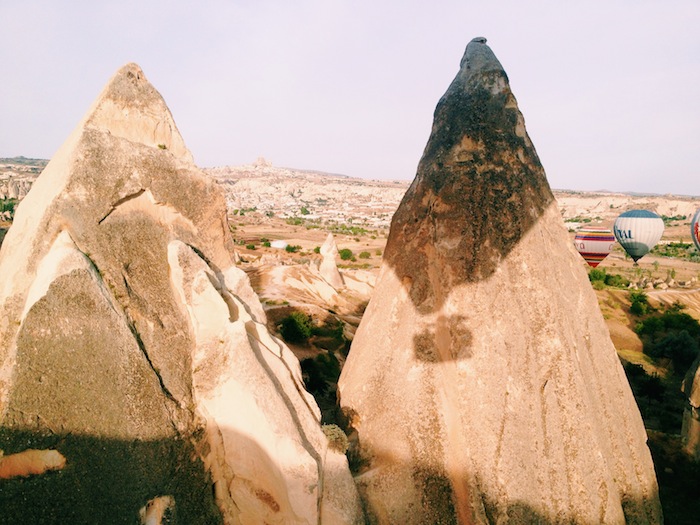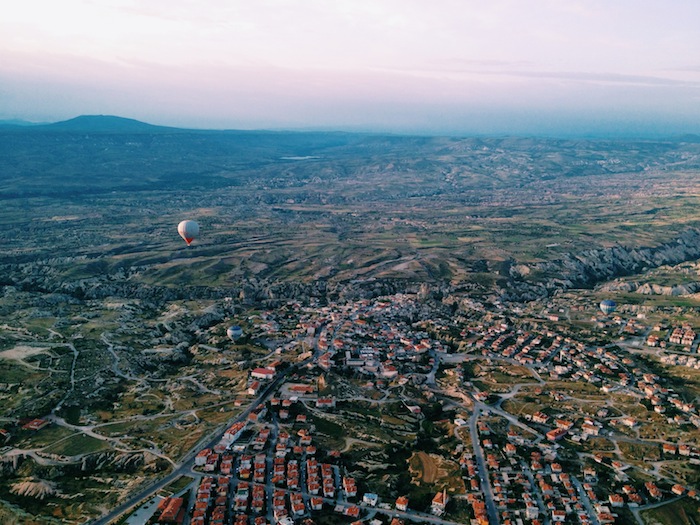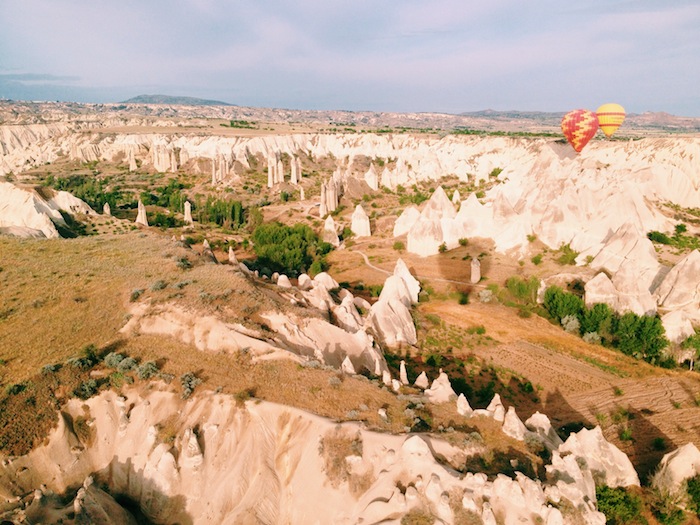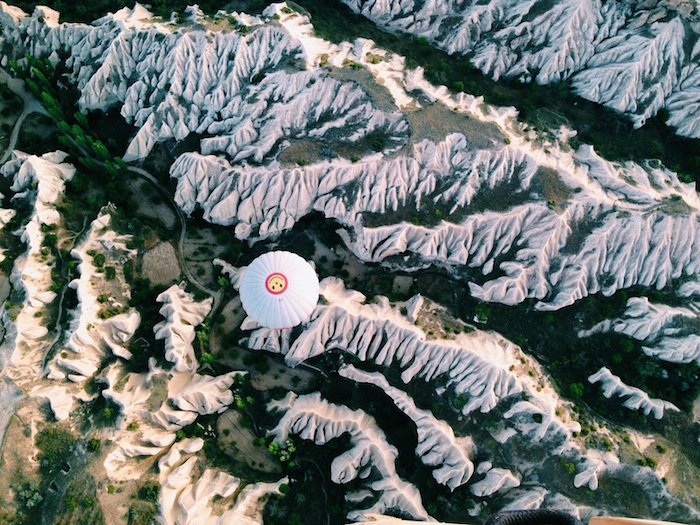 All of the Voyager Balloons have a smiley face on top: isn't that fun?!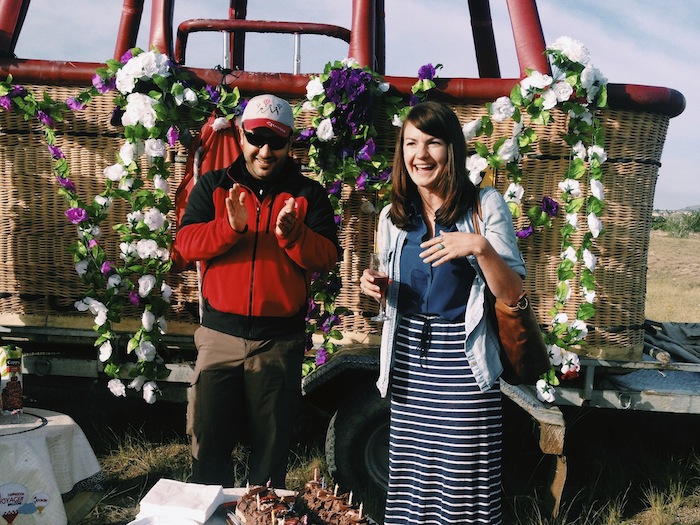 Every flight ends with a champagne celebration upon landing, which is such a nice little perk. I had mentioned in my booking that I was coming to Turkey to celebrate my birthday, but I was still blown away when Halis called me up in front of the group to surprise me with birthday cake. They even lit the candles and had our group of 12 travelers sing Happy Birthday to me! It was honestly one of the most surprising and wonderful moments of my trip: so incredibly unexpected and such a nice gesture. Turkish hospitality is just TOO MUCH–I love it!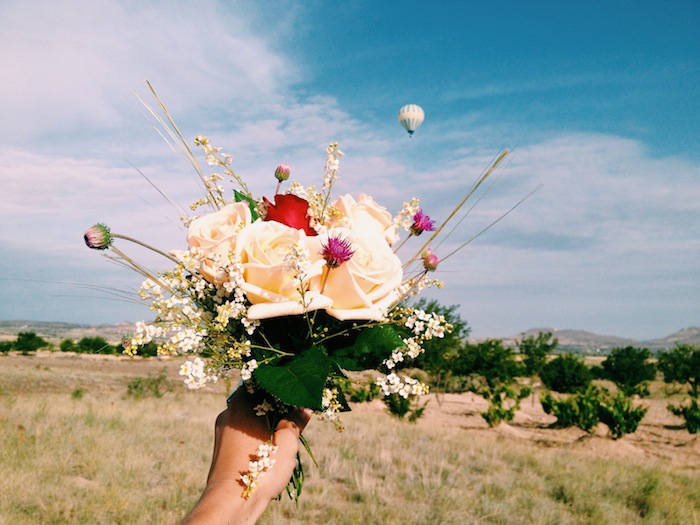 So I'll join the ranks of travelers who urge you to a) visit Cappadocia and b) take a hot-air balloon ride. And without a doubt, I'd recommend Voyager Balloons. You have a TON of choices in balloon companies in Cappadocia, but the folks at Voyager won me over with their efficiency, experience and kindness. Plus, Halis started flying hot air balloons in 1998: there's a reason why he's been able to maintain so much success amidst the ever-growing competition!
Note: Voyager Balloons kindly offered me a complimentary hot air balloon ride and surprised me with birthday cake and flowers (THANK YOU!), but all opinions are my own. 
Have you ever been in a hot air balloon ride? Would you go for the first time (or again!) in Cappadocia?