A belated Father's Day gift
As Father's Day passed this weekend–amidst the influx of father-daughter photos and bold exclamations of having "the best dad in the world" on Facebook and Instagram–I couldn't help but reflect on just how lucky I am.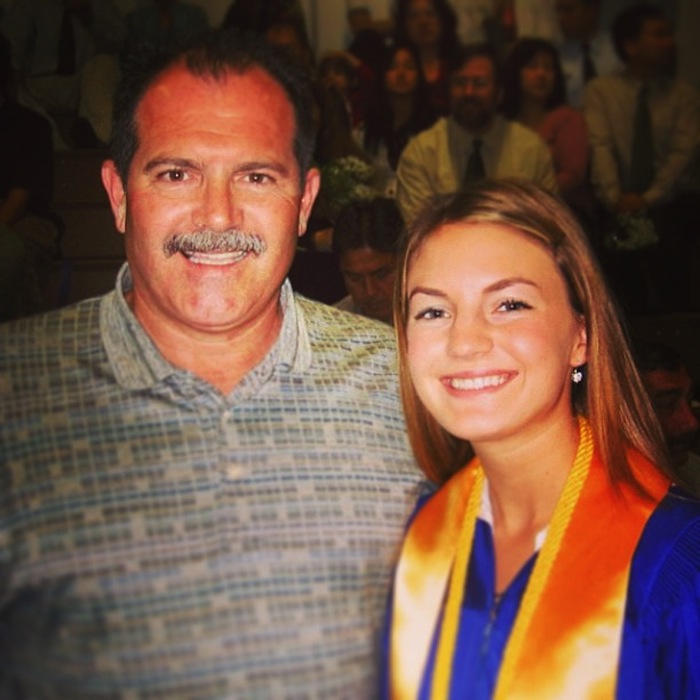 My first memory of Dennis is learning how to play soccer. I was eight years old, with blunt bangs and a pageboy cut and thick glasses and an intense love of books. His daughters had played soccer, I had recently quit softball, it was decided that I would join a local soccer team. Before the first day of practice, he was teaching me the basics in the backyard. He kicked the ball to me, and it smacked me square in my face smashing my glasses. I cried, he laughed and told me to toughen up. From then on, I never played soccer with my glasses on–but Dennis was there as I played competitively until I tore my ACL.

That first memory is pretty indicative of so many of the ways that Dennis made me a more well-rounded person. He taught me how to play soccer and gave me golf lessons, he didn't let me drop out of honors physics. He convinced my mom to let me get my ears pierced when I was 11 instead of having to wait until I was 16. He made sure I was just as comfortable at a party with red cups as I was in the classroom.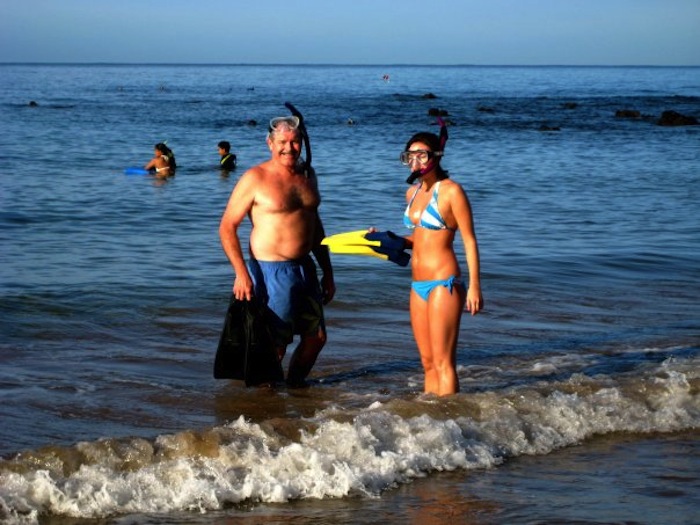 His love of Hawaii became my love of Hawaii. My grandmother never learned to swim, my mom isn't a big fan of deep water: subsequently, I never loved getting my face wet or going into waves. But over the holidays we spent in Maui in high school and college, I learned to surf and tried snorkeling. Those family holidays in Kihei are still some of my favorite memories: pineapple bagels waiting for me when I woke up (because Dennis had already walked out to pick up coffee and the paper), grilling fish and sipping mai tai's on the patio, spending the day reading magazines on the beach while my mom and Dennis played golf.
Dennis has been incredibly supportive of my decisions to move to Australia and travel through Southeast Asia, even though he's never dreamed of going to those place himself. He sends me recommendations of restaurants to try in New York City–usually discovered via Diners, Drive-ins and Dives. He was the one who would slip me a $20 for gas when I was broke in college, who I could convince that I absolutely NEEDED a new pair of shoes.
More than anything, Dennis has taught me that it's never too late to embrace new experiences. He hadn't traveled out of the country before he married my mom, and now, he's my go-to expert  on apartment rentals in Paris and AirFrance flights and patisseries in Nice. He's played golf in Scotland, eaten mussels in Belgium. For that matter, he's also a shining example of staying dedicated to what you know. He won the general golf championship at my parents' country club when he was already in the senior category, won the couples championship with my mom, had competed in the state amateur championships–even after taking years off from playing golf regularly.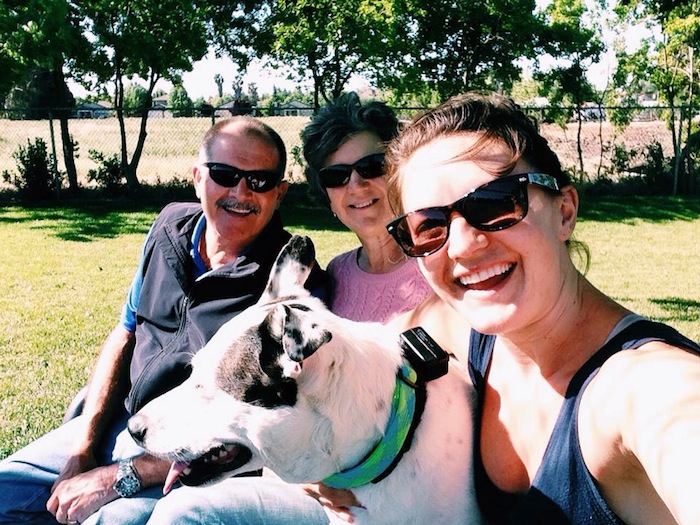 Whenever I'm upset about getting caught in the rain, I hear Dennis' voice echoing in my ear: "You won't melt!" 
It's easy to only share the good stuff on social media, to try to portray my life as though it all just fits perfectly together into one beautifully composed highlight reel. But the reality is that there are times when life gets a little messy. It's easy to get swept up in the mess, to stare at what's fallen apart and become paralyzed by all that's gone wrong. But it's also possible to throw out the broken parts and reorganize what's left into something that works–and sometimes, that's even better than what was there in the beginning. 
So this Father's Day, I'm especially grateful for the guy who chose to do it all again who was ready for a break after raising two daughters: dealing with a spoiled, bratty eight-year-old who became a rebellious teenager who snuck out of the house and stole the car, to be there for the soccer games and the graduations and the late-night phone calls. Thanks for everything, D.