Sampling EatWith: a local dinner with a killer view!
My most memorable meals around the world have rarely been in a restaurant. Instead, I reminisce about sitting down on the ground with a Jordanian family for hummus and upside-down chicken, a picnic of champagne and cheese on the banks of the Seine, an Australian friend making me "kanga-bangas" (kangaroo sausage!) on my very first night in Sydney. Even in New York City–the world's capital of bars and restaurants and cafes and any excuse to get out of your tiny apartment–I adore supper clubs, dinner parties, tiny courtyard BBQs with my foodie friends who don't mind cramming into a small space as long as there's plenty of wine.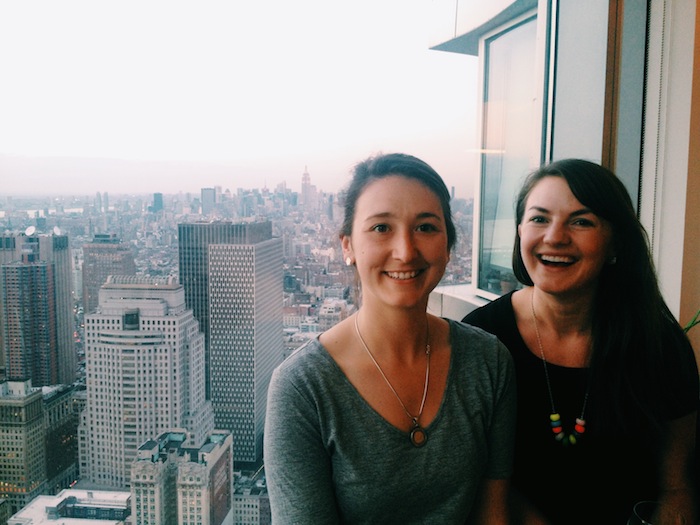 So when EatWith contacted me, I was immediately intrigued: it's sort of like AirBnB, but for dinner parties. It's a global community that invites travelers to dine in homes around the world: the ultimate way to connect with locals, share stories and enjoy homemade cuisine. And I figured why wait to travel–there are plenty of "local" cuisines in New York that I'm not even familiar with! So I invited my friend Kate along to sample Indian Tapas in Shuchi's home, and it was about a thousand times more fun that our standard happy hour in West Village.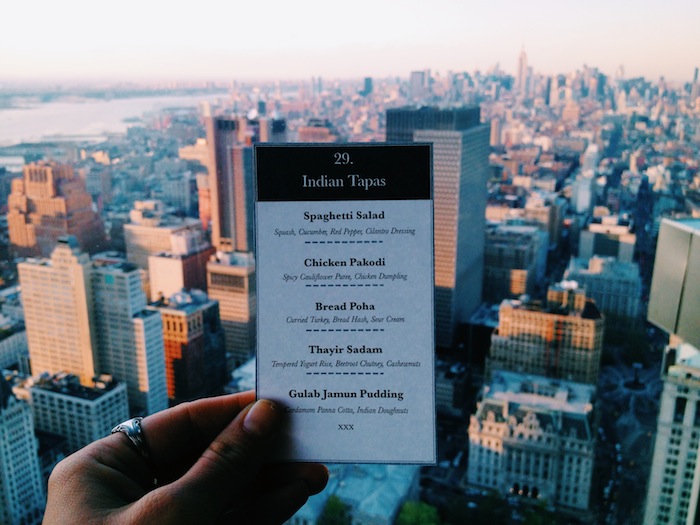 First of all: the view! One of the big reasons that I booked with Shuchi was her promise of an amazing sunset view (I have no excuses other than an addiction to Instagram), and it certainly didn't disappoint. I was also intrigued by the concept of Indian tapas. I love curries and naan, but Indian food often seems so heavy and so traditional: it was fun to be able to experience an innovative take on Shuchi's heritage.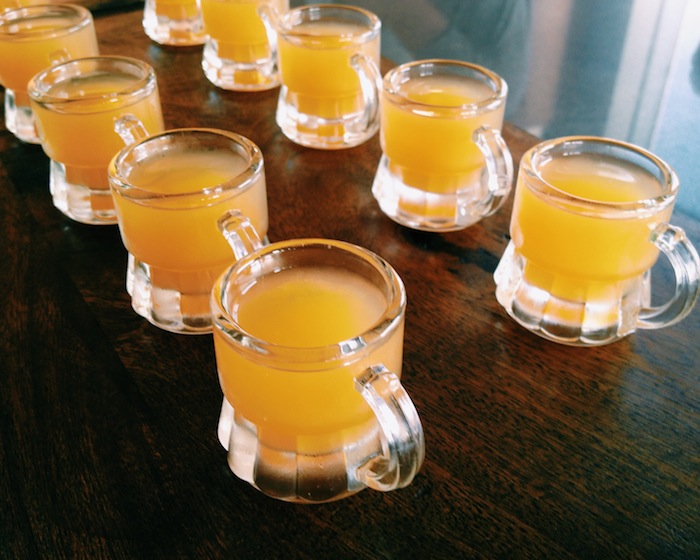 As soon as we arrived in Shuchi's high-rise, it felt like it was going to be a fun night! Even though the meal was BYOB–she sent out an email with a few wine recommendations–Shuchi had these adorable little shots of rum and peach juice waiting for us.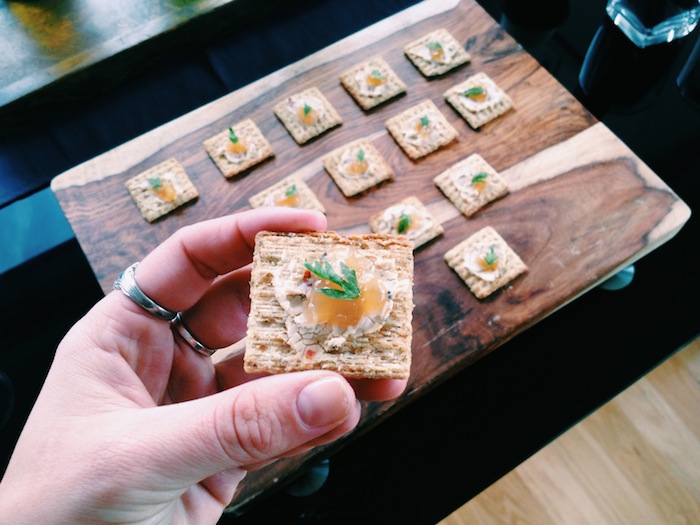 As we waited for the other guests to arrive, we snacked on these sweet-and-savory Triscuits and sipped on cucumber water.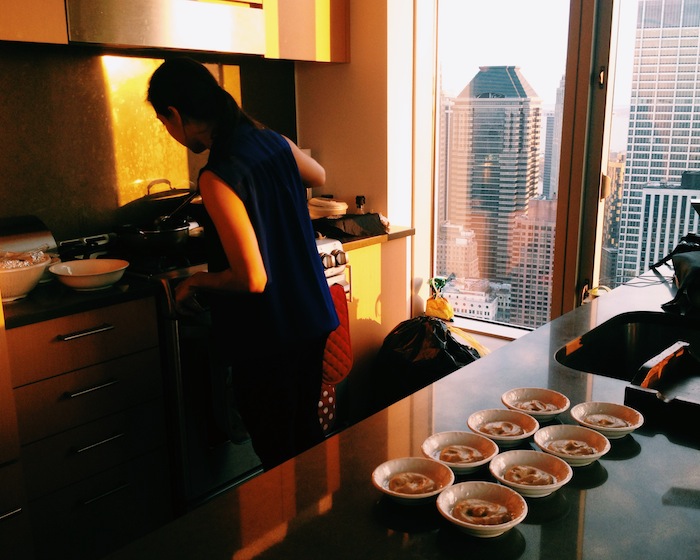 It was fun to hear more about Shuchi's journey as a banker-turned-personal-chef while we snapped countless photos of the incredible views. The other guests ended up being two young girls from Sweden, a couple from Spain and two other New Yorkers!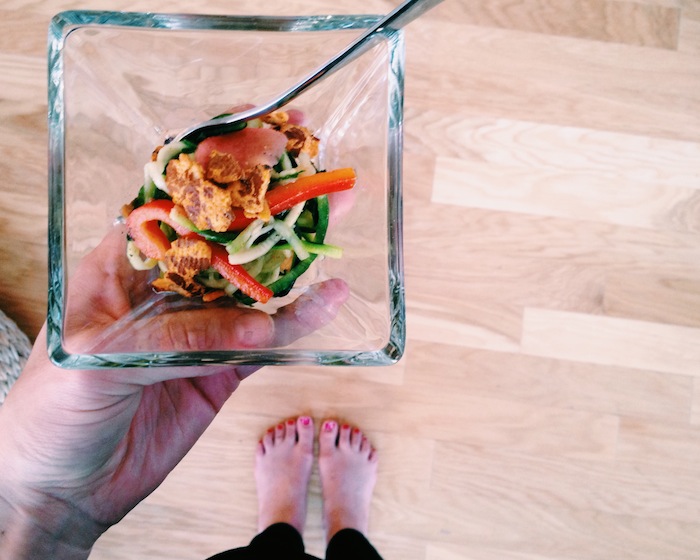 Instead of formally sitting down to eat, Shuchi served the small plates one at a time as we sipped our wine in the living room. First course: spaghetti salad!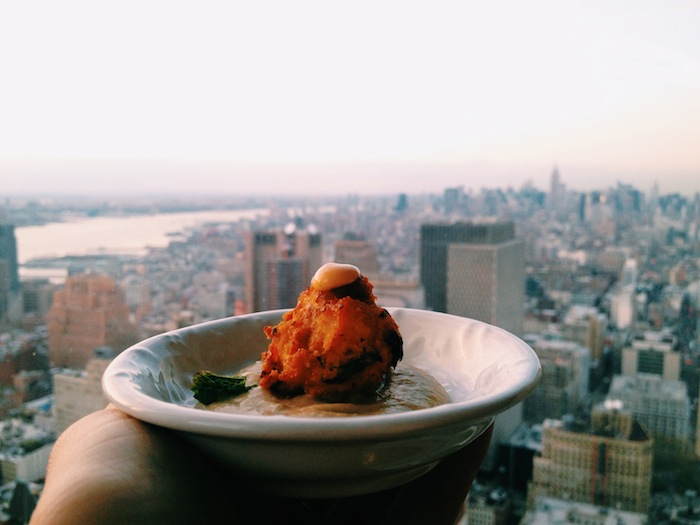 Second course: chicken pakodi. My favorite dish of the night!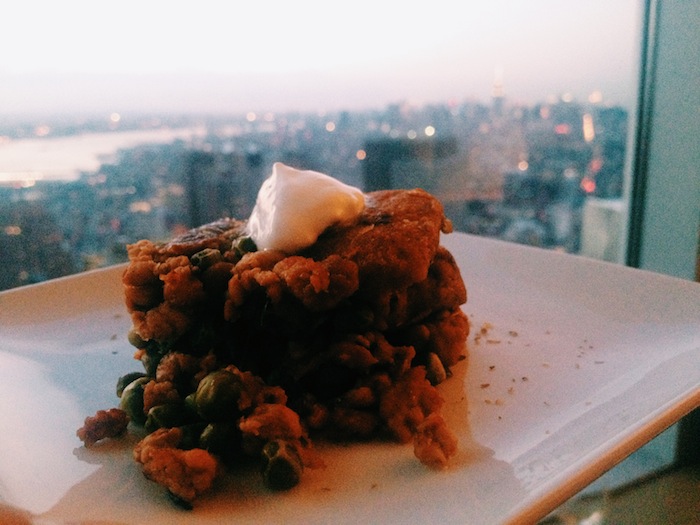 Third course: bread poha!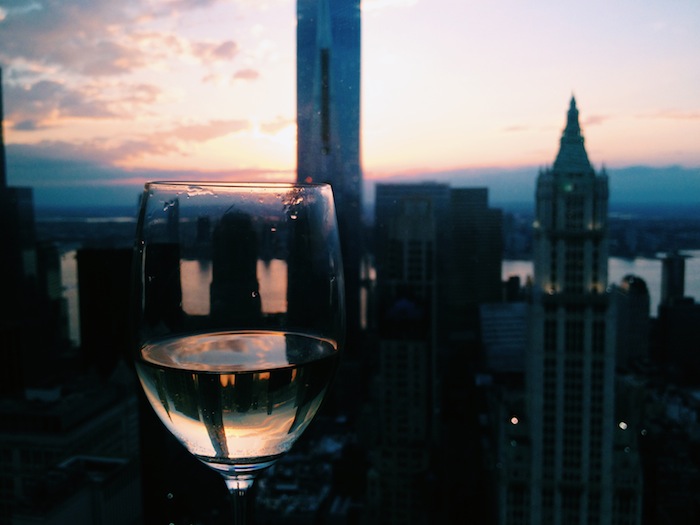 Not a bad view for a random Thursday night.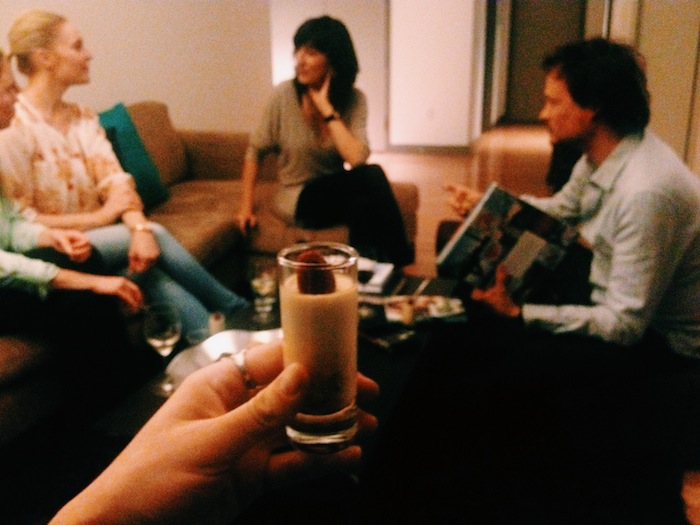 The dessert was a cardamom panna cotta with a tiny Indian donut. Such a creative twist on the traditional Italian dessert! Bonus: by the end of the night, it felt like we were just hanging out with friends.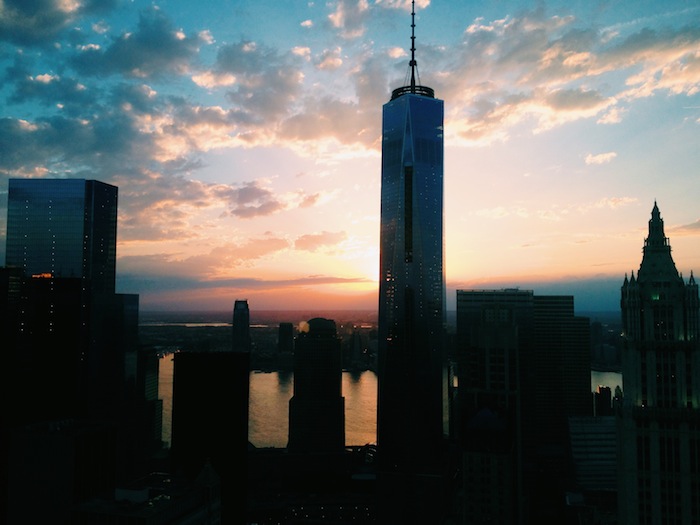 Overall: we had such a fun night and a delicious meal, and I would recommend Shuchi (and EatWith!) in a heartbeat. Shuchi has a bunch of upcoming dinners if you're in the New York City area–it's worth it just for the view, let alone the food! I'm already researching EatWith options in Istanbul: it's such an easy way to connect with locals and enjoy a homemade meal.
Have you ever tried EatWith? Would you ever consider it? I think it would be perfect for solo travelers to meet other travelers, too! 
Note: EatWith kindly offered me and a friend a complimentary meal, but all opinions are my own.