Postcard from Memorial Day Weekend
Last weekend marked the unofficial start to summer, and honestly, it was one of my favorite weekends in the city to date. Maybe we've just been cooped up for too long–and to be fair, I've spent just about every weekend in the yoga studio since March–but the sun started shining on Sunday and everyone was just READY to enjoy it. I had the opportunity to catch up with some of my favorite people over beers and BBQ, ride bikes all over Brooklyn and just RELAX in the sunshine. It was fantastic–and it made me SO excited to be spending another summer in the city!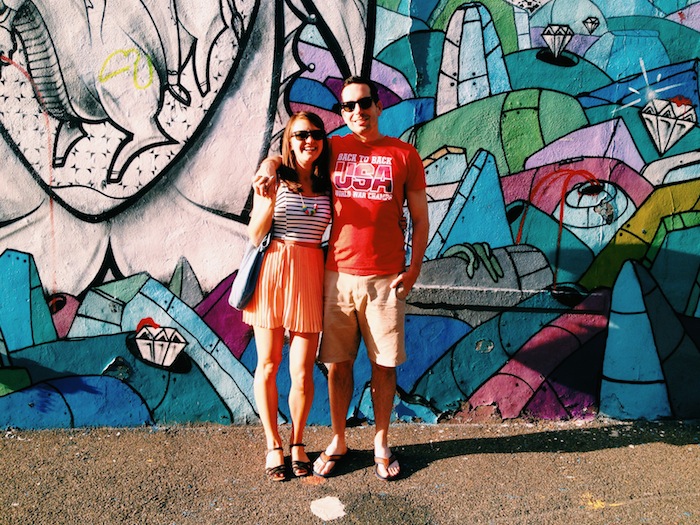 On our list to complete this summer: Yankees game (and maybe the Mets too!), a boat ride on the river, lots and lots of beach days, as many restaurants and bars with back gardens/terraces/patios as we can find, rowing boats in Central Park, a bike ride up to the Cloisters, the Central Park Zoo, and pretty much as much outdoor time as possible. Here's a little glimpse into how I spent the summer kickoff:
Saturday
This was the Saturday morning that I have dreamed of while I have been cooped up in a yoga teacher training over the last few months: I went to my favorite yoga class (and simply enjoyed it, instead of trying to remember the sequence or observe the teacher or overanalyze the poses), grabbed a green juice at Mr. Pina (best juice value in Brooklyn!) and got a mani/pedi with a friend. Then I went to Smorgasburg with a friend for my favorite spicy tuna tacos and passionfruit agua vida before grabbing a beer with my favorite Williamsburg ladies in the Sweetwater back garden. We hung out and chatted for most of the afternoon before I met up with my boyfriend, his sister and her boyfriend for more outdoor beers and tacos at Crown Vic.
Sunday
To shake off the beers of the day before, I went on a nice solo bike ride around Prospect Park in the morning. It was the first time in 2014 that I've gone on a fun bike ride–as opposed to running errands or commuting to work–and the weather was PERFECT for it. I threw on a crop top and an upbeat playlist, and got plenty of sunshine as I biked along the waterfront and then around the Prospect Park pond. Then we headed over to our friends' amazing terrace for a BBQ: I swear, no one makes better homemade salsa than Emilie! We capped off the night with a walk along the water and watching Prisoners on the couch: honestly, I thought it was absolutely terrifying (aka not sure if I'd recommend), but if you're into thrillers, it is a gripping one.
Monday
I loved my bike ride so much on Sunday that I decided to hop back on! I biked down to the Brooklyn Heights Promenade for one of my favorite views of Manhattan. Even though it was crazy crowded along the waterfront, it was still a gorgeous day to be outside. My boyfriend and I headed up for Central Park for a nice little wander through the park and dinner at the Boat Basin with his parents. Such a fun little spot–and SO nice to finally have the weather to be outside! Now that I work in SoHo, I kind of forgot how much I love Midtown: when you're staying in Times Square (like with a My Holiday Centre package!), you're so close to adventures in Central Park, the New York Public Library, Grand Central Station, Top of the Rock and the Empire State Building. It all has such a NEW YORK! feel to it–I'm looking forward to exploring more this summer.
 What did you get up to over the long weekend? What are your plans for summer (or winter, if you're down under)?