Of the moment // 5.30.14
One of the reasons why I blog is simply to have the space to write: getting things "on paper" helps me to process my feelings and organize my thoughts. I also love having a record of my life over the past few years: a place that holds all of my stories, my photos, the ups and downs of travel. But sometimes, I also just want to remember and share the little things that brought me day-to-day joy. Every Friday, I'll give you a peek into the book I currently can't put down, a great restaurant discovery, a fun new product or an inspiring quote: a few things that I think you might enjoy before we all take off into the glory that is the weekend!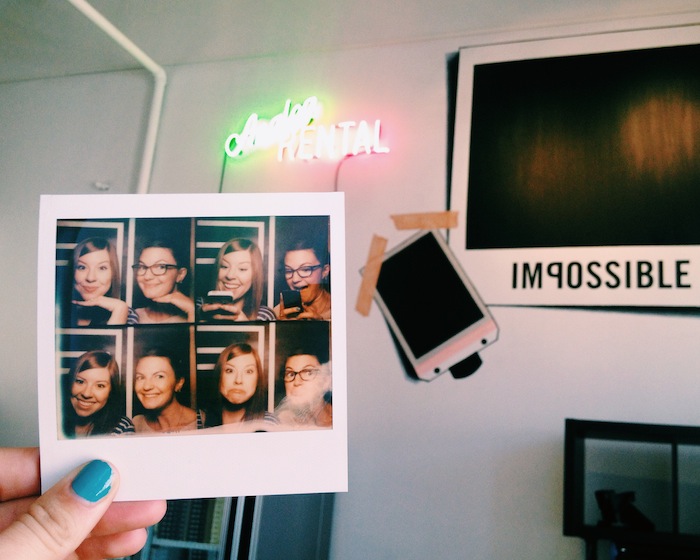 It was tough to top such
a fun Memorial Day weekend
, but this week flew by! Between a couple of yoga classes, a breakfast date with a coworker at our favorite little West Village spot, an ONA field trip to the Impossible Project and prepping my work for almost two weeks out of the office: it was such a blur! The highlight was definitely dinner with my boyfriend, my friend Nevin and her boyfriend Dan. We had cocktails at
Extra Fancy
(the best in New York City, according to my native New Yorker slash Brooklyn hipster boyfriend), and then dinner at
Caracas
(my favorite place to take out-of-towners, pick up affordable takeout or have a date night: it wins at all of them!). I met Nevin when we were both living in Nice, Nevin and Dan now live in London–and Nevin and I will be in Turkey together at this time next week! One of my favorite verrrry international friendships.
Wanderlust
I'm actually headed to New Jersey tonight for a yoga teacher training retreat at Seven Arrows. Even though my mind is a little scattered–packing and planning for Turkey, mostly!–I'm going to try really hard to be HERE this weekend and soak up all of the sunshine, delicious food, relaxation and yoga friendships. I haven't spent much time in New Jersey, and Seven Arrows is a farm that is only a few miles from the beach and the forest. It will be SO nice to fall asleep to silence–and we get to take a ferry from Manhattan to arrive!
Take Me Back
Spent much of cocktails with Nevin and Dan raving about how wonderful life is in Sydney (my boyfriend spent a few years there as well)–honestly, I feel like I convince at least one person a week that they should move down under! The beaches, the coffee, the laid-back surf lifestyle, even the fashion–I would move back in a heartbeat. Here are a few of my favorite posts from my time in Sydney: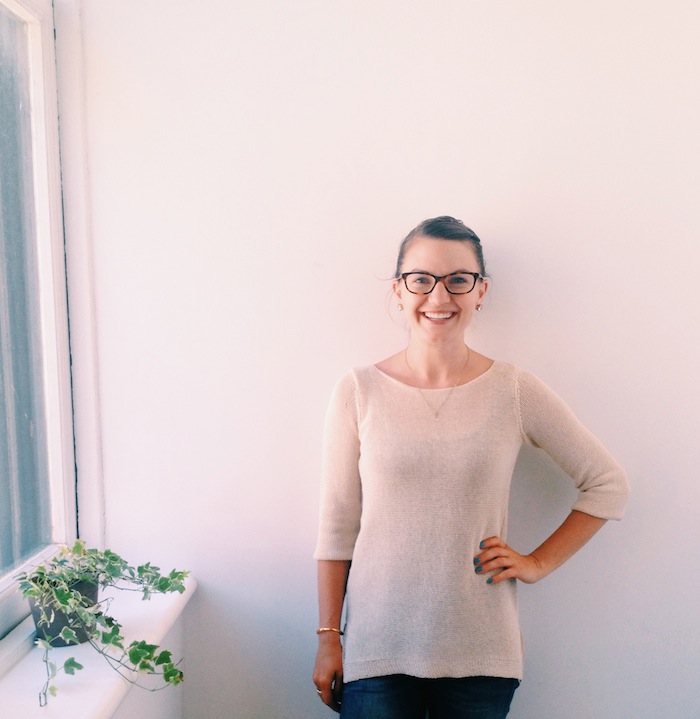 Looks
I've had glasses since I was 5 years old–nerd alert!–but I rarely wear them in photos. I'm happy to announce that I finally picked up a pair of Warby Parker specs, and I feel like all of my hipster dreams have come true. I tried on a bunch at their SoHo headquarters showroom, and finally decided on Upton in Smoke Barrel. The sales associate completed the transaction on an iPad, somehow contacted my eye doctor, and my new glasses showed up at my door less than a week later. SUCH A WIN. Note: Warby Parker gave me no money to say any of these things and I paid the grand whopping $95 for a pair of prescription glasses, and I'm so glad I did. Highly recommend for quality, price and convenience–AND for every pair of glasses purchased, they donate one to a child in need!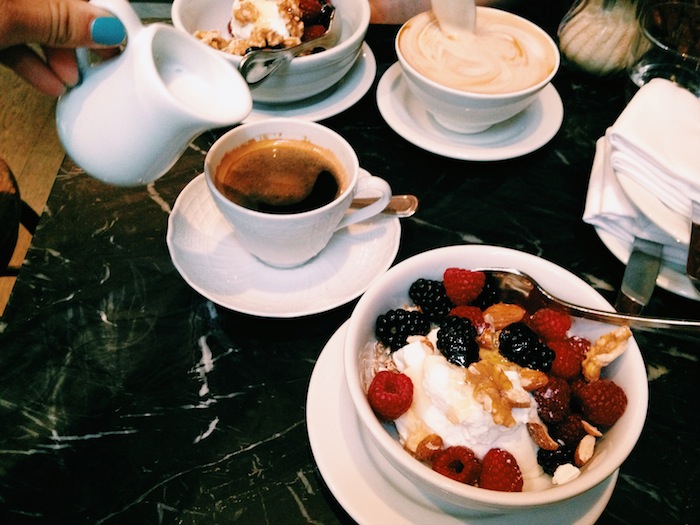 Eats
Nevin and Dan stayed in the West Village when they were visiting, and at dinner, Nevin asked if I'd ever been to this cute little cafe they walked by called Buvette. Of course, I had a breakfast date scheduled there the next day! Honestly, the yogurt-muesli-berries bowl might be my favorite (light) breakfast in New York City–especially when accompanied by a deliciously strong Americano. Bonus: celebrity spotting and beautiful people watching.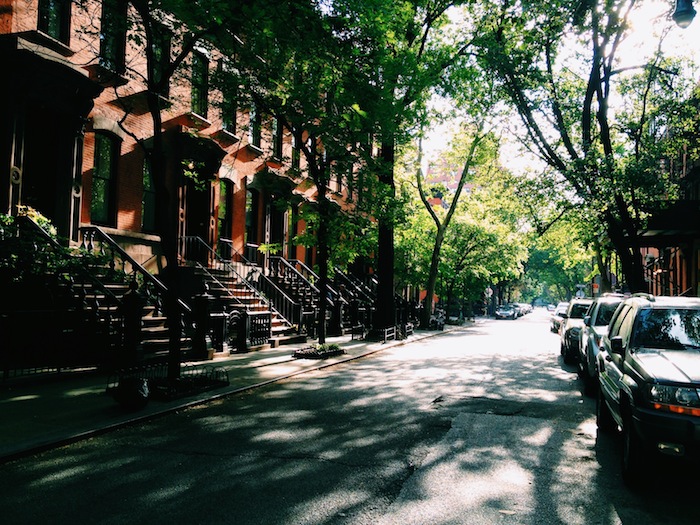 New York City
Morning walks in West Village seriously might be my favorite thing to do. The streets are so quiet and every brownstone is more gorgeous than the next. The dappled sunlight, the cobblestones, the overflowing flower pots: be still, my heart!
Words
"Take that person and travel around the world. Buy a plane ticket for the two of you to travel all around the world and go to places that are hard to go to and hard to get out of. And if when you come back to JFK, when you land in JFK and you're still in love with that person, get married at the airport." – Bill Murray (via this video)
Hope you all have a fantastic summer-y weekend! What are your plans?