The best of Interlaken Inn, via Instagram
As much as I love going to exotic destinations and deserted beaches, sometimes just the thought of jet lag and airport security is enough to cancel out all of the vacation relaxation. Although I think that there is something special about navigating a different country and escaping harsh winters for better weather, I'm also working full-time in marketing, am training to be a yoga teacher and am trying to save more money. When I only have a weekend to spare, I want every possible moment to be spent in full vacation mode: not traveling to and from the vacation itself.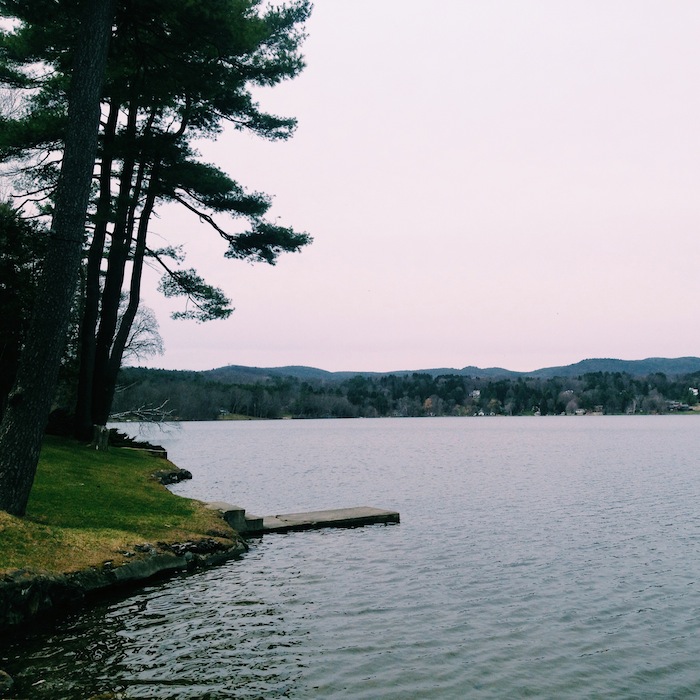 My (born-and-raised-in-Manhattan) boyfriend grew up spending summers on the lake in Connecticut, and when I mentioned going away for the weekend–somewhere nearby, but somewhere NOT in the city–he immediately suggested Interlaken Inn. A two-hour drive from the city, Interlaken Inn promises fresh air, stunning scenery and plenty of outdoor activities. Although we were visiting in shoulder season–between Connecticut's ski season and the summer peak of swimming and sunshine–we were blessed with a beautifully mild 60 degrees and blue, sunny skies all weekend. Confession: I spent most of Monday researching real estate prices in Lakeville. That's how much I fell in love with the place! And since purchasing acreage isn't quiiiite in the budget right now, I'll definitely be back to Interlaken Inn: we spent all weekend talking about how gorgeous it was now–but how much MORE gorgeous it would be when the trees were green and the weather was hot, or when the foliage is changing colors in the fall, or when it's all dashed with a layer of snow. Here's a quick glimpse into our weekend at the Interlaken Inn and beyond: 
Our first "vacation" stop: The Red Rooster! No matter what time of day it is, it's always the right time for a cherry dip soft serve and a cheeseburger.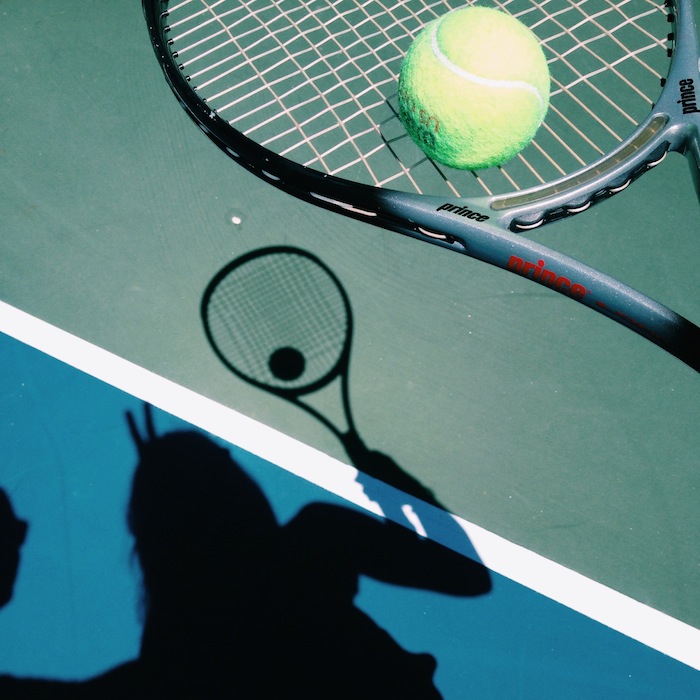 The first order of business when we arrived: a game of tennis! We played while we were in the Dominican Republic with old racquets, flat balls, a dusty clay court. This time around, we brought our own racquets and a fresh set of balls for the gorgeous hard court at Interlaken Inn. I played tennis in high school and still love to play casually, and one of the things I hate most about living in New York City is how difficult and expensive it is to play tennis–so it was wonderful to squeeze in a few games while we were in Connecticut.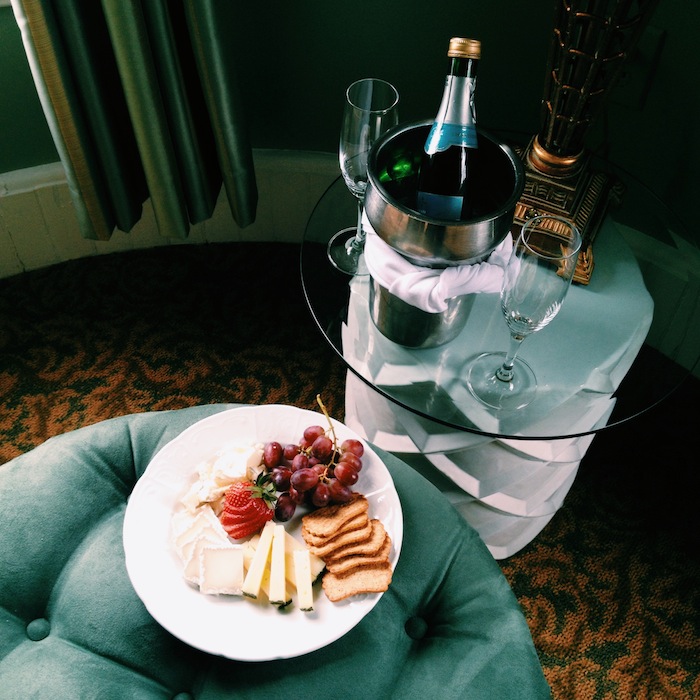 When we got back to our room after tennis, we were greeted with the classiest of snacks: champagne and cheese, in our room's adorably sunny turret nook. Cue complete relaxation.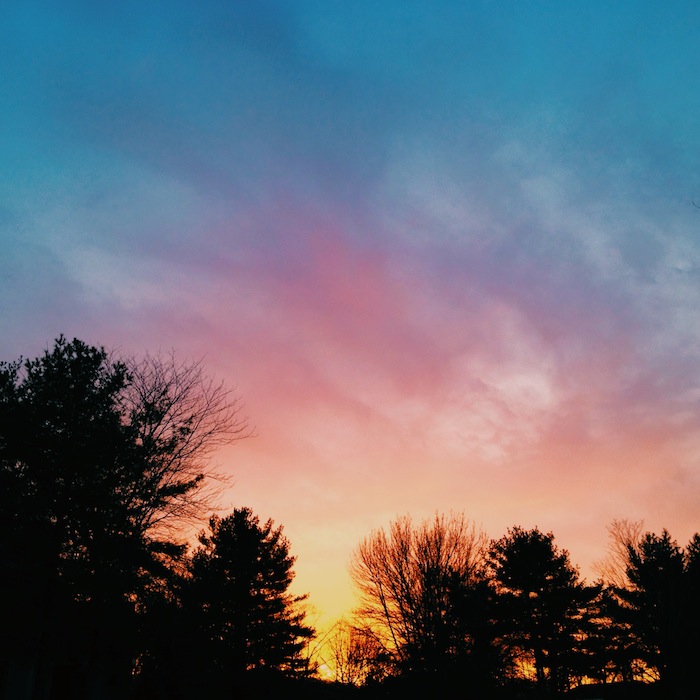 Before dinner at Morgan's Restaurant (which was hearty and fresh and delicious), we played a few games of pool and ping-pong in the game room. I kept dashing out to see the sunset: it was one of those that just kept getting better and better, even when you thought it was at its best. What a welcome to the open skies!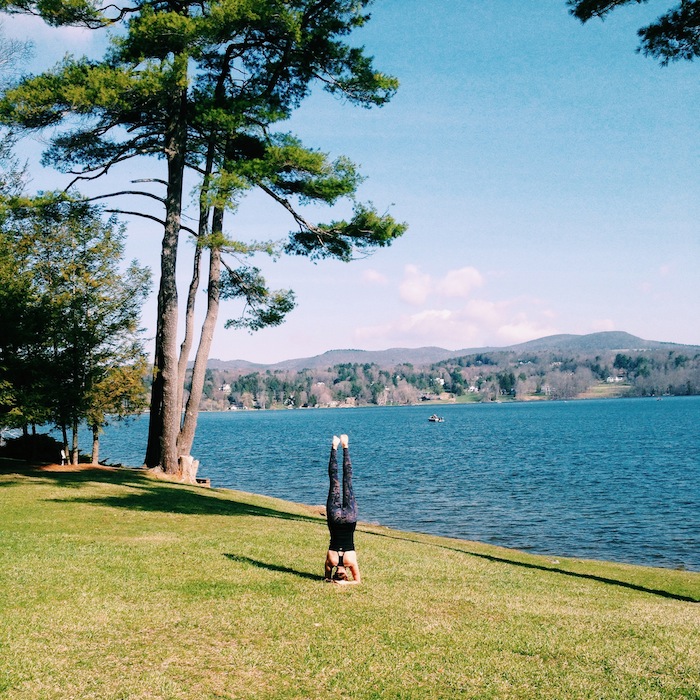 The next morning, my boyfriend went on a 9-mile run (he came back raving about how great the run was, likely due to the fresh air) and I practiced yoga by the lake. Such a good (and healthy!) start to the day.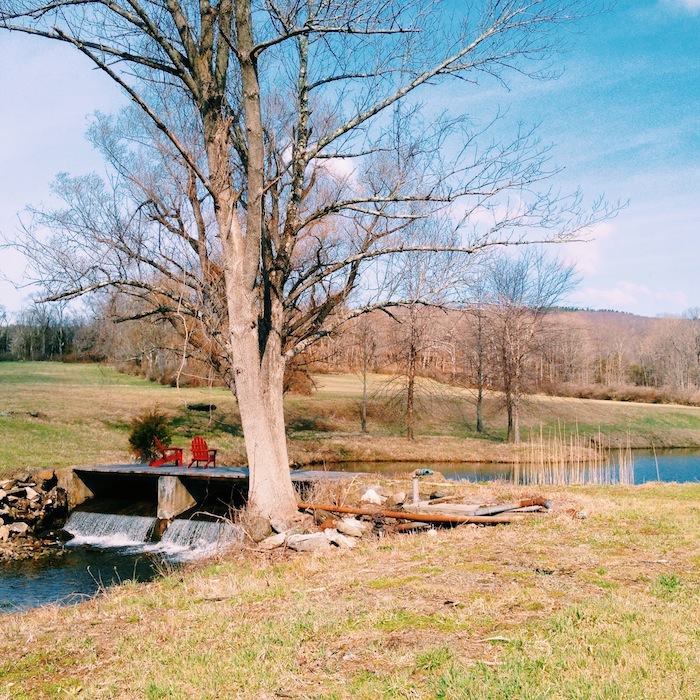 When I spotted these red chairs, I couldn't help but think of how easy it is to be jaded by life in New York: we're always looking for the next best thing, whether it's a view or a restaurant or a shop. But how wonderfully simple would life be in those chairs, watching the sun set over your land with a cold beer in hand? The farmland and lakes surrounding Interlaken Inn reminded me so much of where I grew up, and it made me hopelessly nostalgic for the simpler pleasures of a quieter life.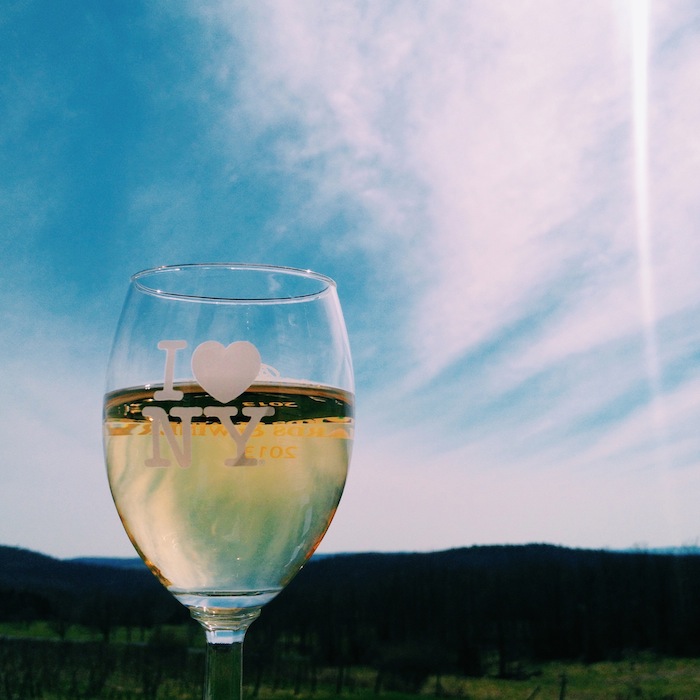 We popped over to Millbrook Winery to do a bit of wine tasting–and in doing so, went back to New York! Lakeville is right on the border of New York and Connecticut, so you pass back and forth between the two states fairly often. It was a beautiful day to be out in the vineyards, even if everything was still a bit scraggly from winter–the entire Northeast was hit by a snowstorm just last week. Even though you'd be hard-pressed to find me a wine that I love more than a Marlborough sauvignon blanc, I did quite like the Millbrook chardonnay! It was just a fun activity since you don't often equate New York with wine making.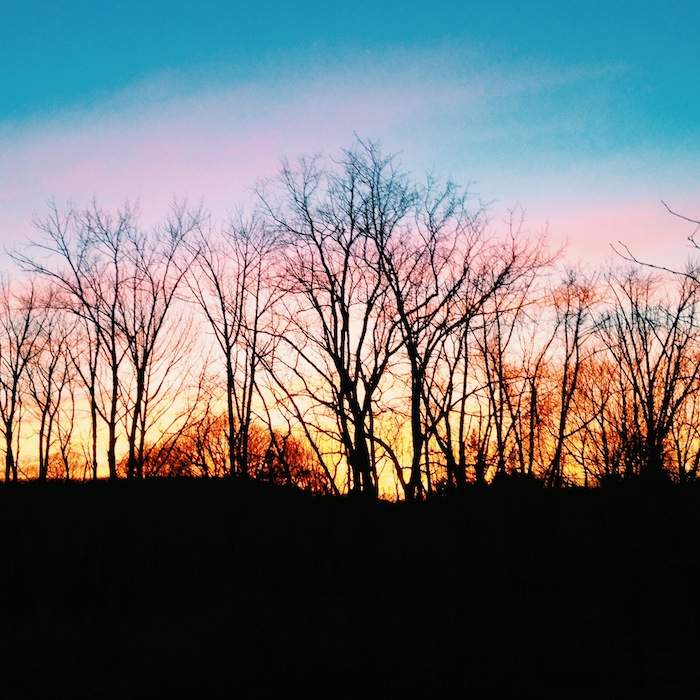 Before we headed over to The Woodland for dinner, we caught another stunning sunset. Swoon.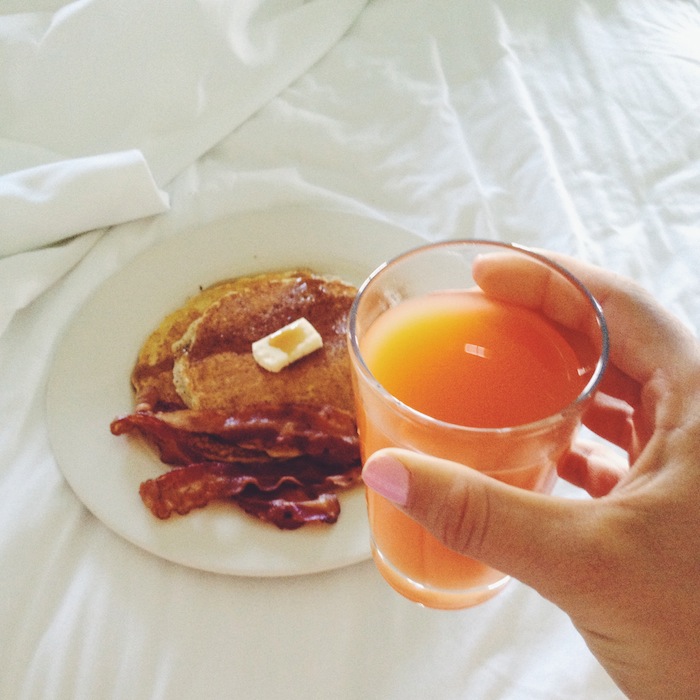 I never splurge on room service, but when my boyfriend suggested breakfast in bed: how could I say no? We ordered in pancakes, bacon, an omelette, grapefruit juice and a pot of coffee–all delivered to our door, for far less than the cost of going out to brunch in Brooklyn. Easy like Sunday morning.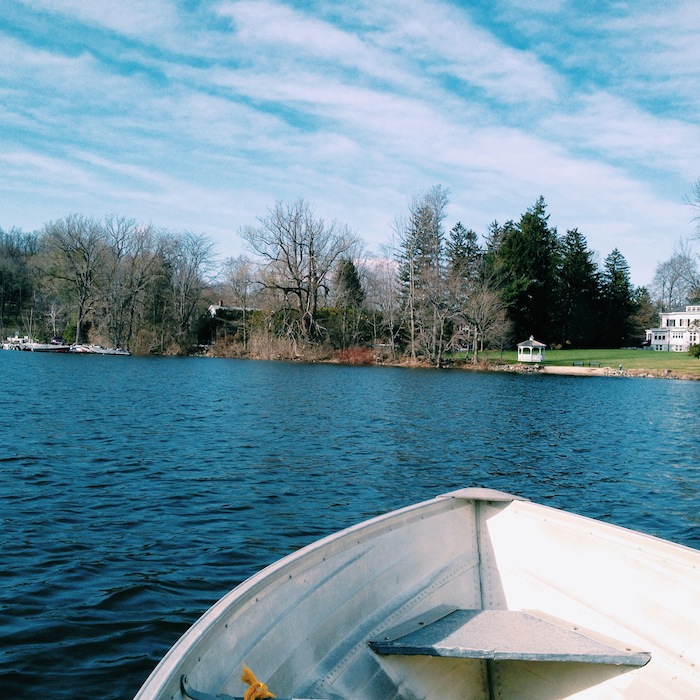 We took a rowboat out in the middle of Lakeville Lake to sip on a beer, ogle the lakefront mansions and soak up the sunshine. There's nothing better than being on the water!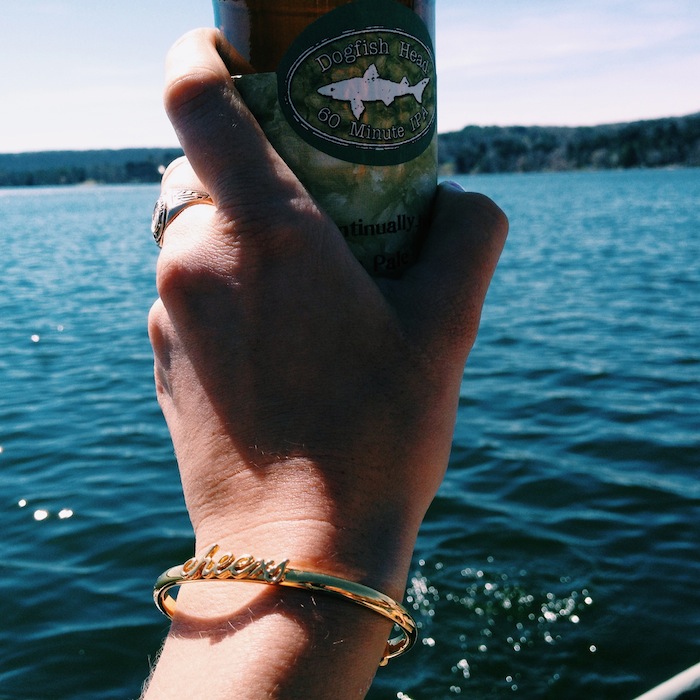 Even if we both got super sunburnt, it was still worth it: there's something so refreshing out being out on the water. It was the perfect end to our stay in Lakeville!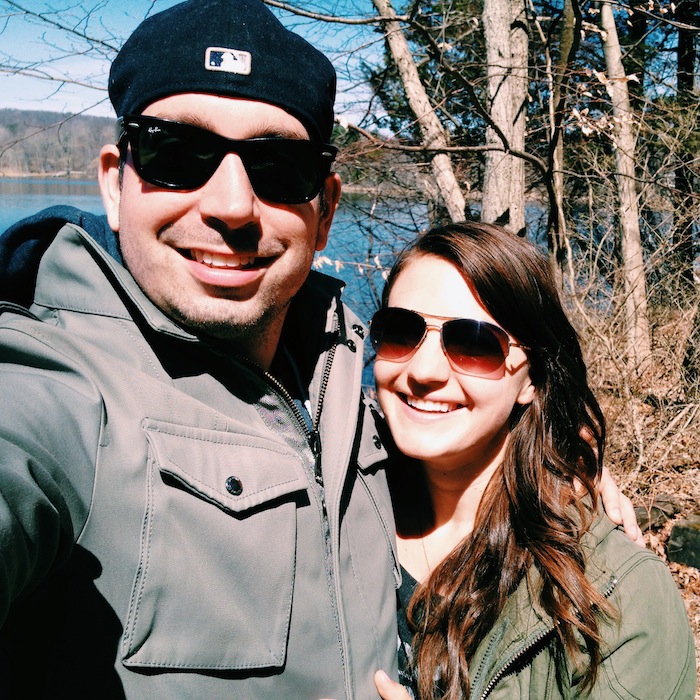 Another fantastic weekend away!
Follow @cestchristine on Instagram for real-time photos of my adventures!
Note: Interlaken Inn kindly offered us a complimentary stay, but all opinions are my own.