Spring sandals that give back: giveaway!
Spring can't come soon enough for me! I've been trying to embrace spring as much as is possible when the temperatures outside are barely hovering above freezing: buying fresh tulips and daffodils every week, painting my nails bright colors (to peek through my fingerless gloves), telling myself how much I'll miss the chill once the heat and humidity turns Manhattan into a sweaty, smelly swamp. But it's been tough, especially since I have a pair of Sseko sandals that I've been dying to make my everyday shoes.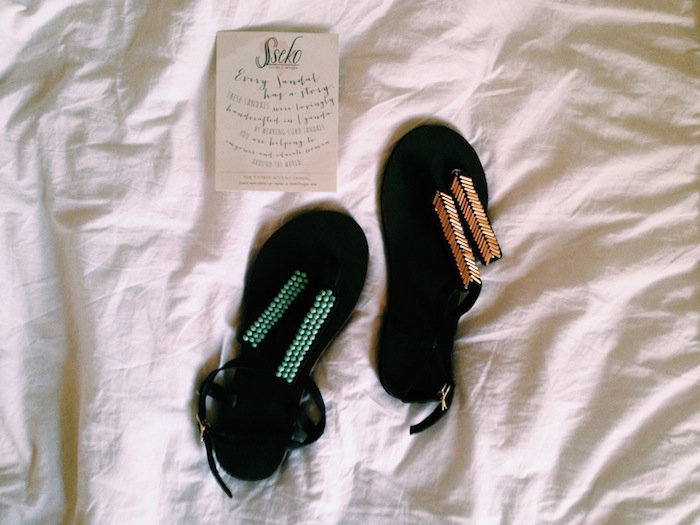 I hadn't heard of Sseko before they invited me to a "spirit of summer" event: it was fun to sip on coconut drinks with pink umbrellas when it was still snowing outside! I immediately fell in love with their simple but stylish sandals, their bubbly and blonde founder Liz, and the inspiring story behind the brand. Sseko Designs is an ethical fashion brand that hires high-potential women in Uganda to make sandals to enable them to earn money through dignified employment that will go directly toward their college educations and ensure they will continue pursuing their dreams.  They also design and source ethically-made products from East Africa!
I fully believe that providing women with an education and a means to become financially independent is the key to empowerment. It's such a huge part of building self-confidence and encouraging independence! I love the work that Sseko is doing, but I'd be lying if I said I didn't also just love the gorgeous products they make. The T-Strap Sandal is super fun (and perfect for travel!) since you can swap out the hand-beaded strap accents. I am OBSESSED with the gold one: pretty sure that is going to be my spring and summer go-to (if spring and summer ever decide to arrive in New York).
Sseko Designs has kindly agreed to give away a pair of T-Strap Accent Sandals (two interchangeable accents are included) to one of my readers! You can enter to win the Sseko Designs sandals below. Bonus entries if you follow @ssekodesigns or @cestchristine on Instagram!
Note: the winner will be announced in a post on Friday, April 4.