Snail mail: giveaway!
Despite the fact that I live so much of my life online–blogging, tweeting, Facebooking, Instagramming–I'm very committed to having an active social life offline. I love meeting up with people over coffee, whether they're friends that I've had since college, a friend of a friend who just moved to the city, or ones that I know mainly via their Twitter handle and a profile photo. Meet-ups, networking events, birthday parties crowded with twenty-somethings: my connections tend to flourish into friendships once I can put a voice and a face and a name together.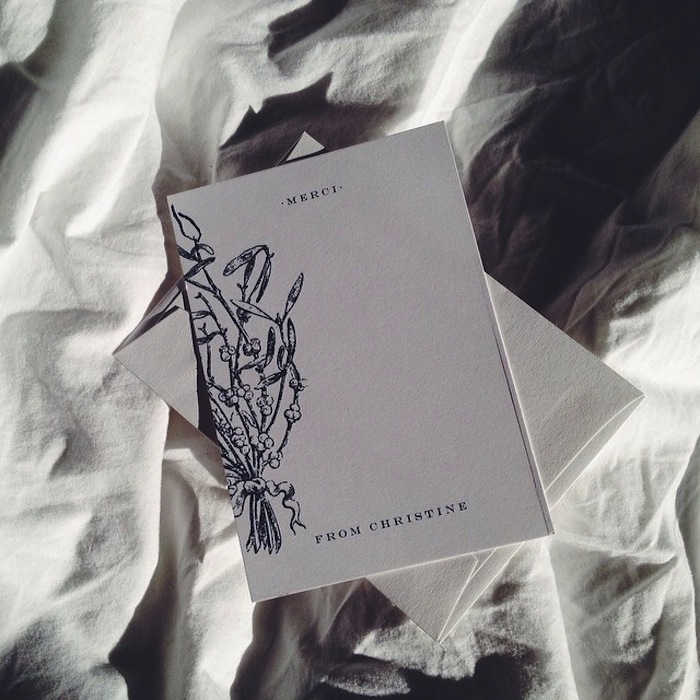 I'm also super committed to the joys of snail mail. I send birthday cards, thank-you cards, just-because cards. I send postcards from both New York City and the various cities I visit. I tear out magazine pages that I think my mom or a friend would find interesting and stick them in an envelope. I adore the nuances of sending mail: a pretty stamp, sealing an envelope shut, my little black address book.
My favorite indulgence is lovely stationery and nice pens: Hi, Friend Design is one of my favorites for beautiful designs, customization and great paper quality. I've worked with them for the past two years on custom Christmas cards for ONA; this year, I also gifted my favorite pen pal with a custom address stamp (despite both moving to Williamsburg in the past year, we still send each other regular mail!). Hi, Friend worked with me to create a tandem bicycle address stamp: as you can see, it was pretty much perfect for this pair (the stamp is pictured with their pooch Prince and their 2013 Christmas card). A custom address stamp such an adorable housewarming gift!
Hi, Friend was sweet enough to send me a set of custom thank-you notes AND offer to give away a set of their adorable 24 Bicycle Greetings Flat Notecards to one of my readers! You can enter to win the Hi, Friend card set below–but even if you don't win, they've still been kind enough to offer 10% off with the code CESTCHRISTINE over at Hi, Friend Design.
Note: the winner will be announced in a post on Tuesday, March 4.