My travel beauty essentials
Now that I travel exclusively carry-on only (whether it's for a weekend or 10 days), I'm pretty picky about what beauty products I bring with me.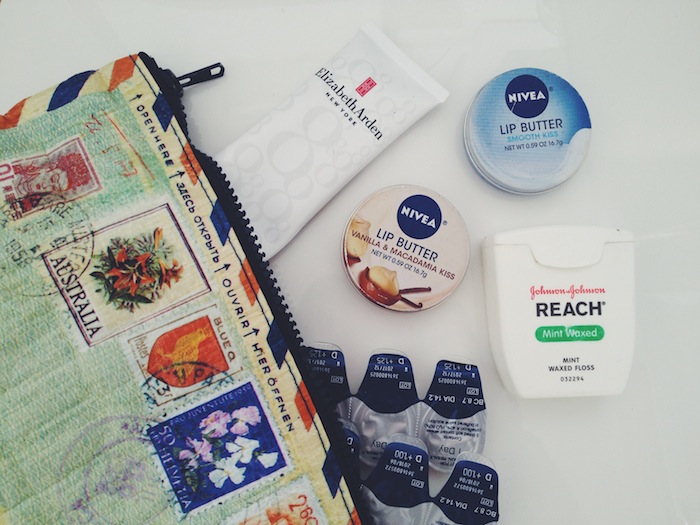 When I go to the beach or to the mountains, I have a tendency to leave all of my little luxuries behind: no makeup, no jewelry. However, no matter where I go, there are a few skin and beauty products that always make the cut–often because they're multi-functional, but always because they're necessary. If you want to know all of the beauty products I swear by, check out my Kabinet. It's a super cool platform that helps you find the best skin, hair and body care products through trusted recommendations by real people. It's invite-only, but you can get access via my link  🙂
Here's just a peek at my travel beauty essentials:
Elizabeth Arden Eight Hour Cream
I discovered this product at an Elizabeth Arden blogger event in New York City a few months ago, and it has quickly become a staple of my travel kit. It's one of those products that heals EVERYTHING. I've used it for chapped lips, dry skin, ingrown hairs, burns. You just need a dab to do the job! Key if you're heading somewhere much colder (life-saver for skin blasted by the chill in Montreal) or much hotter (key for sunburns in the Dominican Republic).
Nivea Lip Butter
Obsessed with these Nivea tins of lip butter: I always have one in my purse or jacket pocket. One of my pet peeves on vacation is chapped lips, so I always triple-check to make sure one of these is with me before leaving the house. Bonus: the vanilla and macadamia kiss smells just like a beach vacation!
Living Proof Hair Products
Confession: I only started using Living Proof products because Jennifer Aniston is a representative, and I am Team Rachel FOR LIFE. However, I've been using the Restore shampoo and conditioner for a while now and I'm completely sold. My hair is super damaged from heat styling, and that's only exacerbated by salt water, chlorine and sunshine on vacation. Living Proof products keep my hair soft and manageable: extra important when I'm traveling because I don't bring my straightener or wand.
Batiste Dry Shampoo
I like to keep my hair pretty low-key when I travel, since hotel hair-dryers generally stink and I don't like carrying heavy tools in my carry-on. Dry shampoo is an absolute life-saver on this point since it lets me stretch a few days without washing my hair–and my hair still looks good in photos! Batiste is the BEST, hands down.
Tea Tree Oil
The all-natural remedy for everything. Tea tree oil is native to Australia, but it's pretty easy to find in most health food stores or The Body Shop. I always kept some in my pack when I was staying in hostels, because it's great at clearing up athlete's foot (joys of communal showers!). It can also act as an antiseptic on cuts and burns in a pinch, and smelling it can help clear up chest congestion.
Yes to Grapefruit cleansing wipes
I hate dealing with the liquid rules when I'm flying, so I always toss a pack of facial towelettes in my bag. I've tried a bunch of the Yes To variations and love them all, but my favorite is the Yes to Grapefruit Brightening Facial Towelettes. I love citrus scents in bath products, and this one is particularly refreshing. These sorts of wipes are great for removing makeup and cleaning your face at the end of the day; this particular one helps with skin discoloration and preventing acne.
Origins Modern Friction Scrub
I tend to break out when I travel, especially when I'm at the beach. As much as the sun and salt water helps to dry out extra oil, I'm also constantly sweating and putting on sunscreen. I find it helpful to exfoliate at least once a day to prevent my skin clogging. My favorite is Origins Modern Friction: it cleans thoroughly but gently.
The things you never miss until they're gone
Floss–one, because I always end up getting something annoyingly stuck in my teeth when I forget it, and two, flossing is more important for keeping your teeth clean and white than brushing. Hair ties and bobby pins and tampons, because there is not a CVS on every corner in Thailand or the Dominican Republic. A shower cap because I don't like washing my hair every day (see the notes on dry shampoo!) but I can't wake up without a hot shower.
Join me on Kabinet! An exclusive beta sign-up for C'est Christine readers 🙂 Great way to track your favorite products and find about the best beauty buys from real people (aka not influenced by who's paying the advertising dollars).