A very snowy New York winter (and a sunny escape)
Life in New York lately has felt like one perpetual snow day: blizzard after blizzard, freezing temperatures and white skies and icy sidewalks. There are days when my fingers feel frost-bitten and no jacket seems quite warm enough (only to get inside the subway car or my office and be sweltering in long sleeves) and I curse my decision to ever leave California.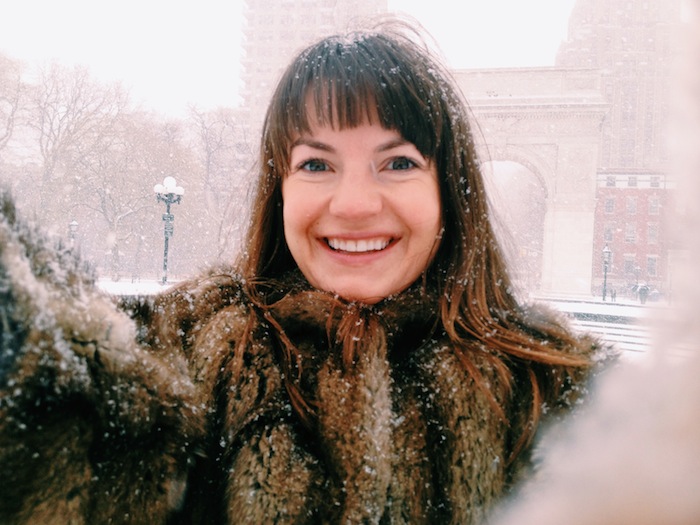 And then there are days when snowflakes are swirling outside your window, and you decide to take a walk in a winter wonderland (even though it's beyond cold, and you forgot a hat, and your office is delightfully toasty). The streets are empty and the entire city is a canvas of pure, blissful snow: I sludged through the fresh powder in West Village and Washington Square to capture Snowstorm Janus on Instagram (before my phone turned itself off because of the chilly temperatures–yup, that's a cold-first-world-problem thing). It was honestly one of the most beautiful things I've seen in New York City–and proof that attitude truly is everything.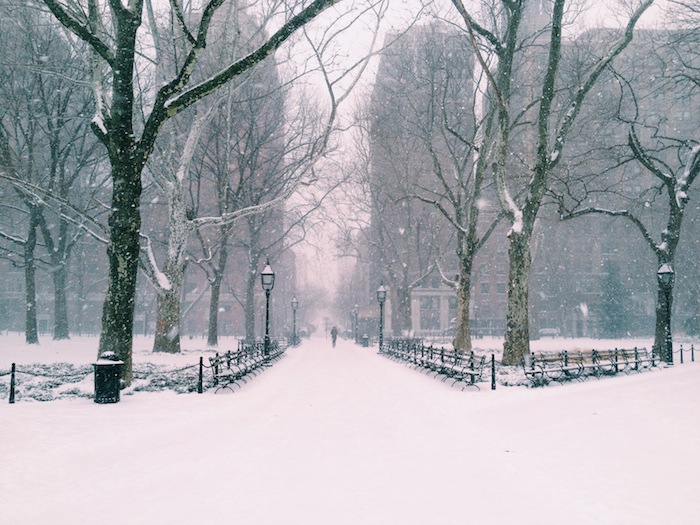 One of my favorite quotes–from one of my favorite books, A Tree Grows in Brooklyn–is: "Look at everything always as though you were seeing it for either the first or last time: thus is your time on earth filled with glory." I had that spinning through my mind as I walked through Washington Square in the snow: how truly magical! I kept thinking about how easy it is to complain about the snow: it screws up your commute, it's hideous once it turns all gray and sludgy and it's just darn cold–but how incredible is it when it's just fallen and it's completely changed the entire city landscape (and rid the streets of people)?
Just a week before, I had popped by Washington Square and snapped a photo of the arch against soaring blue skies. What a difference seven days can make!
I entered this photo into Passion Passport's recent Instagram contest on "Where I Live"; I also recently contributed a piece to Passion Passport on grief and travel. Good people behind that site, and their Bucket List Initiative has to be one of the coolest things around.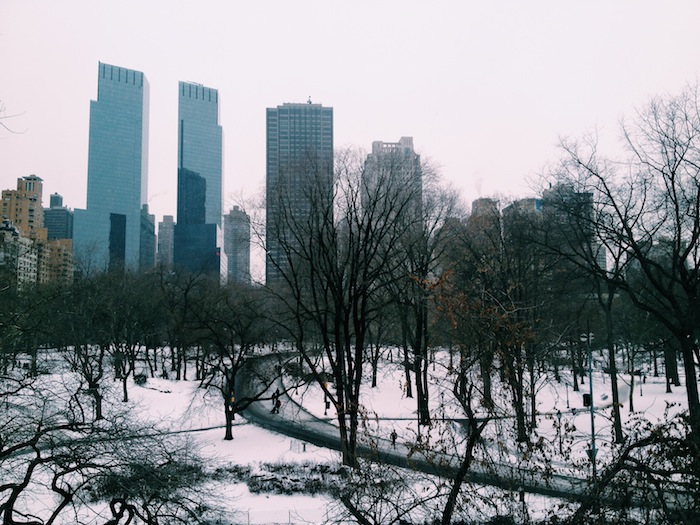 On Sunday, I went out for brunch in Midtown (venturing out of Brooklyn on a weekend, which has become quite the rare occurrence) and then headed up to wander through Central Park post-snowstorm. It was every bit as beautiful as I'd imagined!
As much as I've loved getting all bundled up and wandering around Central Park with this guy (reminiscent of snowy strolls in Montreal!), we decided to trade in the layers for a bit of sunshine. I surprised him with tickets to the Dominican Republic for his birthday a few weeks ago (thank you JetBlue TrueBlue + Amex program!), and even though I said I didn't want to set foot in JFK this month: we're en route to Santo Domingo tomorrow morning! We're staying at Casa Bonita in Barahona (which was recently named one the New York Times' 52 places to go in 2014–the day after we booked our ticket!), and I cannot wait to Instagram that infinity pool. Follow me on Instagram for real-time photos!
What's your favorite photo of the snow in New York?