The best things to eat in Montreal
When people asked me what I wanted to in Montreal, I listed three things: try poutine, eat a Montreal bagel and sip a hot chocolate in Vieux Montreal. As soon as I arrived in the city and flipped through the National Geographic: Montreal Restaurants in my hotel room, I realized that I wanted to do nothing but eat: this is a serious city for foodies.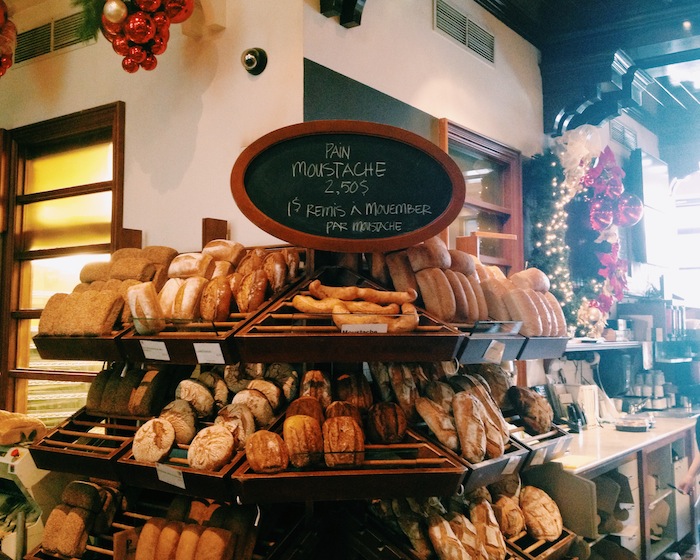 What I loved most about the food in Montreal was the variety. There were the stick-to-your-ribs Canadian specialities like poutine, bagels and smoked meat, but there was also an incredible array of authentic international options. Needless to say, we didn't leave Montreal hungry–although I am a little disappointed that I wasn't able to indulge in a hot toddy to ease the cold on the beautiful cobblestone streets of Vieux Montreal. Next time!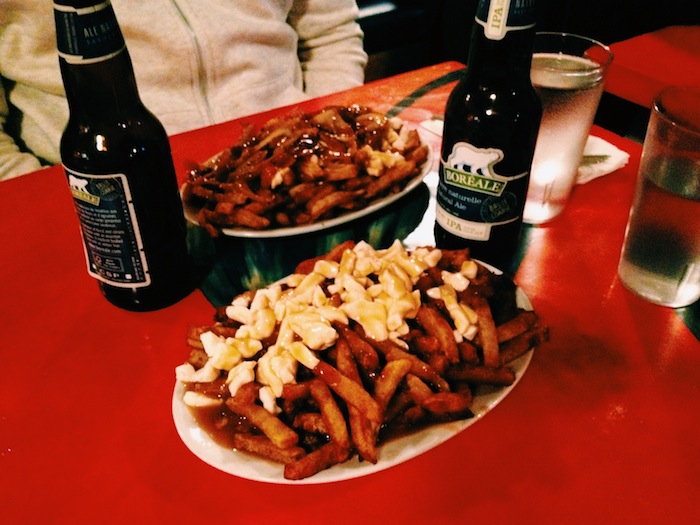 Poutine
Honestly, I didn't really know what poutine was when I booked my trip to Montreal–but I had enough Canadian friends to know that I HAD to try it. The famous dish originated in Quebec, and it's essentially french fries covered with gravy and cheese curds–not exactly diet food, but darn good. We went straight to La Banquise: it's not fancy, but it's the most famous poutine place in Montreal with a huge variety of toppings to try out. Accompanied by a cold (Quebec!) IPA, it's a must in Montreal.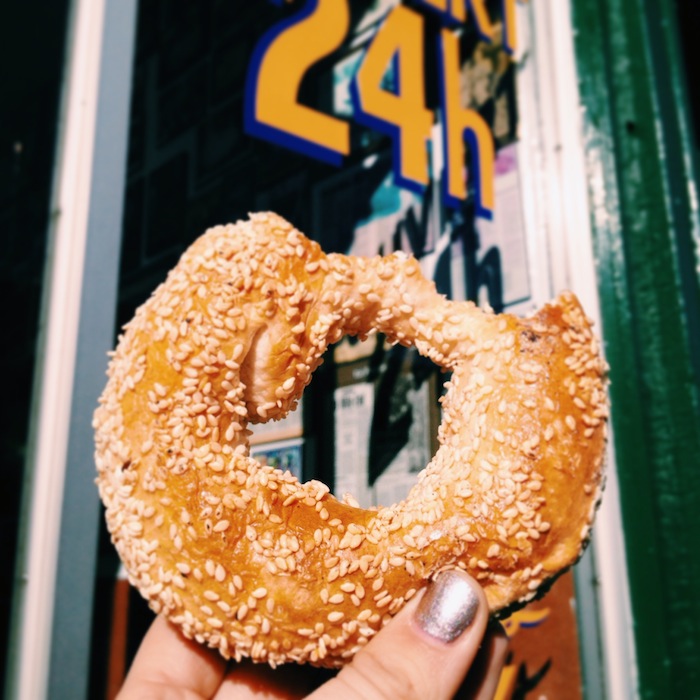 Bagel
Another one of Montreal's musts is the bagel. Coming from New York City (and traveling with a native New Yorker), I was a little skeptical: I'm quite happy with my toasted everything bagel with cream cheese at my local shop in Brooklyn! But I was interested to try the Montreal bagel that's smaller, sweeter and denser than the New York style–and is served warm out of the wood-fired oven, without any cream cheese! We headed to St-Viateur Bagel after picking up a cappuccino at Club Social; our verdict: different, but still delicious.
Marché Jean-Talon
Even in the off-season, I was dazzled by the selection at the Jean-Talon Market. In the summer, local farmers fill up the stalls in the parking lot bringing fresh fruit and vegetables straight to market. In the winter, Christmas trees filled the lot and the smell of roasting chestnuts filled the air. Inside, the market is filled with fruit and vegetable (all with an incredible attention to detail and presentation), fresh eggs, meat and seafood–and coffee shops, Middle Eastern pastries, Canadian-influenced crepes. I'd love to go back in the summer, get an apartment close to the market and just cook all sorts of meals all day long!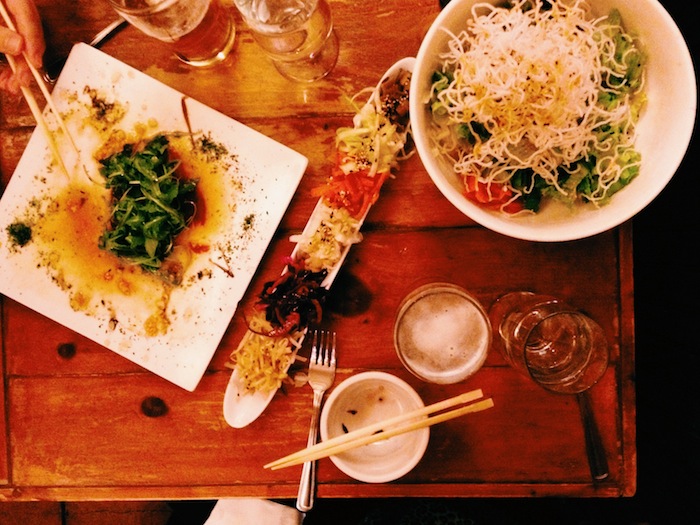 Kazu
I found Kazu on Yelp (one of my favorite ways to find new restaurants, in New York City and beyond) when we realized we didn't want to be traipsing too far in the (very) cold weather. Only a 15-minute walk from our adorable B&B, Kazu had a line out the door but was completely worth the wait. The beef carpaccio and the pickled vegetables were the perfect starter, and I think I could eat the salmon tuna bowl every single night. More than anything, the Japanese servers are just the sweetest thing!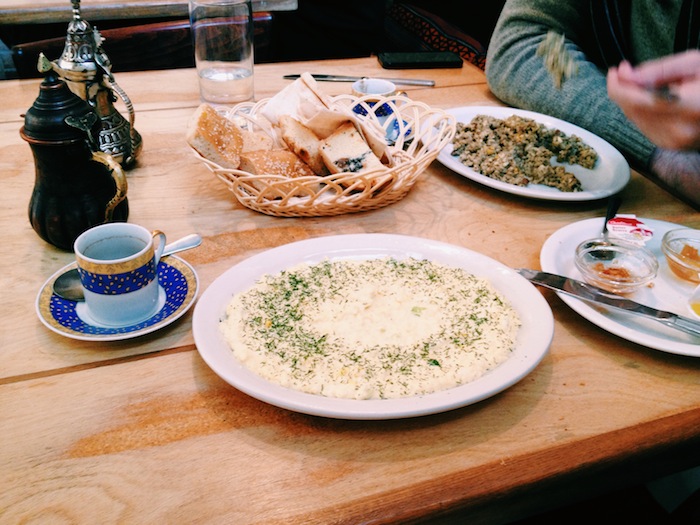 Bylbos
If I went back to Montreal–or moved to Montreal–I'd absolutely want to stay in the Plateau Mont-Royal neighborhood. Tree-lined boulevards, brightly-colored facades, a huge park: it's adorable and livable. Avenue Laurier Est is full of adorable, food-centric shops: organic grocers, chocolate shops, kitchen goods. And Bylbos! It's a neighborhood Middle Eastern restaurant with a decidedly family-run feel. We went for brunch, and oh my goodness–the feta omelette and the date omelette! The Arabic coffee! The bread basket with pita bread and sweet Arabic bread! Can't recommend it highly enough.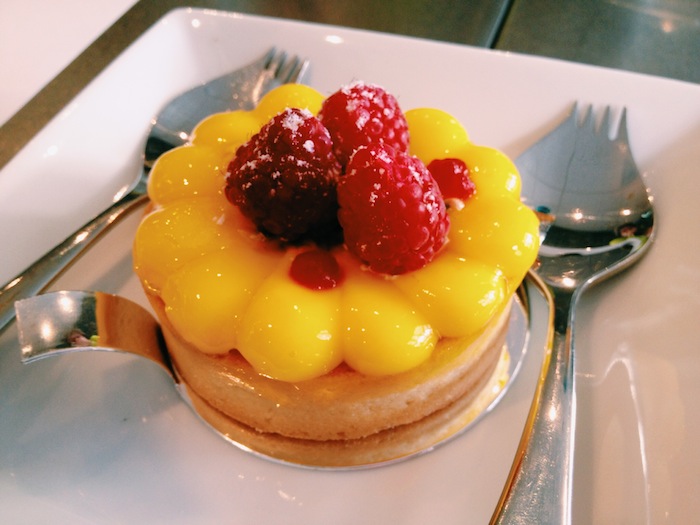 Pastries
Montrealers seem eager to convince you that they're not French, they're just French-speaking: they're Quebecois! They're Canadian! They're just as English as they are French! Honestly, I noticed so many French influences and I loved all of them, from the daily shopping at market to the stunning architecture of the Notre-Dame Basilica. But my favorite was the bread and pastries: just the smell of fresh bread baking took me back to the streets of Paris. We had lunch and a passionfruit tart for dessert at Maison Christian Faure, and it was to die for.
Note: the Montreal Tourism Board kindly treated me to a tour of Montreal that included the Jean-Talon Market and lunch at Maison Christian Faure, but all opinions are my own.