My parents come to NYC!
Last weekend, my parents flew in from California to visit me in New York City! It was a big deal because it was the first time my parents have seen where I lived (or traveled) since I quit my job and moved out of my studio apartment in Silicon Valley in 2010. Plus, it was Dennis' first trip to New York City EVER, and my mom's first visit since she fled East Coast winters for California sunshine in the 1970s.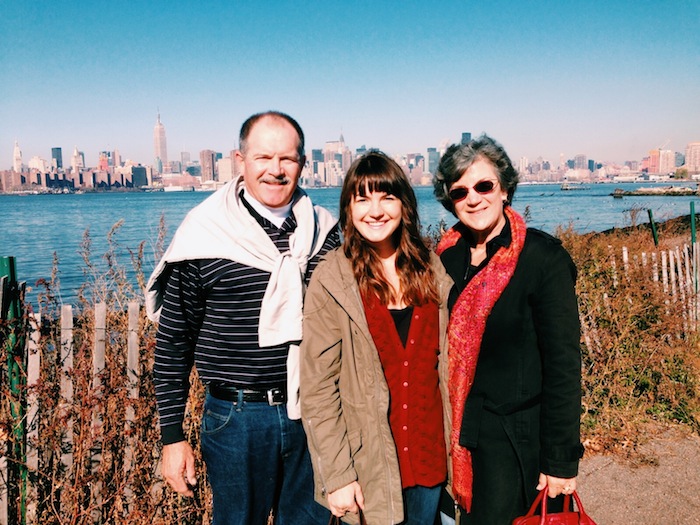 My parents made it clear that they were coming to visit me in Brooklyn, not see the grand sights of New York City. This was compounded by the shutdown of the L train over the weekend: we spent most of the weekend in Brooklyn, just hanging out and showing them my favorite little parts of my neighborhood. Here's a little taste of what we got up to: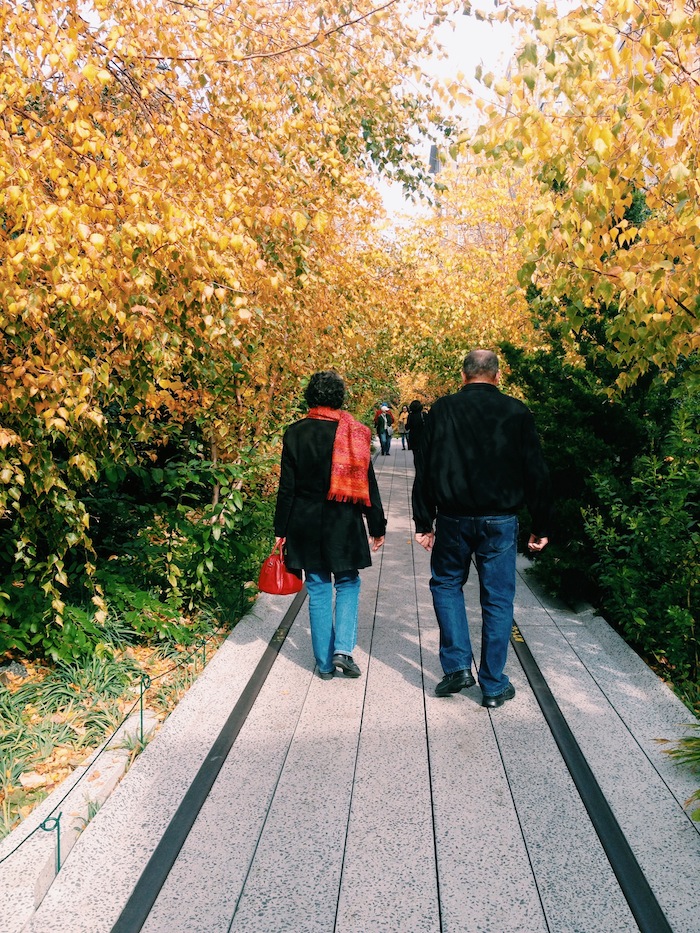 Late on Friday afternoon, we did venture over to Manhattan to check out a few of my favorite places. We were pleasantly surprised by the mild weather and the vibrant leaves still on the trees: it was a lovely setting to show off the High Line (especially since my parents had already visited the Promenade Plantée in Paris in the spring).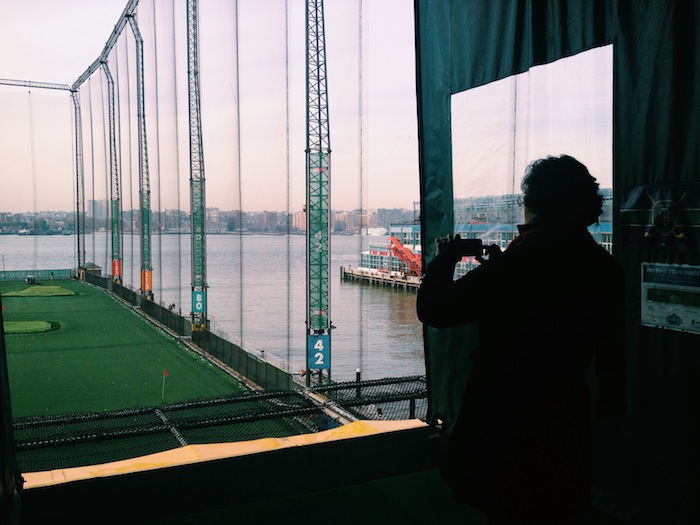 My parents are serious golfers: my dad won this year's super senior Championship at their country club–just two years after winning the general club championship and the couples championship with my mom, and less than six months after major shoulder surgery. It was neat to show them Chelsea Piers Golf Club: a city driving range is so different than the sprawling space of the suburbs! Plus, they had seen Chelsea Piers in a show on the Golf Channel, so it was neat to see it in person.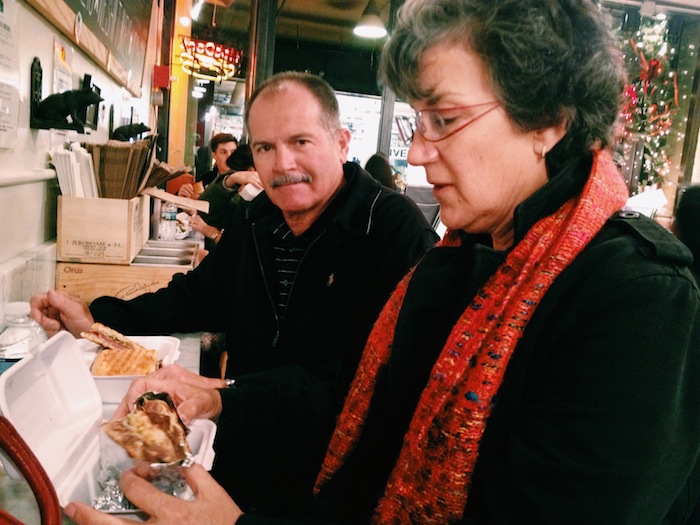 We headed over to Chelsea Markets for lunch (sticking closely to Day 2 of the "perfect weekend in NYC" itinerary).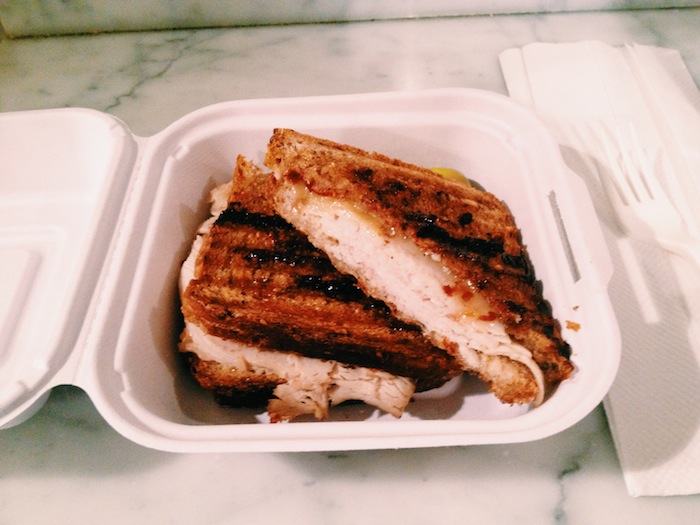 We actually tried out somewhere I hadn't been before: sandwiches at Dickson's Farmstand Meats! I had the turkey sandwich with cheddar cheese and cherry butter (squeezing in all my turkey sandwiches now since I'll be in Montreal for Thanksgiving next week) and it was absolutely delicious. High marks to the Spicy Italian and Cubano sandwiches as well!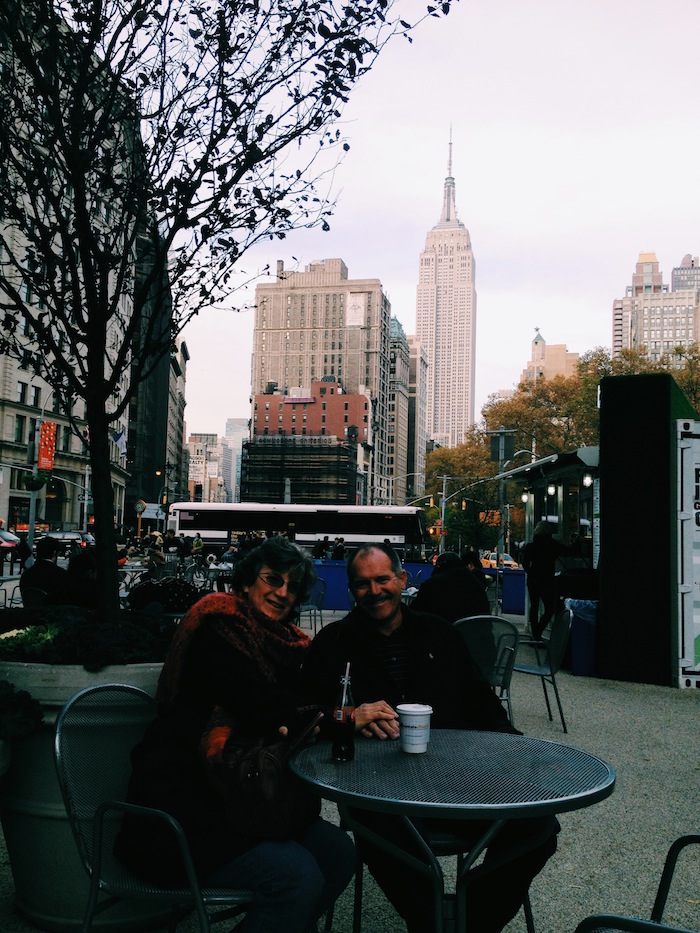 I got a kick out of showing them the Bed Bath and Beyond and Home Depot stores in Midtown: the big box stores are just such a different set-up in the heart of the city! Then we headed over to Eataly to swoon over Italian goodies: my parents have been experimenting with making homemade ravioli from a family recipe, so it was neat to see all of the fresh Italian pasta.  After pointing out the Flatiron Building and Empire State Building, we took a seat in their shadows for an afternoon refreshment.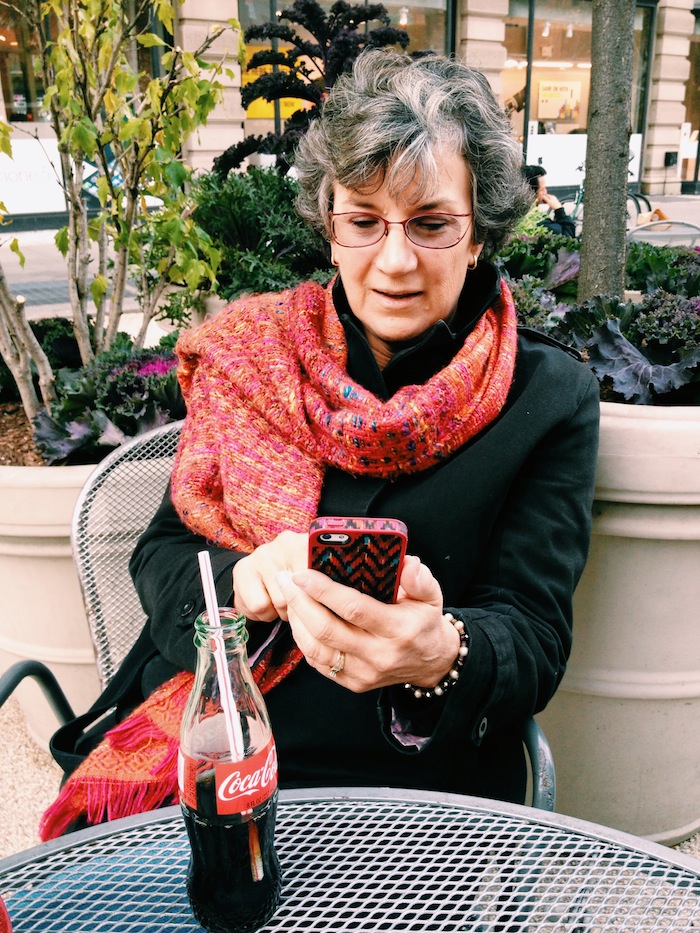 While we were there, my mom impressed me with all of her newfound iPhone skills: since purchasing an iPhone in April, she's become super skilled with sending emojis, photos and videos. I must say, I got such a kick out of whenever all three of us were in a row on our iPhones: I never could have predicted that a few years ago!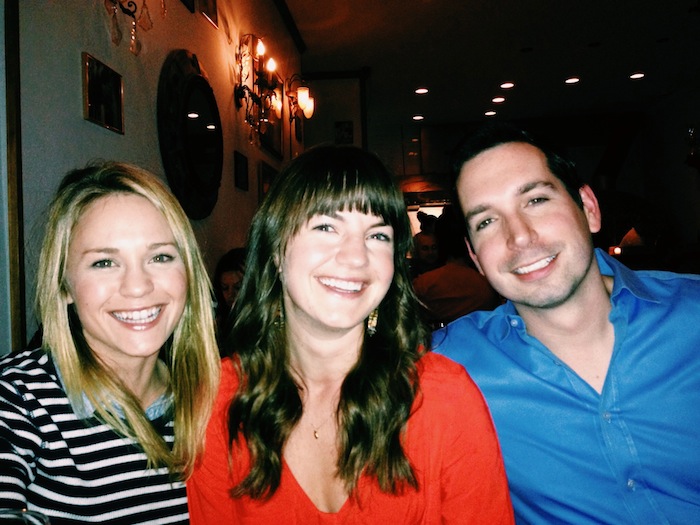 For dinner, my two favorites joined us for pizza: Aly found this cute little restaurant near our place. While Forcella is famous for its fried pizza, we were blown away by the delicious salads! Also, my mom picked out that shirt and earrings earlier that day at anthropologie: she has the best eye for clothes that I would never find on my own, but that are always so flattering.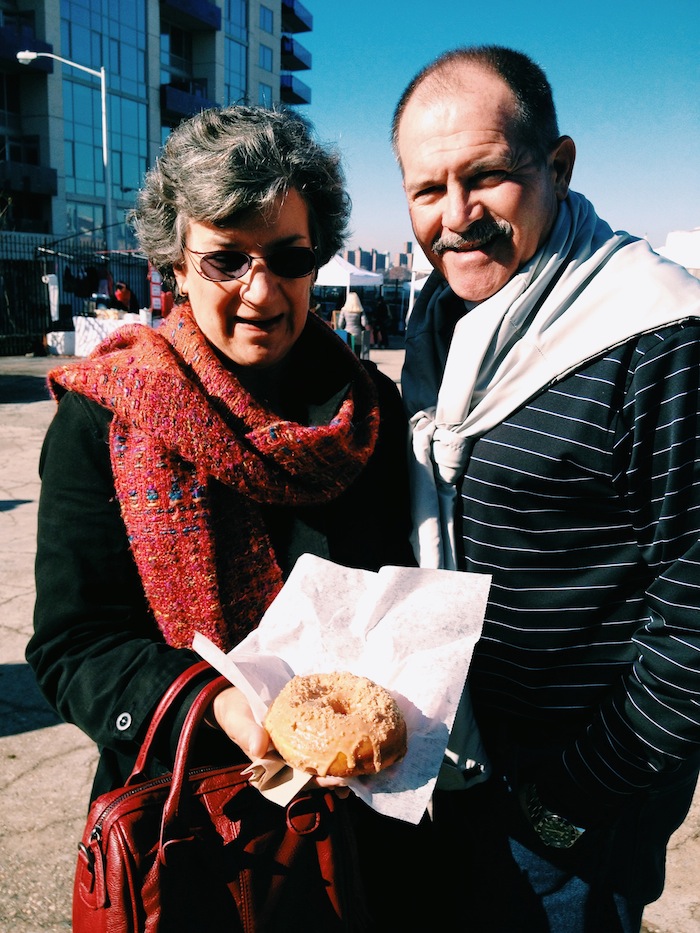 After coffee at Toby's Estate, we went to Smorgasburg! "We can send this in for the cover of Diabetes Monthly!" said my mom as I snapped this photo. Nevertheless, they still sampled the delicious Cafe au Lait doughnut from Dough. They spent most of the day being super helpful for me: buying and installing a DVD player, hanging a pegboard, fixing my dimmer in the living room. It's so nice having a dad who's so handy!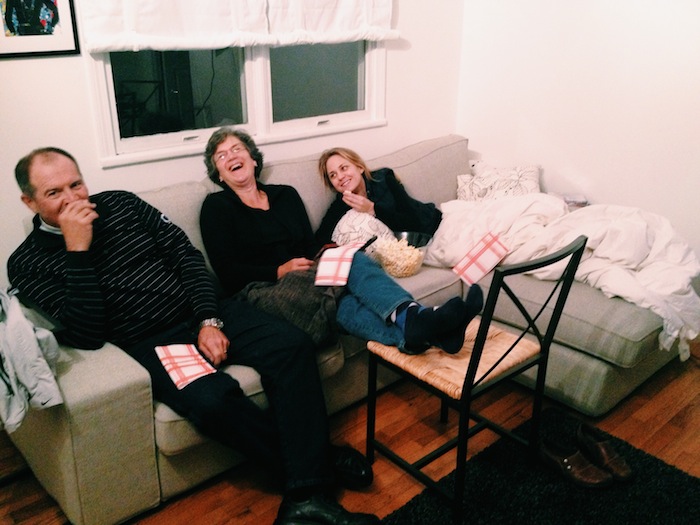 That night, we had a quiet one in and we tested out the new DVD player: Crazy Stupid Love while eating Jiffy Pop! Aly taught my mom how to create "emoji scenes" and we laughed pretty much constantly.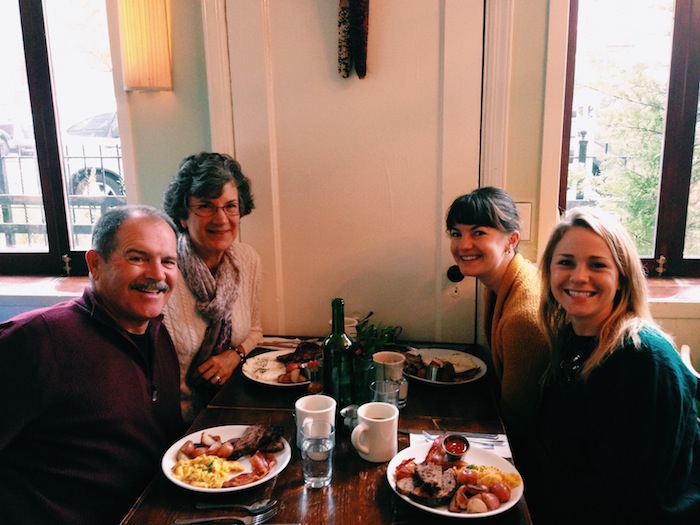 For breakfast on Sunday, we went to Miller's Tavern: one of the few breakfast places in Williamsburg open before 11!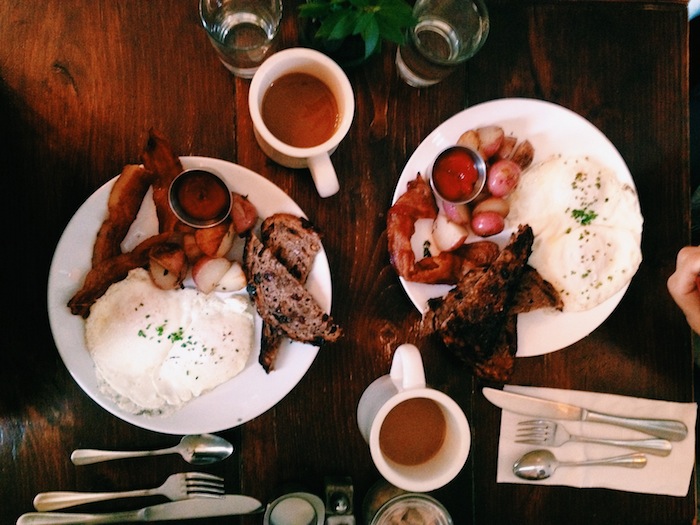 We always joke that I'm becoming my mother–my boyfriend was struck by just how similar our mannerisms are–but our food tastes have been in sync since I was in high school. We almost always order the same thing, and it was no different at breakfast: the Miller's breakfast with eggs over easy and coffee with just a bit of cream!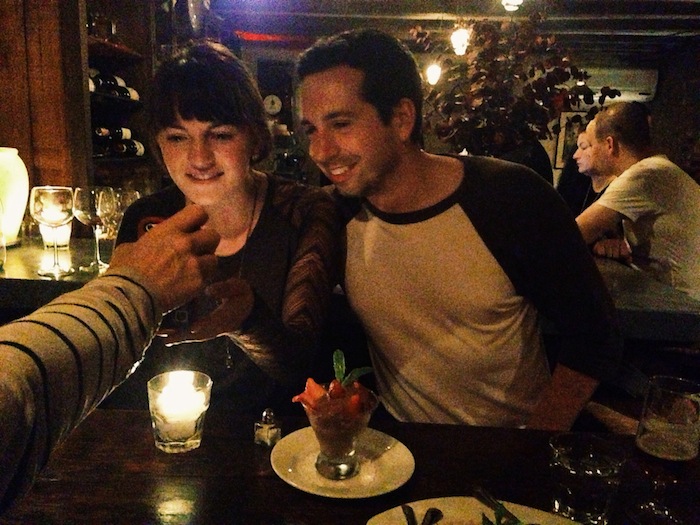 We spent most of a rainy Sunday afternoon wandering around the shops on Bedford Street and then introducing my parents to Comedians in Cars Getting Coffee. We went to dinner on Sunday night at PT, my favorite Italian place in Williamsburg. Delicious food, great conversation–and we were all blown away by the homemade limoncello shots at the end!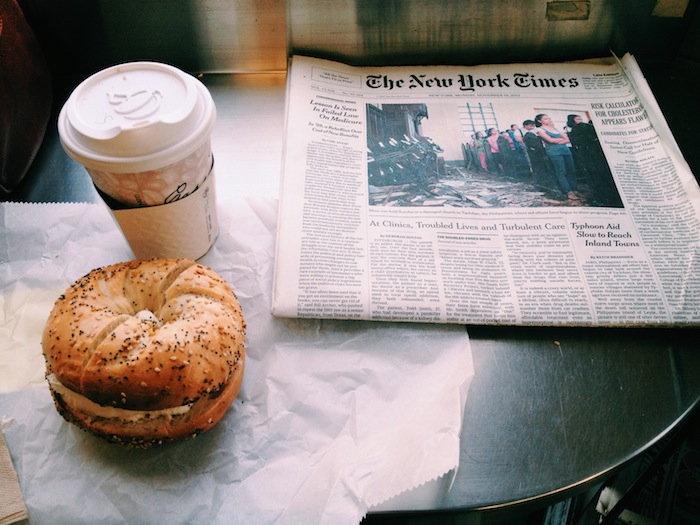 We ended the visit with bagels and coffee at my local bagel shop on Monday morning before I headed into work and my parents went to the airport. Such a wonderful end to a delightful weekend and a fantastic way to start my week!
Lots and lots of thanks to my parents for braving the weather uncertainty of New York in November! It was wonderful to have you here xoxo