Happiness is booking the ticket
A few weeks ago, I admitted to not being that happy: it was one of those funks that I just couldn't quite shake, even though I knew I wasn't doing everything in my power to be happy. Basically as soon as I hit publish on that post, I realized there was plenty that I could do to shift my attitude through my actions–so I did. I booked a couple of international trips, I rode my bike home in the sunshine, I went to a yoga class, I ate bread and cheese for dinner.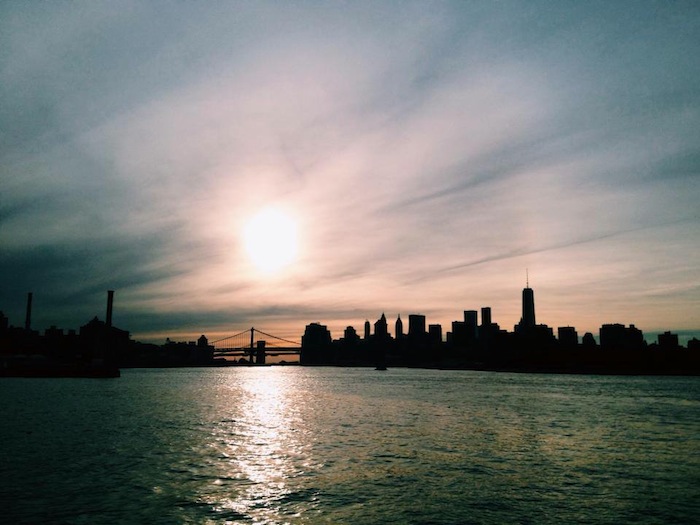 Now that I'm back from a wonderful trip back home to Sacramento, I've been keeping plenty busy with work and home. I'm feeling especially grateful for the incredible network of friends that I have in New York City, friends who are up for intensely themed dinner parties and upstate apple picking and wine and cheese nights. But as delighted as I am to fall into a rewarding routine in Brooklyn, travel is still what rejuvenates and recharges me. Luckily, there's still time in 2013 for some more frequent flier miles and new experiences!

Playing tour guide in New York City
When you move to New York City, everyone tells you that suddenly, people will come visit you. I laughed it off: heck, I had offered people a place to stay when I lived in Nice and Melbourne and a travel partner when I backpacked through Southeast Asia and Europe and no one had taken me up on it. But holy moly, were they right! This weekend, one of our former roommates from when Aly and I lived with eight crazy girls in college is visiting with her fiancee. Next weekend, three of my closest sorority sisters are flying out from California–expect to see plenty of diamond poses in my Instagram feed. Next up, it's a good friend from Australia who lives in Boston, and in November, my parents are coming to New York City for the very first time! I am SO thrilled to see so many of my closest friends and to show them my favorite parts of New York City–but to be honest, hosting can be a little overwhelming. I'm planning on lots of quiet weekdays (think yoga classes and eating in) so that I can focus on enjoying jam-packed weekends.
100:50:1 in San Francisco
One of my favorite things about my job at ONA is being able to connect with incredible photographers. I'm thrilled for the opportunity to represent ONA on the West Coast at the 100:50:1 gallery opening, an event that celebrates the world's best mobile photographers. Although business travel is never quite as glamorous as I'd like it to be, I'm looking forward to meetings over really good coffee and Mexican food. And I mean, my main "work" event is a party and a photowalk–can't be mad at that.
Thanksgiving in Montreal
One of my 2013 goals was to go to Canada. Even though New York is right next to Canada, it's harder to get to than it seems–especially without a car. However, Montreal has been on my wish list FOREVER and I was determined to make it happen in 2013. I'm SO excited to speak French, wander the cobblestone streets, sample poutine and eat copious amounts of bagels. I'm especially looking forward to taking the train: the 10-hour ride is supposed to be one of the most scenic in the world! (Update: a special someone has decided to join me on this trip! Eek!)
Art Basel in Miami
Another work trip that sounds far more glamorous than it will likely be! ONA is a sponsor of the Miami Street Photography Festival (along with Leica), which is taking place during the same weekend as Art Basel in the Wynwood Arts District. Even though there will be lots of event planning and management, I'm sure I'll be able to squeeze in a bit of sunshine and a couple of mojitos.
Christmas in Puerto Rico
Plane tickets around the holidays are always super expensive, and my parents told me that if I was going to spend that much money to get out of the city, I might as well go somewhere with a beach. I took them up on the offer, and booked myself a ticket to Puerto Rico! I'm flying in and out of San Juan, and I don't have ANY plans yet–recommendations are welcome! However, I am going to try and live like a local with a rental: I'm already looking forward to exploring a new neighborhood and being able to cook with some delicious Caribbean produce. (Update: my friend Renee of USA road trip fame is flying in for the week to drive me around Puerto Rico! Yay!)
The best news is that I'll be back in New York City for New Year's Eve–and so will most of my friends! I'm looking forward to ringing in the New Year in a sparkly dress, a craft beer and all of my favorite people.