The best places to swim in Iceland
When I saw that the high temperature for our trip to Iceland would be around 50 degrees, I expected to spend most of my time in layers and a woolen beanie–not a bathing suit. I was as surprised as anyone when I realized on our last day there that we had gone swimming seven times in six days.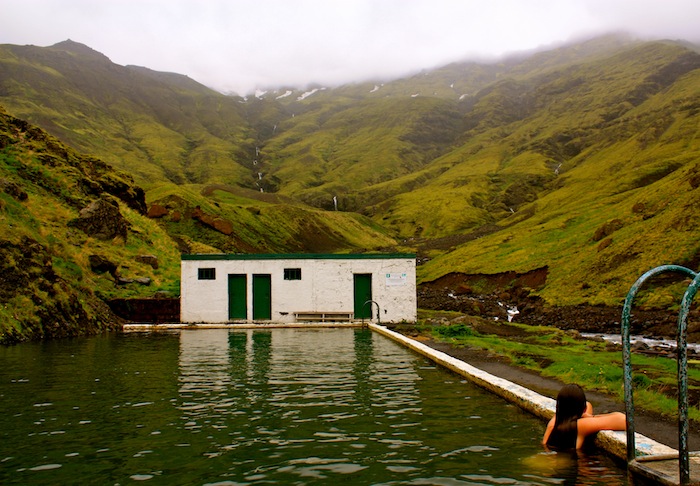 The good men at Kuku Campers had told us about two under-the-rader (and off the Ring Road) swimming spots when we sketched out a loose plan for the ultimate Iceland road trip, and we quickly realized that Iceland's public pool culture was the key to campervan living. Almost every town in Iceland, no matter how small, has a public pool: it usually consists of two hot tubs (hot and hotter), a swimming pool, a steam room and public showers. Instead of paying to use campground showers, we would pay $4-5 for admission to the public pool: go for a swim, relax in the hot tubs, chat in the steam room and then take a nice hot (communal) shower. Granted, you have to be comfortable with same-sex nudity in the locker rooms–but if you are, it makes living out of a campervan feel super luxurious. And when you're not in a public pool, you're swimming in natural hot springs: file under best thing ever. Here are my favorite swim spots in Iceland: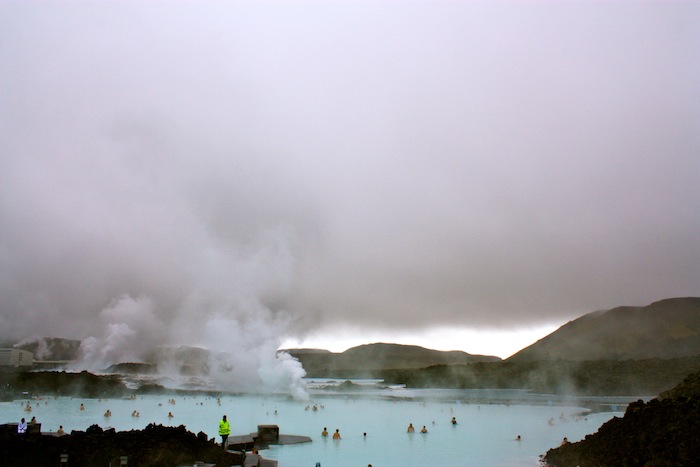 Blue Lagoon Geothermal Spa
Yes, the Blue Lagoon is touristy, and yes, it's crowded (compared to anywhere else you'll go in Iceland). But even if this is the Disneyland of swimming holes (aka expensive with a swim-up bar), it's a must-see. Grab the bus that stops here on the way to Reykavik from the airport (or vice versa), and relax away the stress of flying.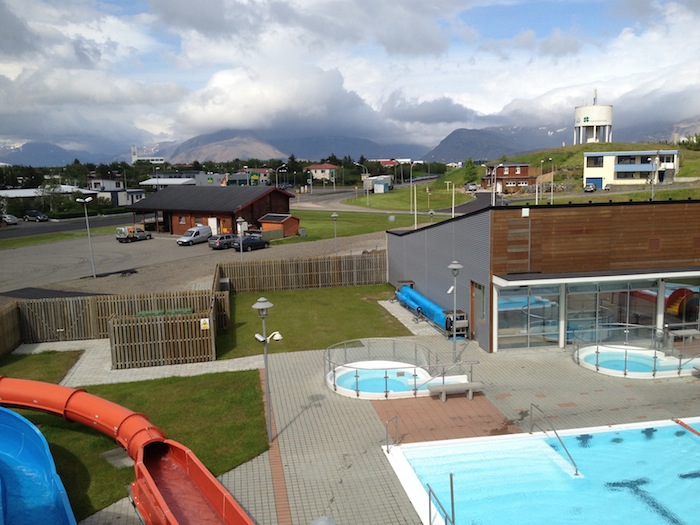 Hofn Public Swimming Pool
I have a mild–ok, strong–obsession with waterslides. SO MUCH FUN. The Hofn public pool has two water slides, two hot tubs, a steam room, a lap pool–and it's sparkling shiny, new and clean. It costs about $5 to enter, but it's so, so worth it. Bonus: that wooden cabin building you can see in the photo above has a salad bar (you'll understand the enthusiasm after three days of trail mix and hot dogs) and free Wifi. Oh, how we loved Hofn.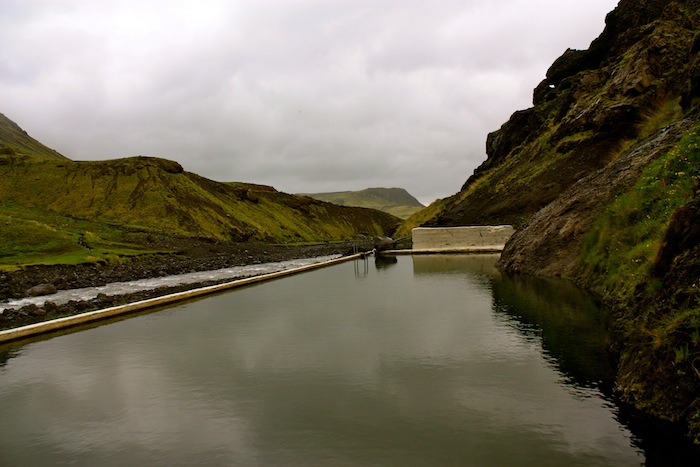 Seljavallalaug Swimming Pool
Built in 1923, Seljavallalaug is one of Iceland's first swimming pools. It's naturally heated by geothermal activity: it's not hot tub temperature, but it's definitely warmer than you would expect based on the outside temperature. Although it's tempting to think you'll have it all to yourself, keep your swimsuit close to the edge if you decide to skinny dip: we were surprised first by a honeymooning couple, and next by an Italian tour bus. If you do manage to enjoy it in solitude, just soak it up: the serenity is what makes the experience. (Here are directions on how to find it.)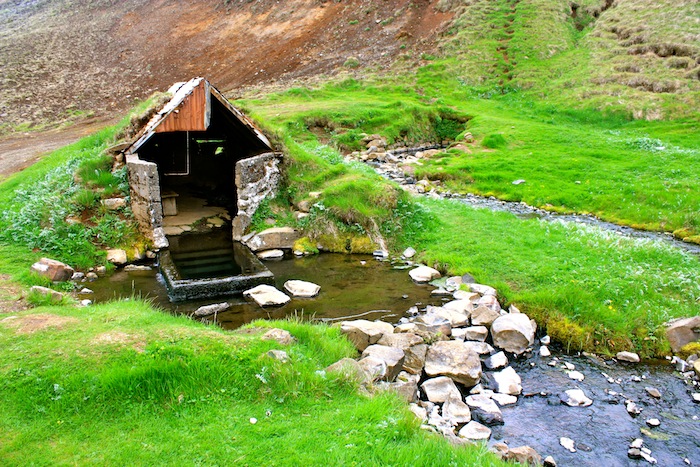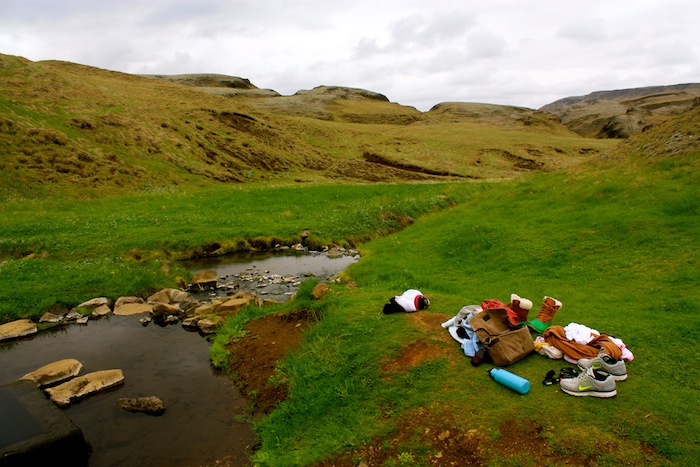 Hrunalaug Natural Hot Spring
This natural hot spring is nestled in the middle of nowhere: our directions consisted of drive until you see the white church in Hruni, make a right, park the car in the "parking lot", walk over the hill about 15 minutes. And then you come upon this delightful little shelter, a manmade hot tub utilizing the naturally heated river. It's crazy, and it's beautiful, and it was just the best day ever–especially since we had it all to ourselves.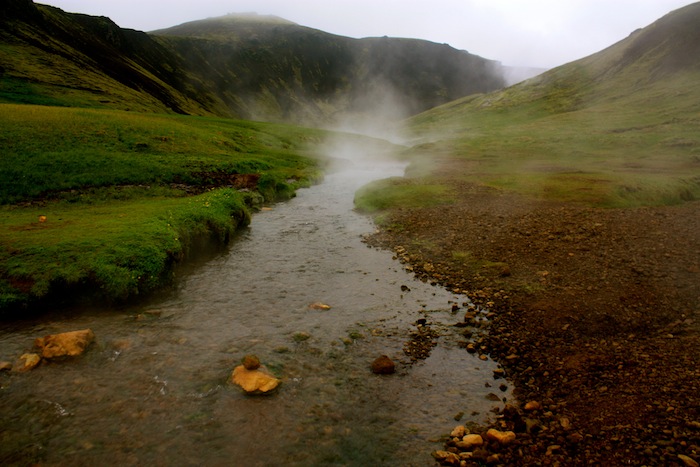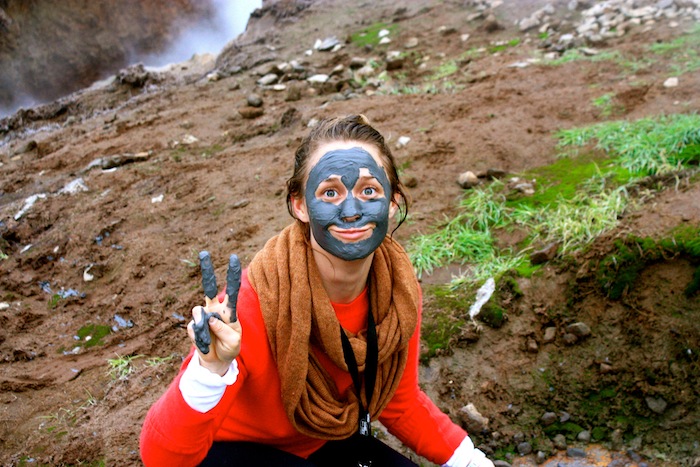 Hveragerði Hot River
Even though the hike was much more complicated than Lonely Planet made it out to be (almost comically so–think climbing over fences of unsuspecting farmers and 3 kilometers that took two hours), it was all worth it when we found the convergence of the hot and cold river in Hverageroi. We sat right where the hot and cold blended into the perfect temperature, and stuck our beers in the cold section to chill. We didn't make it to the spot until almost 9 p.m., but that's the joy of the midnight sun: being able to start hikes much later than recommended! Despite the setbacks, it was all worth it to relax among the sheep and the silence–with a can of beer, of course. (Here are the hiking guides for the area.) Bonus: the hot clay that is bubbling up along the path is a killer natural face mask–and the natural pools of cool water are a refreshing way to rinse it off.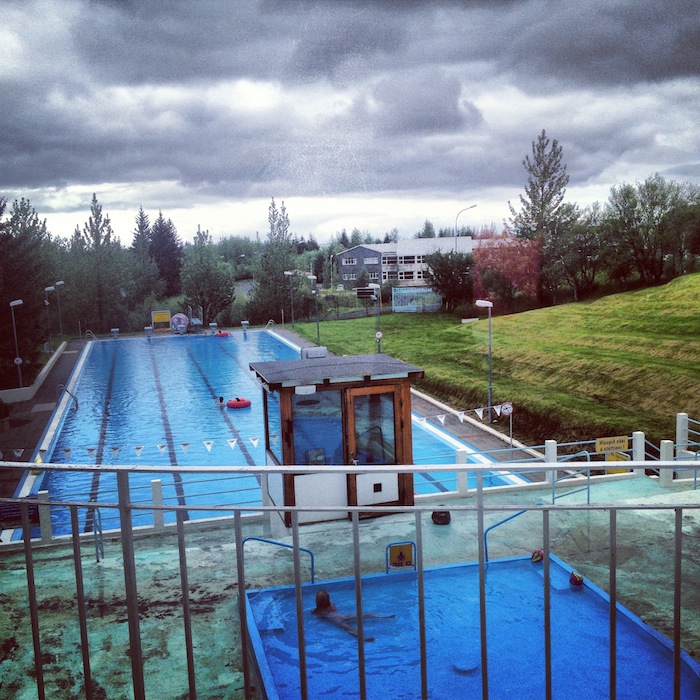 Hveragerði Public Swimming Pool
Another great public swimming pool! Although Hverageroi has plenty of geothermal rivers and natural hot springs, we still loved swimming a few laps and using the showers at this public pool after the sweaty hike to the hot river. We also visited the Sundhollen Public Pool in Reykjavik: it's the city's oldest pool. While the indoor pool isn't the most photogenic, it's still a cheap and relaxing way to spend a couple of hours in the capital.
What swim spot would you most like to visit in Iceland? What was your favorite if you've visited?