Moving to and making it in New York City
I wonder sometimes about the ratio of native New Yorkers to transplants: it seems like every other person I meet is originally from across the country or across the world. This city is the ultimate beacon for young people, and I honestly think that it has to be one of the best places to spend a couple of years in your 20s: professionally, socially, culturally.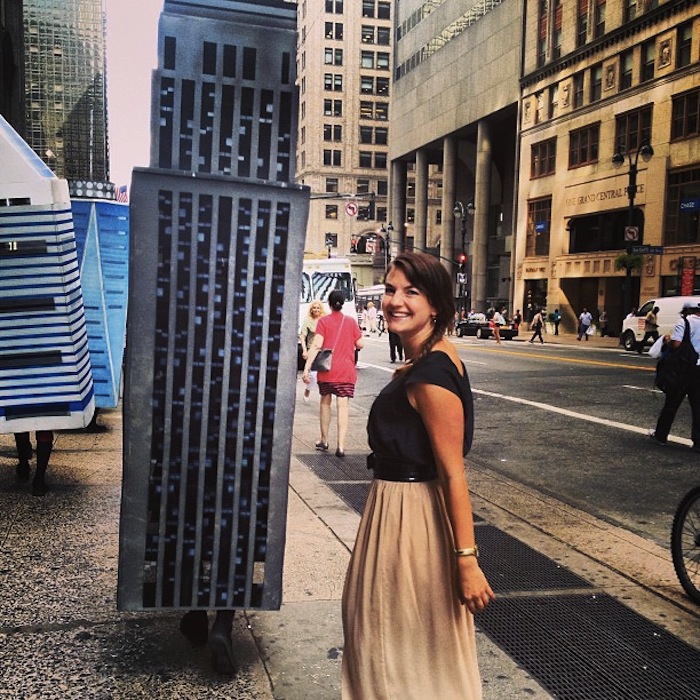 Granted, I've only been here for a year. I'm not a New Yorker by any means, but I've been able to carve out a life for myself: a job, an apartment, a relationship, a solid crew of friends and a wide network of connections. When friends or readers express an interest in moving to New York City, here's what I want to tell them about making it in the city that never sleeps.
    
Find love
As Carrie put it in Sex and the City: "Women come to New York for the two L's: Labels and Love." While New York City is an incredibly fun place to be single, it's also a stunning backdrop for a love story.
My two best tips to meet someone special: get online and go to birthday parties. Before moving to New York City, I refused to date online–in hindsight, it was totally hypocritical considering I've made such great connections and lasting friendships through my blog and Twitter, before meeting on Twitter was cool. I finally gave in (oh hey OkCupid), and I've been dating someone for almost six months now. Honestly: it's the 2013 version of meeting someone in a bar, and the stigma is slowly but certainly going away.
Birthday parties tend to bring together the widest range of friends of friends: this is where you can meet your friend's boyfriend's cute co-worker, or someone that you've never heard of but who can automatically be vouched for by at least one friend. Even if you're not looking for love, I still vote always go to birthday parties, whether it's of a close friend or a friend of a friend: I always end up meeting someone new and interesting.

Get a job
Network, network, network. I found my job through the friend of a friend of a friend–and because I reached out to those friends, introduced myself, and treated them to coffee. Don't be afraid to ask for help: most people are happy to give it! I've always had more success through the people I know than blind job postings on the internet–although it doesn't hurt to check out resources like LinkedIn and craigslist. Meetup.com is a popular way to make real-world connections in practically any industry, and Made in NY is a great resource if you're interested in tech. Also: don't be afraid to pick up a "menial" job while you're job-hunting–although I can assure you that waitressing or bartending here is pretty much as professional (read: challenging) as it gets.
Be wary about apartments
One thing I don't recommend trying to finalize before you arrive: an apartment. There are countless horror stories about apartment hunting in New York City: it's a city where the demand far outpaces the supply. If you have more money than time and want your own place: find a broker. If you're strapped for cash and/or looking to share a place, head to craigslist. If you're subletting, be aware that nothing is legally airtight–i.e. you could have to leave at anytime (speaking from experience, unfortunately). If you're signing a lease, be prepared to fork over cash for an application fee, a lease fee, a security deposit and first and last month's rent. More than anything: check out the neighborhood and have an honest chat with the landlord and/or the potential roommates. You definitely need to make some quick decisions, because someone else is always ready to take your place–but don't say yes if you're not 100% comfortable with the neighborhood, the cost, the roommates. Trust your gut. Looking for something cheap? Check out Astoria and Bushwick: both are up-and-coming neighborhoods that are significantly cheaper than Manhattan or Williamsburg, but are still easily accessible via subway.

Volunteer
Volunteering is one of the best ways to feel like part of a community in the overwhelming vastness of New York City. If you're looking for a regular gig, check out Housing Works: it's an organization that advocates for people living with AIDs and supports itself with entrepreneurial projects like thrift shops or the bookstore cafe. All of it is completely volunteer run: perfect if you can commit to a few hours a week. I volunteer as a barista, and it's such a rewarding experience–from becoming friends with my fellow volunteers to being involved in an all-around fantastic community. If you're more interested in committing a whole day here or there, sign up for New York Cares. After the mandatory orientation, you can sign up for projects ranging from picking up trash along the waterfront to mentoring a foster child.
Become a museum member
It took me six weeks to find a job when I moved here, and I was completely stressed out 95% of the time. I finally decided that I needed to invest in myself and my creativity, so I bought a year-long membership to the Museum of Modern Art. My MoMA card has more than paid for itself over the past year. When I have nothing to do on a Saturday, I often wander through Central Park and then pop into the museum to check out a new exhibit. When friends are in town, we always go to the MoMA because it only costs $5 for guests of card-holders. A membership can pay for itself in just a few visits, so if you're planning on staying in the city for a while: purchase one to the museum that interests you the most. It's so nice to be able to go in for an hour or so, instead of feeling compelled to spend an entire day because you spent $25 for one entry.

Don't get sucked in by little splurges
I don't think anyone will disagree that it's expensive to live in New York City. But there are plenty of little things that can tempt you because they seem so cheap: $9 manicures, $1 hot dogs, $10 taxi rides across town, $2 PBRs in a dive bar, $10 foot massages. It's so easy to indulge because it feels like such a good deal, but it adds up super quickly. That said, it's important to identify those splurges that you can afford and that make you happy: I almost never take taxis, but I do buy fresh flowers for my nightstand weekly.
Have money in savings
I recommend having AT LEAST two months of living expenses saved up when you arrive. Job hunting can take time. Moving into an apartment can mean a bevy of fees. There are plenty of ways to save money while living in New York City–but don't show up without a safety net.

Expect the most wonderful things to happen
I wrote this post six weeks after arriving in New York City, and I still get chills when I think about how drastically my mood and fortune improved once I changed my attitude toward making it in this city. Have a clear visualization of what you want your life in New York City to look like, and keep making small strides toward the big goal.
If you live here, what are your tips for moving to New York City? If you don't, have you ever thought about moving here?
p.s. you might also enjoy reading What do I need to move to a new city?